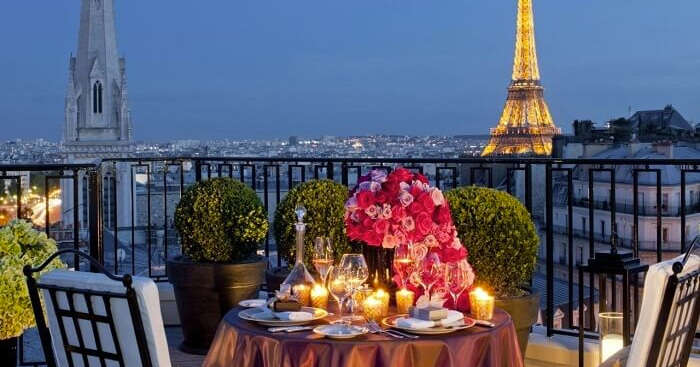 Paris or as we call it "the city of love" is the most romantic city in the world. Why? Well, because of its old world nostalgic charm, the romantic legends, and of course, the Eiffel tower. But wait, no great city is complete without its cuisine and fortunately, Paris is as diverse as its gets. So without further delay, let's check out the most romantic restaurants in Paris for if you're truly planning your honeymoon or a romantic trip in Paris, then you should know where to keep your partner happy. After all, food is life and so is your partner!
10. NoLita
Must Read: 10 Most Engrossing Things To Do In Paris
Located within MotorVillage (a famous Italian car showroom), NoLita is a chic and swanky restaurant that is perhaps one of the most romantic restaurants in Paris. It  faces the Champs-Elysées and also has a view of the iconic Eiffel Tower. It has black and white interiors which give it a minimal yet a modern vibe that is perfect for a romantic meal.
Must try: Risotto with mushrooms and Italian ham, Linguine with sardines, Venetian style calf's liver, tiramisu. The restaurant has an amazing collection of wines, don't forget to indulge in some.
Cuisine: Italy
Rating: 4.2 / 5 (Google)
Price:
INR 2800 or 39 € per person (weekday lunch)
INR 4100 to INR 6000 per person (A La Carte)
Time: 12pm to 3pm & 7pm to 11:30pm (Sunday Closed)
Location: 1 Avenue Matignon, 75008 Paris, France
---
Europe Honeymoon Packages On TravelTriangle
Explore the most romantic places to visit in Europe, from Paris to the Venice canals, and from the Greek islands to the Swiss alps. Book customized packages Inclusive of airport transfers, cab, resort, sightseeing, and meals offered by expert agents on TravelTriangle. Book Now!
---
9. Benoit
Benoit is one of the most romantic restaurants in Paris that boasts of an amazing  classic cuisine. The interior is made of wood, brass fittings, and all the traditional rich decor of the past. Incidentally, this bistro completed 100 years in 2012 and is the only bistro in Paris to have a Michelin Star.
Supervised by Alain Ducasse, this chic yet plush bistro prepares food in the traditional way which is marked by elegant presentation, richness, and balance. All in all, this is one of the best places to go for a meal with your partner if you are looking for a rich and grand experience.
Must Try: Melting slices of beef cheek, snails in garlic butter, profiteroles leaking whipped cream and chocolate sauce.
Cuisine: Classic Cuisine
Rating: 4 / 5
Price:
INR 2700 or €38 for lunchtime fixed menu buffet
Upto INR 7000 for a la carte
Time: 12pm to 2pm, 7:30pm to 10pm (Monday to Thursday) & 7pm to 10pm (Friday to Sunday)
Location: 20 Rue Saint-Martin, 75004 Paris, France
8. Verjus
This restaurant run by two Americans, started in an apartment called Hidden Kitchen and after it gained immense press popularity, became a fully fledged one. Now, it is one of most beautiful restaurants in Paris and is very popular among couples and foodies.
Located in a sophisticated neighborhood, this stylish dining room is elegant and different at the same time. Although, you do see a hint of British and American style of cooking, it retains its charm and offers a meal that is well worth your money.
Must Try: Lunchtime set sandwich menu, Creamy cherry stone clam soup, Scandinavian inspired trout and potatoes, cardamom honey panna cotta with prunes, pears and walnuts.
Cuisine: French
Rating: 4/5
Price:
A la Carte INR 4200 or €60
Sandwich lunchtime menu: INR 1055 or €15
Time: 7pm to 11pm (Saturday and Sunday closed)
Location: 52 Rue de Richelieu, 75001 Paris, France
7. Septime
One of the best restaurants in Paris, Septime, not only offers splendid fine dining experience to couples but is also a very happening place to be with your partner. The staff is excellent, the decor is neo industrial (old world and romantic) and you need to make a reservation at least three weeks in advance. So if you're going out on a really special date, choose this one, for it really is the top choice when it comes to romantic restaurants in Paris and beyond.
Must Try: Carte Blanche (chef chosen) menu, 3 course lunch, and wine (pretty good collection)
Cuisine: French
Price: From INR 2262 to INR 5000
Rating: 5/5
Time: 12:15pm to 2pm & 7:30pm to 10pm
Location: 80 Rue de Charonne, 75011 Paris, France
6. Le Jules Verne
Suggested Read: 15 Picture-Perfect Places To Visit In Paris
Probably the best out of all the romantic restaurants in Paris near Eiffel Tower, Le Jules Verne delivers a fine dining experience like none other. Situated on the second floor of the monument, the decor of this place is classic luxurious french and so is the food. Accompanied by an excellent wine collection, this restaurant focus on the French Culinary heritage and romance of course!
Must Try: Choose from a collection of 100% French wines, and one should also indulge in "chef special dinner" experience by the window seat overlooking the city.
Cuisine: French / Fine Dining Restaurant
Price: Upto INR 7500 (Weekday) & upto INR 16250 (Weekend)
Rating: 5/5
Time: 12pm to 1:30pm & 7pm to 9:30pm
Location: Eiffel Tower, Avenue Gustave Eiffel, 75000 Paris, France
Must Read: Honeymoon In Paris
5. Le 58 tour Eiffel
Another classic place for lunch and dinner at the Eiffel Tower, Le 58 tour Eiffel is one the first floor of the tower and offers a minimal clean decor so that one can feel the beauty and architecture of the tower in all its glory. Extremely chic and elegant, this is the best romantic restaurants in Paris with a view to die for!
Must Try: Special packages for lunch and dinner offer excellent value for money, great food, and nice wines.
Cuisine: French
Price: From INR 3000
Rating: 4/5
Time: 11:30am to 4:30pm & special booking for night
Location: Eiffel Tower, Tour Eiffel, Champ de Mars, 75007 Paris, France
4. Restaurant Lasserre
Restaurant Lasserre is one of the most beautiful restaurants in Paris that is complimented by subdued lighting, soft music, and authentic Parisian cuisine. The decor and cutlery has elements of silver and crystal and when the weather outside is amazing, the roof can be pulled back for breathtaking view of the night sky. This is one of those rich looking restaurants that offers the perfect charm for a romantic dinner with your partner.
Must Try: Duck a l'orange, salad with truffles, poached fish, and an excellent collection of wines.
Cuisine: Fine Dining French
Price: INR 10600 for a la carte
Rating: 4.5/5
Time:
Sunday & Monday – Closed
Tuesday & Wednesday – 7pm to 10pm
Thursday & Friday – 12pm to 10pm
Location:17 Avenue Franklin Delano Roosevelt, 75008 Paris, France
3. Pierre Gagnaire
Warm, clean, and an extremely sophisticated decor complimented by out of the world dishes is what makes the Pierre Gagnaire (named after the chef himself) a 3 star Michelin restaurant in Paris. There is so much technique and innovativeness to each dish that you will be amazed beyond imagination. Surely a one of the must visit restaurants in Paris, this one will surely offer every couple the best experience.
Must Try: Everything!
Cuisine: French
Price: From INR INR 6000 (lunch) to INR 26000 (a la carte)
Rating: 5/5
Time: 12pm to 1:30pm & 7:30 to 9:30pm (Monday to Friday)
Location: 6 Rue Balzac, 75008 Paris, France
2. L'Abeille at Shangri-La Hotel, Paris
Further Read: 7 Amazing Travel Hacks For Visiting Paris On A Budget
Romantic atmosphere, surreal ambience, and discreet service come together in L'Abeille at Shangri-La Hotel to form the perfect romantic dinner of your dreams. France grand culinary delights and experiences are well taken care of here and needless to say, you will have the best meal in Paris here.
Must Try: Chef selected dinner menu and wines
Cuisine: French
Price: INR 15000 (a la carte)
Rating: 5 / 5
Time: 7:30pm to 10:30pm (Sunday & Monday closed)
Location: 10 Avenue d'Iéna, 75116 Paris, France
1. Le Cinq
Each season brings in a new menu here but whichever one you are traveling in, let us tell you,the food will be stellar and so would be the ambience. Rich Parisian decor with paintings and richness all around would greet you as you take your beloved on a wonderful date here.
Must Try: One of the few restaurants in Paris which offers amazing French cuisine along with European delights, feel free to indulge in your favorites here or go for some classic French dishes. Everything is worth the money spent.
Cuisine: European & French
Price: From INR 11700
Rating: 4.5/5
Time:
Monday to Friday – 7am to 10am, 12:30pm to 2:30pm, & 7pm to 10pm
Saturday & Sunday – 7am to 10:30am, 12:30pm to 2:30pm, & 7pm to 10pm
Location: Four Seasons Hôtel George V, 31 Avenue George V, 75008 Paris, France
Now that you know where to go on a romantic date with your partner, we do hope, you're serious about that Europe trip, especially, to the city of love – Paris. So don't wait, European escapade now!
---
Looking To Book An International Honeymoon?
Book memorable honeymoon on TravelTriangle with 650+ verified travel agents for 65+ domestic and international destinations.
---
Comments
comments