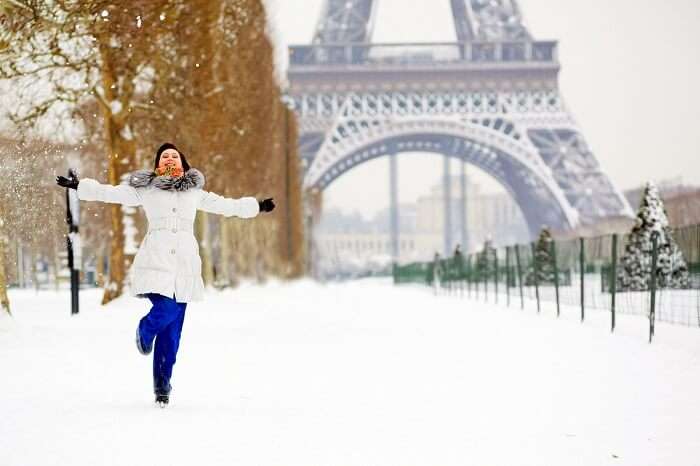 Topping every traveler's bucket list, the City of Love holds unmatched experiences and vistas for all who come to bask in its beauty. But little do wanderers know that the most beloved city in the world is equally mesmerizing in winter. Paris in winter turns into a stunning spectacle with its vintage streets, picture-perfect cafes, and popular icons sprinkled with crisp snow.
One must not miss the unparalleled experience of walking down its snowy lanes and icy gardens when they are here. Scroll down to find the best of what Paris offers in winter so that you can customize your Europe tour package to fit in these unmatched experiences in your tour.
Table Of Content
Paris Weather In Winter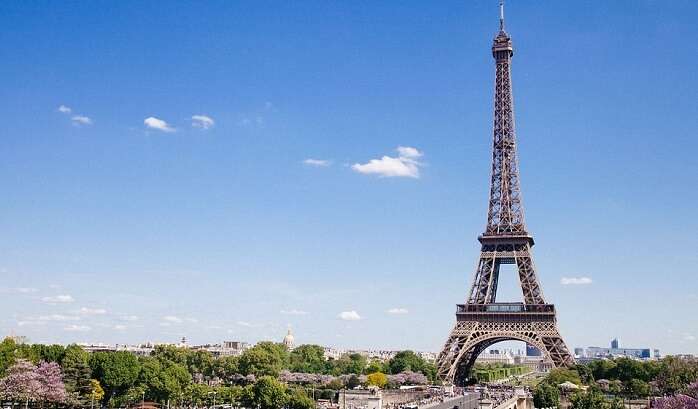 The weather in Paris in winter is chilly and if you plan to visit the destination in winter then make sure you carry your warmest clothes. The winter months in Paris are December to February. With temperature between 3 degree Celsius to 5 degree Celsius, Paris in winter is going to be magical, and or course, cold.
Reasons To Visit Paris In Winter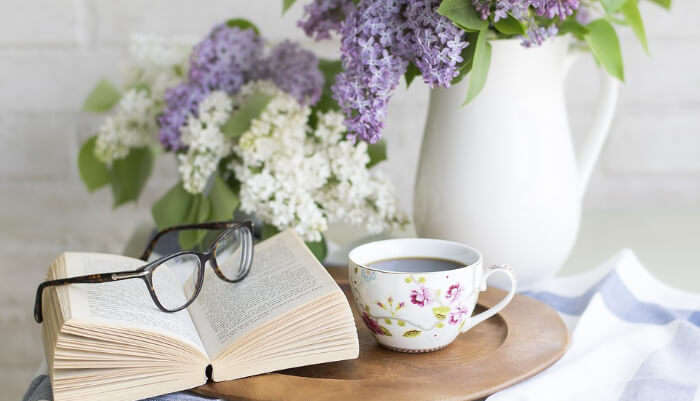 Here's why you should totally check out this wonderful city when it's draped in snow in the winter season:
The streets are lit and decked with Christmas markets.
Ice skating commences!
There won't be a better time to visit the French cafes and cozy up with hot chocolate.
Winter is the perfect time to learn macaron baking.
Glistening in the winter sunlight, Sainte-Chapelle will be more magical than ever!
5 Must-See Places To Visit In Paris In Winter
Paris in winter is a paradise that you can't miss and these exciting places to visit in Paris are an example of the same. Read on to explore and know more.
Louvre Museum: Illuminating Hours
Notre Dame: Peaceful Expeditions
Eiffel Tower: Architectural Marvel
Luxembourg Gardens: Stunning Sights
Arc de Triomphe: Parisian Pomp And Elegance
1. Louvre Museum: Illuminating Hours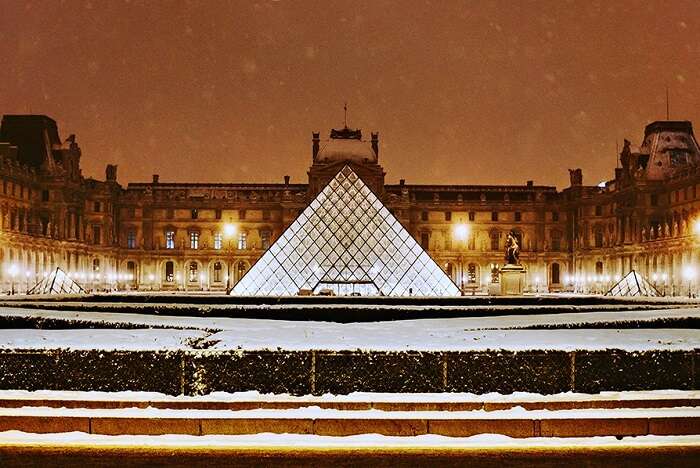 The site harboring the world's largest collection of pre-20th century artwork needs no introduction! Other than the largest, The Louvre houses the most diverse collection of paintings, sculptures, decorative pieces, and more. Every year tourists visit this place in great numbers, especially to bask in the glory of the world-renowned Mona Lisa and the Venus de Milo.
The palace is centuries old and other than being home to master works of art, the palace holds a rich historical significance. When you're here during winter in Paris, make sure to check out all of its known, as well as less known but equally intriguing artwork like Vermeer, Caravaggio, Rembrandt, and countless others.
Location: Musée du Louvre, Porte des Lions, Galerie du Carrousel
Click here for details regarding visiting hours, rules, and more.
5 Best Beaches Near Paris To Escape The Bustle In & Around The City
2. Notre Dame: Peaceful Expeditions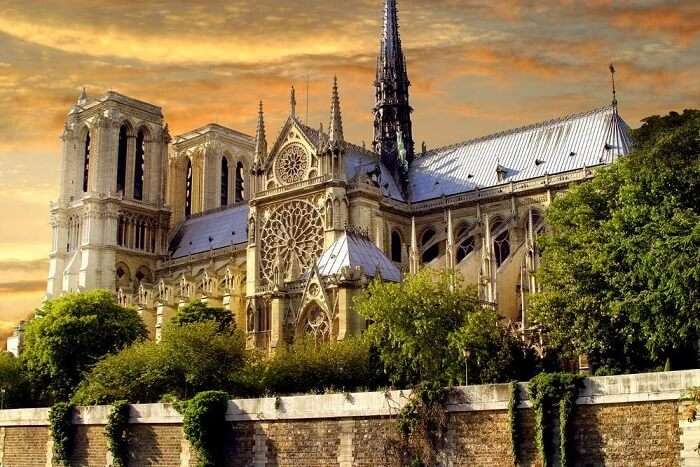 Not just the most popular, but the Notre Dame Cathedral in Paris is also the most beautiful gothic cathedral in the world. Though it is among the most famous places to visit in Paris, it was ignored for a very long time, before regaining popularity and a sudden rise in tourists influx after being featured in writer Victor Hugo's literary marvel "The Hunchback of Notre Dame".
One must check out its dramatic towers, spires, stained glass windows, the archaeological crypt, and the statues when visiting Paris in winter. into the history of the fascinating monument by visiting the below-ground.
Location: Place du parvis de Notre Dame, near Cité or Saint-Michel metro line
Timings: Generally 9:30 AM to 7 PM (timings change month-wise) | 9 AM to 11 PM on weekends
Entry fee: Free for Cathedral Main Hall | INR 580 for Towers | INR 255 for Archaeological Crypt
---
Europe Holiday Packages On TravelTriangle
---
3. Eiffel Tower: Architectural Marvel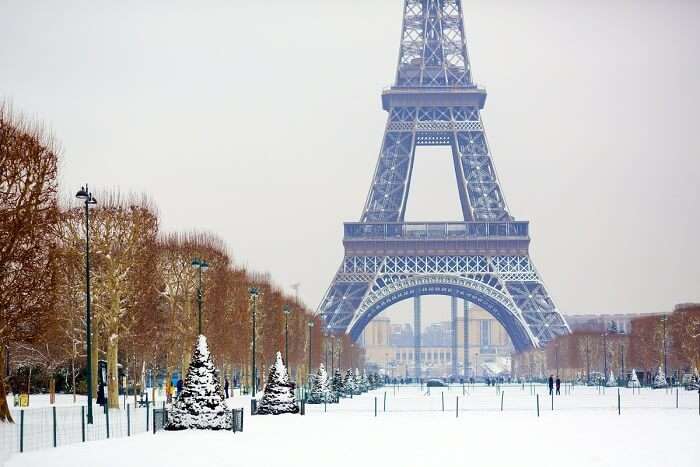 The symbol of elegance and love, Paris's most recognized icon is rather a recent addition to its line of architectural marvels, most of which are centuries old. Travelers love to visit the Eiffel Tower in Paris in January when it's covered in snow and gives the most stunning displays of the city at night. It is the main attraction of the city that draws in most of the tourists count.
As charming as it may be in the day, it turns all the more breathtaking in the night when it is illuminated by festive lights. The recently renovated tower now has solar panels and glass-floored observation platforms, which shows stunning spectacles of Paris in winter!
Location: On the Champ de Mars in midwest Paris, near Bir Hakeim metro line
Timings: 9:30 AM to 11 PM for the tower | 9:30 AM to 11:45 PM for elevator | 9:30 AM to 6:30 PM (12:30 PM in summer) for stairs
10 Villas In Paris: Experience The Hospitality In The City Of Love & Romance!
4. Luxembourg Gardens: Stunning Sights

Inspired by the Boboli Gardens in Florence, the Luxembourg Gardens cover an area of over 25 hectares of land and were established in 1612. Split into the French gardens and English gardens, the park houses a geometric forest, a large pond, a rose garden, an apple orchard, an apiary teaching people the art of bee-keeping, over 106 statues, the monumental Medici fountain, and numerous greenhouses with a variety of beautiful orchids.
There are numerous things to do in this garden like watch puppet shows, enjoy exciting rides and slides, play games like chess and tennis, or simply take a stroll in the garden with your beloved, especially in winter in Paris.
Timings: 7:30 AM to 4:30 PM or 9:30 PM according to season
Entry fee: Free!
5. Arc de Triomphe: Parisian Pomp And Elegance

Established by Napoleon 1 in 1806, the Arc de Triomphe is today recognized the world over as an integral symbol of Parisian pomp and elegance. The handsome arc is over 160 foot tall and is sits majestically in the middle of the Champs-Elysées, the city's most iconic avenue.
The Arc de Triomphe holds major historical significance, but it is its beauty that attracts tourists to this monument of power and victory. The icon turns all the more beautiful amidst street decorations and lighting in Paris during Christmas.
Location: Place Charles de Gaulle
Timings: 10 AM to 11 PM in Summers | 10 AM to 10 PM in Winters
Your A To Z Paris Street Food Guide: What To Eat & Where To Find Them
5 Best Things To Do In Paris In Winter
If you are wondering what to do in Paris in winter then don't wonder anymore. Here are some really amazing things to do in Paris in winter.
Seine River: Romantic Cruise Tour
Latin Quarter: Dine Near The Sorbonne University
Les Puces de Clignancourt Flea Market: Go Shopping
Opera National De Paris: Watch An Opera Performance
Disneyland Paris: Relive Your Childhood
6. Seine River: Romantic Cruise Tour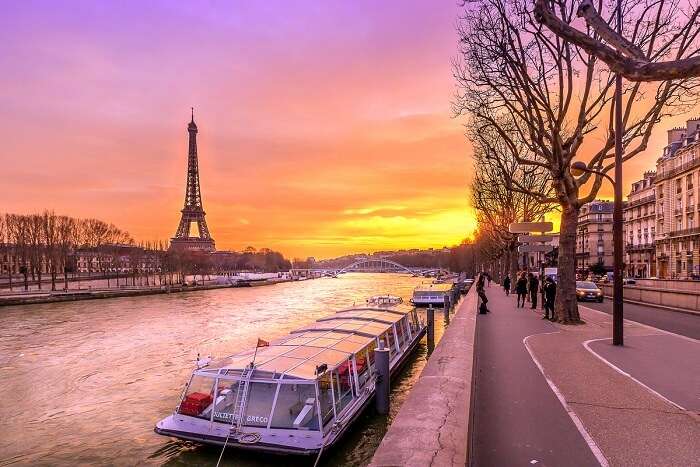 Nothing beats the experience of cruising one of the most scenic waterways of Europe – the Seine river. It is among the most preferred Paris winter activities. A cruise tour over this river is undoubtedly the most invigorating experience, specially for couples, where one gets to witness the most breathtaking sights from the open air decks of a luxurious cruise boat lazily drifting down the Seine river. In fact, it's among the most romantic things to do in Paris in winter where you can have a romantic dinner onboard while sailing through brightly lit enchanting landscapes and the city's mythical spots.
One can book a cruise in Paris in December or any other winter months via the Bateaux-Mouches or the Bateaux Parisiens cruise companies, the city's most famous boat tour companies.
10 Most Romantic Restaurants In Paris
7. Latin Quarter: Dine Near The Sorbonne University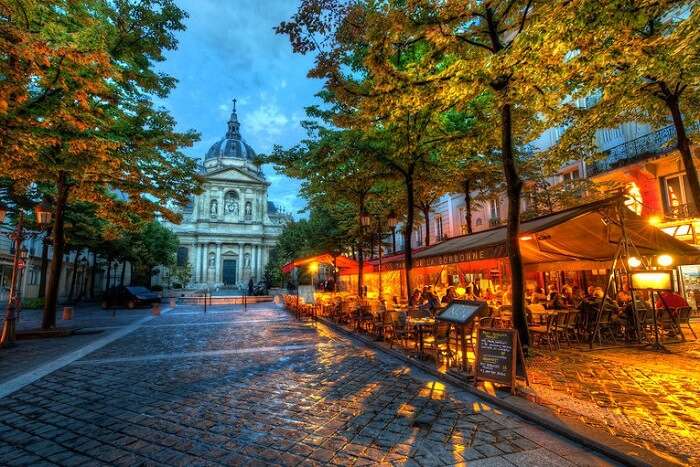 Established in 1257, Sorbonne University is Europe's oldest college and elegant badge of honour of Paris. Since most of its erstwhile staff and students were Latin, the locality got rechristened to Latin Quarter which is now a beautifully decorated traditional space lined with cafes, markets, gardens, trees and everything pretty in Paris! The streets are decorated with colourful lights, Christmas trees, bells, and more, with a delicious aroma of freshly baked cakes and cinnamon buns wafting through the air during Christmas in Paris. If you visit Paris in December 2023 for the Christmas celebration, don't leave without a visit to this charming paradise hidden in the city.
Location: Place de la Sorbonne, Latin Quarter, near to St-Michel and Cluny La Sorbonne metro line
6 Lakes In Paris You Should Definitely Go For A Picnic Under The Sun
8. Les Puces De Clignancourt Flea Market: Go Shopping

Undoubtedly, one of the most exciting things to do in Paris in winter is to go on a shopping spree! Les Puces de Clignancourt is Paris's largest flea market located in St. Ouen. it got its name from ostensibly flea-infested furniture and other wares that are sold day in and day out in this market.
It recently gained popularity from Woody Allen's famous feature film "Midnight in Paris", which later brought an army of tourists here who were otherwise unaware of the 'treasures' this place hid.
When here, one may find totally eccentric items and vintage knick-knacks like music records, clothes, books, quills, utensils, antiques, home decor items, mirrors, jewelry, and other pretty trinkets that are sure to make all shopaholics, especially women, go crazy! The place turns more magnetic and fun in Paris during Christmas.
Location: Between Paris' 18th arrondissement district and the northern suburb of St Ouen.
Timings: 9 AM to 6 PM on Saturday | 10 AM to 6 PM on Sunday | 11 AM to 5 PM on Monday
Entry fee: Free!
9. Opera National De Paris: Watch An Opera Performance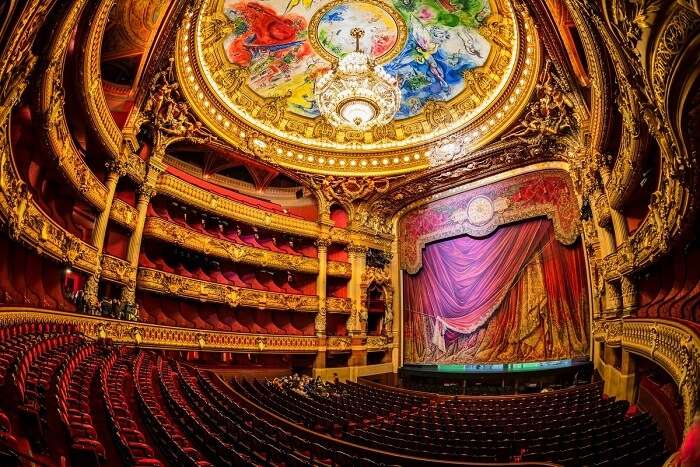 If one doesn't wish to brace the biting cold outside, they can sit inside the Palais Garnier, the striking symbol of architectural opulence, and watch a captivating show or two of Opera or ballet.
The stunning interiors of this grand theatre-cum-palace are as gripping as are the award-winning performances of Opera and ballet that it holds night after night. It is the true symbol of luxury, elegance, and class, with the best of entertainment. It also is the best way to experience winter in Paris away from the chilly winds and snowy streets.
Location: 8 rue Scribe, Place de l'Opera, Paris 75009
Timings: 10 AM to 5 PM
Entry fee: INR 540/- to INR 850/- per person for unguided tour | INR 1,200/- per person for guided tour
10 Hostels In Paris For A Homelike Stay In The City Of Love
10. Disneyland Paris: Relive Your Childhood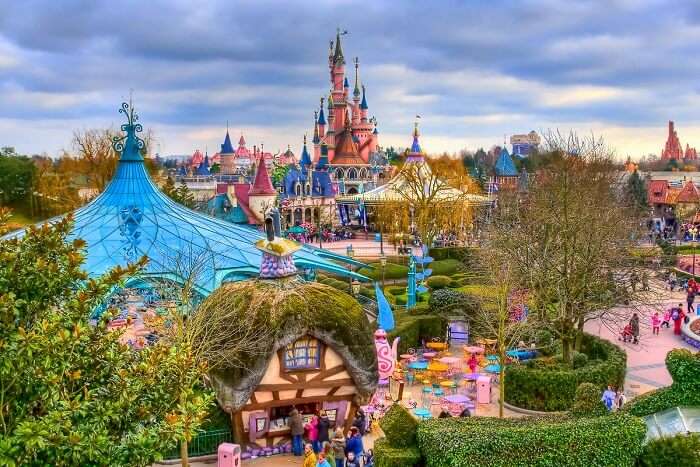 Sway away in your favourite fairy tale in Disneyland Paris. Enjoy more attractions and shows that you can ever imagine at this world-renowned theme park that is frequented by people from all over the world belonging to every walk of life!
In addition to the existing characters, Disneyland Paris has added all Marvel characters to its list, a true treat for all Marvel fans. Watch mind-boggling shows, embark on fun rides, gorge on delicious cuisines, meet your favourite Disney characters, and buy attractive merchandise on your tour to Disneyland when visiting Paris in January or any other winter month.
Location: Marne-la-Vallée, Paris
Timings: 10 AM to 8:30 PM for the Disneyland Park | 10 AM to 6 PM for Walt Disney Studios
Entry fee: NA
Honeymoon In Paris: Your Personal Guide For The Most Romantic Experience Ever!
Where To Stay In Paris In Winter?
Here are a few of the good hotels in Paris where you can snuggle up and enjoy the cold winter season:
Paris Marriott Champs Elysees Hotel
Holiday Inn Paris – Gare de l'Est
The Peninsula Paris
Shangri La Hotel
1. Paris Marriott Champs Elysees Hotel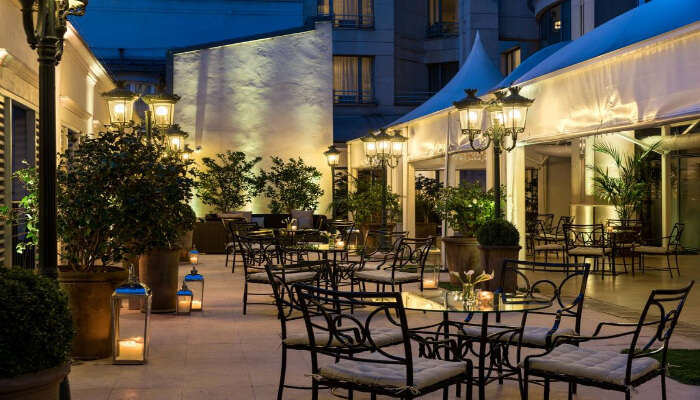 Located in the famous neighborhood of the Champs Elysees, this hotel is your perfect nest in the cold winter of Paris. The sleek hotel has nice and cozy rooms and also A french eatery and a terrace restaurant. The Eiffel Tower and Arc de Triomphe are located at a walking distance from the hotel.
Address: 70 Av. des Champs-Élysées, 75008 Paris, France
Tariff: Starting INR 8,000 onwards
31 Best Places To Visit In Paris For A Dreamy Vacation
2. Holiday Inn Paris – Gare de l'Est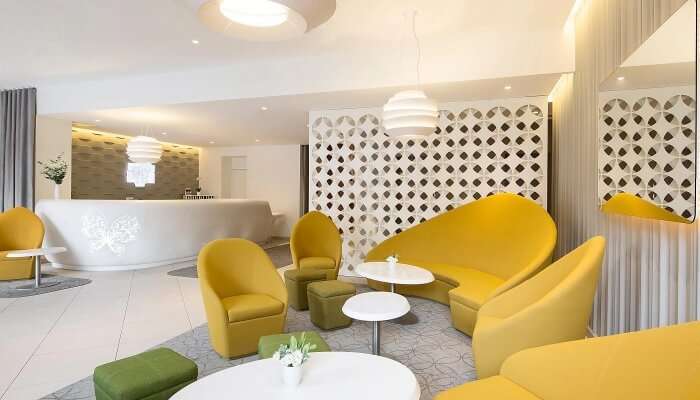 Located in the vicinity of the Notre Dame and Louvre Museum, the modern hotel is presided inside a grand, century-old building. The rooms with colorful decor are upgraded with all the modern amenities with a complimentary mini-bar. It makes one of the best places to stay in Paris with Gare de l'Est station so close to the hotel.
Address: 5 Rue du 8 Mai 1945, 75010 Paris, France
Tariff: INR 5,000 onwards
3. The Peninsula Paris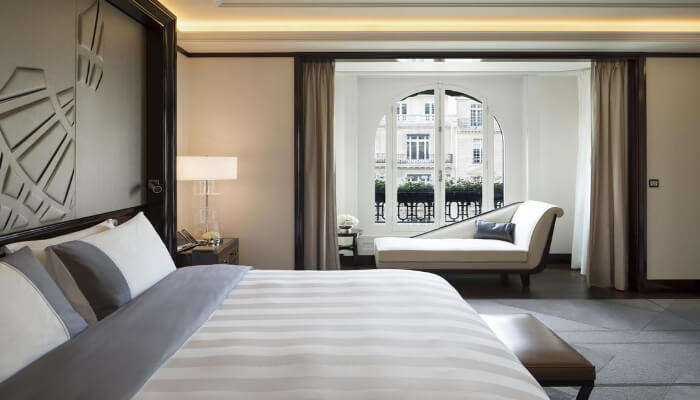 The Peninsula Paris is another beautiful property in Paris which is known for offering the most luxurious and royal accommodations. The hotel comprises 200 luxurious rooms which include 86 suites. The place is known for offering most spacious suites giving you a complete vibe of French culture. 
Location: 19 Avenue Kléber, 75116 Paris, France
Price: INR 64,677
4. Shangri La Hotel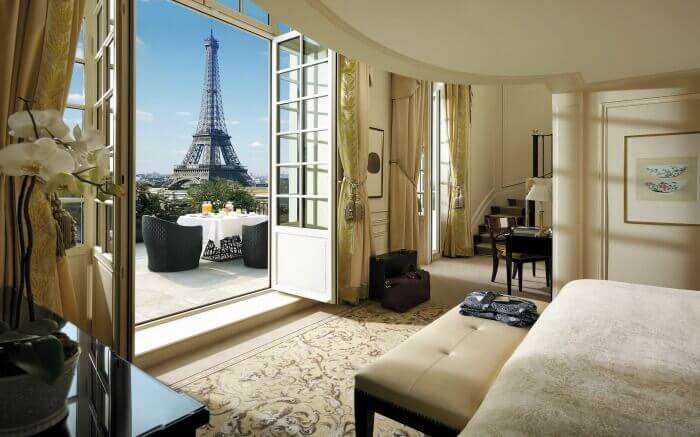 Shangri La Hotel in Paris is located in the former residence of Prince Roland Bonaparte and offers the stunning sights of Eiffel Tower and River Seine to the people staying in lovely French capital. It was inaugurated as an elite luxuriating property in 2010 and since then has been known for offering traditional Asian hospitality with European blend!
Location: 10 Avenue d'Iéna, 75116 Paris, France
Price: INR 71,000
7 Amazing Travel Hacks For Visiting Paris On A Budget Vacation
We hope we've helped you find some exciting experiences in Paris in winter to make your trip to Paris an unforgettable experience. Don't forget to witness the above-mentioned experience of Paris in winters if you are planning your vacay during the period. Know any more? Pop them in the comments below!
For our editorial codes of conduct and copyright disclaimer please click here. 
Frequently Asked Questions About Paris In Winter
How crowded is Paris in winter?
Paris at it's least crowded state in winters, except for the time around Christmas and New Year. If one visits between December 25th and January 2nd, they'll find the city brimming with tourists and festivities. In fact, you will always find touristy crowds at the time of Christmas in France.
At this time the city is dipped in a festive spirit and everyone flocks to the European cities, especially Paris, to be part of the celebrations. But once the festivities end and the snow gets deeper, you won't find many tourists around. Only the lovers of snow and love itself will be seen trotting around.
What is the weather in Paris during winter?
The Winter season in Paris is marked by the months from November to February, and the temperature during this time ranges from 3 degree Celsius to 16 degree Celsius, hardly ever reaching freezing point.
Winters are generally cold and chilly in Paris. During December, the weather often turns rainy and icy, and if it snows, the snow melts on reaching the ground, which sometimes makes the roads and pedestrian walkways squishy and slippery. December and January are the coldest months in Paris, when the cold is biting and wet. In February, the chill begins to decrease and the weather turns rather pleasant and enjoyable.
What to wear in Paris in winter?
Since it's the most fashion-friendly city in the world, you can surely wear all your trendsetter outfits if you're visiting Paris in winter. But, since it'll also be really cold, make sure you cover yourself up well to avoid falling sick. Here are some basic cloth items you must pack in your suitcase, especially when visiting Paris in December:
-Warm cotton or wool sweaters, scarves, coats, and socks. Don't forget to stock up layers of thin sweaters!
-A sturdy umbrella that can withstand sudden cold downpours
-Waterproof shoes that can provide good traction in case of snow or ice. Keep your designer heels reserved for indoor events!
-Light waterproof gloves
-A hat is a must!
Should I visit Paris in the winter?
Yes, you can surely visit Paris during winter if you want to experience the exclusive winter celebration here.
How cold does Paris get?
The temperature in winter in Paris ranges between 6 – 10 degrees Celsius.
Is Christmas a good time to visit Paris?
Yes, there are numerous exclusive celebrations during Christmas in Paris that lures travelers from across the world.
What is Paris famous for?
Paris is home to numerous iconic attractions such as the Eiffel tower and is known to offer the most romantic vacations. The scenic beauty and cozy cafes here ensure the best experience for the visitors.
---
Looking To Book An International Holiday?
---
People Also Read: