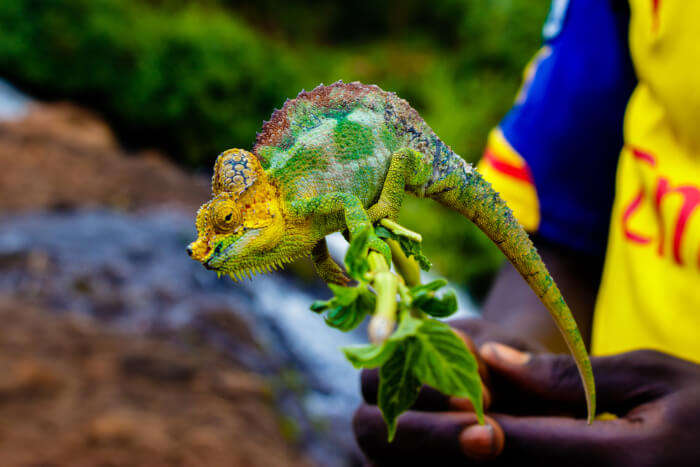 Are you planning, a convenient and affordable family trip and are really confused? The adult members are looking for some adventure, young kids are looking for fun and you are looking for a budget-friendly option filled with fun and adventure. Well, then there is an option of visiting the National Park. National parks have something for everyone, be it a traveler, photographer, historian, bird watcher, father, mother, son, daughter, shopaholics, nature lovers anyone. Adults can experience thrills and adventure. Kids can have fun in the lap of nature and learn more clearly about flora and fauna. And you can take a break from technology, inactivity on this pocket –friendly trip around the National Park. So when you are in Myanmar, don't forget to gather a valuable experience at the Mount Victoria National Park.
About Mount Victoria National Park

Also known as Nat Ma Taung in Burmese language or Khonumthung in the local Chin language, Mount Victoria National Park was established in the year 1994 is one of the Associations for Southeast Asian Nations (ASEAN) Heritage Parks. The park covers the area of 279 square miles. The park is managed by the Department of Forestry and Environment. According to the United Nations Educational, Scientific and Cultural Organization (UNESCO), this national park has an outstanding universal importance. The Mount Victoria National Park is a home of a huge variety of rare flora and Fauna. You can also witness a number of ethnic tribes in this region. The park stands at 3,053 metres (10,016 feet) offering astonishing views. The cost of a ticket to the Mount Victoria National Park is 10 $ including the cost of pre-arranged tours.
How To Reach Mount Victoria National Park

The park is located in close proximity to the Indian border. Located in the western area of central Myanmar, Mt. Victoria is the highest mountain in the Chin Hill region. It covers 3 townships, namely Kanpatlet, Mindat and Matupi. The lower region of the parked can be reached via Kanpetlet or Mindat Townships but the latter journey is not easy due to lack of proper roads. So, one has to opt for trekking. The simpler route to Mount Victoria National Park is starting from Yangon to Bagan-Nyaung-Oo. From Bagan-Nyaung-Oo to Chauk which can be travelled via car. From Chauk via Seikpyu region one can reach Hsaw, which is about 68 miles by car. The next stop is Kanpetlet from where trekking begins in Mount Victoria. From Kanpetlet to Mindat to Pakokku-Monywa or Mandala region and your destination the Mount Victoria National Park has arrived.
Things To Do In Mount Victoria National Park
1. Forests

The Mount Victoria National Park is a paradise for nature lovers. You can see various types of forests such as hill savannah, mixed variety of deciduous forests, the evergreen forest as well as the pine forest. So, even if you're not a fan of green landscapes around, these forests are worth visitng for their huge variety and scenic essence.
Must Read: 37 Places To Visit In Myanmar For Your Fix Of History And Adventure
2. Hiking

Have you ever tried Hiking? Well, you will get an experience of hiking on this trip as the best way to reach Mount Victoria National Park is through hiking. The best time to climb up Mount Victoria is the month between November and February because the weather is cool and pleasant air blew throughout.
Suggested Read: Burmese Food Guide: Know What To Eat And Where, On Your Next Myanmar Holiday!
3. Flora

While looking at the forest, you can see colorful and beautiful Rhododendron arboreum in red, yellow and white colour blooming in the month of November, December, and February. Other two endemic flower species are Potentilla montisvictoriae and Roscuoesa australis. So, all the flora fans can head straight into this park, for a refreshing experience!
Suggested Read: Myanmar Nightlife: 10 Kick-Ass Experiences You Must Have For Enjoying Like The Burmese Do
4. Fauna

The place seems to be made for wildlife photographers. There are many mammals like tiger, leopard, gibbons, wild boars, serows. There are about 159 species of butterflies, birds and reptiles currently living in the national park. There are five indigenous species of birds as well as Blyth's Tragopan, one of the rarest species.
Suggested Read: 13 Hidden Myanmar Beaches That You Must Visit At Least Once!
5. Orchid Tours and Market

You can participate in the Orchid Tours to witness the most attractive and beautiful orchids in Myanmar. One can also shop for vibrant colored chin clothes and tapestries from the markets located in Mindat. All the shopaholics can definitely come here for a good news their way to take home more than just memories.
Suggested Read: 16 Top Myanmar Festivals That Reflect The Beautiful Burmese Traditions
6. Culture and Traditions

You can learn a lot about the traditions and cultures of Chin tribes, namely Dai, Upu and Ya tribes. You can also see full facial tattooed Chin ladies around the Kanpatlet and Mindat region. Are you ready to explore have an enchanting encounter with the local folk in here?
Places To Stay In Mount Victoria National Park
People usually prefer staying at the Eco-lodges with electricity generating facility. But the generator back up is switched off after 10 PM as there is limited electricity mammals like tiger, leopard, gibbons, wild boars, serowsn the Kanpetlet and Mindat region. There are many guest houses in the region which are simple and have no generator facility. The Eco-lodges have been opened only for a few months i.e. from September to May.The best accommodation one can find in the Mount Victoria National Park areas are simple village home stays. Recently there are a few 3 or 4 stars hotels have been opened to provide the traveller with a comfortable stay. The hotels can help you find a local guide to the national park. Don't forget to carry warm clothing, gloves, cold gear, sunglasses, hats and hiking boots as this mountain region is always cold.
Further Read: Popa National Park: A Detailed Guide To Explore The Famous Gem Of Myanmar
Mount Victoria National Park is a perfect place to take a break from stressful daily life straight into the caresses of nature. Did this help you plan your trip in a hassle-free manner? Plan your Asian trip with TravelTriangle and enjoy the best of the scenic views here!
People Also Read:
Kaeng Krachan National Park National Parks In Thailand Khao Sok National Park
---
Looking To Book A Holiday Package?
Book memorable holidays on TravelTriangle with 650+ verified travel agents for 65+ domestic and international destinations.
---