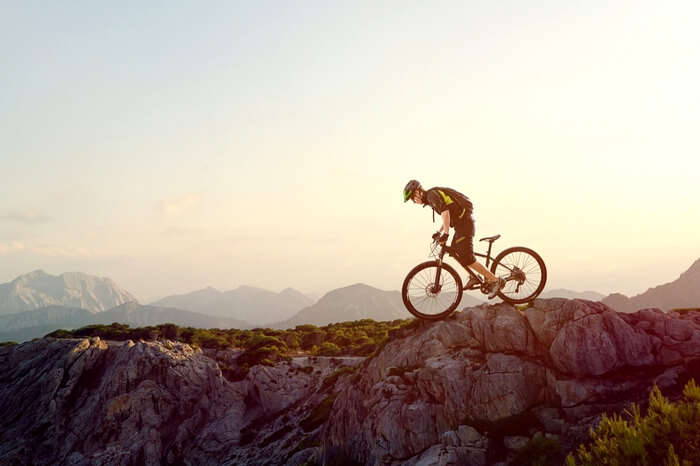 Mountain biking in India has gained the attention of bikers and adventure seekers alike. The Himalayan Range is the perfect setup for this extreme adventure that tests your grit and gives you experiences of a lifetime. But at the same time, it is extremely dangerous and needs professional guidance at every step. Apart from the Himalayas, the entire country of India is home to some of the most rugged and exciting mountain biking trails that never fails to impress. Right from those who are just beginning or those who are a professional level now, both of a chance to practice and master further at this skill in this country. Mountain biking is quickly emerging as a favorite amidst numerous thrill seekers.
We start with the basics of mountain biking, and gradually advance towards the extremes!
What Is Mountain Biking?

Mountain biking is an adventure sport in which you go cycling across the unforgiving roads and alleys in tough mountain terrains. It is an off-road bicycling that can be pulled off only on specially designed bicycles and requires a lot of practice and stamina. For adventurers, it is a test of their nerve, precision, and optimum fitness.
Must Read: 30 Cool Travel Accessories For A Smart Traveler In 2022
Top 10 Mountain Biking Destinations In India
Are you interested in mountain cycling in India? India has gradually turned into a popular destination for adventure seekers, mountain biking is among the adventure sports that give adrenaline rush and is absolutely thrilling to perform. The scene is no different in the case of mountain biking. The most popular destinations and their epic trails facilitating mountain biking in the Himalayas are:
Leh-Zanskar – Ladakh
Manali-Leh – Himachal Pradesh
Kangra Valley – Himachal Pradesh
Kumaon – Uttarakhand
Garhwal – Uttarakhand
Coorg – Karnataka
Spiti Valley – Himachal Pradesh
Munnar – Kerala
Sikkim – Sikkim
Nandi Hills – Karnataka
1. Leh-Zanskar – Ladakh

Leh-Zanskar mountain bike tour spans over 14 days and requires grueling cycling for 14 days, stretching over an average altitude of 4500 meters. Welcome to one of the most daunting mountain biking tours in India, which will test your acumen, stamina, zeal, and all the other necessary traits of a tough mountain biker. It is known to offer the best experience of mountain cycling in India.
Be it riding over the obstacles, flipping, or performing gravity defying stunts, this trail across the 'roof of the world' contains all the elements to leave you mesmerized for a very long time. Specially curated for thrill-seekers, the Leh-Zanskar bike tour takes the bikers through passes, valleys, and some of the narrowest alleys that are not at all easy to ride across. As the tour progresses the difficulty level keeps raising the bar, which in turn tests maximum daredevilry. Zanskar valley trek is known for its adventurous experiences.
Duration: 14 days
Route: Zanskar- Ladakh- Kargil
Charges: Price on request
Best time to go mountain biking in Leh Zanskar: June – September
2. Manali-Leh – Himachal Pradesh

Arguably the most exciting as well as the most dreaded mountain biking trails in India, Manali-Leh trail takes you through the best of the Himalayas. Starting from Manali, the route stretches over the Himalayas and spans up to Khardungla- the highest motorable road in the world.
The fact that this trail traverses some of the most grueling passes of the Lesser Himalayas along with the colossal nature in the backdrop, makes it one of the most challenging rides to accomplish. Dare to complete it at least once in a lifetime and live to narrate the stories of real thrill. This is the best place for mountain biking in India.
Duration: 11-13 days
Route: Manali – Marhi – Sissu – Jispa – Zing Zing Bar – Brandy Nallah – Pang – Tso Kar – Upshi – Leh – Khardungla – Leh
Charges: INR 35,000 per person onwards
Best time to go mountain biking in Manali- Leh: June – September
Suggested Read: Explore The Himalayas: 48 Best Places To Visit In Himachal Pradesh In 2022!
3. Kangra Valley – Himachal Pradesh

Mountain biking in Kangra valley is one of those daring activities that most of the adventure bikers live for. The enchanting view of Dhauladhar range, tea gardens, and pines along the way makes it one of the most daunting mountain expeditions in India. The 260 km circuit runs across the awe-inspiring Kangra valley and enchants the bikers to push their limits and tame the obstacles. The steep slopes and daunting climbs along the way keep testing the best of the adventurer in you. This is one of the most exciting things to do in Kangra Valley.
The splendid view of Kangra valley enthralls the bikers with mesmerizing spectacles while the rocky terrains continue to test their mountain biking skills. As you get ready for this 5-day biking trip, make no mistake of taking it lightly. Pay attention and mind the sharp turns ahead!!
Duration: 5 days
Route: Bir – Jogindernagar & Barot – Raj Gunda – Billing – Take-off point for paragliding in Billing
Charges: Price on request
Best time to go mountain biking in Kangra: Mid-May – mid-June & September – October
4. Kumaon – Uttarakhand

A biking experience across the Greater Himalayan region is all you need to boost your adrenaline. Biking in Kumaon is an enchanting experience of mountain biking expedition in India, which leaves you spellbound as you ride a path, not as comfortable as typical highways. The entire route, which is made up of steep ascend, rough terrain, rocky path, and lots of greenery is indeed a treat for seasoned riders who keep a special corner in their hearts for extreme sports.
The trail starts from Delhi and ends at Bhatrojkhan, during the course of the journey it takes you through the best of Uttarakhand thus making for one of the most prominent trip of mountain biking in the Himalayas. This is one of the most interesting mountain biking trails in India.
Duration: 13 days
Route: Delhi – Kathgodam – Almora – Baijnath – Kausani – Someshwar – Binta – Ranikhet – Bhatrojkhan
Charges: INR 8,350 per person onwards
Best time to go mountain biking in Kumaon: April – September
Suggested Read: 20 Heartwarming Hill Station Cafes In India For The Nomad In You! (2022)
---
Planning your holiday but confused about where to go? These travel stories help you find your best trip ever!
---
5. Garhwal – Uttarakhand

Another one among the popular mountain biking tours in India, Garhwal brings out the best of the adventure biker in you. Stretching over a maximum altitude of 2700 meters above sea level, the Garhwal mountain biking showcases some of the most amazing experiences sought by seasoned riders.
The entire trail is a gentle mix of rivers, valleys, mountains, forests, glaciers, and exquisite animal breeds that only get better as you advance further. The tour exhibits the best of Garhwal region. The unparalleled charm of the entire course is perfect to leave the seasoned bikers mesmerized.
Duration: 10 days
Route: Delhi – Dehradun – Mussoorie – Dhanaulti – Tehri – Ghansali – Charbatia – Chandrapuri – Ukhimath – Chopta – Chamoli – Haridwar – Delhi
Charges: Price on request
Best time to go mountain biking in Garhwal: Throughout the year
6. Coorg – Karnataka

Mountain biking on the curvy trails of Coorg surrounded by some of the most picturesque sights is something that one tends to cherish for as long as they shall live. Coorg has plenty of routes offering an experience that is completely different from one another. While one helps you cross the hilly terrains, the other one is about passing through jungles with canopies made of towering trees and waterfalls. The fragrant tea and coffee plantations simply adds to the journey that is unmatchable.
Offering some of the most surreal mountain biking trails in India, Coorg is a destination that has something for all kinds of bikers. If you are biker on the outside but a little historic buff on the inside, why not take the route along Madikeri fort that also covers other historical marvels including church buildings, museums, and numerous artifacts. The rolling velvety green hills, scenic landscapes, and the crisp winds brushing past bringing some fragrance of nearby plantations along is an experience to cherish. Mountain biking in Coorg is truly an exciting experience and you can also go for camping in Coorg.
Duration: 8 days
Route: Coorg – Vadu Pass – Kabbe Mott – Kabbinakad Junction – Nalaknad Palace – Thadianamol Peak – Coorg
Charges: INR 39,900 onwards
Best time to go mountain biking in Coorg: October to March
Suggested Read: Camping In Coorg: 4 Best Spots To Spend Nights Under The Star-Studded Sky!
7. Spiti Valley – Himachal Pradesh

Taking a motorbike to Spiti has been a pretty common adventure now, hence for those who seek to get off the beaten path should probably give mountain biking a try. One of the most awe-inspiring mountain biking trails in India is the one that leads to Spiti Valley while crossing numerous remote valleys of Himachal Pradesh. Giving travelers a chance to witness something that looks straight out of a storybook, Spiti Valley is a must-visit at least once in the lifetime.
The villages still following centuries-old traditions, ancient monasteries standing beautifully, and the natural marvels living their best lives in the hills is an experience that tends to stay in the minds of cyclists for a really long time. The fitness grade required to be a part of this expedition in Spiti Valley is however, moderate. Hence, make sure you get a lot of practice and build up that stamina while planning for this adventurous excursion! This is one of the most amazing things to do in Spiti Valley.

Duration: 13 days
Route: Sarahan – Wangtu – Ribba – Puh – Chango – Tabo – Kaza – Hansa- Losar- Chhota Dara – Marhi – Manali
Charges: Price on request
Best time to go mountain biking in Spiti Valley: March to June
8. Munnar – Kerala

South India is one of the greenest lands that one will ever come across and Munnar just tops the list of top destinations. Offering the best mountain bicycling in India, Munnar has trails and routes for every cyclist from amateurs to professionals. There is an extensive number of green flora in the form of shola forests, tea gardens, and cardamom estates in Munnar that takes away the breath of spectators, leaving them craving for more refreshing natural wonders.
Mountain biking in Munnar that will surely enthral you. From one single day to more days, there are numerous trails and organizers that carry out the cycling tours according to the preference of travelers. The day cycling tours take place from the Munnar camps and aim to give cyclists an opportunity to witness the stunning views of the countryside of South India. One can pass across villages, mingle with local tribes, and cycle along the tea gardens. The place is loved for offering the best mountain biking experience.
Duration: 1-4 days
Route: Munnar – Periyar
Charges: INR 6,000 onwards
Best time to go mountain biking in Munnar: March to May, December to February
Suggested Read: 26 Spellbinding Places To Visit In Spiti Valley For A Surreal Holiday In 2022
9. Sikkim – Sikkim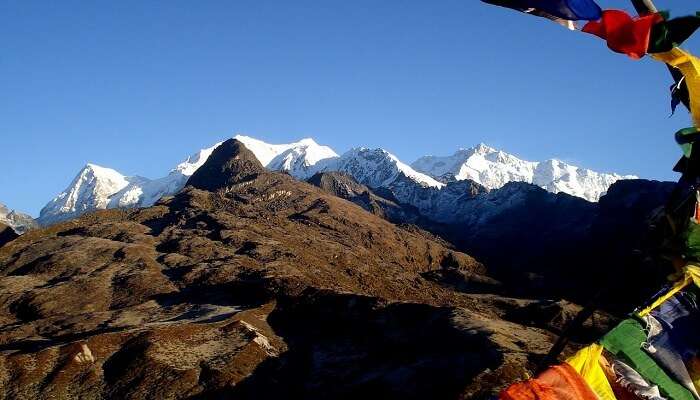 A destination that is known for being home to some impeccable wonders of mother nature, Sikkim is nothing less than paradise on earth for mountain bikers. The hairpin roads, lush green valleys, and the fresh oxygen makes the whole experience of mountain bicycling in India. Sikkim is a destination that is famed for being home to some of the most rugged terrains, hence keeping one on toes and their adrenaline rushing all throughout.
This destination has plenty of trails just waiting to be explored by all the adventure enthusiasts out there in the world. The best trail out of all is definitely the one that goes from Gangtok. On the way back, one can pass through remote villages and monasteries and get a deep insight into the cultures and traditions of Sikkim. Mountain biking is surely one of the fastest growing sports that is gaining popularity among various age groups in India.
Duration: 15 days
Route: Gangtok – Ranka – Martam – Sirwani – Temi – Ravangla – Maenam Peak – Borong – Tashiding – Yuksom – Khecheopalri Lake – Pemayangtse – Rinchenpong – Jorethang
Charges: Price on request
Best time to go mountain biking in Sikkim : October to December
10. Nandi Hills – Karnataka

Nandi Hills is loved for its cycling trail which attracts adventure freaks from across the country. Located in proximity to Bangalore, Nandi Hills is frequently visited by tourists looking for a quick break from there day to day life. This cycling trail in Nandi Hills gives you a chance to unveil the charm of the countryside of this lively city!
What makes this excursion a memorable experience is paddling through the well-maintained roadway while fresh breeze touches your face amid mesmerizing beauty of nature. You can also stop in between and indulge in some pottery art in local villages. The place is known for offering beautiful mountain biking experience.
Duration: 1 day
Route: Starts from Hard Rock Cafe Junction at MG Road and drive down to the base of Nandi Hills. 
Charges: INR 3,000 onwards
Best time to go mountain biking in Nandi Hills: Throughout the year 
MTB Himalaya – A Pioneer In Mountain Biking In India

MTB Himalaya has played a pivotal role in changing our perception towards mountain biking in India. It was founded in the year 2004 to spread this form of adventure sports in India. MTB Himalaya has organized several races in the Himalayan region, which has projected India as one of the exciting mountain biking destinations.
Also, the frequent races conducted by them have led to the tremendous growth of this sport in India and has subsequently led to the rise of local, amateur, and seasoned mountain bikers. Rightly, Hero MTB Himalayas is every cyclist's dream today!
Suggested Read: 5 Scintillating Waterfalls Near Munnar That Are Perfect Examples Of Bliss!
Mountain Biking Tips

A good mountain biker is a person who is never too far from regular practice. To prepare yourself for mountain biking in India, you must be equally competent to tame the beaten path and rough terrains. While you can take care of stamina and endurance by planning a good diet, there are other technicalities involved which can be attained through practice and keenness and must be followed religiously.
Braking mechanism: You must master the perfect use of brakes and also know when to shift the weight on the wheels while traveling upslope or downslope. Understanding the impact of braking holds the key and must be understood and applied efficiently, else you might topple over the handlebar.
Climbing uphill: Climbing uphill requires a lot of effort. There are a few things that come straight from the rulebook and must be kept in mind before cycling uphill. Some of them are, shifting to a low gear, staying seated, leaning forward and continuous pedaling.
Mastering the descent: Descending requires more effort from mountain bikers and you must be in complete control of your bike. Things that must be kept in mind while going downhill is shifting to a big chain wheel, avoiding the shift of weight from side to side and oversteering, rising above the saddle, dropping your seat by a couple of inches, and keeping your front paddle slightly up to avoid bumps and obstructions.
Other precautions
Know your bike and how it works
Never forget to wear a helmet
Know your mountain biking gears, always go for the recommended one
Never compromise on fitness
Know the place and its climatic conditions before you begin your excursion
Take calculated risk as you plan on climbing, jumping or traversing risky terrains
Always carry the first aid kit with you
How Did Mountain Biking Originate As A Sport?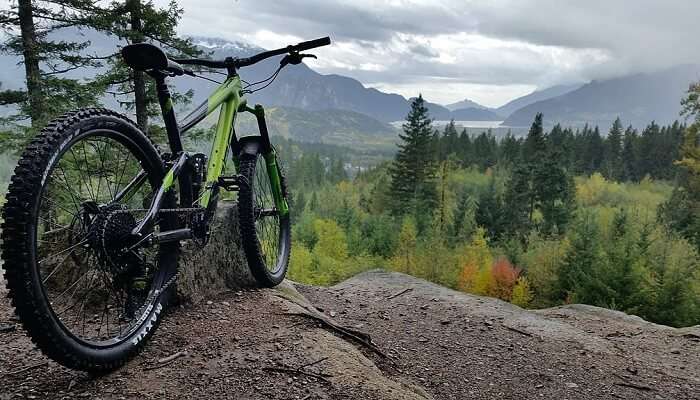 In 1966, the first modified bike was used for freewheeling down mountain trails. It was the time when mass media used the term 'mountain biking'. In 1970s the sport was significantly popularised by Northern California. However, the mass production of mountain bikes commenced in 1981. Later in 1990s and 2000s, the sport reached international arenas with numerous exciting races being organised across the globe. 
How Can You Start Mountain Biking In India Yourself?

First, you need to buy a mountain bike for yourself. Checkout the various kind of mountain bikes and go for the one that suits your needs. If you are unsure about your interest in the sport and looking for a pocket friendly alternative then you can contact local cycling group and go for a rented bike. These local groups organises trips on weekends which gives you chance to try your interest in the sport. Once you are comfortable with it, you can buy a mountain bike for yourself which costs INR 15,000 onwards. Later you can go for longer trails across the country. 
Safety Precautions And Risks Involved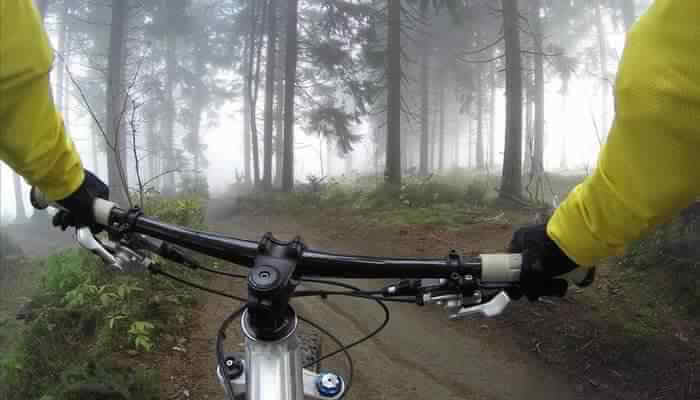 You need to be cautious and make sure that you take safety precautions and proper training before going on cycling trails. Always wear a well-fitted helmet and carry a bike repair tool kit with you. Make sure you have proper lights and clothes that makes you visible from a proper distance. 
Further Read: 48 Places To Visit In Sikkim In 2022: Extraordinary Realms In The North East!
The world is looking up to India as the next big destination for extreme sports like mountain biking, when are you going to break your mental block against this exciting adventure sports? Whenever you plan your next trip to India, make sure you have your bikes rented and your routes sorted to experience one of the best adventures in this country!
Disclaimer: TravelTriangle claims no credit for images featured on our blog site unless otherwise noted. All visual content is copyrighted to its respectful owners. We try to link back to original sources whenever possible. If you own rights to any of the images, and do not wish them to appear on TravelTriangle, please contact us and they will be promptly removed. We believe in providing proper attribution to the original author, artist or photographer.
Frequently Asked Questions About Mountain Biking In India
Q. Which are the best places to go for mountain biking in India?
A. Some of the top places to go for mountain biking are Leh-Zanskar, Manali-Leh, Kangra Valley, Garhwal and Kumaon.
Q. What are the benefits of mountain biking?
A. Mountain biking improves heart health and gives less stress on the joints. Alongside that, there is a decreased risk of diseases and improved mood.
Q. How dangerous is mountain biking?
A. Mountain biking is quite a dangerous sport which can cause severe injuries or more than worse. It is better to not ride beyond the skill level and make sure to control the ride.
Q. How much professional mountain bikers earn?
A. The top 10 bikers in the world earn approximately 50,000 USD to around 3,00,000 per year which also includes the prize money and bonuses.
Q. What clothes are suitable for mountain biking?
A. It is recommended to wear a short-sleeved t-shirt and biking jersey with durable lowers. Alongside that, the rides can do padding in their shorts and come up with low-profile chamois.
Q. Who is the highest-paid mountain biker?
A. Aaron Gwin is the highest-paid mountain biker who earns around $1 million every year according to the Singletracks Mountain Bike News.
---
Looking To Book An International Holiday?