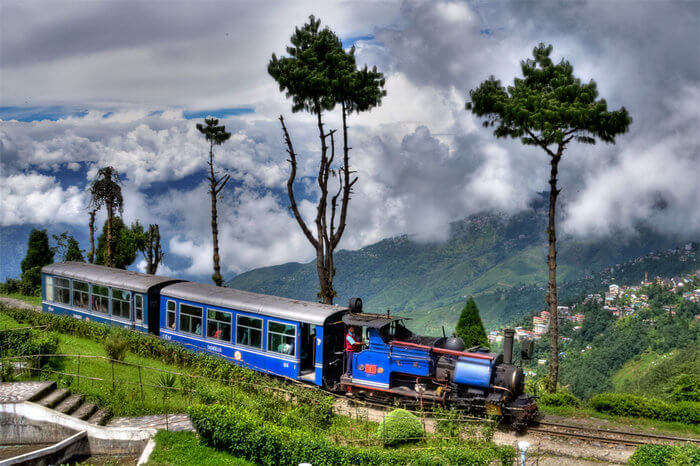 The scenic and breathtaking mountain railways of India not only connect rural India and modern India, but also offer explorers an unmatched travel experience in craggy mountainous terrain. From the Kangra Valley Railway in the north to the steam-driven Nilgiri Mountain Railway in the south, all these trains run on the historic mountain railway lines that were built during the British Raj in the late 19th and early 20th century. Three of the mountain railways: the Darjeeling Himalayan Railway, Kalka-Shimla Railway, and Nilgiri Mountain Railway have been given the status of UNESCO World Heritage Sites.
Matheran Light Railway and Kangra Valley Railway are the other mountain tracks that take you through meandering railways tracks, rugged mountains, and gorgeous terrace farms. Here's what you need to know before you hop on of these trains.
Mountain railways of India that are UNESCO World Heritage Sites
1. The Darjeeling Himalayan Railway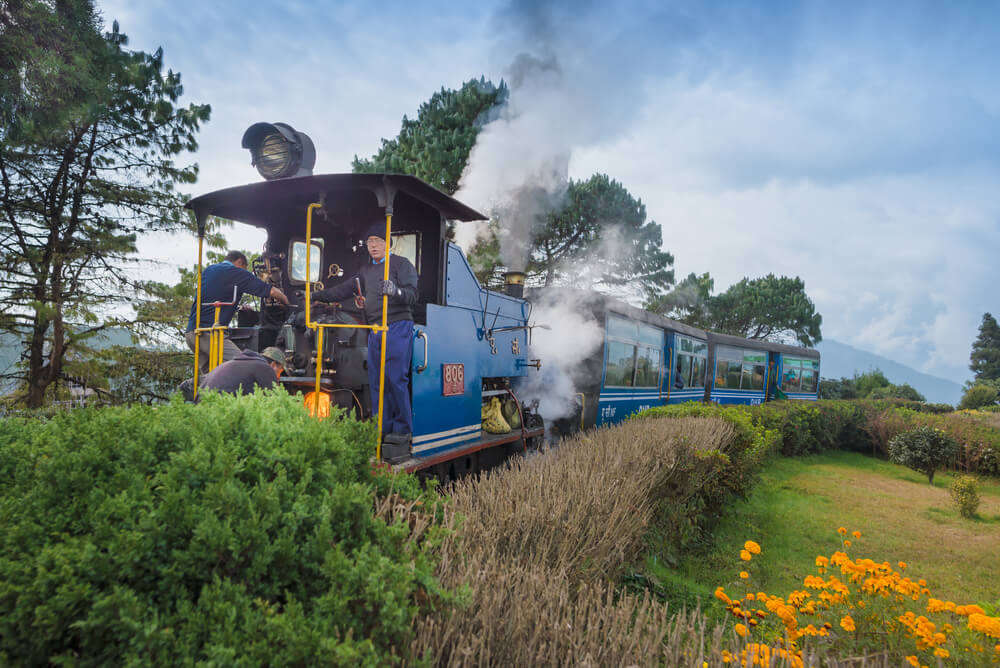 Darjeeling is a land of expansive meadows, tea gardens, glorious Kanchenjunga, lush rolling hills, and the beautiful Darjeeling Himalayan Railway. The small-gauge railway, which is often called "toy train" for its little size was started in 1881 and has been a UNESCO World Heritage Site since 1999. It travels a distance of 78 kilometers between Darjeeling and New Jalpaiguri. The train goes through serpentine tracks, switchbacks, hairpin turns, tunnels, and bridges, making it a journey to remember.
Track length: 88 km
Route covered: New Jalpaiguri, Siliguri Town, Siliguri Junction, Sukna, Rangtong, Tindharia, Gayabari, Mahanadi, Kurseong, Tung, Sonada, Ghum and Darjeeling.
Darjeeling Himalayan Railway ticket:
Diesel Engine Rides: INR 800/per person
Steam Engine Rides: INR 1,300/per person
2. The Nilgiri Mountain Railway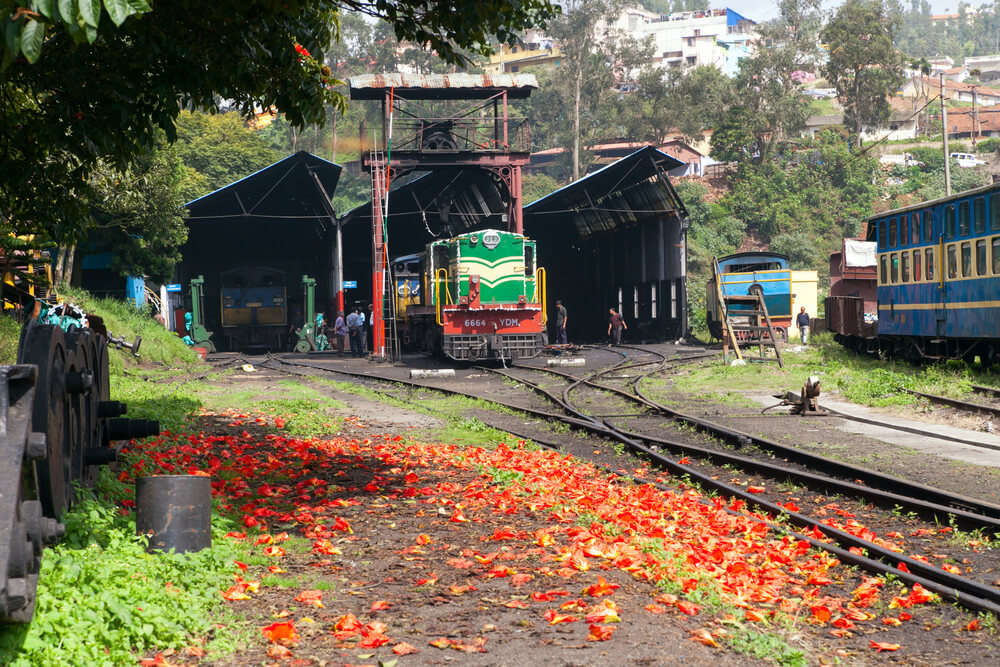 The Nilgiri Mountain Railway is a 46-km-long railway track in the mountainous terrain if the state of Tamil Nadu. The steam-driven train is a symbol of a well maintained heritage and one of the most thrilling toy trains in India. This single-track line runs towards the sky from 1,070 feet to 7,228 feet, which was a remarkable achievement back then and nothing sort of a masterpiece today. Built in 1908 and declared a UNESCO World Heritage Site in 2005, the train takes you through rocky terrain, gorgeous ravines, lush tea estates, and thick forests, and ends in the spectacular Ooty.
Track length: 46 km
Route covered: Mettupalayam, Kellar, Coonoor, Wellington, Lovedale, Ootacamund
Nilgiri Mountain Railway ticket: INR 30 second class and INR 205 first class. One way general class fare is INR 15.
Must Read: 7 Super Luxury Trains In India That Are Worth Spending A Fortune
3. The Kalka Shimla Railway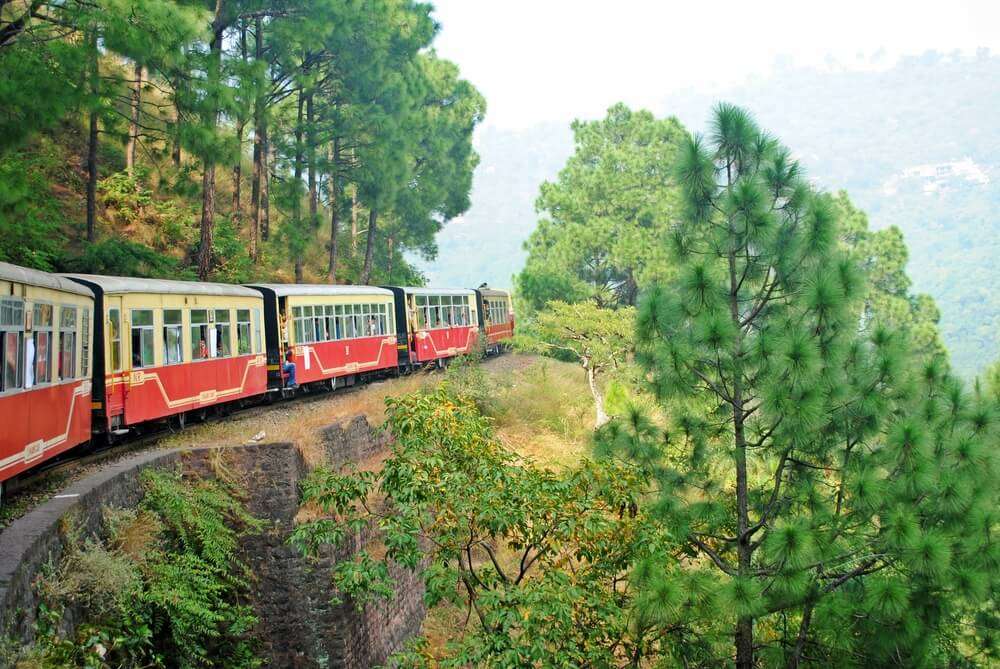 Kalka-Shimla Railway is not just an economical way to reach Shimla, but also a breathtaking journey one can take through the Himalayan mountains. The 96.54 km narrow gauge connects the plains to the summer capital of British Raj. Opened in 1903, UNESCO added Kalka-Shimla toy train as an extension to the World Heritage Site of Mountain railways of India. This beautiful little train passes through 103 tunnels and about 800 bridges and viaducts. This probably is one of the best train journeys you'll ever take in your life.
Track length: 96.54 km
Route covered: Shimla, Summer Hill, Shoghi, Salogra, Solan Brewery, Barog, Kumarhatti Dagshai, Dharmpur, Kalka Junction.
Kalka-Shimla Railway ticket:
Rail Motor: Approximately INR 300
Shivalik Deluxe: Approximately INR 500
Shimla Kalka Express: Approximately INR 70
Himalayan Queen: Approximately Rs 260
Other mountain railways of India
4. The Kangra Valley Railway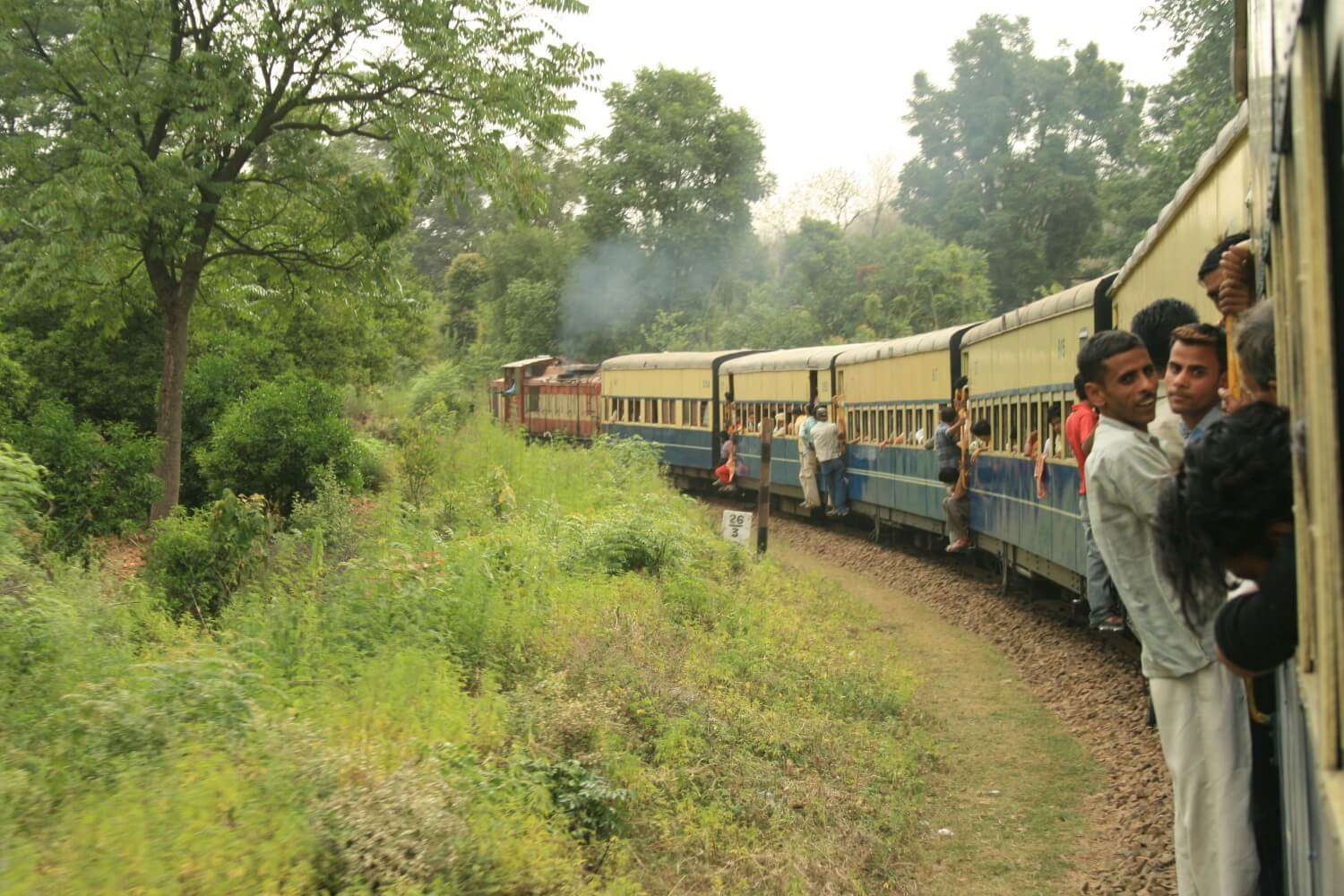 The joy of travelling is not in where you go, but how you reach there; and Kangra Valley Railway is one such train ride that winds its way through the misty Himalayas. Commissioned in 1929, this is one of India's only five toy trains. This 164 km long track reaches at a height of 4,000 ft and crosses about 950 bridges while offering the most alluring vistas. It may not be one of the cleanest trains, but who cares, all you have to do is stick your head out and let the cool Himalayan wind caress your face.
Track length: 164 km
Route covered: Pathankot, Jawalamukhi Road, Kangra, Nagrota, Palampur, Baijnath Paprola, and Joginder Nagar.
Nilgiri Mountain Railway ticket: INR 27 one way
Suggested Read: 23 Types of People You Meet While Travelling in an Indian Train
5. Matheran Hill Railway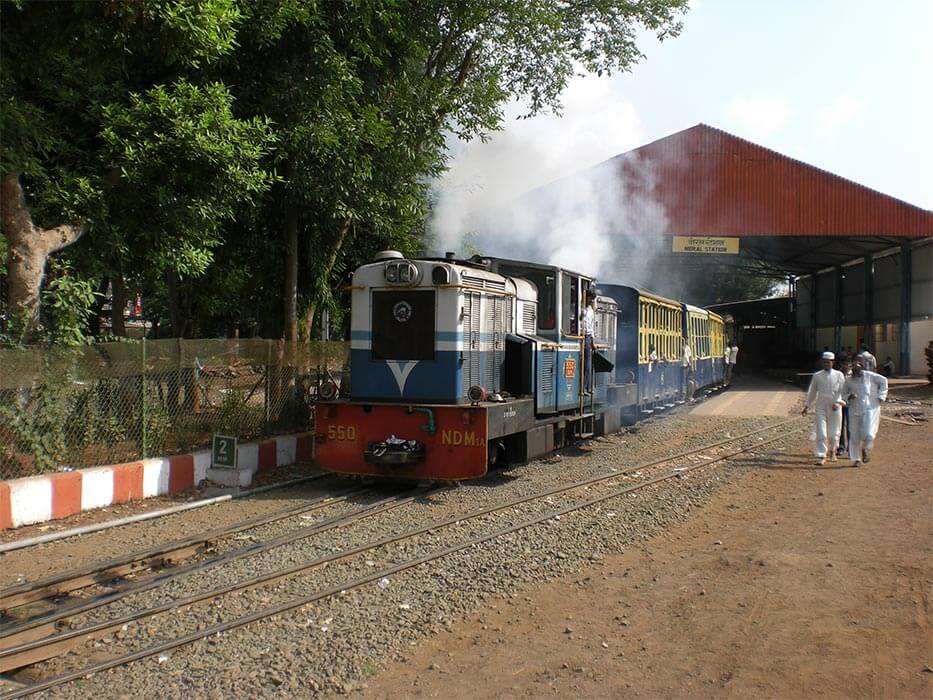 Matheran Hill Railway makes your journey from Neral to Matheran an incredible experience. Opened in 1907, this toy train employs a series of switchbacks, sharp turns, and a tunnel named "One Kiss" that add thrill to the entire journey. The railway is in tentative list of UNESCO World Heritage Site and will soon join the group of Mountain Railway of India. You can find vendors selling snacks and cold drinks on the train along the journey.
Track length: 21 km
Route covered: Neral, Jummapatti, Water Pipe, Aman Lodge, Matheran
Nilgiri Mountain Railway ticket: INR 65 second class, 265 first class, INR 1325 deluxe salon
Does it sound exciting enough to make you leave the hectic city life behind and hop on a toy train to the mountains?
Further Read: Dochula Pass, Bhutan: 3 Reasons You Must Visit It
---
Looking To Book An International Holiday?
Book memorable holidays on TravelTriangle with 650+ verified travel agents for 65+ domestic and international destinations.
---