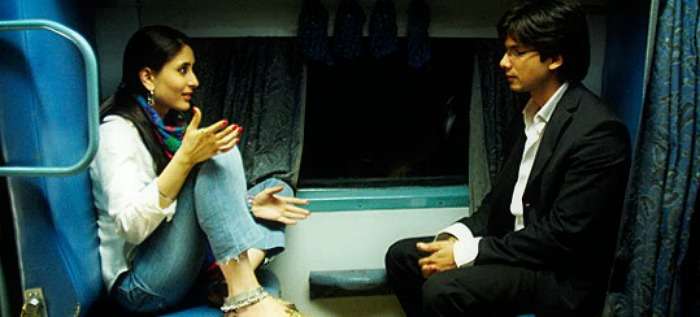 The Indian Railways network is one of the oldest, widest and most successful across the world. Due to the diversity of the country a journey in an Indian train ensures that we encounter a variety of people.
Travel Triangle presents the 10 types of people you meet while travelling in an Indian Train.
1. The 'Every-Station-My-Destination' Person

Image Source
This person hops off every time the train halts; sometimes even when the train halts randomly in the middle of nowhere. Sometimes he samples the food stalls on the platform, sometimes he indulges in small talk with the porters and sometimes he just stares blankly at the signal, mentally calculating when it shall go green.
Must Read: 9 Types of Men You Would Love To Meet While Traveling
2. Upper Berth Sambha!

Image Source
On boarding the train, the Upper Berth Sambha quickly arranges his luggage, and rushes to the upper berth as if it was the mission of his life. Once up there, he creates his own world and hardly ever graces the floor unless there is an emergency. Like Sambha, he will keep to himself, yet at every stop they annoy the one sitting by the window by asking, "Kaunsa Station Aya Hai ?"
Must Read: 10 Villains With Whom You Can Travel LIKE A BOSS
3. Restless Rathore

Image Source
The Restless Rathore's body and the seat of the train repel each other. The maximum time he can stay committed to the seat is about 30 minutes. Loo breaks, going to the door or just exploring the train, the Restless Rathore is always on the move
4. Tharki Chokro – The out of control flirt!

Image Source
Train journeys are the most romantic form of travel and have a distinct charm. Sometimes harmless flirting with a member of the opposite sex is cute. But much to the inconvenience of the one being hit on, the Tharki Chokro just doesn't know where to draw the line and starts acting weird and sometimes creepy.
5. The Snore Factory!

Image Source
Quarrelling families, yelling kids, or aggressive rounds of antakshari ; nothing has enough mettle to disturb the sound sleep of The Snore Factory; although the snoring saga sometimes results in the co passengers not getting any sleep at all. The Snore Factory, if travelling solo, most often sleeps past the destination he was supposed to disembark at.
---
Planning your holiday but confused about where to go? These travel stories help you find your best trip ever!
Real travel stories. Real stays. Handy tips to help you make the right choice.
---
6. The Extrovert

Image Source
Generally the extrovert helps pass time in long journeys. Experts in breaking the ice, within no time you find yourself in an engaging conversation about any random subject under the sun. However the extrovert sometimes does not realize when you want to stop the conversation and then you wish people had a pause button!
7. The Gyanbaaz Uncle

Image Source
He claims to have utilized his time on the planet well. He has travelled the world, read a lot, and has earned immense wealth and wisdom. The only skill he lacks is minding his own business. He will question you, judge you and advise you and at times go down the nostalgia trip of his younger days, and more often than not there is no escape from this one.
Must Read: Bollywood has been screaming of travel! Did you know?
8. The Gamer

Image Source
Antakshari, Dumb Charades, Chor Police, Hide and Seek, Book cricket, quizzes or mobile games, the gamers are involved in some sort of games all the time. Generally good with kids (if not kids themselves), the gamers are interesting company to have during the trip.
9. The Food Fanatic

Image Source
Not only does edible stuff form the majority of the food fanatic's luggage, he also samples every food that is sold, served or offered to him. The food fanatic knows every station en route by its culinary specialty and might get offended if you don't appreciate a dish that he adores.
Must Read: 40 Indian Snacks Which Can Turn You Into a Local From a Tourist!
10. The Dark Knight

Image Source
Has an element of mystery to his personality, generally doesn't mingle, but yet observes every detail minutely. Although an introvert and might appear as a boring recluse to a few, he is the first one to point out if there is anything fishy like the someone trying to steal a candy ! He is the co passenger we need but not the one we deserve!
11. Aunty Ji, Aunty Ji, Get up and Leave !

Image Source
You are morally obliged to lift her luggage, vacate the most comfortable seats for her and at times even to play her adopted child. But the worst thing is you are supposed to listen to all her gibberish. And if you revolt, you are the non sanskari rebel !
12. The Bhajan Geet Sammelan!

Image Source
Much before Yo Yo Honey Singh became a rage, the restless chanting of spiritual songs by large groups in trains made you felt as if you were trapped in a cage (and they continue to do so)! Not against worship of any kind but there is a right time and a place for everything, right?
Must Read: 13 Reasons Why It Is Always Fun To Travel With A Barat
13. My Kid's Got Talent!

Image Source
Some parents don't realize when they become PR agents for their own kids! "Beta Poem Sunao, Beta 2 X 75 kitna hota hai?, Beta Hrithik jaisa dance karke dikhao". My kid can… please spare us the horror!
14. And the Kid's Really Got Talent!

Image Source
Some kids you meet in the train journeys are tiny sachets full of talents. They amaze you with their skills in dance, sports, intelligence, or singing or all :p. So much so that you feel like an underdeveloped ape yourself.
15. Coolie by Profession, Rugby Player by Spirit!

Image Source
Keep safe distance else they might mistake you for and treat you like luggage, and mind you they do not handle luggage with care! It's easier to negotiate freedom with a dictator than fare with the deadly coolies of the Indian trains and every time they race across the platform with your luggage, you get a minor cardiac arrest.
16. Booking Tickets is such a Bhaste of Time Person!

Image Source
There are people who take line 'Railway aapki sampatti hai' too seriously. More often than not their reason for not booking a ticket is not genuine at all, however with exceptional negotiating skills they manage to share a seat or bribe the TC and complete the journey.
17. The Overburdened By Luggage Person

Image Source
These people carry enough luggage to start up a new civilization. From underseats to overbirths every available inch around them becomes the parking space for their luggage. Sometimes you wonder if they have actually been thrown out of their homes and are looking to begin a new life.
Must Read: There you go, coolest photography ideas for your next trip!
18. Desi Is-spidermen

Image Source
Because travelling safely and comfortably 'inside' the train is for the weak hearted! The real thrill is hanging by the door of a fast moving train while feeling the breeze ruffle your hair. Most of the times they make it to their destination, at other times they make it to the next day's newspapers.
19. Soldiers!

Image Source
The most disciplined kind of co traveler you will come across in the train journey. They will be the first to help you out in any situation and you will always be amazed by the warfront or cantonment stories that they have to share.
20. Long Lost Relatives!

Image Source
While casually chatting with some co passengers you suddenly start making common references and in the process you realize that you and your fellow traveler(s) are different branches of the same family tree! It's a great feeling to have when you suddenly feel that you are not 'alone' in the train after all (or maybe not!)
Must Read: Little Delights You Would Know Only If You Travel
21. Trans Pe Dance!

Image Source
You are most likely to come across a transgender clapping to its heart's content while demanding money in the process. While most passengers give them money so that they leave quickly, some for sheer entertainment refuse or engage in a verbal conflict which can turn nasty and lead to obscene dances by the trans.
22. Tujh Mein Rab Dikhta Hai Couple !

Image Source
Some couples are so engrossed in each other and refuse to acknowledge the existence of any other person in the train that you often wonder if they are scheming to make out the very next moment or planning to blast the train!
Must Read: Dilwale Dulhania Le Jayenge, Lekin Kaha?
23. The Salesmen!

Image Source
Sounds of 'Chaaaai Chaaai' wake you up every morning in an Indian Train. And it's not just tea, the Indian train is full of salespeople trying to sell anything from combs to cheap calculators and the best part is their innovative sales pitch which many a times is a cheesy song !
Must Read: 40 Indian Snacks Which Can Turn You Into a Local From a Tourist!
---
Looking To Book An International Holiday?
Book memorable holidays on TravelTriangle with 650+ verified travel agents for 65+ domestic and international destinations.
---