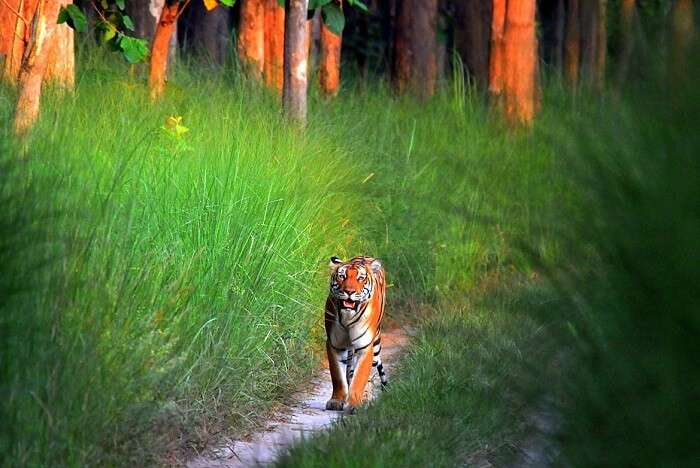 Nestled snugly in the lush Nilgiri Hills in Tamil Nadu, Mudumalai National Park is an unblemished abode of royal Bengal tigers, Giant Malabar Squirrels, and many more animals and bird species. What makes it unique is the unquestionable amount of adventure that it bestows its guests with. From riding away in thrilling safaris, spotting tigers basking in the sun with their cubs, picnicking near lakes and enormous waterfalls, and bathing naughty baby elephants, there's no dearth to the amount of fun one can bank upon when they're in Mudumalai forest.
Scroll down to find out what all this Nilgiri's gem has in store for you and how it can give you the most thrilling time amid Nature.
Mudumalai National Park Basic Information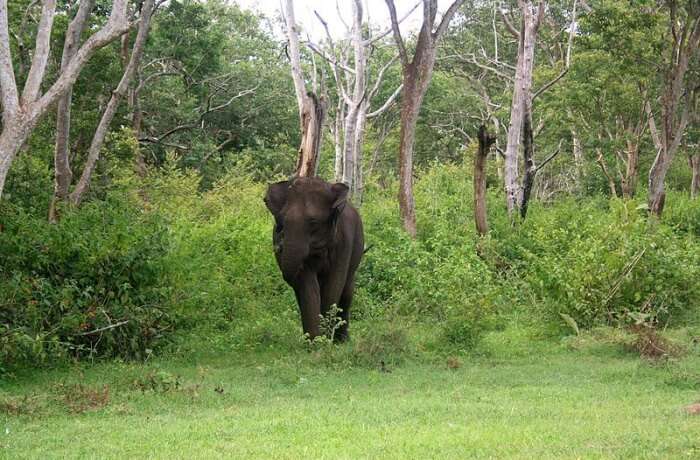 Image Source
Area: 321 km sq (124 sq mi)
Location: Northwestern Nilgiri Hills (Blue Mountains), Nilgiri District, Tamil Nadu
Elevation: 1,266 m (4,154 ft) above sea level
Latitude: 11.5623° N | Longitude: 76.5345° E
Geography: A varied terrain ranging from flat lands, undulating parklands, open grasslands, swamps, valleys, and 'nullas'. The forest cover is mostly tropical moist Deciduous forests, dry Deciduous forests, and scrub forests, along with Tropical Evergreen forests, moist teak forests, dry teak forests, grassy woodlands, shrubs, and swamps in some parts.
Mudumalai TripAdvisor Reviews
Map Of Mudumalai National Park
Best Time To Visit Mudumalai National Park
Though it's an year-round destination, the best time to visit Mudumalai National Park is from March to June and from September to October.
Average Temperature: 24°C
Summers in Mudumalai National Park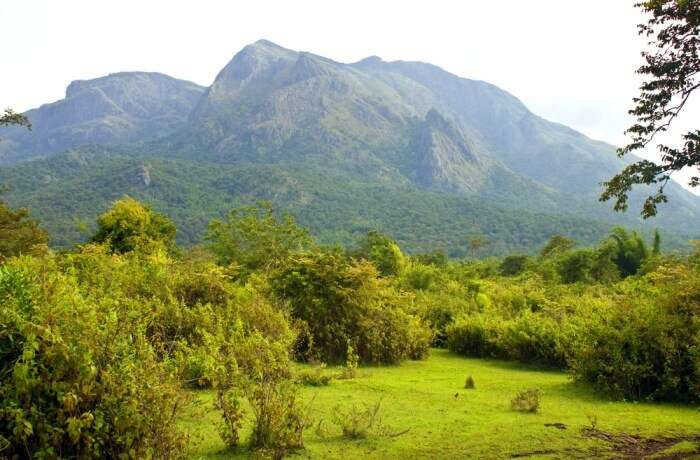 Summer season in Tamil Nadu starts by February and stays till May. The park is usually dry and warm during this time. Lots of animals can be seen out around in the open, usually near water sources. Summer season is an ideal time to spot animals with their offspring out in the open, along with some rare birds of the region. Though it's essentially dry and warm during this time, one can expect a infrequent showers every now and then.
Average Temperature: 33°C (91°F)
Tip: Don't forget to carry sunscreen to avoid a harsh tan.
Must Read: 54 Places To Visit In Ooty In 2022 That Are Fun And Incredibly Spectacular
Winters in Mudumalai National Park
The winter season in Tamil Nadu starts in October and ends by December. It is marked by thick grasses and bushes, wet and muddy trails, misty mornings, and a cool and dry climate throughout. One can easily spot large animals during this time, while hey'd have to work hard and be patient for the smaller ones. It is also the time when you can indulge in a cozy bonfire round at your forest accommodation near the Park area.
Average Temperature: 14°C (57°F)
Monsoons in Mudumalai National Park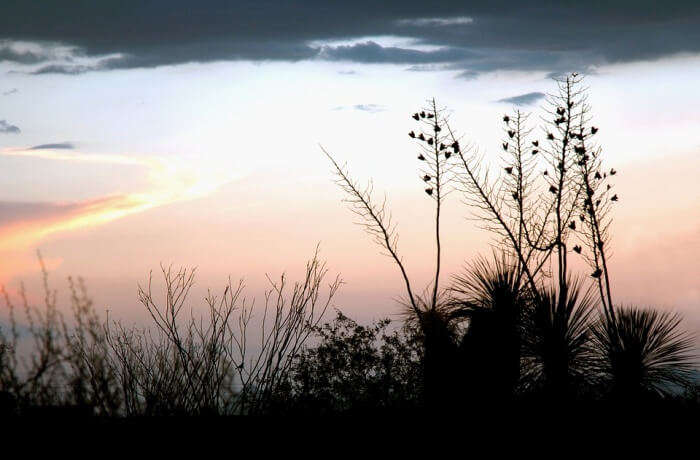 Image Source
The duration of the monsoon season in Mudumalai differs every year. It usually starts in Monsoon June and the showers stay till September. Though the park does not receive high levels of rainfall, the trails can turn slushy and difficult to tread on, and animal sighting becomes extremely limited as the fauna prefers to stay in their habitats during this time! But with the pleasant climate, green foliage all around, and fresh surroundings do make the park a good place to visit during this time.
Average Temperature: 25°C (75°F)
How To Reach Mudumalai National Park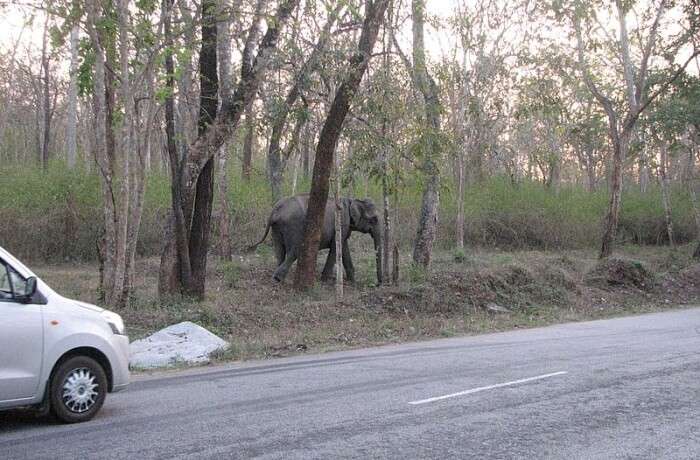 By Air: The nearest airport to Mudumalai is the Coimbatore International Airport located 123 km away. The airport is connected to major cities of India and overseas and receives frequent air traffic from destinations like Delhi, Chennai, Pune, Bangkok, and Singapore. Once at the airport, one can hail a cab or taxi, or hop into a bus that are readily available at the airport, and travel the rest of the way to Mudumalai by road.
By Rail: The nearest railway junction to Mudumalai (Masinagudi ) is in Coimbatore located at an easy distance of 116 km. The station is connected to major Indian cities like Delhi, Jaipur, Chennai, and Mumbai through recurrent trains to and fro. From here, plenty of cabs and buses are available to take people to Mudumalai Park at economical rates.
By Road: Mudumalai in Masinagudi is well connected to nearby cities via a strong and well maintained road network. A road trip to the park can be an enthralling gig for travelers in any mode of transport, be it a bus, cab, or one's own car. Affordable outstation cabs are readily available in nearby cities like Bangalore, Chennai, and Coimbatore that can take you to Mudumalai National Park as and when required. One can either hail a cab from their railway station or airport, or book a cab through a tour operator/agent.
For a more economical option, one can opt for one of the various private and government AC and non-AC buses plying to Masinagudi. The Karnataka State Road Transport Corporation (KSRTC) regularly runs bus services to Masinagudi area from these cities like Coimbatore, Mysore, Chennai, and Bangalore.
Tip: Don't honk while driving through the forest area.
Distance from Coimbatore to Mudumalai National Park: 126 km
Travel time: 4 hours 20 minutes
Distance from Ooty to Mudumalai National Park: 41.4 km
Travel time: 1 hours 23 minutes
Distance from Mysore to Mudumalai National Park: 84.3 km
Travel time: 1 hours 40 minutes
Distance from Chennai to Mudumalai National Park: 615 km
Travel time: 11 hours
Distance from Bangalore to Mudumalai National Park: 236 km
Travel time: 4 hours 40 minutes
Suggested Read: 30 Best Places To Visit In August In India To Welcome Monsoons In 2022
Mudumalai National Park Timings
The Mudumalai forest opens at around 6 AM in the morning and remains open for tourists till around 8 PM, or when it starts to get dark. The park is open for tourists all 7 days of the week.
Mudumalai National Park Safari Timings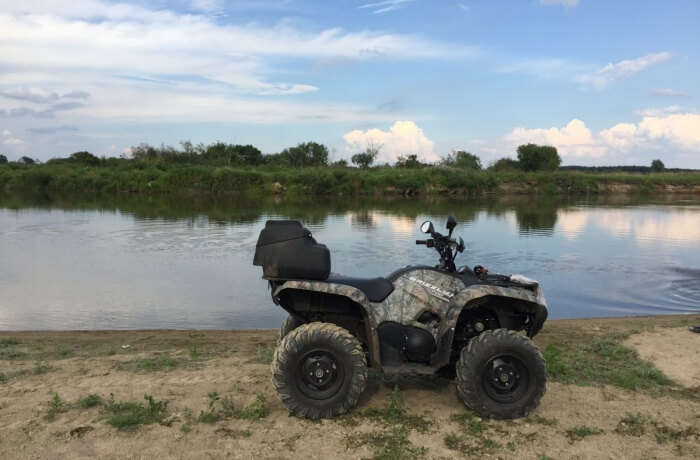 One can venture inside the Park area in the different time slots designated for the various activities the park lets travelers indulge in. These time slots have been set down keeping in mind the convenience of the travelers and the time when most animals can be sighted inside the reserve area. One can pick a time slot that suits them the most.
Van Safari Timings: 6:30 AM to 9 AM (Morning slot) | 3:30 PM to 6 PM (Evening slot)
Elephant safari Timings: 7 AM to 8:30 AM (Morning slot) | 3:30 PM to 5 PM (Evening slot)
Private Jeep Safari Packages: Depends on the availability of the driver
Suggested Read: 12 Honeymoon Places In Tamil Nadu For A Romantic Getaway In 2022!
Mudumalai National Park Entry Fee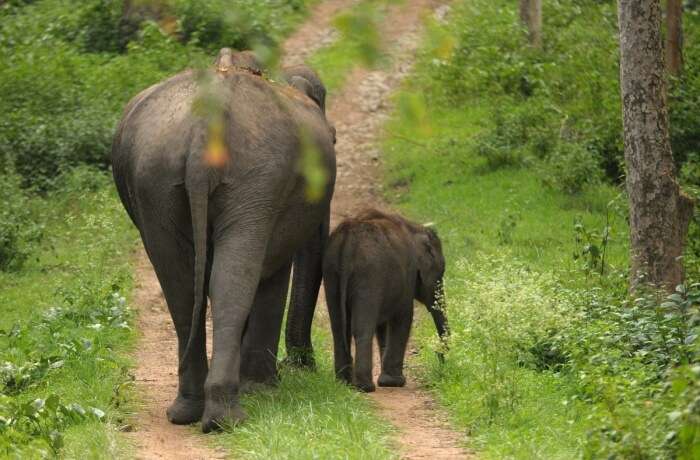 Image Source
Apart from the entry fee, travelers are required to pay a nominal fee for various other aspects inside the forest like safari, camera, etc.
Entry Fee: INR 15/- per person
Still Camera: INR 25/-
Video Camera: INR 150/-
Mudumalai National Park Jeep Safari Cost
In comparison to other national parks and wildlife sanctuaries in India, one has to pay a nominal fee of INR 135/- per person for a jeep safari tour inside the Mudumalai Park.
Ideal Duration Of A Trip To Mudumalai National Park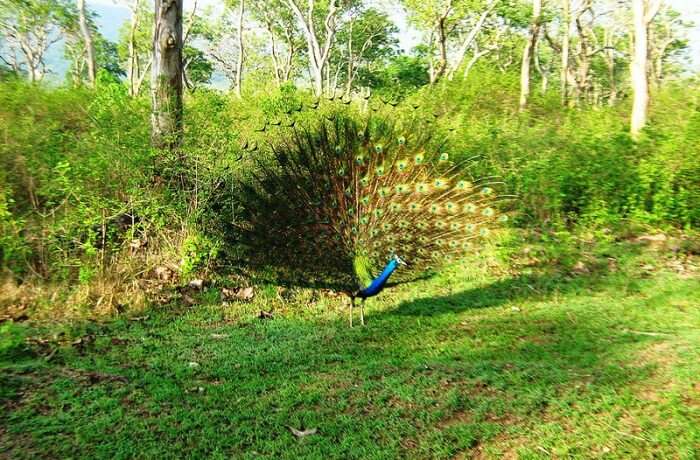 Image Source
A duration of 1 night 2 days is ideal for a trip to Mudumalai National Park, within which, a duration of about 3 hours is adequate to explore the park, indulge in all major activities like wildlife safari, animal and bird sighting, and exploring all the major attractions inside the sanctuary.
Nature lovers and wildlife photographers can acquire special permissions from the forest authorities if they require a specially guided tour inside the protected regions of the forest and observe the wide range of flora and fauna that the park is home to at a closer range.
Flora And Fauna Of Mudumalai National Park
The park is home to a diverse array of plants, animals, and bird species. One can spot 50 to 80% of these during a visit to Mudumalai forest in the peak season.
Flora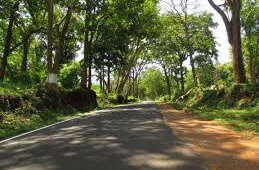 The forest is divided into three categories:
Tropical Moist Deciduous
Tropical Dry Deciduous
Southern Tropical Dry Thorn
Bamboo, natural Teak, Aredesia, Rosewood, Sandalwood, Jacaranda, Mango, Jamun, Tamarind, Banyan, Pipal, Cinnamon, Ginger, Wild Rice, Pepper, Turmeric, and Plumeria grow abundantly in Mudumalai forest area.
Suggested Read: 5 Glorious Mountain Railways Of India One Must Travel With
Fauna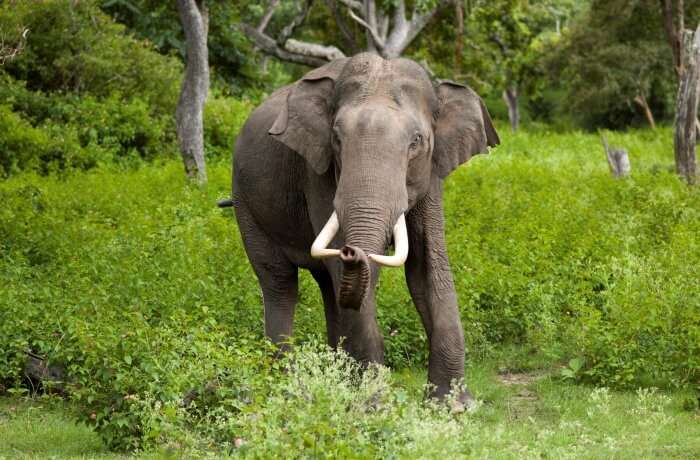 Image Source
Mudumalai National Park is home to 55 species of mammals, and over 80 BENGAL TIGERS! The mammals that cn spotted here include deer, gaur, Indian elephant, Bengal tiger, striped hyena, golden jackal, bonnet macaque, leopard cat, jungle cat, among others. Rodents include the Indian Giant Squirrel, flying squirrel, and rats. Reptiles include spectacled cobra, Asian pit vipers, pythons, flying lizards, krait, and monitor lizards.
Avifauna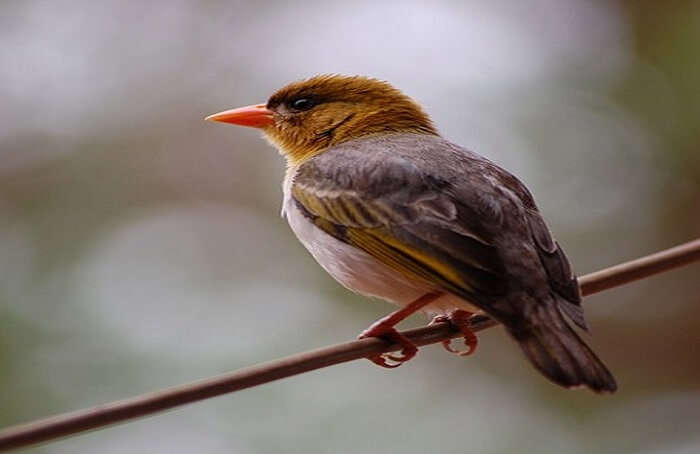 Image Source
Mudumalai houses 227 species of birds, that is, 8% of the total bird species found in India. Here, one can spot birds like Black Flycatcher, Orange Flycatcher, Malabar Grey Hornbill, Malabar Trogon, Serpent Eagle, Mottled Wood Owl, Crested Goshawk, Minivets, Rufous Bellied Hawk Eagle, and many more.
Average Per Person Budget For A Trip To Mudumalai National Park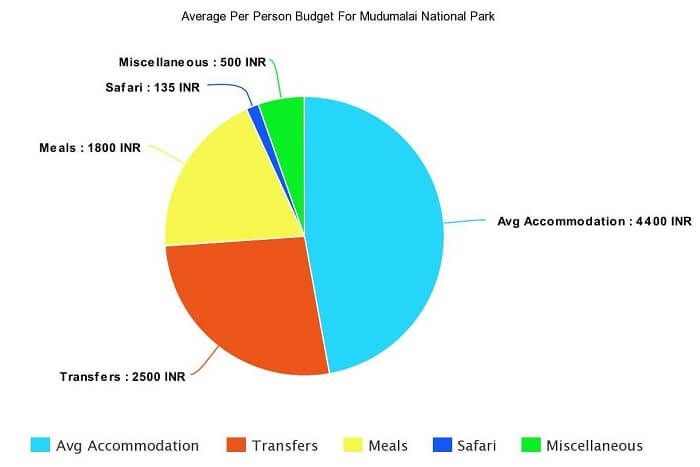 Here's a graphical representation of the estimated average per person cost for a trip to Mudumalai Forest which is inclusive of major aspects like transfers, accommodation, food, and safari.
Avg Flight Rate (round trip): INR 5,700/-
Avg Accommodation: INR 4,400/-
Transfers: INR 2,500/-
Meals: INR 1,800/-
Safari: INR 135/-
Miscellaneous: INR 500/-
Note:
Flight rates are not included in the budget given above as they may vary on the traveler's destination and time of booking
Flight rates given above are average current round trip airfares from Indian cities like Delhi, Mumbai, and Chennai
'Transfers' here indicate transportation from cities like Coimbatore, Ooty, and Mysore to Mudumalai Reserve (either by train or road)
Things To Do At The Mudumalai National Park
There are a number of activities one can delight themselves with inside Mudumalai Park. From adventurous safaris, Mudumalai has activities for all kinds of travelers.
1. Van Safari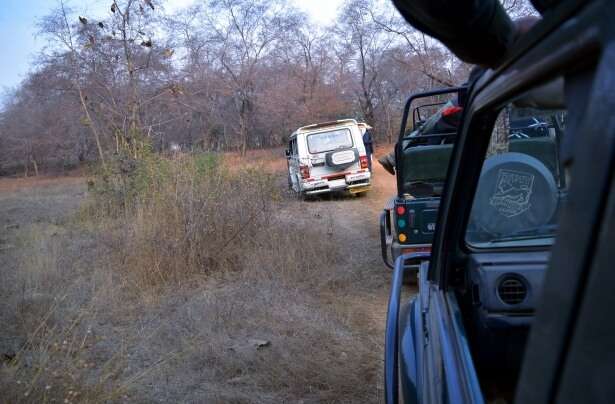 It is the best way to view the various animals and birds inside the park, especially the Bengal tigers. The feeling of 'what you might encounter next' and the anxiety associated with spotting a tiger is sure to give you an adrenaline rush like never before. But in order to catch the inhabitants of the jungle you need to be at the right spot at the right time, which is why Mudumalai provides guided safari tours with experts accompanying you in open safari vehicle and informing you about every aspect of the jungle during the tour. Scroll up for Mudumalai safari prices and timings.
Please Note: Venturing into the forest core area with private vehicles is a punishable offence.
Suggested Read: 10 Tourist Places Near Coimbatore That Flaunt Vibrant Colors Of The Ghats
2.Elephant Safari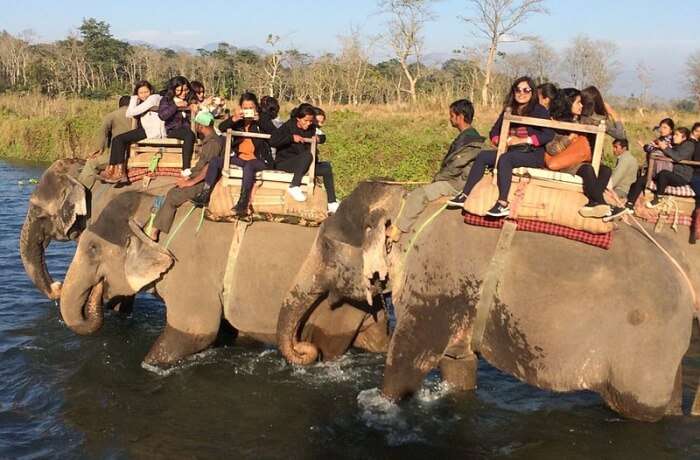 Image Courtesy: Sharad Vats
Mudumalai now conducts a half an hour elephant safari inside the park to let travelers indulge in an unsurpassed experience of being close to Nature. A delightful activities for kids, a ride on these majestic elephants is surely one of the best things to do in Mudumalai National Park to bring a smile on your child's face.
Admission ticket: INR 100/- per person
Tip: The bookings and sale of tickets for Elephant Safari are done at the Ooty Forest Office on first come first serve basis.
3. Bathing baby elephants at Theppakadu Elephant Camp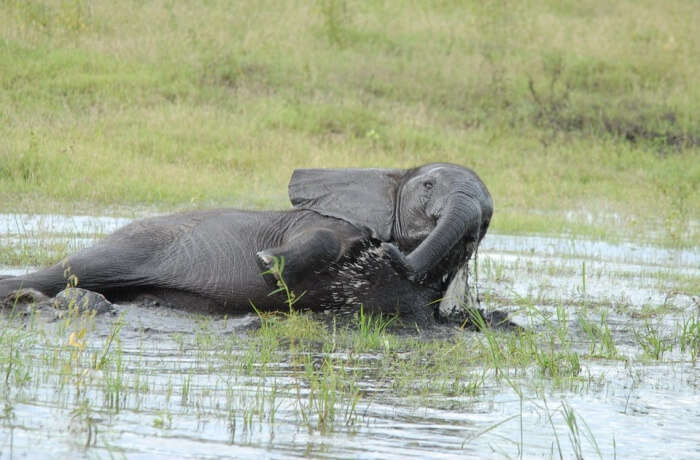 Image Courtesy: Sharad Vats
The Mudumalai forest reserve now officially has a 'camp' set for the purpose of letting travelers interact with elephants. Officially established in 1972, the camp provides visitors with a wonderful experience of interacting with the elephants, as well as bathing, feeding, and playing with them. Due to the presence of well trained elephants inside the park, there is minimum risk attached and everybody from elders to kids can indulge in the various activities organised in the camp under watchful guides.
4. Boating in Pykara Lake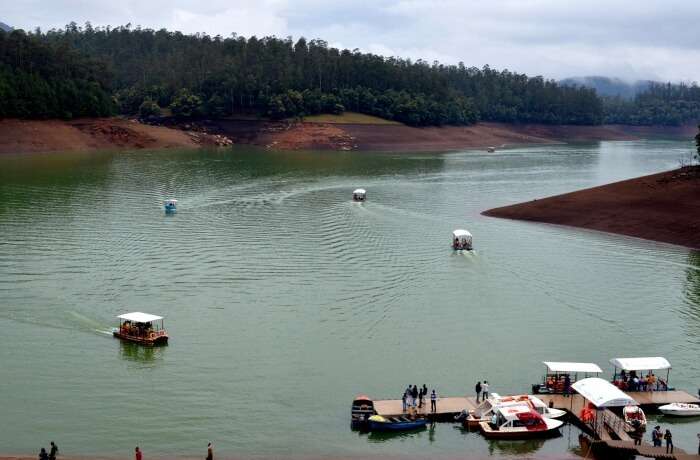 The largest river in Tamil Nadu, Pykara River is located about 21 kms from the city on the Ooty-Mysore road in the Nilgiri district. Surrounded by lush green forests, the massive river is a sight to behold as it falls down from two different heights towards the base – one from 55 metres and the other from 61 metres. These two waterfalls are known as Pykara Falls and are located mere 1.5 km away from Pykara Lake. The area around the lake serves as a popular picnic spot for locals and tourists alike.
And not just travelers, but many Kollywood (Tamil Cinema) filmmakers have been mesmerised by the beauty of the place, having shot scenes of their movies around this picturesque lake. Around the lake is a boat house, rest house, and a restaurant run by the Tamil Nadu Tourism Development Corporation (TNTDC). Apart from picnicking around the lake, one can also go for boating in the lake for a rejuvenating experience.
Suggested Read: Periyar National Park In Kerala: Guide To A Day-Tour In The Sanctuary
5. Picnicking at Kallatty Falls
Image Source
One of the ideal tourist spots in Bellikkal, the Kalhatti Falls or Kalahasti Falls are a popular picnic spot near Mudumalai National Park. Cascading down beautifully from a considerable height and forming picture-perfect pool at the base, Kallatty Falls makes up for a fun picnic spot where families with kids as well as honeymooners can enjoy time together and treat their sight to the some panoramic view of the falls from a distance. Also connected with this place is the famous Hindu saint Agasthya.
6. Moyar River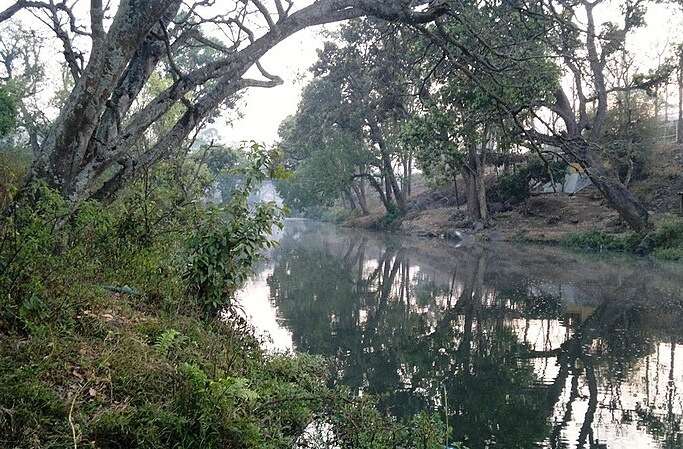 Image Source
Offering stunning panoramic views of the forest and surrounding areas of Mudumalai National Park, the Moyar River is located a mere 7 km from Masinagudi. It runs from the forest area and is the prime source of water inside the park for animals and birds, which is why it is among the best places to visit in Tamil Nadu since one can spot a number of animals who come here to drink water.
Suggested Read: The 24 Most Elegant Places To Visit In Rameshwaram On Your 2022 Vacay
Places to stay in Mudumalai National Park
From budget hotels to luxurious resorts, there are plenty of accommodation options near Mudumalai.
1. InnTheWild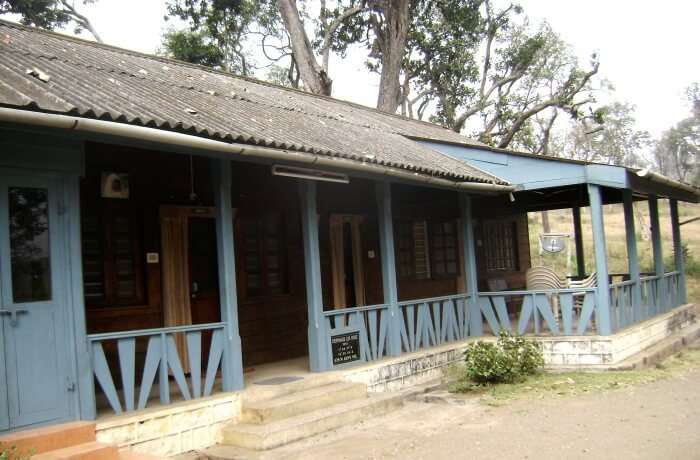 Image Source
Nestled in 65 acres of unspoilt and raw Indian forest, it is the location of InnTheWild resort that sets it apart from other hotel and resort properties in India. When here, one does not need to go looking for wildlife, they are, in fact, surrounded by it. InnTheWild, one of the best Mudumalai National Park resorts, brings you the goodness of nature and wildlife at your doorstep.
Location: Northern Hay Estate, Singara Post, The Nilgiris, Masinagudi
Prices starting from: INR 8,154/-
Google Rating: 4.6 | TripAdvisor Rating: 4.5
Website | TripAdvisor Reviews
2. Glen View Resort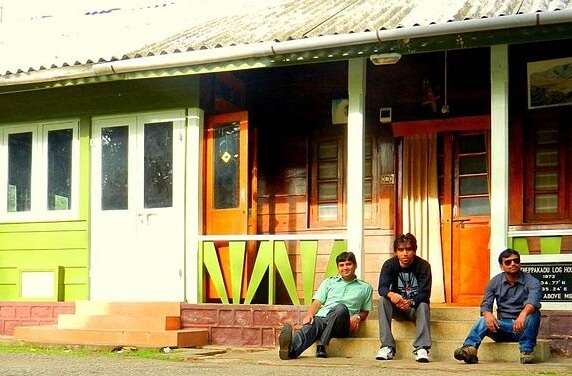 Hidden in the dark and silent canopy of bamboos and towering trees in the foothills of Nilgiris lies the picturesque Glen View Resort. Blending perfectly into the natural environment around it, Glen View enthralls its visitors with occasional visits of Mudumalai's fauna, like elephants, bisons, tigers, cheetahs, and birds and is counted among the most serene Mudumalai National Park hotels. It's the ideal getaway for those who wish to weave tales of adventure in the unblemished wild. When here, one can live in cottages built out of contemporary mud and stone interiors providing a luxurious blend of comfort and exotic natural ambience.
Location: Bokkapuram, Glen View Road, Masinagudi 643223
Prices starting from: INR 2,330/-
Google Rating: 3.9 | TripAdvisor Rating: 3.5
Website | TripAdvisor Reviews
Suggested Read: 25 Mesmerizing Hill Stations In South India That Are A Must Visit In 2022
3. Safari Land Farm & Guest House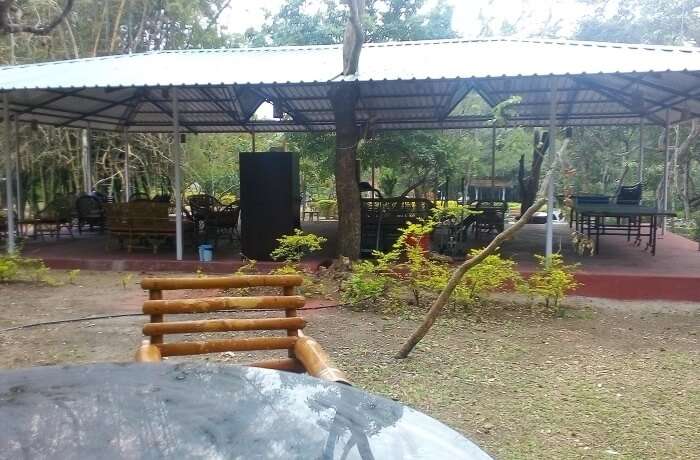 Image Source
Located in the beautiful jungle at the foothills of the gorgeous Nilgiri mountains and near a jungle stream, Safari Land Farm & Guest House is a unique abode that lets travelers stay in a treehouse. Dedicated to providing visitors an unmatched experience of being one with Nature, Safari Land Farm & Guest House lets visitors enjoy refreshing surroundings with stunning views of the beautiful Nilgiris, sparkling streams, lush green forests, and a teeming wildlife, which is why it is tops the list of the best Mudumalai National Park resorts.
Location: Safari Land Farm & Guest House 4/78k, Nilgiri District, Masinagudi 643223
Prices starting from: INR 2,718/-
Google Rating: 4 | TripAdvisor Rating: 4
Website | TripAdvisor Reviews
Further Read: 49 Tourist Places Near Chennai: Reasons To Look Forward To Your 2022 Weekends In Chennai
So, why wait? Book your trip to Mudumalai National Park at once and lose yourself in the magic of the Nilgiris, the lush forests, and the wild roaming around untamed. If you think we missed something out in this Mudumalai guide, tell us in the comments below.
Disclaimer: TravelTriangle claims no credit for images featured on our blog site unless otherwise noted. All visual content is copyrighted to its respectful owners. We try to link back to original sources whenever possible. If you own the rights to any of the images, and do not wish them to appear on TravelTriangle, please contact us and they will be promptly removed. We believe in providing proper attribution to the original author, artist or photographer.
Please Note: Any information published by TravelTriangle in any form of content is not intended to be a substitute for any kind of medical advice, and one must not take any action before consulting a professional medical expert of their own choice.
Frequently Asked Questions About Mudumalai National Park
Got queries? See if any of the following help solve them for you.
Do the hotels and resorts in Masinagudi provide safari tours inside Mudumalai National Park?
Most of the hotels, inns, resorts, and guest houses near Mudumalai National Park in Masinagudi provide guided safari tours inside the park, sometimes even at discounted rates! One simply needs to request the hotel management to book a safari tour for them and enjoy a hassle-free and smooth safari ride.
---
People Also Read
Manas National Park Silent Valley National Park Periyar National Park
Comments
comments