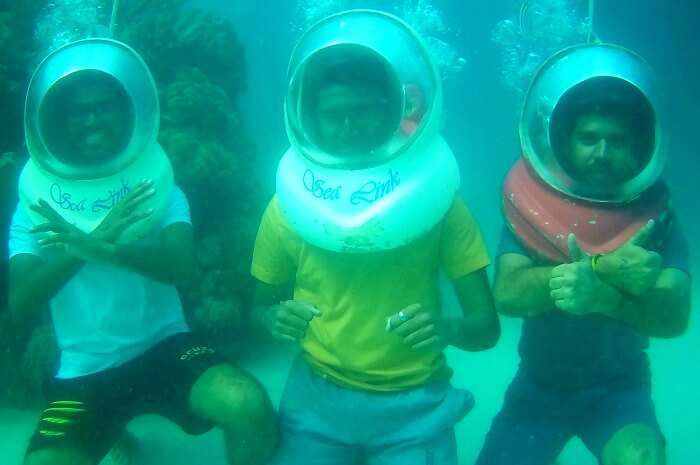 Being an ardent traveler, I always look up to new experiences also ways to tackle the demanding city life. Travel for me is exploring new places, enjoying adventurous activities, embracing the culture, and most importantly an absolute getaway from the daily work-life. We are a group of friends who are always high on thrilling experiences and that's what our bucket is filled with (Full of madness & adventure). So, when I and my friends were thinking of a place to treat the thrill seekers in us, we all settled on the Andaman Islands. Choosing this destination was not a herculean task for us as the location was perfectly catering to what we were looking for, Scuba Diving! Since Andaman is near to our city and is a famous tourist spot as well, we didn't fiddle around with the idea. Finally, it was the time to tick mark some adventures from our bucket list.
When planning a vacation, a travel organizer plays a vital role and at no cost, we wanted to make our trip any less splendid. I've been following TravelTriangle on Facebook for a long time now. I reached out to several travel websites, but thankfully, the quick & best response from TravelTriangle came to our rescue. Here is a glimpse of our action-packed vacation. (Worth writing about!)
53 Best Places To Visit In Andaman For A Mesmerising Holiday Experience
Friends Trip to Andaman Package Details
Trip Type: Friends Trip
Cost: INR 45950
No. of People: 4
Duration: 4 Nights 5 Days
Inclusions: Buffet Breakfast, Airport Transfer, Ferry Transfer, AC Cabs, Complimentary Snorkeling at Elephant Beach, Entry Tickets To Monuments & Museums, Guide Fee
Exclusions: Lunch, Dinner, Airfare, Scuba Diving and Underwater Sea Walking, Personal Expense
Day 1 : A Rainy Day With a Patriotic Feel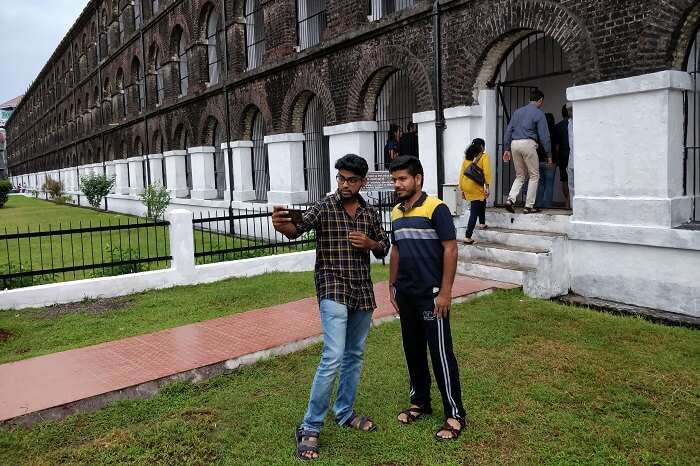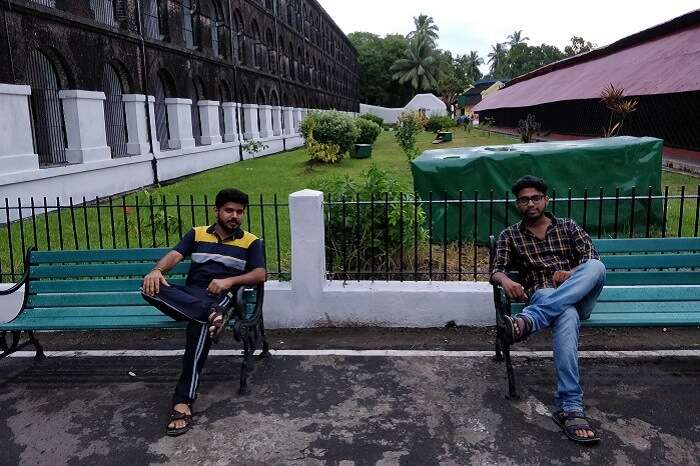 I and my bunch of crazy friends reached Port Blair airport by 10 a.m. Later, we were escorted to the hotel by the travel representative. We had enough time to refresh ourselves and get ready to kick-start our vacation. Our first half of the day went in visiting Cellular Jail where we took some pictures. Since the light & Sound Show starts in the late evening, we had about 2 hours which gave us the idea of visiting Corbyn Cove Beach. By the time we reached the beach, it was pouring rain which made us realize that the weather here has its own mood. However, that didn't refrain us from enjoying the tides & serene views of the beach.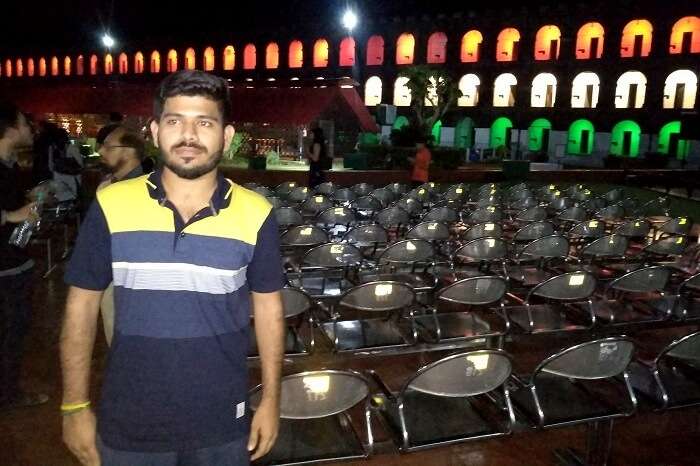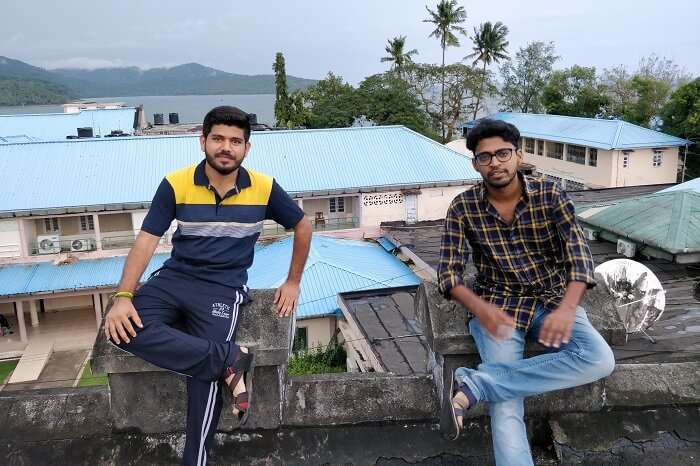 Post that we headed back towards the Cellular Jail to witness one of the best light and sound shows that gave us countless patriotic moments. Our day concluded with coming back to the hotel in Port Blair. For accommodation, we asked the travel triangle executive to book 2 or 3 star hotels as we really didn't want luxury, but just a comfortable stay. Frankly, the rooms of the hotels with AC, TV and all the required facilities were just there to suffice us.
19 Best Hotels And Resorts In Andaman That Fit Under Every Budget
Day 2 : The Scuba Diving Game is On!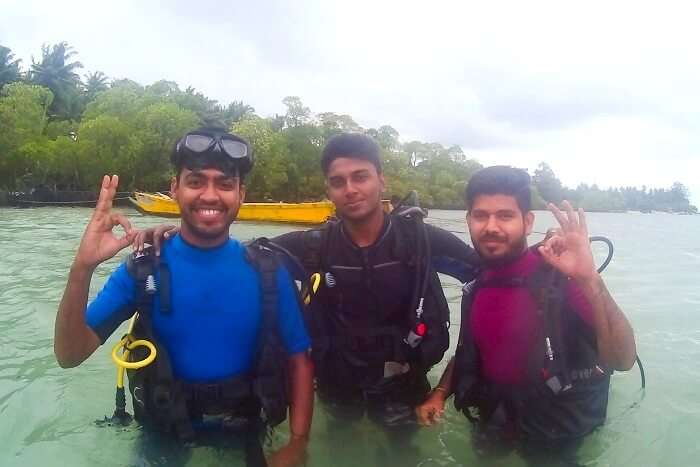 The day 2 began with our first and foremost adventure, Scuba diving. The eventful day started with us traveling to Havelock Island for which we took the ferry. Here, our accommodation was prebooked at RadhaKrishna Resort which is indeed an excellent place for a short stay. Now was the time to venture into the deep waters of the sea. We came across a diving centre near our resort which organized our exhilarating underwater trip for about 30 minutes.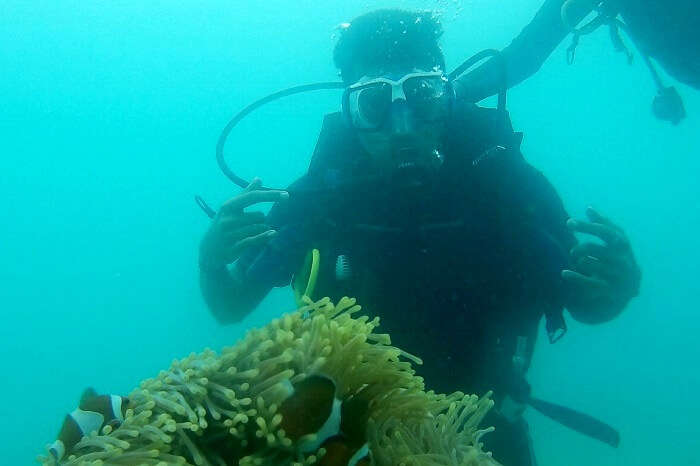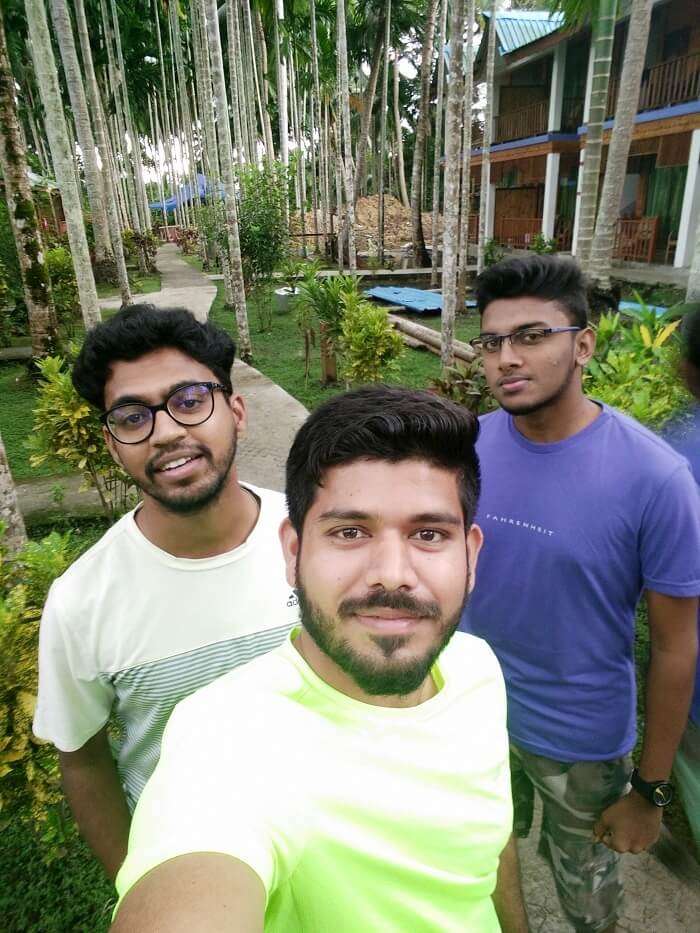 After an invigorating experience of scuba diving, we landed at the RadhaNagar Beach which offers breathtaking views and is also exceptionally clean compared to other beaches. It's an ideal location to feel the fresh sea breeze. We spent some time lazing by the beach and then returned to the resort. Much to our surprise, we noticed that there's a Beach party going on near the resort. Being a gang of adventurous geeks, it took us no time to seize the opportunity. With a lively rock n' roll & a sumptuous dinner (which was actually not the part of the plan), we had a perfect end of the day.
Day 3 : A Day Devoted to Our Bucket List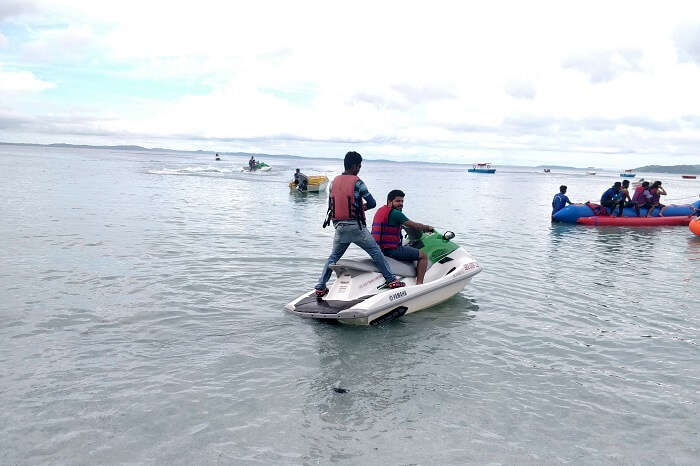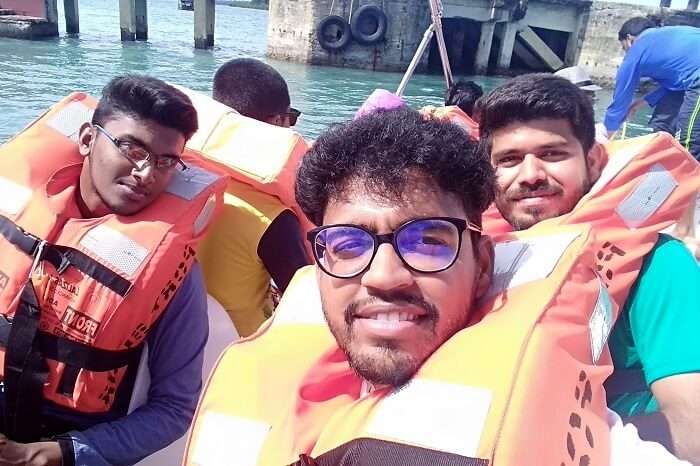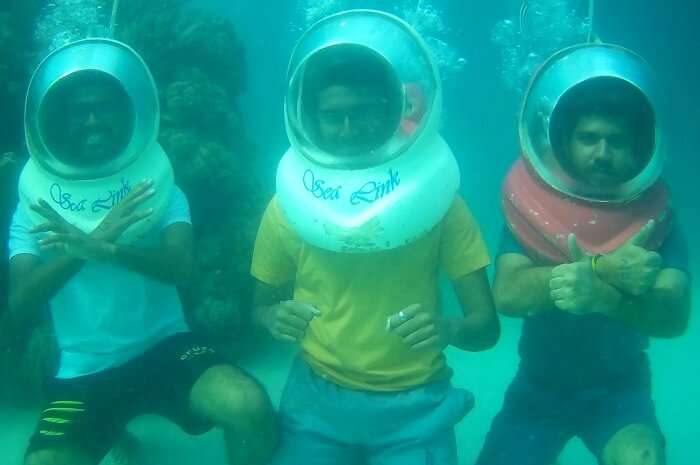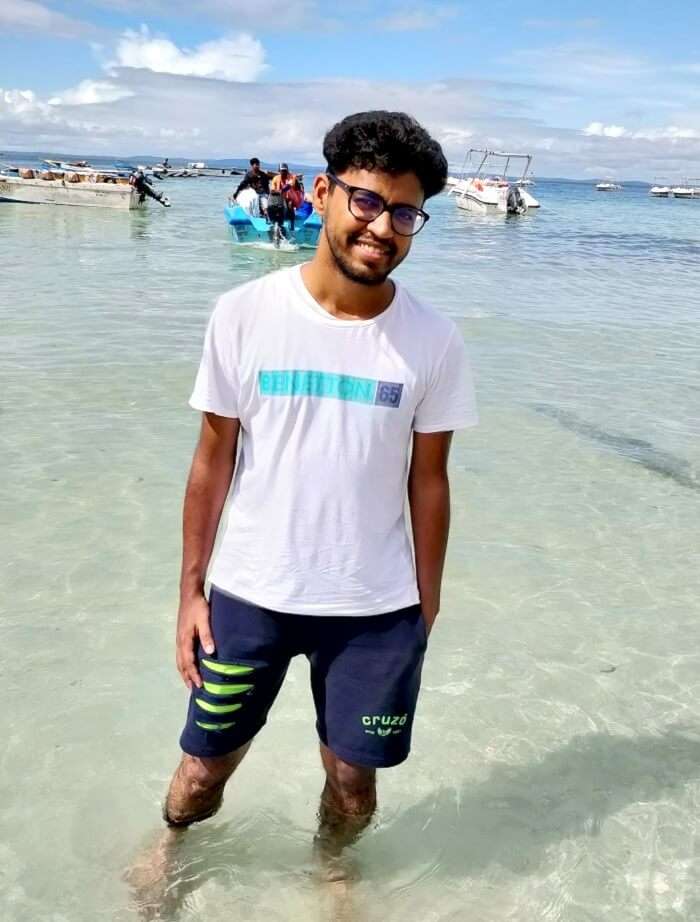 Another day of adventure was waiting for us. Our trip wouldn't have been complete if we had not visited Elephant beach. This beach poses a popular destination for various water sports and needless to say, the underwater marine life was spellbinding. However, getting the boat tickets was a bit time consuming for us, but when we reached the blissful Island, we spent no time in accelerating our day with some exciting activities. We started off with sea walking & snorkeling where we got the chance to admire corals, marine plants, and some starfishes. With a "never say no to thrill" attitude, we went ahead with jet skiing amidst the turquoise-blue waters of the sea. Apart from this, we also took balloon ride offering bird's eye views over this pristine place. We hardly noticed how most of our day went while passionately enjoying each activity. Post an enthralling day, we headed straight to our resort to get cozy.
25 Best Beaches In Andaman And Nicobar Islands Water Babies Must Visit In 2022!
Day 4 : Tranquil Views & Rich Marine Life of Neil Island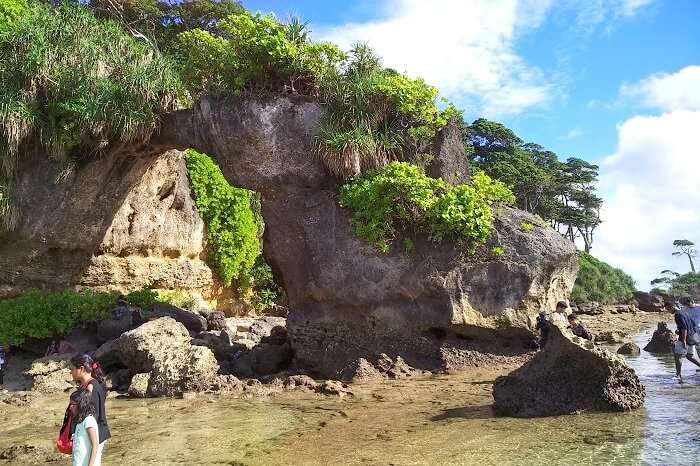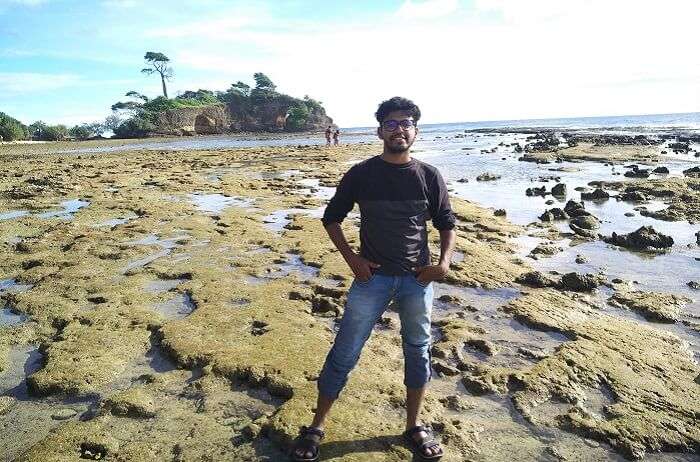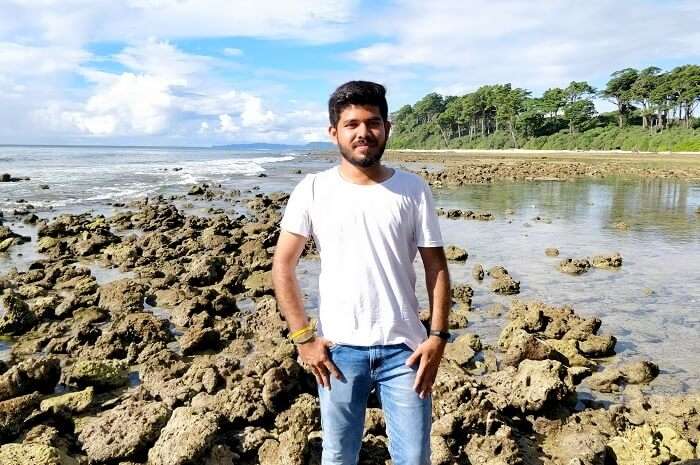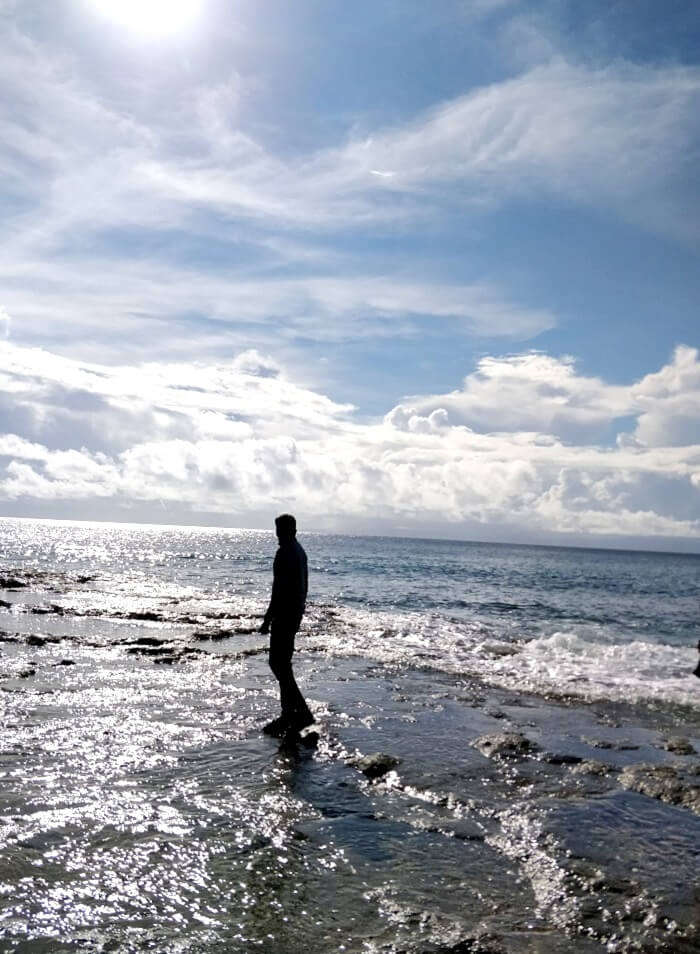 The next day of our actioned-filled trip was dedicated to Neil Island. The morning started us traveling from Havelock to Neil Island. Upon reaching there, we straightaway headed to Bharatpur Beach where we took a Glass-bottom boat ride. Watching vibrant corals and fishes through the bottom of the boat is altogether a unique experience. Then, it was time to satiate our hunger. Post enjoying flavorsome delicacies in lunch, we directed towards Laxmanpur Beach and Howrah Bridge. The enchanting waterfront, Laxmanpur Beach clad in while shell sand and Howrah Bridge, a bridge-like rock with two living natural corals, encouraged us to stay there for some longer time. After enjoying the picturesque views and clicking some photographs, we headed back to Port Blair. Although it was a speedy day, we managed to make most of it.
Day 5 : Time to Bid Adieu to an Eventful Vacation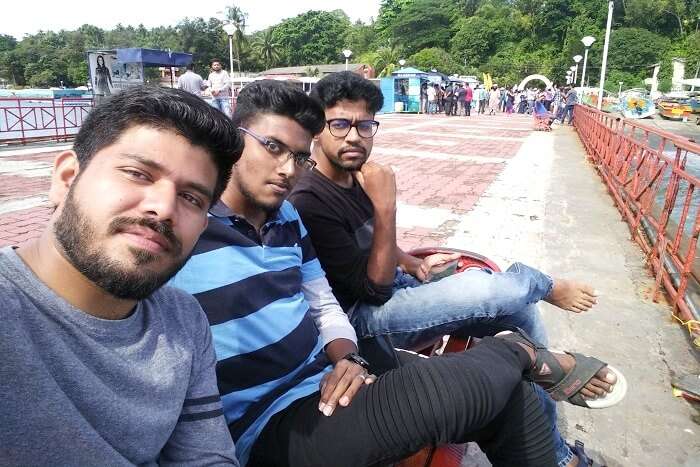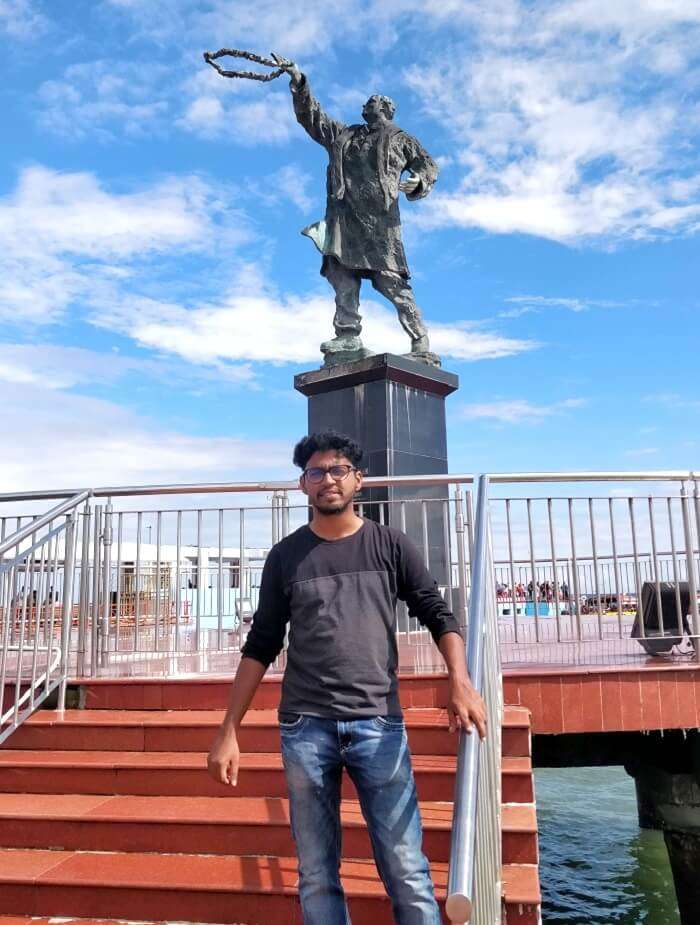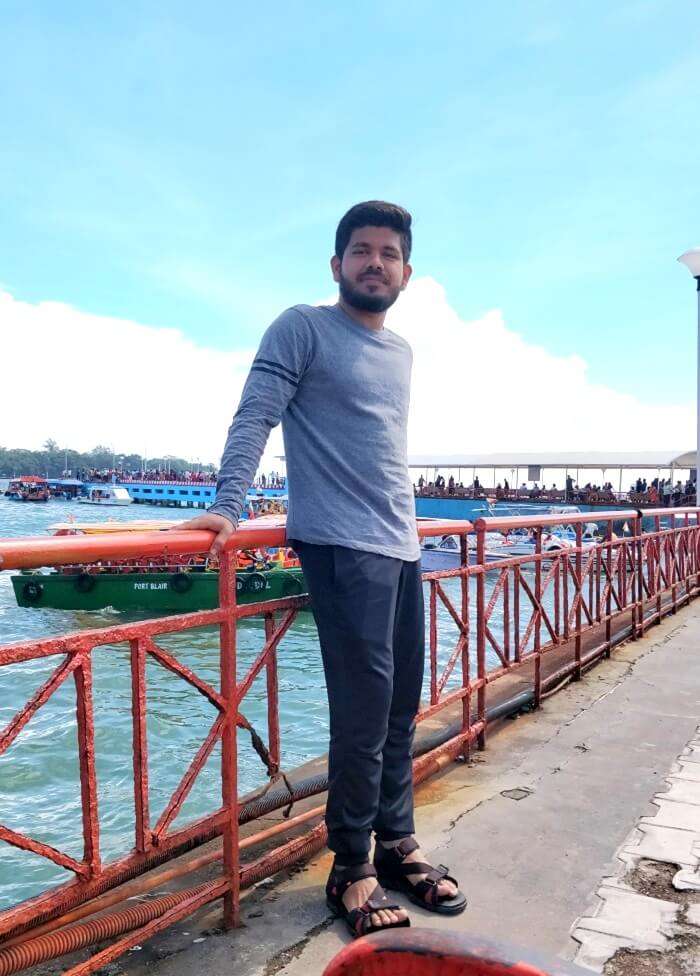 Eventually, our stress-buster expedition reached its end. Since our return flights were booked for the afternoon, we still had some time on hands to say goodbye to the scenic views. So, we proceeded towards the beach in Port Blair and explored the area. Lastly, while taking numerous memories brimming with sheer joy, thrill, adventure, and contentment, we headed back to our hometown.
We cannot believe that our much-needed vacation is over and we have to get engaged with our daily lives. Everything was extremely synchronized that we didn't have to worry about anything at all. A huge thanks to Traveltriangle for making this trip happen with so much of adventure and thrills. We are definitely looking forward to another exciting and rocking trip with Traveltriangle.
A Cruise From Mumbai To Bali Via Goa And Andaman: What More Could One Ask For!
The USPs of our trip
Scuba diving and sea walking that offered us to explore the unique marine life.
Any negative experience we stumbled upon
Thankfully, we didn't come across any hurdles during our stay.
Experiences we missed out on
We wished that a night stay in Neil island would have been better. Day 4 went quite quickly as we have to travel to Neil and travel back the same day.
Our experience with TravelTriangle
Highly satisfied with the services and their support. We will soon plan our next trip with TravelTriangle
Our tip for future travelers
Try to visit Neil island and Ross island with a night stay so that you will have time to explore all the places.
6 Villas In Andaman That Guarantee A Gorgeous Stay And Sunset!
If you want a perfect haven from the humdrum of daily life, plan a trip to Andaman with your folks and friends. Adventurous water activities, enthralling sea views and an ambiance filled with sheer tranquility will surely treat your senses. If a vacation is what you're looking for, go ahead and customize your Andaman Package with TravelTriangle.
Comments
comments