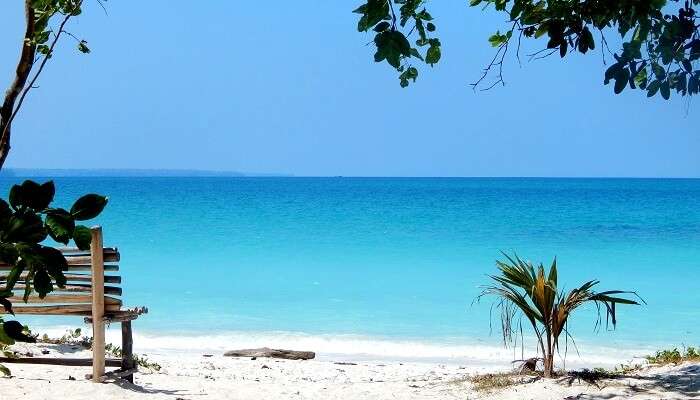 Cover Image Credits: Wikimedia Commons
The most striking thing about Andaman is its beaches, tucked in the various pristine islands. Shimmering blue waters, smooth sands, pretty cottages & huts, and exciting water sports are what make these the best beaches in Andaman to visit. While there are some highly popular & captivating ones that are jam-packed with tourists, other serene & secluded beaches are ideal for a private holiday for honeymooners. Though there are numerous stunning beaches in Andaman, we have compiled for you a hand-picked list of the best ones. Have a look before planning a holiday in Andaman.
Quick Links To Navigate Beaches In Andaman And Nicobar Islands
Beaches In Port Blair
First comes the beaches on the capital island-city, Port Blair. These beaches are known for their picturesque beauty. Enjoy taking a a stroll or watching surreal sunset on these best beaches of Andaman:
1. Corbyn's Cove

Lined with luxuriant coconut plantations, Corbyn's Cove is one of the most unspoiled Andaman beaches in Port Blair. One can indulge in watersports, take a leisure stroll, relish at the beach shacks, or take a boat ride up to the Snake Island. This is one of the most exotic beaches in Andaman offering enticing escapes to the nature lovers. The peace and tranquility of this beach will win you over.
Seakarting is emerging as one of the most popular water sports in Andaman due to which many adventure seekers visit Corbyn's Cove throughout the year. You can plan a visit to this beach if you want to ride an exclusive hybrid of Jet Ski and Speed Boat that features a blend of speed and excitement with safety and comfort. Starfish Adventures hosts enthralling Seakarting excursions at Corbyn's Cove Beach. Known for offering one of the best seakarting experiences in the country, the adventure centre is gaining a lot popularity among holidayers. They have 'practically' unsinkable seakarts that can seat 2 guests and an instructor at a time. You can ride these exclusively designed seakarts on a 30-minutes long thrilling expedition offered on a sharing as well as non-sharing basis.
Famous For: Seakart Adventure, Scuba diving, boating, sunbathing, swimming, and surfing
2. Wandoor Beach

This coral beach in Andaman, Wandoor is one of the most charming and popular Andaman and Nicobar beaches. The beach is the gateway to the Mahatma Gandhi National Marine Park – a perfect place to spot exquisite corals and marine fauna. A paradise for photographers and nature lovers, this beach is frequented by tourists for relaxing walks.
Famous For: Glass-bottom boating and scuba diving under professional guidance
Must Read: 36 Places To Visit In Port Blair: The Best Of History, Nature And Beauty
Beaches In Havelock Island
Havelock Island is the second most famous island in Andaman & Nicobar Islands. It lures honeymooners and vacationers with its enchanting beauty. Here are some of the beaches in Havelock, Andaman you ought to visit on your vacation.
3. Radhanagar Beach

Located on the western coast of the photogenic Havelock Island, Beach No 7 – popularly known as the Radhanagar Beach in Andaman – is one of the best beaches in Andaman. It has been ranked as the best beach of India and the 7th best beach in the world by the Time Magazine. Its white sparkling sands, turquoise waters, and plush green palm vegetation makes it a perfect place for a relaxed stroll.
Famous For: Snorkeling, game fishing, swimming, and scuba diving
4. Elephant Beach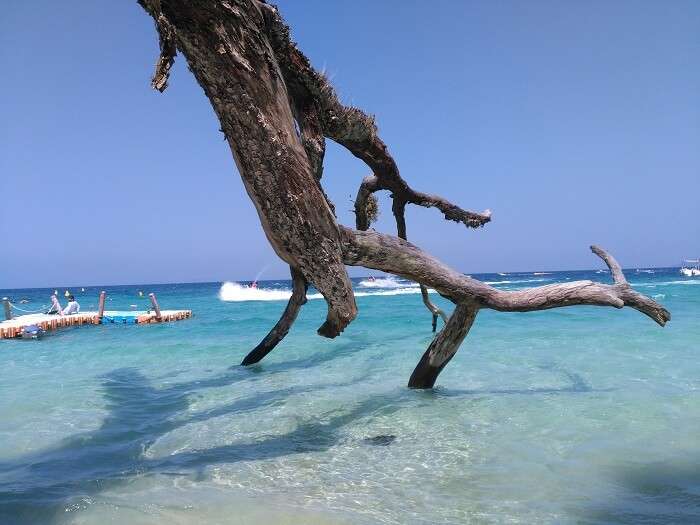 Elephant Beach is one of the most famous Andaman and Nicobar beaches. Located on the Havelock island, Elephant Beach in Andaman can be accessed by a boat ride or a 30-minutes' jungle trek. The serene beach is adorned by navy color waters, tranquil surroundings, and sparkling sandy shore.
Famous For: Exotic marine biodiversity, spectacular coral reefs, and snorkeling
Suggested Read: 23 Fascinating Hotels In Havelock For A Wondrous Holiday In Andaman
5. Vijaynagar Beach

Also known as the Beach No 5, Vijaynagar Beach is one of the best beaches in Andaman. The water is shallow & clean and is, therefore, perfect for swimming and surfing. Its scenic surroundings, pristine Mahua vegetation along the coast, azure waters, and tranquil sceneries ensure a relaxed vacation.
Famous For: Swimming, boating, and photography
6. Kala Pathar Beach

If solace & serenity is your idea of an Andaman holiday, Kala Pathar Beach is the place to be. Its silvery sand and aqua green waters make the place it one of the most outlandish & enticing Andaman beaches.
Famous For: Relaxing & sunbathing in hammocks, reading a book, or simply enjoying the heavenly surroundings
Suggested Read: 14 Thrilling Water Sports In Andaman That All Adventure Enthusiasts Must Try
Beaches In Neil Island
This island in Andamans is known for its charming beaches that provide you with the views of turquoise water and white sand. Put these beaches on Neil Island on your list:
7. Laxmanpur Beach

Located on the long stretch of Laxmanpur Village, Laxmanpur beach is worth paying a visit during your Andaman holidays. The fact that very few tourists visit the beach and the beauty of its white shell sands & shallow waters make it fascinating for an Andaman honeymoon. Collect seashells and corals while beach combing as they are found in plenty on this beach.
Famous For: Swimming and snorkeling
8. Sitapur Beach

Sitapur beach is among the unusual, unspoiled, and famous beaches in Andaman. Located at the tip of the Neil Island, it is perfect for a fun-filled vacation. Its wide stretch of white sands, luxuriant vegetation, transparent blue waters and breathtaking natural beauty enhance the charm quotient of the place.
Famous For: Photogenic karst topography
Suggested Read: 47 Most Amazing Things To Do In Andaman That Travelers Cannot Miss!
9. Bharatpur Beach

Bharatpur beach finds it place among the best beaches in Andaman for the spectacular views of the clear sea that it offers. The sprawling beach has vibrant coral reefs and the place is also perfect for swimming. When you lay your eyes on the beach, you will feel as if some artist has painted this beach on his dreams.
Famous For: Spotting exotic marine flora & fauna and spectacular corals in glass bottom vessels
Beaches In Baratang
Known for its mangrove creeks, mud volcanoes, and limestone caves, this island between south and middle Andaman has beauteous beaches
10. Baludera Beach

Baludera Beach is less crowded and one of the most famous beaches in Andaman. This spectacular seafront has a curved sand bay that is intertwined with mangrove vegetation. The water is warm, clean, and perfect for a relaxed swimming experience. You should definitely add this beach to your Andaman itinerary to enjoy having a good time.
Famous For: Elephant rides on the beach and picnic
Suggested Read: Best Things To Do On A 6 Day Honeymoon Trip To Andaman
11. Merk Bay Beach

Merk Bay is the best beach in Andaman and Nicobar islands and it sees minimum tourists but offers lovely scenic views to those who visit. This white sand beach can be reached in a dinghy. The sunset views from the beach are simply amazing. The turquoise waters of the beach will leave you rejuvenated and you can enjoy watching the sunset.
Famous For: Bathing, snorkeling, bird watching, and dolphin spotting
Beaches In Diglipur
Diglipur is situated on the northern part of Andaman Island and there is no dearth of picturesque beaches on this island too. Have a good time here by visiting the two most popular beach:
12. Kalipur Beach

Kalipur beach is one of the most popular beaches of Diglipur – the largest town of North Andaman Island. The picturesque beach offers awe-inspiring views of the Saddle Peak and the sea that enhance the splendor of the shore. If you want to enjoy watching turtles making their way to sea when hatched from their eggs, then you should definitely come to this beach.
Famous For: Spotting sea turtle and trekking to Saddle Peak
Suggested Read: 53 Best Places To Visit In Andaman For A Mesmerizing Holiday Experience!
13. Pathi Level Beach

Pathi Level is one of the offbeat beaches in Andaman, lying in close proximity to Ram Nagar beach. One can reach this serene and stunningly beautiful place in a typical dinghy or boat. It is a perfect place to unwind, chill, and rejuvenate. If you are looking for some isolation and want to get away from the touristy crowd, then you should come to this beach.
Famous For: Chalis Ek Caves and Alfred Caves
Beaches In Long Island
Long Island is also known to have some of the best beaches in Andaman Islands. If you are planning a trip to this beautiful island, you can explore the beaches mentioned below:
14. Lalaji Bay Beach

Lalaji Bay Beach is one of the most popular beaches of Long Island and a must-visit during your Andaman tour. This scenic beach is located 6 km from the main jetty and can be accessed in small dinghies through Mangrove creeks & tropical waterways. It is one of the most suggested and unforgettable experiences to do if you are planning a family trip to Andaman.
Famous For: Dolphin spotting, sunbathing, boating, and spending some comfortable time in the sea-facing eco huts
Suggested Read: 19 Best Hotels And Resorts In Andaman That Fit Under Every Budget
Beaches In Rangat Island
This island is known for best beaches in Andaman Sea along with pristine waterfalls and lush greenery. Here are a few of the beaches to bookmark for your visit.
15. Aam Kunj Beach

Aam Kunj is a popular hangout beach in Rangat, and one of the best of the Andaman sea beaches frequented by locals as well as tourists. Its grey sands and greyish waters make it a scenic spot. However, the submerged boulders here make it unsuitable for snorkeling and scuba diving. Comprising of wooden benches and log sofas, it is one of the most eco-friendly beaches of Andaman.
Famous For: Turtle spotting and swimming during low tide
16. Raman Bageecha Beach

Raman Bageecha Beach is a fascinating Andaman beach and boasts of picturesque views & serene surroundings. Located near the Rangat Jetty, the beach is a delightful option for the solo travelers. If you are planning an Andaman honeymoon, you should definitely check this beach out since it is known for romance and mystery. There is hardly any gentry on the beach so you can relax without a worry in the world.
Famous For: Picturesque combination of white sands and turquoise waters
Suggested Read: Baratang Island: Nature's Secluded Retreat In Andaman
Beaches In Mayabunder
An uninhabited island in the Andamans, Mayabunder is known for its dense forests and raw beauty. So, are its beaches where you can enjoy moments of solitude.
17. Avis Island Beach

Image Source
One of the best things about this beach is that the beach is creamy and its water calm. The water is so clean that you can even see fishes swimming in the water. However, the beach is very small and It is not ideal for swimming though. You can easily spend an hour or so on the beach lazing around or and reading your book.
Famous For: Stunning coral reefs, sunset views, and mesmerising beauty
18. Karmatang Beach

Another name for Karmatang Beach is the turtle nation of the beach as you can see a lot of turtles on the beach who have either come to lay eggs or hatched from the laid eggs. Embrace the shallow waters and mangroves creeks during your time on the beach. You will also see flowers blooming around.
Famous For: Awesome sunset views, beach huts, coastal forests, and a small park
Beaches In Little Andaman
The fourth largest island on the beach, Little Andaman offers amazing views of the Arabian Sea which you can enjoy on this beach mentioned below:
19. Butler Bay Beach

One of the best surfing spots in India, Butler Bay Beach is a paradise for surfers. The water is clear and the current is quite strong posing apt conditions for surfing but not for swimming unless you are a pro. Enjoy the fascinating stretch of yellow sand or find a tree below which you can sit and simply do nothing. Take a nap or read a book maybe.
Famous For: Swimming, surfing, kayaking, trekking, and elephant riding
Beaches In Ross Island
Also known as Subhash Chander Bose Island, Ross Island also offers you bountiful views of the ocean, refreshing sea breeze, and good times on the island:
20. Sandbar Between Ross & Smith Islands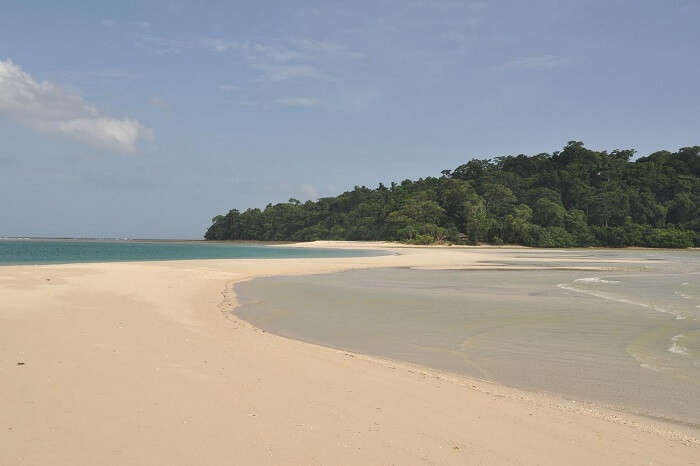 Calling the narrow sandy strip bridging the twin islands of Ross & Smith is still debatable. Nonetheless, its white sands & pristine forests on either end make it absolutely scenic and splendid. And, guess what? The sand strip goes underwater during the high tides and the two islands appear separate. No wonder, it is rated number one among the beaches of Andaman.
Famous For: Snorkeling, swimming, and walking from one island to another
21. Chidiyatapu Beach

Chidiyatapu Beach is acknowledged as one of the finest beaches in Andaman famously known as Flying Creature Island or Nightfall Point. The beach is surrounded by 50 widespread beautiful birds and the lush green trees adds to the colour. The spectacular sight of the sunset adds glamour to the eyes which you can capture in your camera creating amazing memories for you. This eye-catching beach is located 30km from Port Blair in South Andaman.
Famous For: Bird watching
22. Govind Nagar Beach

In search of a relaxing day, one can surely plan a visit for Govind Nagar Beach lying under the beautiful yellow of the sun. Take a break from your monotonous stressful life and give yourself a treat by exploring the beautiful beach in Andaman & Nicobar Islands. Experience the awesome view of the sea and the clean blue waters. You will also get to witness aquatic life which is pleasing and exciting for the eyes.
Famous For: Coral watching, snorkelling, scuba diving
23. Red Skin Island Beach

A narrow strip of beach which is an extension of mangrove trees lies a small stretch of crystal-clear blue water and sand. You will get to visit Jolly Buoy near to Red Skin Island Beach which has turned out to be as favorite visitor destination. You can even view at the corals which adds fun to the beach life which is just 30 km away from Port Blair.
Famous For: Witness beauty of sunset, trekking, swimming
24. Little Andaman Beach

One of the beaches that will surely lure your interest happens to be the Little Andaman Beach which is 120 km away from Port Blair in South Andaman. If you are planning for an exotic day to spend in Andaman then this exotic beach is your hotspot. Little Andaman Beach is the largest beach in the whole of Andaman where you can even visit Surf waterfall and whisper wave waterfall.
Famous For: Boat rides, Coral Viewing, Elephant Safari, Snorkelling.
25. Munda Pahad Beach

Munda Pahad Beach can turn out to be as one of your favourite destinations in Andaman & Nicobar Islands. In evening you can witness the beauty of the beach with a light and sound show which is spectacular. Situated near Chidiya Tapu Zoo where you get to have a close look at the beautiful creatures.
Famous For: Outdoor activities, visit parks and be in the lap of nature, visit the nearby beautiful beaches.
Further Read: 14 Interesting Secrets Of Andaman Islands: All About The Scenic Destination!
Andaman is a paradise on earth. Everything about this archipelago is exotic and heavenly. Whether you are planning a honeymoon or a family vacation, it is a destination apt for all. You cannot, of course, visit all of the best beaches in Andaman in one go. But we hope that you have short-listed your pick for your next trip to Andaman. Let us know and we'll help you plan your dream vacation to Andaman.
Disclaimer: TravelTriangle claims no credit for images featured on our blog site unless otherwise noted. All visual content is copyrighted to its respectful owners. We try to link back to original sources whenever possible. If you own rights to any of the images, and do not wish them to appear on TravelTriangle, please contact us and they will be promptly removed. We believe in providing proper attribution to the original author, artist or photographer.
Frequently Asked Questions About Best Beaches In Andaman
How many beaches are there in Andaman Island?
While there are many beaches across the various islands that fall under the archipelago, some of the best beaches in Andaman that are a must-visit and not to be missed are that of the Radhanagar beach, Vijaynagar beach, Bharatpur beach, Elephant beach, Kalapathar beach, Chidiyatapu beach, and Laxmanpur beach.
What is the best time to visit Andaman?
The best time to visit the Andaman Islands is from the month of November till May. While you can still avoid the month of May which happens to be pretty hot and humid, it is also advised to avoid visiting the Andaman Island during the monsoon season as well. The tidal waves are pretty high and dangerous along with which heavy showers and strong winds prevail too.
Which is the best beach in Andaman?
Much famed as the best beach for scuba diving and snorkeling, Radhanagar Beach is one of the cleanest beaches in Asia, and hands down the best beach in Andaman. With a shimmery coastline, this white sand beach treats travelers to refreshing and soothing views of the crystal clear skies and blue waters.
How do you get to Radhanagar beach from Havelock?
Once you touch down the capital city of Port Blair, one can avail of the ferry services from there and reach Havelock Island easily. Make sure you book the ferry from Makruzz which happens to be a pretty famous name when it comes to ferry services.
Which is the best Andaman island that one must visit?
Clean, calm, and unbelievably stunning, Havelock Island happens to be the best island in Andaman. Home to the famous Radhanagar Beach, it is a must for all travelers to explore the Havelock island on their Andaman holiday.
Which are the best restaurants in Andaman?
Bliss Holiday Resort & Restaurants, Sea Dragon Restaurant, and Fat Martin are some of the best restaurants in Andaman where you can relish delicious delicacies.
Which are the most famous resorts in Andaman?
Pearl Park Beach Resort, Taj Exotica Resort & Spa, Andamans, and Haywizz Havelock Island Resort are the most popular resorts in Andaman.
What can you buy from Andaman?
You can shop for items like Spices, Timber Crafts, Jute Items, and Coconut Handicrafts on your shopping spree in Andaman.
What is the famous dish of Andaman?
Macher Jhol is the most delicious dish that you must try on your vacation in Andaman.
Is the passport required for Andaman?
No, Indian citizens do not require a passport to visit Andaman.
People Also Read:
Best Beaches In Bali Best Beaches In Netherlands Best Beaches In Singapore