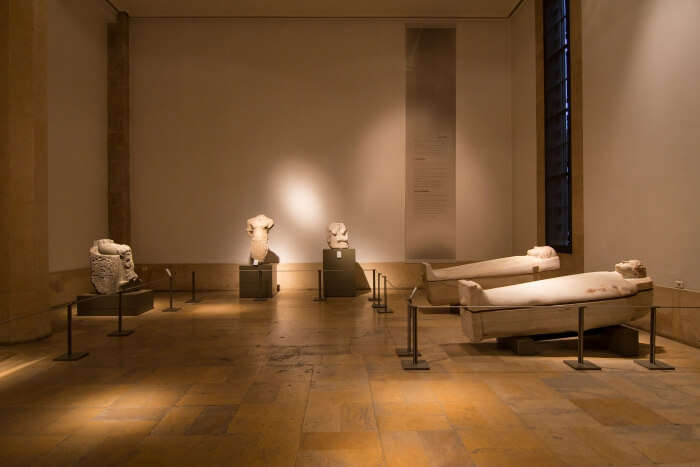 Beirut is one of the top cities to visit in the Middle East on its Mediterranean Coast. Lebanon has historical influences from many civilizations and is a multicultural and multi-religious society. Christianity and Islam are the major religions in Lebanon and its capital is steeped in ancient cultures with modern, cosmopolitan infrastructure.
6 Best Museums In Lebanon
Beirut in Lebanon is the capital city and the largest city in the country. It has been ruled by many emperors and has more than five millennia of history, making it one of the oldest cities in the world. Tourists traveling to this city do not just travel for entertainment and holiday activities but also to learn about the fabulous culture of the region and its history.
1. National Museum of Beirut
The National Museum of Beirut is the top museum in Beirut which was established in 1937. This museum principally deals with archeological findings in Lebanon and the museum is designed in a French-inspired style with Egyptian revival architecture look to it. The museum has over 100,000 artifacts and objects and really showcases the history of the region. The collection includes artifacts from prehistoric periods, Bronze Age, Iron Age, Hellenistic period, Roman period, Byzantine period, the Arab conquest and the Mamluk period.
Must Read: Scuba Diving In Mauritius: Witness The Exotic Underwater Life At These 17 Spots!
2. Sursock Museum
Nicholas Ibrahim Sursock is a modern art and contemporary art museum in Beirut that was built in 1912. This museum is housed in a beautiful private villa with marble staircases and this villa showcases the Lebanese architecture with influences from Italian and Ottoman architectural styles. This museum has famous art pieces from local Lebanese artists and international artists as well. This museum has a research library, auditorium, a restoration workshop and also a caf- and a restaurant for tourists to enjoy a lovely day while visiting this museum.
Suggested Read: Scuba Diving In Bali: 7 Dive Sites To Dive Like A Mermaid In 2022
3. Robert Mouawad Private Museum
Robert Mouawad Private Museum is a famous museum in the Zokak el-Blat Quarter and was established in 2006. This museum has many national and international artifacts and objects which tourists can explore while visiting this museum. The collection at this museum includes objects from oriental history and the western history as well. This museum includes rare books, ceramics, Byzantine mosaic, marble sculptures, precious, stones, carpets, jewelry, ancient weapons, pottery pieces, manuscripts, icons and many such items that depict the diverse history of the region and the expansive time they have had in the world.
Suggested Read: The Upright Vietnam Golden Bridge Is Leaving Its Travelers In Downright Awe
4. Museum of Lebanese Prehistory
Another famous museum for tourists to visit in Beirut is the Museum of Lebanese Prehistory which includes objects and artifacts from the prehistoric age and finds from archeological projects in the region. This museum was established in 2000, just as we entered the 21st century, and there are many exhibitions in this museum from time to time. This museum includes fossils and tools from the Stone Age, objects that showcase agriculture and other activities from that time and also the weapons from this age, essentially highlighting the lifestyle of the people during that time.
Suggested Read: 14 Festivals In Vietnam That Are All About Glitz, Glam, And Grandeur This 2022
5. MIM Museum
A famous private museum in Beirut is the MIM Museum that can be visited by any tourist visiting Beirut. This museum primarily showcases minerals and other geological finds; it displays over 2000 minerals that have been collected over time. This is a special treat for tourists as the MIM Museum is considered to be one of the best museums in the world when it comes to a collection of minerals. It has ores from over 70 countries and also includes marine and avian fossils from Lebanon and nearby areas. If you have a secret passion for geography, this is just the place for you.
6. Other Museums
There are many other museums in Beirut that tourists can visit while vacationing in Beirut. Archeological Museum of the American University of Beirut, the Beirut Art Center, Beit Beirut, and Modern and Contemporary Art Museum are some of the other museums in the city that can be great places to visit for people who want to understand the culture and history of Lebanon.
Suggested Read: 7 Temples In Vietnam That Are An Epitome Of Art & Architecture!
Top Culture Spots in Beirut
Beirut has a cultural heritage of over thousands of years. Lebanon has a rich history that includes ancient Lebanon, Maronites, Druze, the Crusades, and the Ottoman Empire in Lebanon, the French colonial history, and the civil war followed by the Syrian occupation and then independence and democratic rule.
This means tourists visiting Lebanon and Beirut are in for a treat as this country has a vast history which can be explored while visiting Beirut. It is a historical city and the museums mentioned above are famous all over the world.
Further Read: Scuba Diving In Bentota: Dive Along The Waters Of The Coastal Town
Exploring Beirut takes time and keeping at least one day for a visit to these some of the best museums in Beirut is a must. As Beirut is one of the few places in the Middle East on the beautiful Mediterranean coast, you have more than museums to visit on your international trip. So hurry up, you have bags to pack!
---
Looking To Book An International Honeymoon?
Book memorable honeymoon on TravelTriangle with 650+ verified travel agents for 65+ domestic and international destinations.
---