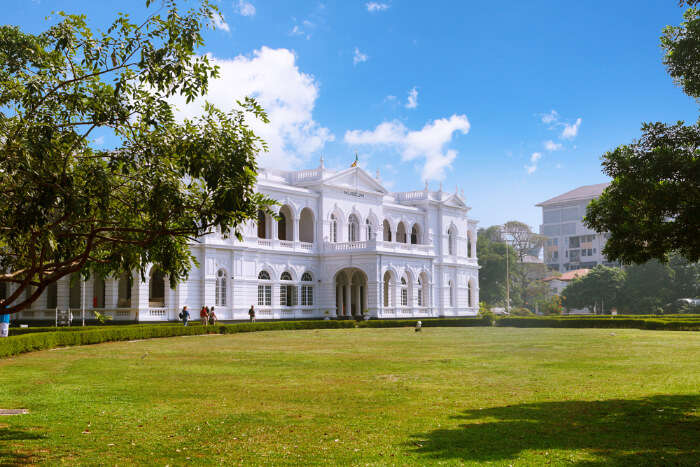 Jeanne Frank rightly said, "The best introduction to art is to stroll through a museum. The more art you see, the more you'll learn to define your own taste." Museums are the best place to learn about the history of any place. So if you are planning to visit Colombo; the capital of Sri Lanka then the various amazing museums situated in the city should be a must on your 'to visit' list.
Museums in Colombo for a perfect trip to the city
The museums in Colombo provide a peek and insight into the history of the country and its cultures and traditions as well as the rise of the country as a great architectural heritage. Being one of the most distinctive countries, Sri Lanka offers a lot to explore. So here is a quick list of museums in Colombo.
1. Colombo National Museum
Established in 1877, the Colombo National Museum is the house of exquisite artifacts acting as the evidence to rich Sri Lankan heritage. This is one of the main museums in the country. The design and the architecture of the museum derives its inspiration from the Italian architecture of yore.
The ground floor displays the artifacts belonging to the Pre and Proto-Historic, Anuradhapura, Polonnaruwa, Kandy and Transitional periods and the first floor contains paintings, ancient textiles, pottery and ceramics, coins and currency, art and crafts, arms and armaments, presentations of traditional agricultural methods and traditional rituals and the DS Senanayake Memorial Gallery.
Opening and closing time of the museum: Daily 9:00 am– 6:00 pm (Closed on public holidays. Tickets won't be issued after 5 pm)
Location: 854, Sir Marcus Fernando Mawatha, Colombo 7, Colombo 00700
Entry fees: 300 per person
---
Sri Lanka Holiday Packages On TravelTriangle
Book your Sri Lanka trip from TravelTriangle: Inclusive of Hotels, Sightseeing, Transfers, & Meals. Best Prices Guaranteed. Get Customizable Package & Free Guidance From Destination Experts. Book Now!
---
2. National Museum Of Natural History
The museum is the house of endemic, endangered and rare species of Sri Lanka. There are vast collections of specimens of mammals, birds, reptiles, insects, fish, amphibians of various kinds of plants and geological rocks are on display.
The other attraction of the place is leopard of Punani, known to have killed around 13 people, which was caught in Batticloa. One exhibit that inspires a lot of curiosity in the visitors is the skull of Megacerus giganteus (elk) which has huge horns and is displayed at the Geological section of the museum. It belongs to an extinct species of a stag. This museum is located in the vicinity of Colombo National Museum and provides a look into the natural heritage as well as the diversity of life offered by the island.
Opening and closing time of the museum: 09.00 am – 06.00pm (Except Public holidays)
Location: Nelum Pokuna Mawatha, Colombo 7, Colombo 00700
Entry fees: 300 per person
Must Read: 25 Soul-Satisfying Things To Do In Sri Lanka For Travelers Of All Types
3. Colombo Dutch Museum
This is a three centuries old Dutch manor house located in one of the worlds' busiest locale. The two storied house cum museum displays objects from the beginning of Dutch occupation. There are a large number of Dutch antique items such as swords, clothing, porcelain, mediums of exchange, furniture, ancient maps and documentation of treats.
It also has a charming interior courtyard garden which is like an oasis in the hustle and bustle of the city. There are exquisite details in the craftsmanship of the house that are worth admiration such as the craftsmanship in the giant wooden doors .
Opening and closing time of the museum: Tue-Sat 9 am– 4:30 pm (Closed on Sun, Mon and public holidays)
Location: Prince Street, Colombo 1, Colombo 00100
Entry fees: Rs 500 (Tourists); Rs 20 (Locals); Rs 250 (For photography)
Suggested Read: Top 7 Water Sports In Colombo That Will Give You An Adrenaline Rush
4. Independence Memorial Museum
The museum was built to pay homage to the national heroes who played a key role in gaining independence from the British Rule. There are rows of national heroes' status along with the few belongings of these champions such as weapons, diaries, telephones and many more.
If you want to understand Sri Lankan Independence movement then this is a place for you. There are huge charts and illustrations which displays the process of independence. A separate section is designed for war heroes from the year 1983 to 2009, who sacrificed their lives for the nation.
Opening and closing time of the museum: Tue-Sat 9 am– 4:30 pm; Closed on Mon, Sun and public holidays
Location: Independence Square, Colombo 7, Colombo 00700
Entry fees: Rs 600, Rs 150-Kids (Tourists); Rs 10, Rs 5-kids (Locals); Rs 250 (for photographs)
Suggested Read: 10 Best Water Sports In Sri Lanka That Will Lift Your Spirits And Stir Your Soul
5. Currency Museum
Also known as the money museum, it has a great collection of ancient coins dating from 3 BC to modern usage notes and coins. The museum was established in the year 1982 on 20 April. One can also have a look at the coins of various eras such as Anuradhapura era (3 BC to 107 AD), Polonnaruwa to Kotte Kingdoms era (1017 AD – 1597 AD) and colonial era.
Opening and closing time of the museum: 9.00 am to 5.00 pm including Monday to Saturday on all working days except public and bank holidays.
Location: Chatham St, Colombo, Sri Lanka
Entry fees: Rs. 500/- for non-resident adults and Rs. 200/- for non-resident students.
Suggested Read: Top 6 Honeymoon Places In Colombo For A Romantic Rendezvous

6. Colombo Port Maritime Museum
Also known as the Sri Lanka Ports Authority Maritime Museum, it is built in a former Dutch Prison. It is the only Dutch building surviving in the Colombo port region. The museum was officially established in August 2003. The museum displays various historical items related to the ports of the country, its maritime industry and the ocean around Sri Lanka.
One can also witness various Sculptures of King Vijaya and many other characters. There are other artworks and models on display symbolizing the equipment used in Port operation as well as the timely and orderly development of the Colombo Port.
Opening and closing time of the museum: 09:00 AM – 04:00 PM9 ( closed on Sundays)
Location: 19, Chaithya Rd, Colombo, Sri Lanka
Entry fees: Rs. 500/- for non-resident adults and Rs. 300/- for non-resident students.
Your Sri Lanka trip can be more than just beaches, hills, coastlines, and adventure sports. If you want to witness the history of Sri Lanka, you must pay a visit to some of these museums in Colombo.
Further Read: Rachna's Sri Lanka Family Tour Will Make The Wanderer In You Envious
---
Looking To Book An International Holiday?
Book memorable holidays on TravelTriangle with 650+ verified travel agents for 65+ domestic and international destinations.
---
Comments
comments