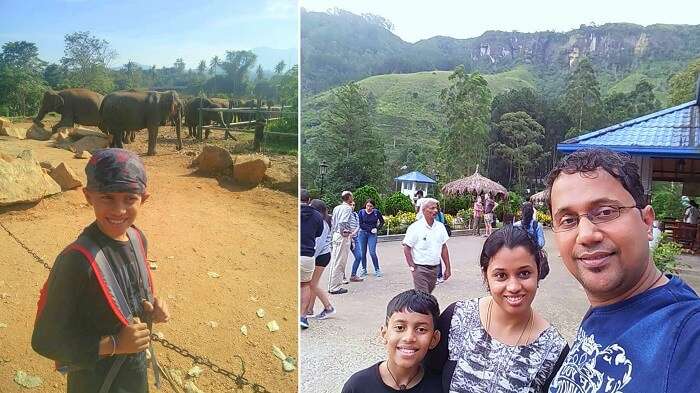 They say traveling leaves you speechless and then turns you into a storyteller. But what would you expect when a writer embarks on a vacation?! Well, the narration will be your own gateway to the places she set foot, food she savored and the experiences she'll cherish till the end of time. Rachna Prabhakar went to explore Sri Lanka with her husband and kid for five memorable days. Her story is surely something that will spark envy, but the little details she provides will be your first-hand guide to Sri Lanka. Right from the places she visited, to shopping, hotels and more, you'll find key takeaways if your Sri Lankan vacation is around the corner too! Let's dive to her voyage now.
When you travel, you escape from routine and responsibilities. And that's exactly what our Sri Lankan vacation gave us – a drift away from emails, calls, messages, chores etc. We booked this 5 days 4 nights Sri Lanka family tour package and Travel Triangle helped a great deal in getting us in touch with travel operators from planned our destination. And we are glad we chose Amara Lanka. Right from the contact person and our driver-cum-guide, to the choice of itinerary and service- it was all perfect!
We chose to travel on 25th December during the peak tourist day and season in Lanka. We reached Colombo really early on 25th and met the representative at the airport. Our itinerary began from Pinnawala Elephant Orphanage. And because we spent our earlier night at Bangalore Airport and we reached Colombo at an unearthly hour; we snored through our travel to Pinnawala. Sri Lankan roads and perfect driving skills helped us sleep like babies.
Trip Type: Family
Duration: 4 nights 5 days
Dates: 25th December – 29th December 2017
Total Trip Cost: INR 37,000
Agent Name: Amara Lanka Tours
Inclusions: Breakfast, airport transfer, sightseeing, entry fees
Exclusions: Flights, visa
Places we visited
1. Pinnawala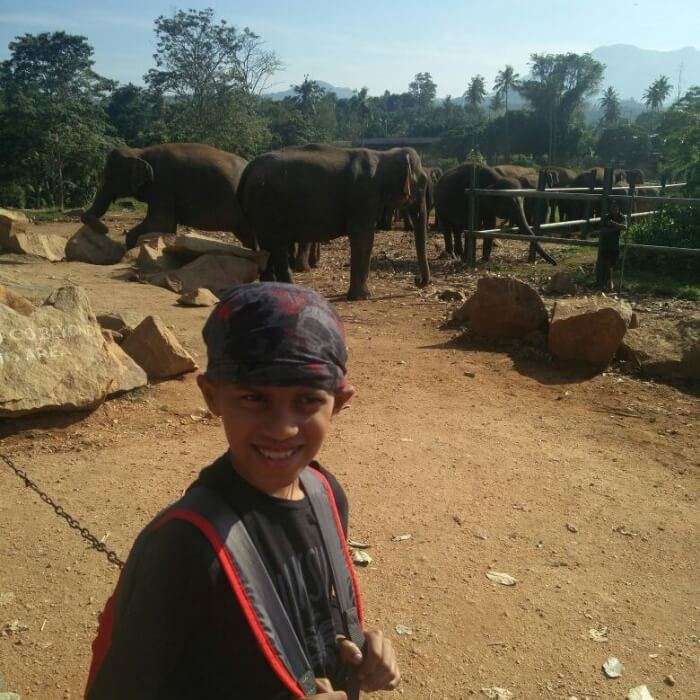 Our journey began from Elephant Orphanage, one of the places to visit in Sri Lanka. Contradictory to common belief, the elephants aren't kept in bondage, making it a happy place to spend time and play with elephants and their babies.
The elephants were so friendly, we couldn't really get enough of them. So, after the orphanage we went ahead for an indulging elephant ride, arranged by a privately-run organization. We were greeted by a lovely elephant, a 75 year old Raja, on a little high mound above the lake. The idea was to go down to the lake, get in the waters and climb back up. It may sound easy, but doing so riding an elephant was indeed thrilling.
Shopping experience
Being a place that's majorly about elephants, you can find many shops in Pinnawala selling merchandise made out of elephant dung, like elephant dung paper for those who are interested in such novelty. But that's not all, you can bag other handicraft items as well, but I would say they are certainly on the expensive end.
An Offbeat Vacation In Sri Lanka That Uncovered Some Unbelievable Places!
2. Sigiriya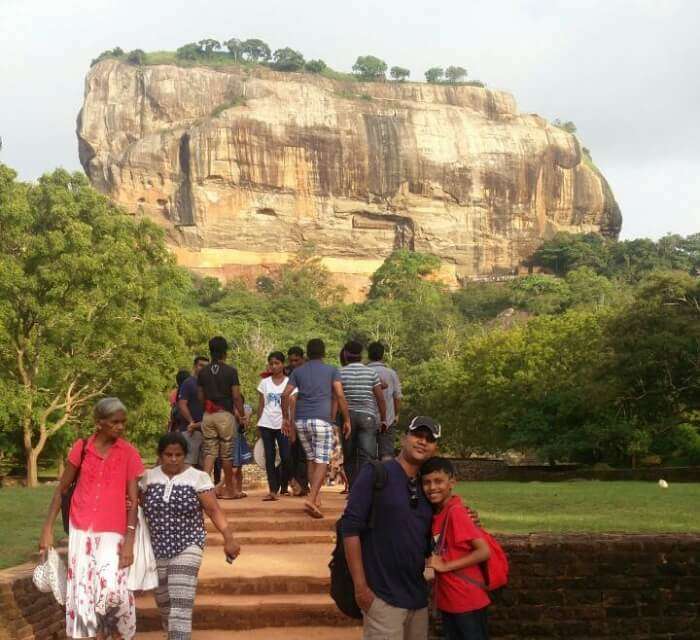 After Pinnawala was a 2-hour long journey to yet another gem, Sigiriya or Sinhagiri as it's also called. We travelled through narrow pathways in tall grasslands, and when you begin to doubt the possibility of civilization this far, you suddenly chance upon a few cottages. This is the place you come to when you crave an escape from city's humdrum for a little while, so you can connect with nature without having to compromise with basic necessities.
In the evening, we climbed the iconic Lion Rock. The climb was long, extremely crowded but we still had fun since it was a different experience. The flight of stairs, as it takes you upwards, allow you a magnificent view of the surrounding, and you may stumble upon monkeys and friendly dogs as you make your way towards the top.
Distance between Pinnawala and Sigiriya: 98 km (2.5 hours approximately)
3. Dambulla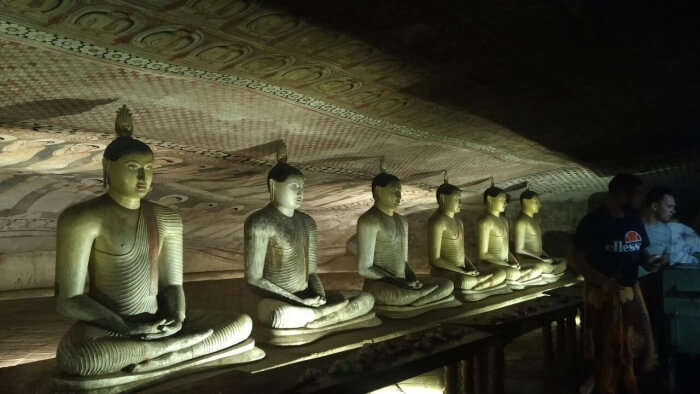 On the way to Dambulla, we visited Premadasa Gems, watched a quick film on gem mining and shopped for couple of knick and knacks. However, if you want you can buy masks, paintings and other handicrafts, but you may find them expensive. Getting back on the road, we finally reached Dambulla Cave Temple in another 15-17 minutes. The climb to this marvel is short, the interiors are enchanting, and oh, the views! The scenic panorama will have your jaws dropped. There are a number of Buddha statues and the rooms capture sunlight and illuminate the entire place very beautifully.
Distance between Sigiriya and Dambulla: 19 km (half an hour approximately)
4. Kandy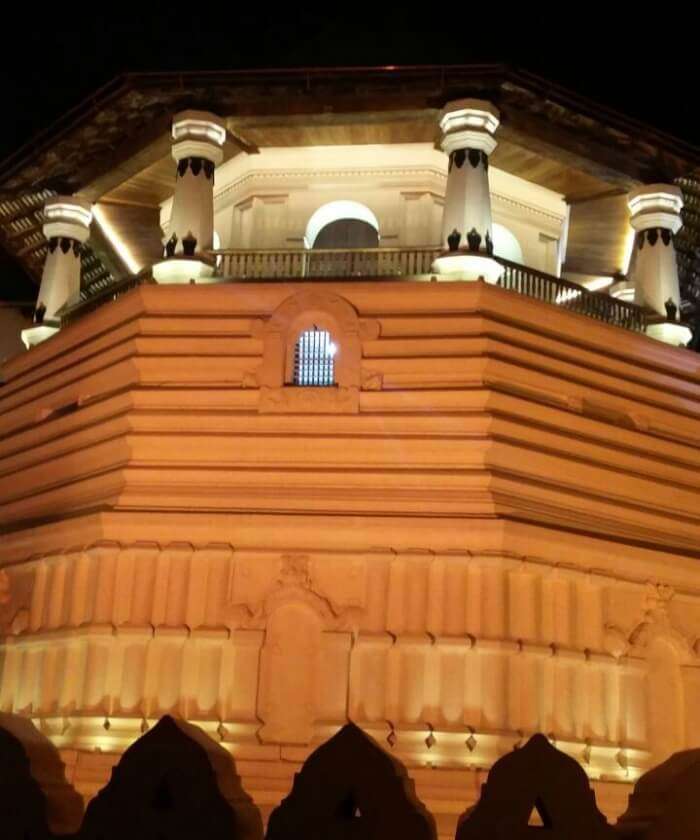 Since shopping is one of the best things to do in Kandy, we went ahead for it. After a good shopping session, we visited the Temple of Tooth Relic. The Buddhist temple is a part of the royal palace complex of the erstwhile Kingdom of Kandy.
We got free by 8:30 pm and decided to go somewhere for dinner. But it was rather disappointing to see that many restaurants were either closed or almost closing, but KFC came to our rescue and that's where we had our dinner.
Shopping experience
You'd be bewitched looking at colorful crafty items arrayed in the market, and if you are looking for practicing your bargaining skills Kandy's markets would be a great place to go for it. Our driver took us to a small art and craft place called Skilled Hands. They had a pretty decent and good collection of masks, the very famous paintings on velvet, artifacts, fridge magnets and other knick-knacks. We picked up a few masks and paintings as souvenirs.
We also visited Kandy City Centre as the shopaholic in us just wasn't going lazy. The mall has some interesting places to shop in such as Glitz. Many items were quite reasonable and good in quality.
Distance between Dambulla and Kandy: 73 km (2 hours and 15 minutes approximately)
Our Vacation In Sri Lanka Was Blessed With Scenery We Could Find Nowhere Else!
5. Nuwara Eliya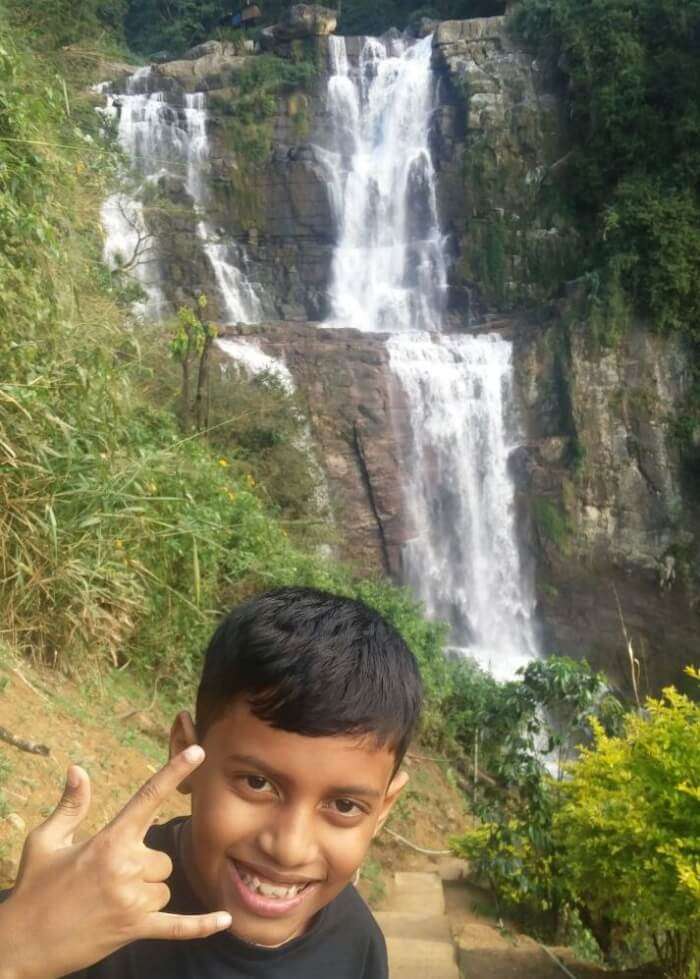 Nuwara Eliya is a beautiful hill station with picturesque locations. Our first stop was at Hanuman Temple; where, as per the legend, Lord Hanuman stayed before he went for rescuing Sita. Later, we had lunch at a humble vegetarian place just outside the temple called Hotel Annapurna offering good food and great hospitality. Next, we visited Ramboda Waterfalls and the Tea Factory. As the day was coming to an end, we dined at Indian Summer restaurant for dinner and were pleasantly surprised by the wonderful Indian flavors.
Distance between Kandy and Nuwara Eliya: 77 km (2.5 hours approximately)
6. Sitavan and Bentota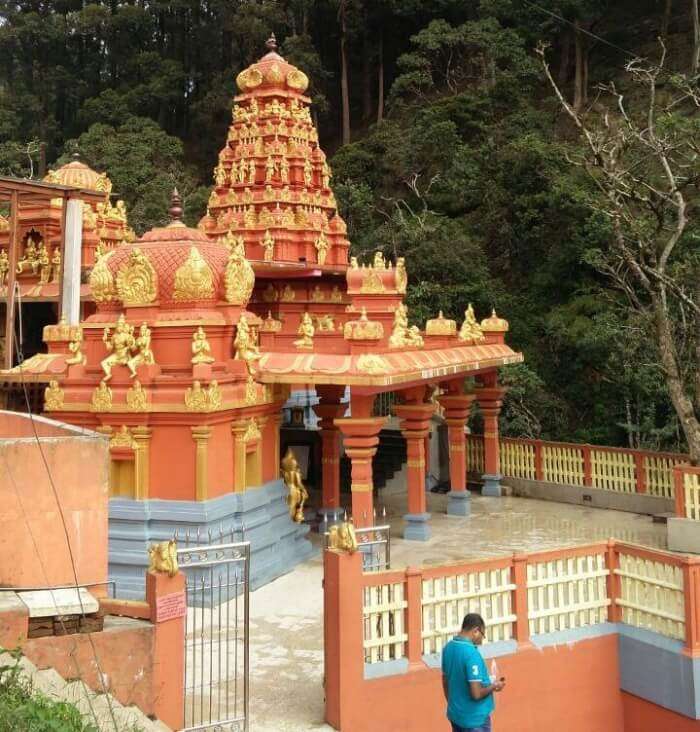 The next morning we left for Bentota but before that, we drove though Nuwara Eliya and visited Seetha Amman, a temple of historical and cultural significance. The stark contrast of the color of the temple against the dark green trees of Ashok Vatika was a sight to behold. If you are driving to Bentota from Nuwara Eliya and are an adventure enthusiast; you must try river rafting and other watersports on the way. It was the longest drive and so we slept through the exhaustion of packed days.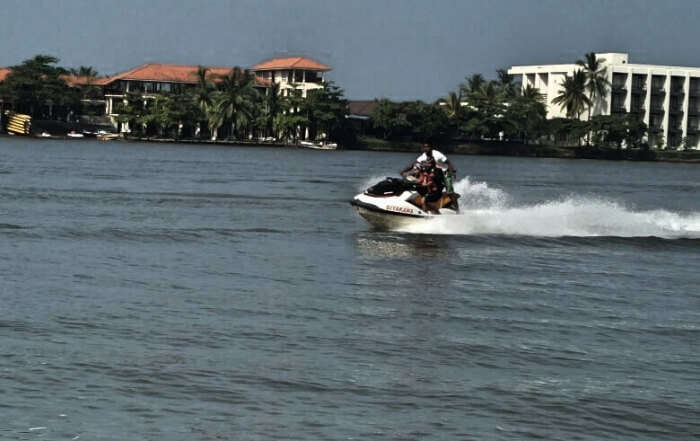 We passed through the town of Avissawella and had a fabulous Sri Lankan lunch at Avissawella Rest House. This was like one of the hidden gems and if you happen to pass through this town; do step in here for Rice and Curry. We reached Bentota in the evening and checked in to Hotel Laluna Resort.
Distance between Nuwara Eliya and Bentota: 520 km (5.5 hours approximately)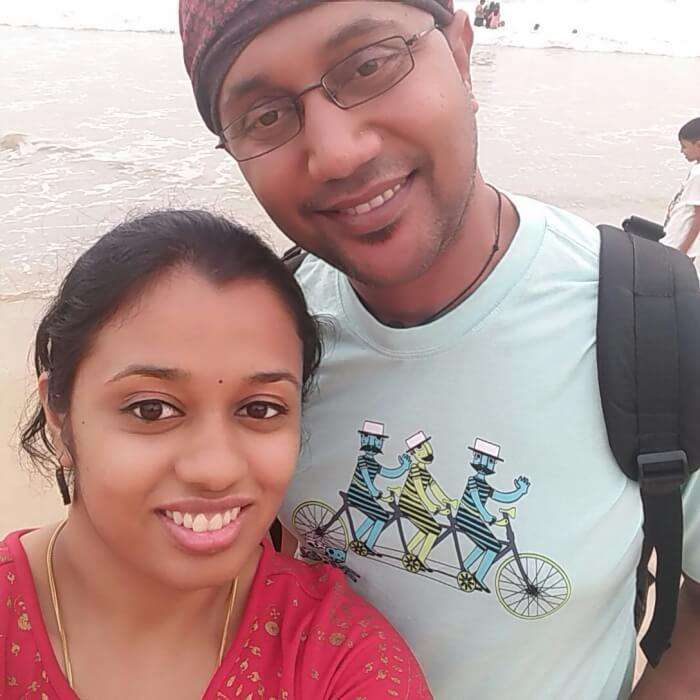 7. Kosgoda Turtle Hatchery and Ambalangoda (Bentota)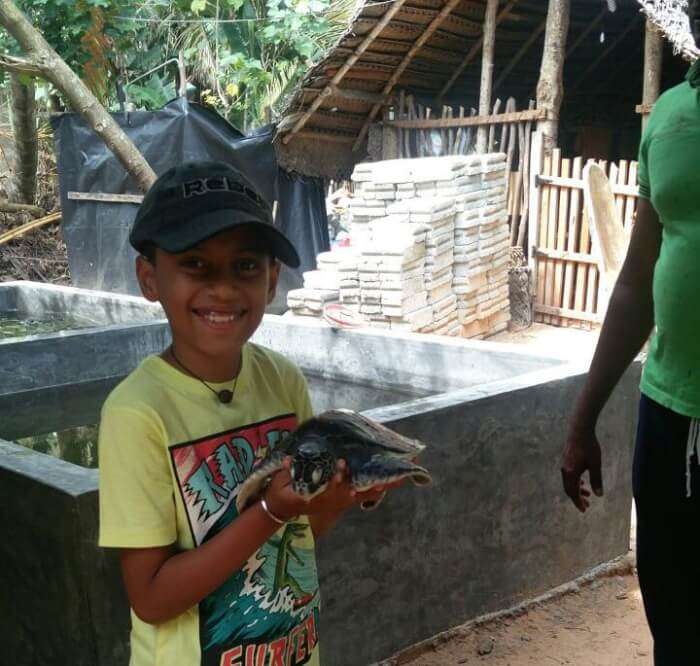 On the way to Ambalangoda; we went to the Kosgoda Turtle Hatchery that is worth a visit. If you are interested in arts; you must pay a visit to Ambalangoda Mask Museum and also the Batik Factory where you can get a glimpse of how the very popular masks and batik work are done.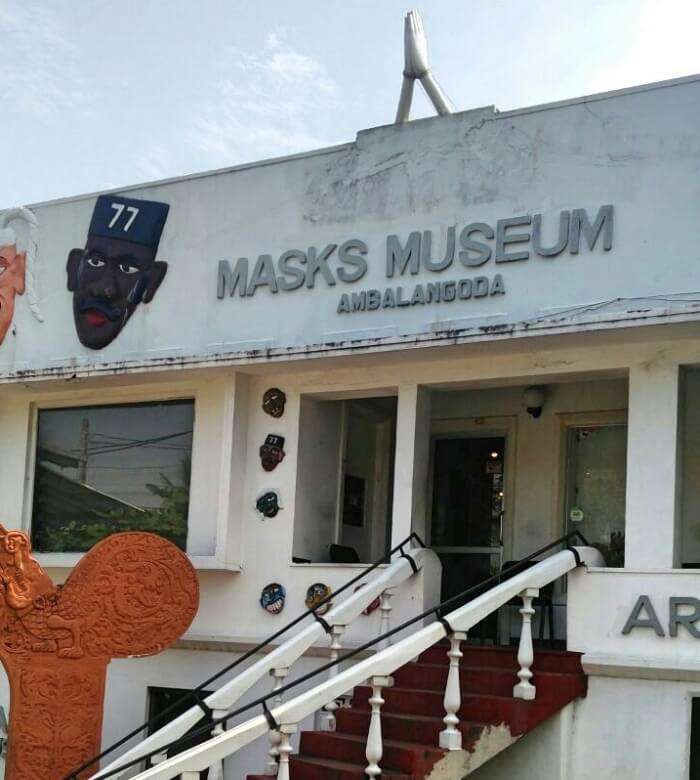 8. Colombo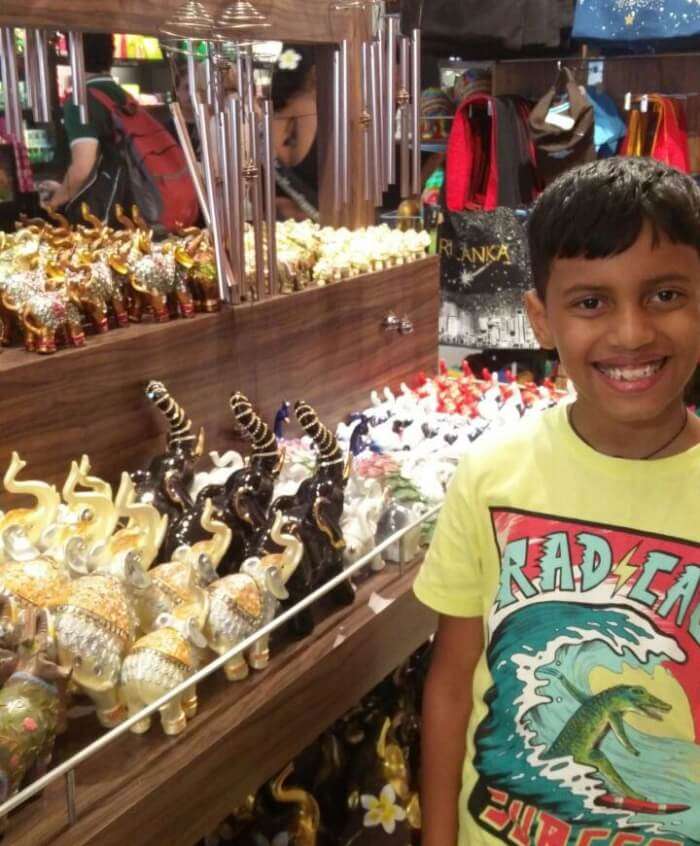 We then drove down to Colombo and reached the city around 3.45 PM on the last day of our tour. We had lunch at Manhattan Fish Market and really enjoyed the food. We drove around the city, checked out the malls and shopping centers but they were all too expensive to pick up anything from.
Distance between Bentota and Colombo: 83 km (2 hours approximately)
Our Much Awaited Romantic Getaway In Sri Lanka
Where we stayed
RHO Sigiriya by D – Sigiriya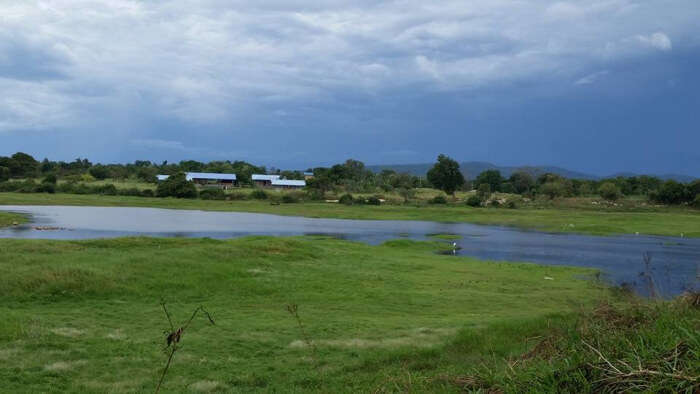 Image credit: RHO Sigiriya Facebook
RHO has a lovely swimming pool overlooking a serene lake and the owners had also set up a wonderful barbecue for the evening. We were so overwhelmed with RHO Sigiriya. Come night, we were exhausted and slept like logs until 9 am in to the next morning. We were served some amazing Sri Lankan breakfast and thereafter, we bid goodbye to the place. We enjoyed the stay here most of all. RHO Sigiriya is a property in the middle of a tranquil locality, blessed with lush greenery.
Hotel Liyya Residence – Kandy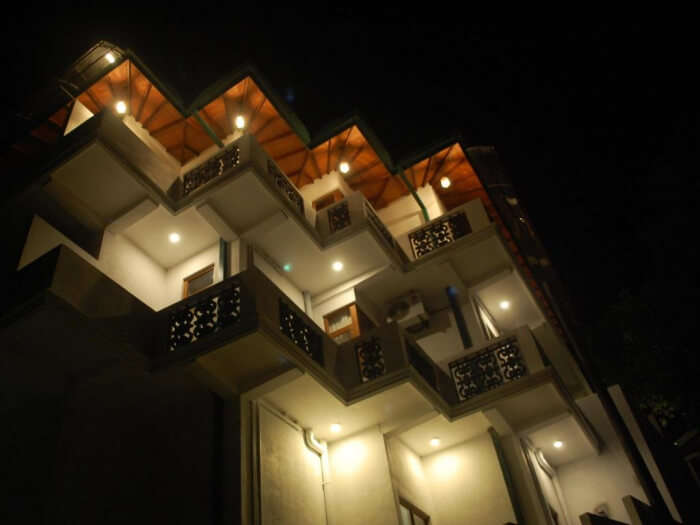 Image credit: Hotel Liyya Residence
We checked in to Hotel Liyya Residence where rooms were small but neat and comfy. The hotel's interiors are made to look classy with warm tones. If you are looking for more privacy, the Deluxe Room would be a perfect choice as the rooms also feature a private balcony.
Hotel Serene Bungalow – Nuwara Eliya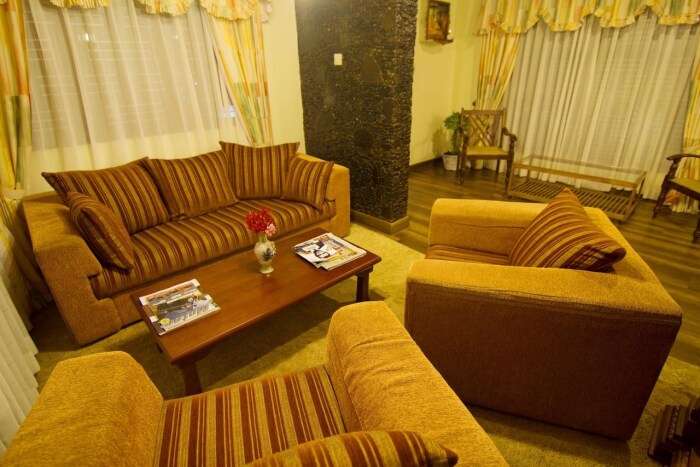 The only downside in our vacation was the stay at this hotel. For starters, it didn't seem like a hotel; forget the 2.5 stars the travel operator marked them with. But since we were there already; we stayed put for the night and got out first thing in the morning.
Hotel Laluna Resort – Bentota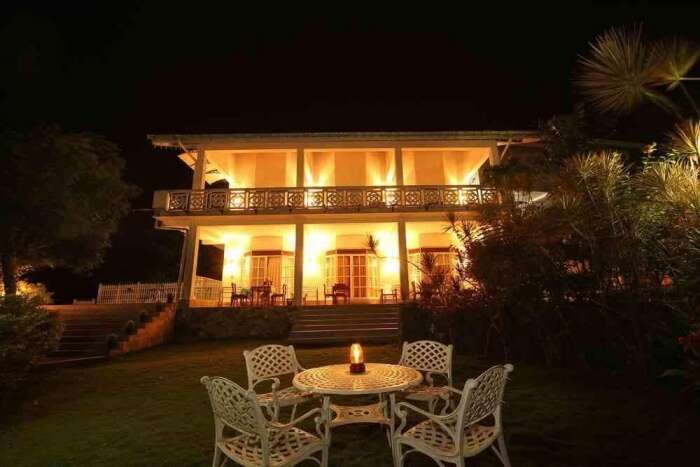 The resort overlooks the backwaters. We were staying in one of the rooms in the first floor and hence the views from the patio were scenic, tranquil, and beautiful. We visited the beach in the evening and had loads of fun.
Incredible Things To Do On A Family Trip To Sri Lanka For A Wowsome Experience!
Tips for Travelers
Sri Lankan restaurants and most shopping places close early for the day. Hence, be prepared for such eventualities.
If you are shopping in Sri Lanka, make sure you bargain because most often you will be surprised to know that the final price you pay is much less than half the originally mentioned price.
Check for authenticity of handicrafts if you are interested in picking up only originals.
Don't underestimate the traffic conditions, especially when in Kandy. We were to watch the Kandy Cultural Dance Show but unfortunately traffic was so bad that we couldn't get to the place on time.
You may get charged at least four times more than a local would for visiting any place in this country. Make sure you interact with locals to confirm the prices of different items, even estimate transportation tariff charged by drivers.
Our best moments during our Sri Lanka family tour
Spending time with the elephants in Pinnawala Elephant Orphanage and riding an elephant to take the tour around the lake
A challenging yet beautiful climb to the Lion Rock
The artistry in and views from Dambulla Cave Temple
Souvenir shopping in Kandy's Skilled Hands
Watersports enroute Bentota
Our time at the Kosgoda Turtle Hatchery
What we missed
We missed a few activities due to lack of time
Madu river safari
Floating market of Pettah
A few places in Colombo like Gangaramaya Temple and Barefoot Gallery
Kandy Cultural Dance Show
Rachna had the best time of her life while she was on her Sri Lanka family tour. It's time you too gift yourself and your loved ones the priceless gift of travel with a customised Sri Lanka tour package by TravelTriangle.