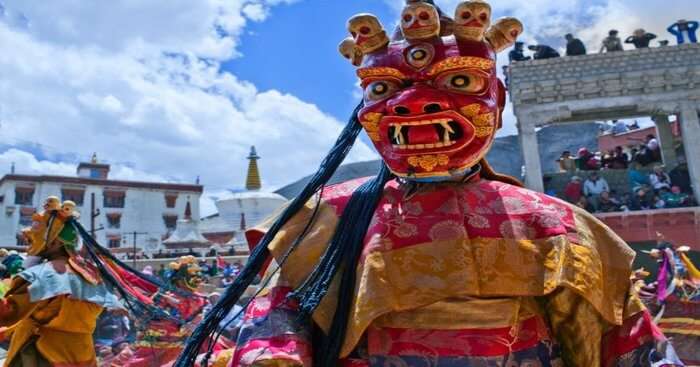 Nepal is not just about the breathtaking mountains, serpentine roads, and gorgeous meadows, but also about some vibrant and fun festivals. The country has people from different parts of India, which makes the festivals of Nepal even more diverse. If you travel to experience the heritage and culture of a country, then you must explore Nepal during one of these grand festivals.
Here's a list of major festivals of Nepal…
Major festivals In Nepal Every Traveller Must Attend In 2018
The people of Nepal keep their culture and traditions close to their heart. The age-old religious practices are still followed along with the modern trends that are developing here. If you are the kind of traveller who loves to closely know the place you visit, then festivals are the best opportunity you have. Here is a list of major festivals during which you can enjoy both – your Nepal holidays and festivals, and return with an highly enriching experience.
1. Mahashivaratri – Witness the glamour and grandeur of the celebration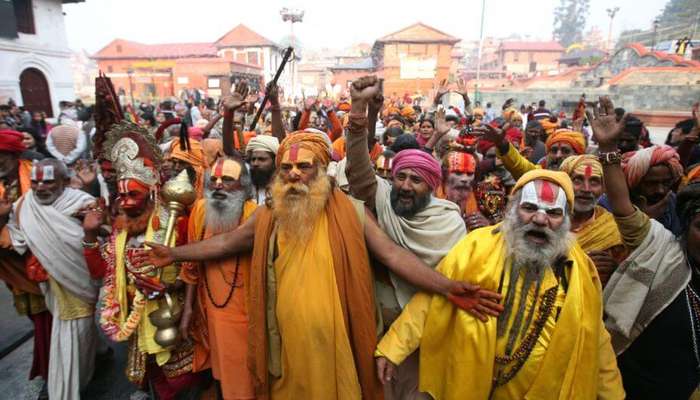 Thousands of monks gather at various Shiv temples of Nepal, especially at Pashupatinath, which is among the most renowned Nepal temples, to celebrate Mahashivaratri. The temples are decorated with lamps and devotees observe the whole day fasting and worship Shiv Linga at night. Shiva Lingas are washed with holy water and panchamrit, and then offered flowers, mango leaves and peepal leaves etc.
One must not miss the evening prayers and aartis, which look mesmerizing. A huge fair is organised around Pashupatinath temple and thousands of people visit the same to see sadhus dancing, singing, snake dance, circus, and to buy traditional and puja stuffs. Mahashivaratri is the most sacred festivals of Nepal.
Key attractions: Holy bath at Bagmati River
Date: 17th February 2018
Must Read: 10 Villas In Kathmandu For Travelers Who Want A Luxury Stay On A Shoestring Budget!
2. Fagun Purnima or Holi- To spray colours in the valley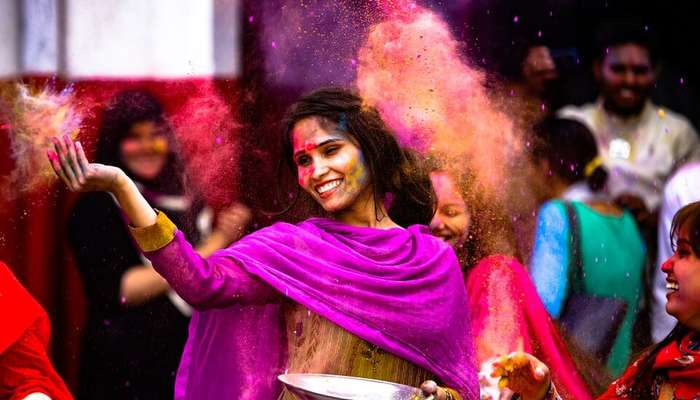 Holi, Hori or Faguwa is among the most vibrant festivals of Nepal. This festival of colours is celebrated by each year in Nepali community. This is celebrated for two days in Nepal: Fagu Purnima on the first day and holi on the second day in the Terai region. Locals also put 'Chir', a bamboo pole, decorated with strips of colourful cloth representing good luck prosperity, indicating the onset of the Holi festival. During Fagu Purnima, people also collect firewood and light bonfire to celebrate the death of Holika, the demon who tried to kill Vishnu. Just like the people of India, Nepalese also celebrate holi in Nepal with dry colours, water sprays, water guns and balloons.
Key attractions: Holika Dahan and consumption of bhang mixed in lassi.
Date: 1st and 2nd March 2018
Suggested Read: Paragliding In Nepal: 6 Best Places To Experience The Thrill Of Gliding
3. Bisket Jatra- The wonderful chariot festival of Bhaktapur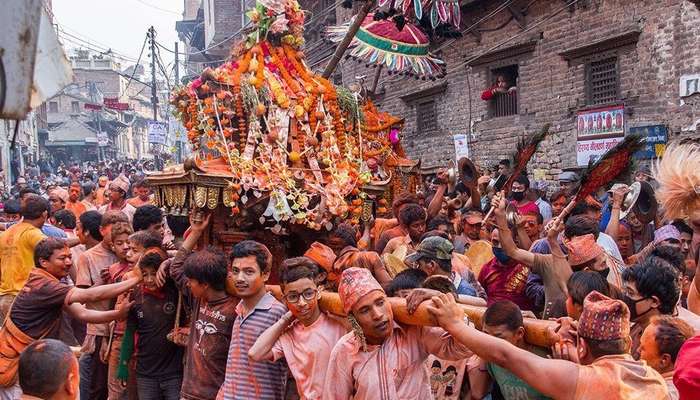 Famous as Nepali New year, this is yet another main festival of Nepal. At the beginning of Nepali Bisket month, this grand rally is organised in Bhaktapur. This ceremony marks the end of serpents, hence also known as Bisyau Jatra or slaying of serpents. A huge tug of war is organised at Durbar Square, between eastern and western part of the country, on the day of Bisket Jatra. A huge pole, resembling a holy lingam is raised by the river, which is pulled down by the crowd to commence new year officially.
Bisket Jatra is also organised in Thimi and Balakhu regions of Bhaktapur. The locals join the rally, sing, dance, play dhimay music and throw colours at each other. Tongue piercing is a very common ceremony during Bisket Jatra.
Key attractions: The grand chariot parade of Lord Bhairav and Goddess Bhadrakali
Date: 14th April 2018
Suggested Read: 8 Mysterious Places In Nepal: Explore Beyond The Uncanny, Unexplainable, And Unfathomable
4. Buddha Jayanti- Experience the rich traditions of the country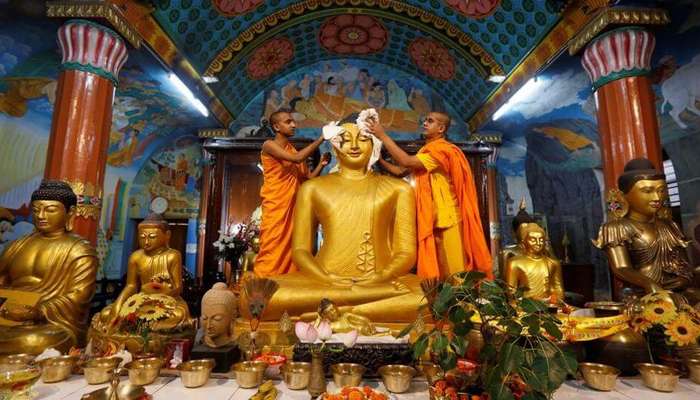 Buddha Jayanti is a national festival of Nepal, which is celebrated with immense grandeur and magnificence. Lord Buddha was born in Lumbini on this day, hence Buddhists from all over the world visit Nepal during this ceremony. Places like Boudhanath, Swayambhunath, Lumbini, and Monkey Temple are decorated with prayer flags and butter lamps. Monks gather to offer prayers and chant Buddhist mantras. People eat vegetarian food, abstain from alcohol, and do dan-dharma. Local womenfolk visit viharas and observe Buddhist sutra. Kheer or sweet porridge is cooked at every household during Buddha Jayanti.
Key attractions: The holy Thangka is displayed on the southern wall of the patio in Swayambhunath.
Date: 30th April 2018
5. Janai Purnima- The celebration of love and purity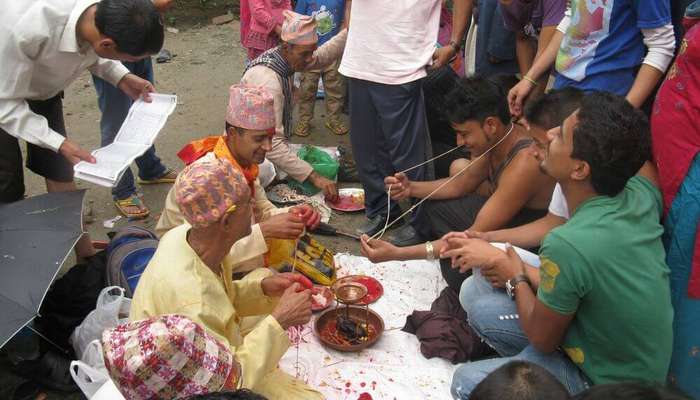 Janai Purnima, the Nepalese counterpart of Raksha Bandhan is also among the most popular festivals of Nepal. During this sacred thread festival, celebrated in the month of Shrawan, all Hindu men change their old Janai (the sacred thread) and wear a new one. Kwati, a traditional dish from nine beans is prepared in every household. Sisters tie the holy thread or daro to their brothers and pray for their good luck and health. It is an occasion where family members get together and exchange greetings and gifts.
Key attractions: Holy chants and prayers during the Janai ceremony
Date: 26th August 2018
Suggested Read: Shopping In Nepal: A Handy Guide To Bargain And Buy The Best Nepalese Souvenirs!
6. Gai Jatra – An unconventional festival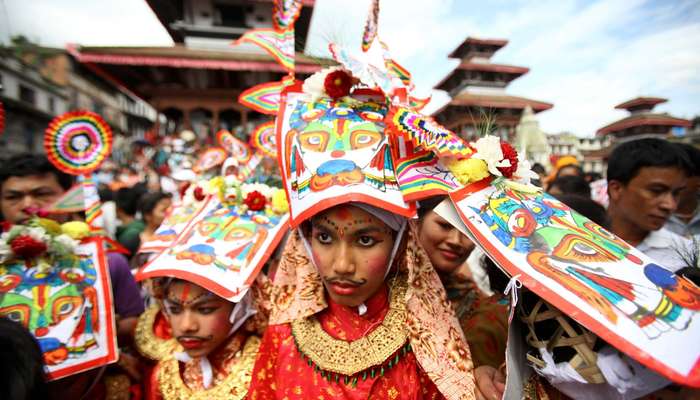 Among the widely celebrated festivals of Nepal, Gai Jatra or festival of cows is celebrated to commemorate the death of people during the year. Local people believe that cows can help the deceased to reach to Yama, the God of death. This is one of the most unique festivals of Nepal, where cows are decorated and led through the streets and lanes. Families of the deceased join the procession and distribute food packets and fruits to others. To decrease the sorrow and grief of departing souls, local people join in rallies, menfolk wear woman dresses, enjoy songs, mockery, and traditional Ghinta Ghisi dance. Mask dance is also seen during Gai Jatra.
Key attractions: Small kids, dress up like cows and Gods and take part in the procession.
Date: August (date not confirmed)
Suggested Read: 11 Fantasy-Filled Places To Visit In Nepal For Honeymoon
7. Indra Jatra- Worship for good harvest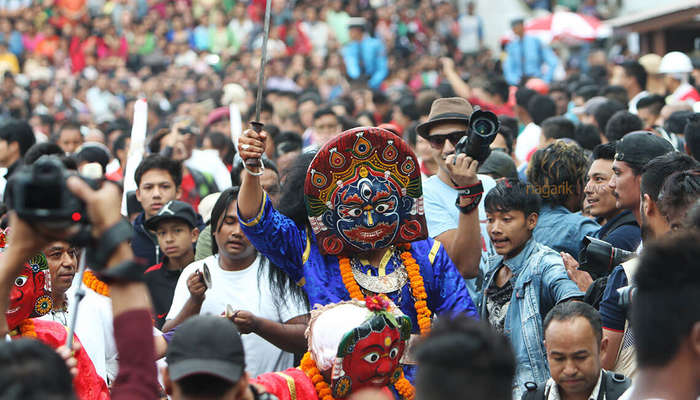 Right after the Gai Jatra, different communities of Nepal celebrate Indra Jatra, which is one of the most popular and fun Nepal festivals in 2018. Also known as Yenya festival, the Indra Jatra is primarily to pray for good harvest in the coming years. Every Nepali household display images and sculptures of Akash Bhairab and family member consume raksi, the traditional Nepali liquor. Indra Jatra is known for masked dances of demon, devils, and display of images of gods and goddesses. Sawa Bhakku, Majipa Lakhey and Devi Pykhan are various forms of demon masked dance seen during Indra Jatra. However, Indra Jatra is followed by Kumari Jatra where the unmarried little girls, considered as living goddesses are driven in chariots through the streets.
Key attractions: Flagpole ceremony and display of Bhairava's mask and Pulu kisi or elephant mask dance.
Date: August and September (date not confirmed)
8. Teej- The woman-only festival in Nepal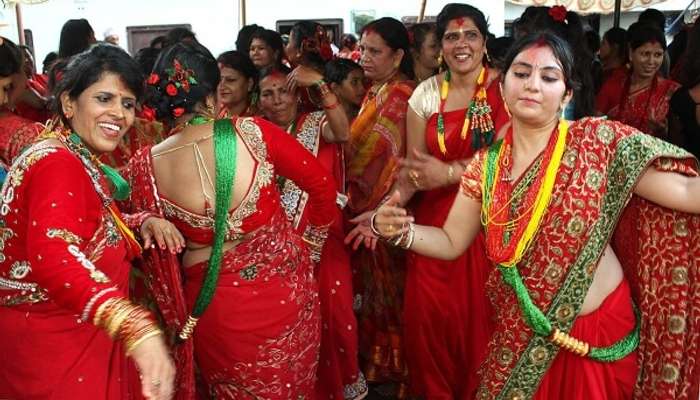 Both married and unmarried womenfolk worship lord Shiva and celebrate Teej in Nepal, which runs for 3 days during Bhadra month of Nepal lunar calendar. On the first day, women enjoy 'dar' khana or heavy food, before starting their day long fast. On the second day, married women keep fast for health and prosperity of their husbands while unmarried girls pray for good husbands. The third day is celebrated by worshipping Goddess Parvati and breaking the fast by eating chokho and karkalo ki tarkari, rich food made in pure ghee. For all the three days, Teej, one of the most important festivals in Nepal, is celebrated through prayer songs, dance and enjoying various traditional sweets, prepared at home. Teej is one of the most significant and widely observed festivals, celebrated in mountain region of Nepal and also in valleys.
Key attractions: Woman wear red saris and sing songs about womanhood.
Date: 2nd September 2018
Suggested Read: 15 Famous Festivals Of India To Bring Your Life Into A State Of Exuberance
9. Dashain- The biggest festival of Nepal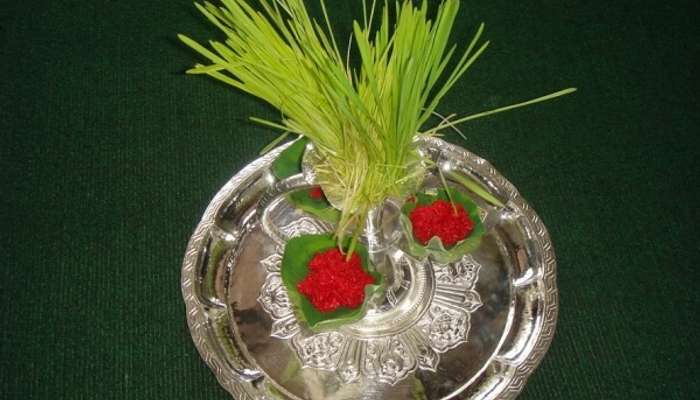 Observed for 15 days, Dashain festival is one of the most widely celebrated festivals of Nepal. The victory of Goddess Durga over the devil Mahishasura is celebrated during Dashain through worships, feast, fairs and family gatherings. Nepalis also celebrate Dashain festival for the fertility of the land and good harvest. Ghatasthapana is the first day of the festival and the last day is known as Kojagrat Purnima. Seventh day is celebrated with phulpati or sacred flowers and Brahmins carry kalasha with jamara and bamboo stalk from Gorkha to Kathmandu. Animal sacrifices are common on the 8th and 9th day of Dashain, in Nepal. Vijayadashami is celebrated on the 10th day when friends and families meet to exchange greetings and blessings.
Key attractions: Kite flying events and worship of Ashta Matrikas (8 tantric goddesses) and nine avatars of Durga.
Date: 10th October 2018. Celebrated for 15 days. Day 1, 7th, 8th, 9th and 10th are most significant days for celebration.
10. Tihar- The shinning festival of Nepal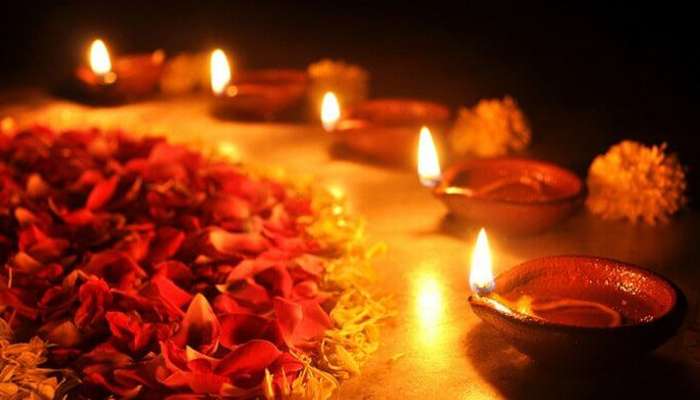 Tihar festival is a grand celebration of 5 days, right after Dashain festival. Known as 'festival of lights', Tihar is celebrated by worshipping Goddess Laxmi with vigour and enthusiasm. Numerous candles and lanterns are lit up in front of the idol, to mark the end of evil days and commencement of prosperous times.
Along with worship of Goddess Laxmi, on the first two days people worship crows and dogs, cows on the third day and oxen on the fourth day. The 5th day is celebrated with Bhai tika- where sisters put tika on the forehead of their brothers praying for their long life. The Newar community celebrates Mha puja on the fourth day as well.
Key attractions: Decorating each and every household and temple with diyas (Diwali lights) and worshipping of Laxmi- Goddess of wealth on the 3rd day and Govardhan puja on the 4th day.
Date: 7th November 2018
11. Lhosar- The most vibrant festival in Nepal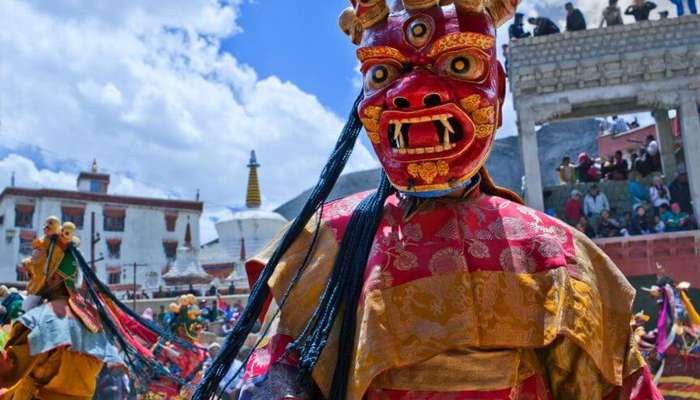 Lhosar, Tibetan new year, is the combination of two words, Lho means year and sar means new. Tibetan New Year or Lhosar is one of the most popular festivals of Nepal, celebrated by different communities on different days. Tamu Lhosar is celebrated amongst the Gurung community, whereas Sonam Lhosar is celebrated by the Tamang and Yolmo communities. The third type, Gyalbo Lhosar is observed by the Tibetan and Sherpa communities. The beginning of new year is celebrated by dance, music, family meet-ups, exchanging greetings and gifts. Families pray together during this festival and cook special foods for gods and goddesses. Consuming changkol, made from chhaang; a local Tibetan drink, similar to beer, is a known practice during Lhosar.
Key attractions: Mask dance and decorating monasteries and pagodas with colourful prayer flags.
Date:
Tamu Lhosar: 15 Poush of Nepali Calender (December/January)
Sonam Lhosar: First day of the new moon of Magh (March)
Gyalbo Lhosar: 29th day of the 12th month of Lunar calender. This is celebrated for 3 days.
If you're planning to visit Nepal this year, do not forget to see the calendar while you plan your trip to Nepal, the land of natural beauty and incredible culture.
Further Read: Diwali Celebration In India: A Pocket Guide To The Festival Of Lights
Comments
comments