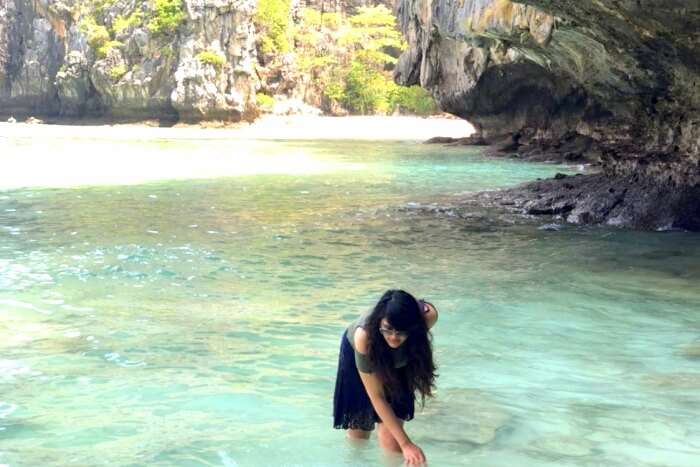 What really lies above and beyond? Do we really know what's happening around us? Do we really know the people we meet? These questions constantly poked me in the belly when all of a sudden I realized the flight had taken off. That's right. It was time to have that much awaited vacay! I don't know whether it was the anxiety or just me being myself but I swear we landed pretty soon. A mere 4 and a half hour journey felt like a mini nap.
I had heard all different kinds of things about Thai people apart from being culturally rich, living in a luxe paradise as far as the eyes could see. What I couldn't believe was the fact that there are so many lies that you hear only to be discovered later. Despite getting all kinds of misleading information about Thailand, I decided it was time. Time to let go and travel.
As soon as my flight landed in Bangkok, it was time to rush to the Don Mueang International Airport, where another flight to my dream destination was waiting. I requested the people at the Visa-on-arrival desk to make it faster as I had another flight to catch and guess what they replied, 'Don't worry. You'll get your flight.'
I ran towards the main exit as soon as I got the stamps and booked the shuttle right away which was to leave after almost 5 minutes. Well, it took less than that for them to start.
It was indeed disheartening to know upon my arrival, that the flight had already took off. Every local I approached including the one in the security, turned away as soon as I began to speak. I tried to follow a cue which was leading to a flight I thought was mine. A woman smiled at me. Looking from her subtle tan and a bright smile, I thought maybe she's a foreigner. She asked,
Must Read: An Epic Family Trip To Thailand: Discovering Alluring Beauty And More!

'You..uh you goin' to Krabi?'
I smiled back and nodded.
She spoke again, 'You..Indian?'
This time, a 'yes' fell out of my mouth, nothing less than a whisper.
Then started a conversation that took almost an hour to finish. Her name was Lawan. There was certain warmth with which she spoke. I tried to guess her age and was again sadly proven wrong. She was a mother of two kids and was going back home to meet them from Bangkok to Krabi. One thing led to another and before we knew it felt like we had a connection. She then realized that she was to board the same flight as I and due to some confusion, she had to buy a pass for the next flight too. Three hours spent with Lawan made a few things clear to me as far as some of the myths and truths about Thai folk are concerned that many of us keep coming across every now and then.
Facts About People In Thailand

1. Thai people are mostly shy.
2. If they're turning their backs on you or not replying properly, it simply means that they don't know the answer, may be because they couldn't understand your language and they don't wish to mislead you.
3. Many would really like you by the way you look but would be hesitant to tell you. So, if you find them staring at you, especially in smaller areas like Krabi, take it is a subtle compliment.
4. Most Thai folk love to make new friends (based on my personal encounter with Lawan and many others during my stay in Thailand)
5. They like to make jokes and are almost always in a jolly mood.
6. If you think you can abuse in front of Thai people and get away with it, you might wish to reconsider as some of them might not originally be from Thailand and have acquired the looks and accents with due passage of time.
7. Thai folk are sensitive. If they like an actor or actress and are talking about it, they'd want you to listen with respect as they'd do the same when you talk.
8. Learning some of the words from the local language such as, 'Hello', 'Thank you' and 'you're welcome' will work a great deal with Thai people as it helps you in creating a familiarity with them, thereby getting you huge discounts on that wild shopping spree you planned.
Further Read: Thinking About Thailand In April 2022? Here's All To See & Do That Will Blow Your Mind!
There are times when you wish you were right and then there are those time when you wish you weren't. I'm glad that almost all the things I had heard about these genuine people turned out to be mere myths. It is always to give a second chance and dive in the ocean full of possibilities rather than to blindly believe and hold yourself back. That's why they say, 'Travel makes you grow better!' So, when are you planning your visit to Thailand?
---
Looking To Book An International Holiday?
Book memorable holidays on TravelTriangle with 650+ verified travel agents for 65+ domestic and international destinations.
---