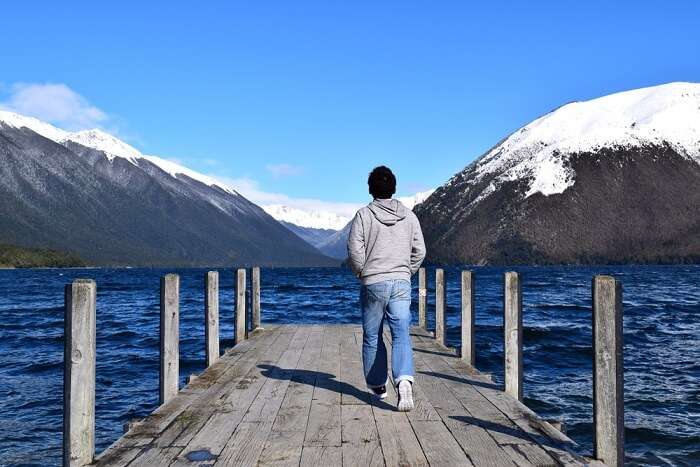 Nelson, often considered as one of the most beautiful places in New Zealand is particularly known for its scenic beauty, vibrancy, and culture. It is surrounded by extraordinary mountains and has breathtaking views with diverse geography. This place is all about long golden beaches to bare forests and rugged terrains or snow-capped mountains. The most attractive feature is that Nelson in winter is the best way to spend time in outdoor sports like cycling, kayaking, paddle-boarding, walking, and skydiving.
The most fascinating thing about this place is that art and business go hand in hand. It is a home for various craftsman, artists and all sorts of creative ones. Nelson comprises of vibrancy with its people. There are a number of studios, museums and it is a place which is culturally very rich.
Nelson In Winter: 10 Best Places To Visit
So, if you are looking for a vacation to freshen up your minds or just take a break, Nelson should definitely be your next visit. Take a look to know what all awaits you in this gorgeous city!
1. Maruia Hot Springs
The best way to spend your vacation in winters and relax your body and mind is by spending time midst of the Maruia Hot Springs. It is situated in the middle of the extraordinary picturesque beauty of mountains and forest. For nature lovers, it is the best place to connect and find a space for yourself. You can sauna and bathe in mineral hot spring and enjoy the view of excellent rivers. You can also enjoy the finest dining in this place or you can put a camp and go hiking or exploring the beauty of this place.
New Year Parties In New Zealand 2022: Explore The Nightlife Of The Country!
2. Nelson Lakes National Park
Another excellent way of touring New Zealand in winter is by spending your time in Nelson Lakes National Park. Centered at two lakes, you can go camping, fishing or tramping. Bonfire nights are very enthralling and help you relax and so is ice fishing during winter. Also, Nelson in winter is the best time to bring peace to your mind. It is a perfect place for adventure seekers too where they can go for mountain biking, hiking, mountaineering or simply boating. Nelson Lakes National Park is a home to a variety of culture as well.
3. Mount Aspiring National Park
Mount Aspiring National Park, for the hikers, is a wonderland. If you want to take short walks surrounded by the most beautiful view, you should definitely opt for this place. Longer hikes are also possible and an incredible view of beautiful valleys or traverse mountain saddles is possible. The tracks of longer hikes include the Routeburn, the Dart or Rees River circuit, Greenstone or Caples and the Wilkin Valley tracks.
There is a 30-minute walk which leads through silver beech or Tahina forest. You have to go over a swing bridge to a viewing platform which overlooks several magnificent crystal-clear pools at the opening of Blue River. It is one of the most beautiful places, people have a craze for. If you are into photography, you will get excellent photographs with the small walks as well as longer hikes.
Ski In New Zealand: 10 Places Every Adrenaline Junkie Must Visit At Least Once!
4. Paparoa National Park
A paradise filled with rocks is what Paparoa National Park is going to offer you. With the most breathtaking view of overlapping of rocks over one another, here's a kick for all nature as well as adventure lovers. You can go Exploring caves, or even horseback riding is possible. You can also go exploring through lush rainforest.
If you visit this place, you will never realize how time flies and the possibilities of exciting and thrilling adventures feel so endless that you wish you had some more time with you. From going fishing to spending days on enthralling treks to river rafting or camping, the possibilities of Nelson winter activities feel endless.
Destination Of The Month: These Surreal Places Will Entice You To Fly To New Zealand In November
5. Christ Church Cathedral
If you are looking for an ancient thrill or have the curiosity for ancient monuments, this cathedral serves its purpose. For a person interested in history or architecture, Christ Church Cathedral is a must visit. This church has an interesting history of being rebuilt and destroyed several times. Probably one of the most ancient cathedrals, it has the finest architecture of its time. Moreover, it is located in a very secluded and beautiful place in Nelson, New Zealand.
6. Abel Tasman National Park
Imagine one day you wake up in a world of golden sands or get a view of crystal clear waters and majestic lush green forests of New Zealand. The next day you go tramping into remote and ancient beech forest or spend your time learning about all the hidden treasures of Abel Tasman National Park.
It's the best possible way to spend your time in natural discovery, bird watching, sightseeing, photography or simply relaxing in winters. Abel Tasman is a home for many Eco camps where you can spend your days in the lap of nature. You are sure to see many beautiful birds surrounded by the most breathtaking views.
Stewart Island: An Unchartered Territory In The Heart Of New Zealand
7. World of Wearable Art
If you are a history lover and excited with every place you visit, you must definitely go to WOW. It's a museum or you can simply call it a storehouse of history. There's a separate gallery for kids, and if you want to make your child learn new stuff and serve his curiosity, you should definitely visit this place. There are many self-guided adventurous activities and also a scavenger hunt meant mainly for kids. It provides you with the necessary historical facts with a taste of adventure and enthralling manner. The best way to enjoy any indoor activity is by visiting this museum.
8. Kahurangi National Park
If you are looking for the most challenging place to visit, Kahurangi National Park is the best place for you. You can take the longest walk in New Zealand, also called the Great Walk, if you visit Kahurangi National Park. It has some wild white water rapids with limited access and the brutal Devil Kill Track for mountain biking. Aside from exerting yourself, you can enjoy go on a trek and admire the sublime views of dense forests, mountain ridges, limestone karst, small waterfalls cascading down streams, tussock lands, caves, and finally the rugged West Coast.
Franz Josef Glacier: The Icy Pinnacle Of New Zealand You Won't Want To Leave
9. Lake Rotoiti
Lake Rotoiti is the best place to visit during winter. It has a serene view surrounded by mountains and dense forests. You can spend your day fishing or boating in this beautiful spot in Nelson. There are numerous ways to spend your time in Lake Rotoiti and has another jetty. You can spend your time birdwatching and taking pictures of the beautiful birds of this area. And whether in Nelson in winter is so cold that you can also go winter snowshoeing around Lake Rotoiti.
10. Queen's Gardens
One of the most beautiful gardens to take a walk at, Queen's Garden offers you with a serene environment to spend your day walking around the park. Queens Gardens in Nelson has a particular significance. It reflects the growth and development of the city. Also, it is cleverly designed as well as it has an aesthetically pleasing environment which appears as a treat to your eyes. It has a diverse plant collection and role in fostering civic pride. It is the best place to help you relax and you can have a good time with your family.
10 Things To Do In Auckland In Winter In 2022 To See A Unique Side Of New Zealand
As you know, New Zealand winter temperature is very cold and you'll see places covered with snow. There are many adventure sports you can try like skiing or go hiking. Nelson is an excellent place to visit if you want to try hiking in a smaller as well as longer trip. Also, Nelson winter weather is extremely cold which calls for a lot of exciting adventure sports like skating, skiing, and others. So, if you want to spend your time excitingly in a winter break, you should definitely visit Nelson and enjoy its sublime nature. Plan your trip to Nelson for a serene experience like never before!
---
Looking To Book An International Honeymoon?
Book memorable honeymoon on TravelTriangle with 650+ verified travel agents for 65+ domestic and international destinations.
---
Comments
comments