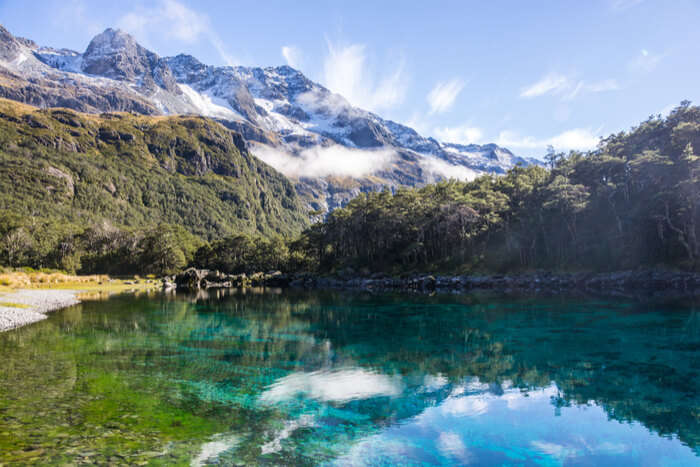 The second oldest city in New Zealand, Nelson is located on the eastern shore of Tasman Bay. Nelson has the population of approx 50,000. This place of full of artistic and creative people. The world of Nelson is so vibrant that the atmosphere is full of positivity and enthusiasm. There are a number of places to visit in Nelson that will never fail to feed your adventure-loving soul. Nelson is also popular for its music that attracts tourists from New Zealand and even the international masses.
10 Spellbinding Places To Visit In Nelson
The air of Nelson is endowed with positivity and beauty. If you are planning to go on a vacation to Nelson city, you are about to live some of the best days of your life with your family and friends.
Now, let's have a glance over the best ten places to visit in Nelson city.
Nelson Lakes National Park
Tahunanui Beach
Queen's Garden
Rabbit Island
World of WearableArt & Classic Cars Museum
Centre of New Zealand Monument
Nelson Saturday Market
Natureland Zoo
Suter Art Gallery
Abel Tasman National Park Cruise
1. Nelson Lakes National Park

Nelson National Park is one of the tourist's attractions spot. This place assures peace and calmness that travelers usually seek. This place covers around 1,019 square kilometers, which is perfect for walks beside Lake Rotoiti and Lake Rotorua. You can get involved in activities like mountaineering, boating, rafting, camping, fishing, and the list goes on and on because this place is full of surprises. This place can be considered as a magnificent Nelson tourism attraction.
Must Read: 10 Best Temples In New Zealand For Witnessing The Country's Vibrant Culture
2. Tahunanui Beach

Tahunanui beach is the main beach in the city of Nelson located on the bay of Tasman. It is among the top places to visit in nelson bay. This beach is popular for its shallow slope, which not only keeps the water calm but also warm, making it the best place to relax for the swimmers. This place is perfect for a family, as the children and adults both can have fun in the sands of Tahunanui beach. This beach spreads like a white and clean surface around the sea and is best for picnics, outings, and strolling around.
3. Queen's Garden

Queen's Garden feels like a piece of heaven on earth, full of vibrant colors and mesmerizing fragrances. This garden is the world's perfect example of classical Victorian ornamental park. This park was built to celebrate the reign of Queen Victoria. This place is stuffed with antiques and unique pieces of art like The Cupid Fountain, water wheel, The Boer war memorial, Sentinel, and fine memorial gates at the entrances. Strolling through this garden will elate your soul. Enjoy your day in Queen's Garden!
Suggested Read: Paragliding In New Zealand: 5 Best Places That Let You Soar High In 2022!
4. Rabbit Island

Rabbit Island is a very small island that consists of three islands, Rabbit Island, Rough Island, and Bird Island. This island has a long coast which is safe for long walks, swimming, and simply chilling out. This area is full of greenery. The beach is accumulated with vast and mountainous sand dunes which have toppings of masses of cone-bearing pines with exposed roots extending for long distances along the island. This island is mostly visited by people who want to admire the beauty of the waters and sand.
5. World of WearableArt & Classic Cars Museum

This museum is one of the best places to visit in Nelson. This wonderful museum is a home to two collections representing innovation in design. The visitors have always been captivated by the award-winning garments shown from the previous World of WearableArt Awards Shows and an extraordinary opportunity of seeing these spectacular works of art up so close. This place will amaze you and stimulate your thought process about the types of garments these places portray. No wonder this place is among the best places to visit in Nelson.
Suggested Read: 10 Trails Where You Can Go Hiking In New Zealand
6. Centre of New Zealand Monument

The Centre of New Zealand is named so because it was a central survey point in the year of 1800s and the walk up to the Centre of New Zealand monument is steep and perfect for people with moderate fitness. When you'll walk up to the top, you will witness that this place is endowed with the beautiful setting of the forest with lovely trees and flowers. Once you climb up to the top, you will be able to see a beautiful view of Nelson with signage pointing out all of the landmarks – indeed a great place for photography. Wear activewear with layers because it is cold up there and it will get quite warm in the walk up but a bit cooler through the forest when you will walk back down.
7. Nelson Saturday Market

Nelson traditional market is set in a perfect square in the heart of the city and this long-standing market readily attracts the real locals. You will enjoy meeting the stall owners, as they are quite gentle and humble. It is full of shops selling fresh farm vegetables, dresses, and other authentic stuff. This place is really fun to visit with your friends and family and you'll surely get an opportunity to interact with the locals of Nelson City. Wooden gifts are amazingly made here. It's an authentic place and that's exactly what the most visitors want.
Suggested Read: 15 Waterfalls In New Zealand That'll Leave Your Speechless
8. Natureland Zoo

This place is a dream come true for all the animal lovers. Here, you can get up close to your favorite animals. New Zealand's unique native wildlife is also exhibited here. Monkeys are really common up here along with many other domestic animals. This zoo is secured and safe to take your children for an outing. They can have fun with animals and can feed them too. Different types of birds, meerkats, and chickens are also found here.
9. Suter Art Gallery

The Suter art gallery is a free gallery where the art lovers can easily get to witness their favorite art piece. The paintings exhibited here are so amazing to watch that you would want to take all of them with you on your way back home. The main reason people love to visit this art gallery is that it is free of cost. They can have a look on the pieces of art for free. This gallery is located in the Queen's Garden. The guides here are really humble and always ready to help to provide you with the essential information about various paintings.
Suggested Read: 10 New Zealand Restaurants To Taste The Country's Culinary Masterpieces In 2022
10. Abel Tasman National Park Cruise

So, now it's time for the tourists to sit back and chill as we depart from lovely Kaiteriteri Beach on a scenic cruise to experience the Abel Tasman National Park. The beautiful water is full of beautiful dolphins and other safe marine animals. The cruise lasts for about four to five hours and is suitable for all the age groups. In the period of four to five hours, you'll experience wildlife from New Zealand Fur Seals to Little Blue Penguins. You can also have a look at the eye-catching beauty of Split Apple Rock, New Zealand Fur Seals, golden sands and the turquoise waters of Anchorage, Bark Bay, Tonga Quarry, Awaroa, and Totaranui Beach. If you are visiting this city, this cruise is a must have in the list of places to visit in Nelson New Zealand.
Further Read: 10 Churches in New Zealand That Are Absolutely Captivating Pieces Of Architecture
Nelson city is one of the most attractive cities in New Zealand. This place is infused with art, cultural heritage, great scenic beauty, wildlife, galleries, and museums. There are countless numbers of places to visit in Nelson and the list provided above only talks about a handful. So, when planning to spend your vacation in Nelson , don't forget to add these places in your to-do list to have a comprehensive travel experience.
Frequently Asked Questions
Q. Which are the places to visit between Nelson and Christchurch?
A. The best places to visit between Nelson and Christchurch are Hanmer Springs and Abel Tasman National Park.
---
People Also Read:
Places To Visit In Queensland Places To Visit In Wellington Places To Visit In Port Douglas