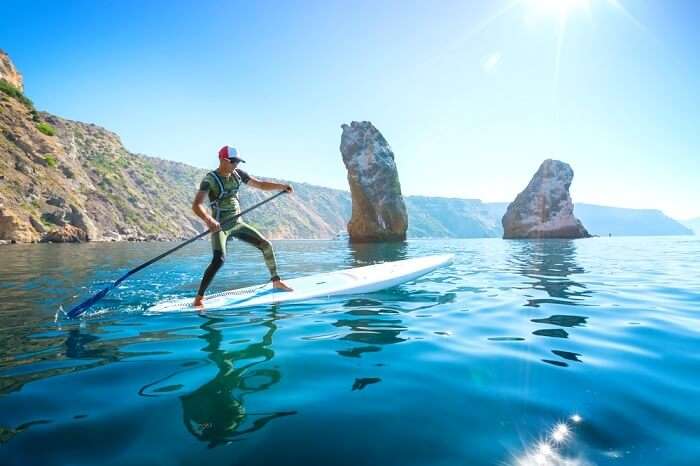 Planning for a holiday? A new place to go and which should not be like somebody else's travel destination? The place where you need to be is Papua New Guinea Island. This island in the western Pacific Ocean will surprise you with multiple options that you wouldn't have thought of for any island to boast. So check out the world map, locate this place, and get going. But before that, check out these 10 top things to do on this island.
Best Time To Visit New Guinea Island: The months from November to December suit best for a trip to New Guinea Island as these are the post-monsoon months, just before the dusty harmattan winds begin.
How To Reach New Guinea Island: While there are various ways to reach the island, you can take a flight with Airlines PNG, Air Niugini or the Quantas.
10 Must-Have Experiences On The New Guinea Island
Take a look at the best experiences you can have in the New Guinea Island!
1. Be a part of the festivals
Well, this small island hosts a number of cultural festivals which you could attend while visiting this place. These are the Mount Hagen festival, Sepik River crocodile festival, Goroka festival, Rabaul festival, etc. These provide a sneak peek into the local cultures and traditions of the people there. This reminds you of your own culture and an exchange of such traditions set in.
2. Have some fun at the sea
The New Guinea Island is surrounded by multiple seas and is bound to boast water-sports. The best in class scuba-diving and other water sports like surfing and diving are available in a variety to serve the adventure fan in you. The sea fun could be such a lasting memory that you would cherish the adrenaline rush that you went through.
Suggested Read: 15 Thrilling Festivals In Australia In 2022 That Will Give You Major FOMO!
3. Visit Loloata Island from Port Moresby
This newly built place is all set to take you to Loloata Island, which could let you involve in water-sports. These include kayaking, snorkelling and lots more. There is a resort at this island which could arrange for your travelling option. This is also developing into a great tourist destination endorsing fantastic cafes.
4. Trekking and hiking
For those interested to trek somewhere in the tiny island, there is an area dedicated to this too. Kokoda track is one for you where you get to trek and walk all your way to the desired destination. So trek and get along the amazing experiences on the way. Walking all the way is a nice experience when you are with your loved ones. Talking, eating, drinking all the way while hiking is an experience worth seeking.
Suggested Read: 11 National Parks In Australia For A Utopian Experience Into The Wild
5. Cruise your way
With the beautiful surroundings around, loosen yourself on a cruise tour. Such a trip or tour with water till where your eyes can see definitely gets you the importance of life. Blend yourself with the cool breeze and serene setting by nature. There are options of the Orion, kalibobo spirit, etc to offer you this amazing cruise experience. You and your family could all go onboard to travel and plan a trip within the long travel.
6. Enjoy bird watching
Amidst the blue and green color everywhere, spotting birds is a visual treat. Looking at them coming home, feeding their little ones and soaring high is all a great feeling. This usher in us a feeling of revival, a feeling of getting back on the track with full zeal.
Suggested Read: The Horizontal Falls In Australia Is Nature's One Crazy Conjurer Which Is A Must Visit In 2022!
7. Go fishing
If you are near any water body, and if you didn't involve yourselves in this activity, not done. Fishing in a quiet environment, teaching or helping your little one is a great experience and a memory too. With abundant fish supply due to the enormous amount of water, this could be a really fun thing to do.
8. Try stand up paddling
This could be one of the most breathtaking yet solace-providing activities. A journey all on your own could soothe you so much. This activity involves you to stand on a flat board, with a rowing handle. So you stand all the way and row around until you want to be back.
Suggested Read: Your Complete Guide To Hamilton Island – Know Everything About This Australian Paradise!
9. Cycling in Bougainvillaea
This is an autonomous region of the big Papua New Guinea Island. Cycling is one such activity which could be another memory in your travelogue. The terrains are a combination of rough and plain so that your cycling ride is altogether a new fun. Due to varied terrains, you will need somebody from the local to guide you the way. Also, the cycles need to be hired.
Suggested Read: 15 Scintillating Islands In Australia That You Must Check Out On Your Tour Down Under
10. Enjoy swimming
This is one of those simple yet an activity to placate your nerves. This is interesting as you get to swim in a sea and swimming in a pool and in a sea is a very different experience. You could encounter a fish or any sea animal or you may swim to very far off. So safety, swimming in the supervision of some expert should be done.
Suggested Read: 15 Best Hotels In Australia For Those Who Want Nothing But The Best!
So these were the 10 things you should be doing when you visit this tiny island nation named Papua New Guinea. You will get to see a very different culture, traditions, people, tribes over there. This exciting coastal place will definitely leave you amazed with its serene, green, and blue environment on your next holiday in Australia with TravelTriangle!
---
Looking To Book An International Honeymoon?
Book memorable honeymoon on TravelTriangle with 650+ verified travel agents for 65+ domestic and international destinations.
---