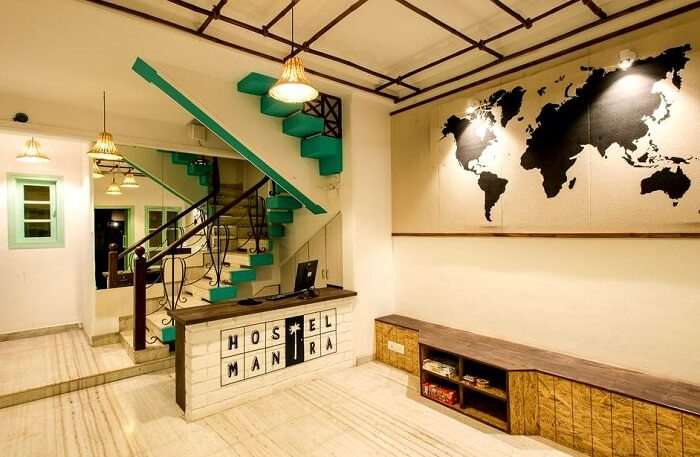 Be it its lip-smacking street food or the iconic attractions, the city of dreams never disappoints. But if there's one thing that stays as a concern for travelers visiting Mumbai, it is the expensive accommodation in the city. But thanks to this new hostel in Mumbai that has finally come to rescue for every budget traveler by opening its doors this February.
Situated in Andheri West, Hostel Mantra is a smart and pocket-friendly accommodation for all types of travelers with price per night starting from INR 599. But this isn't the only thing that makes it so exquisite in the city. The hostel is built inside a bungalow near Lokhandwala and comprises of five different types of rooms so that anybody can come, pick a room as per their needs, and stay comfortably. (Now you can also imagine how lavish it must be!)
This new hostel in Mumbai has been founded by the 30-year old Bhushan Pawar, who is a resident in Andheri. "I always dreamt of opening a hostel for travellers. It was on a backpacking trip in Europe that I realised it was time to make it happen," is what he told CNT. His dream has finally become a reality, and indeed a beautiful one.
But, what does Hostel Mantra offer for INR 599?
Suggested Read: 18 Must Try Delicacies Of Street Food In Mumbai
Apart from the pocket-friendly tariff, the Hostel Mantra also offers free Wi-fi, air-conditioned rooms, complimentary breakfast everyday from 8 AM to 9:30 AM, a kitchen where you can cook (if you wish to), a rooftop terrace, fun games like taboo, uno & jenga, and three common rooms where you can hang out or meet other travelers.
The hostel will soon also host events and activities for its guests like shopping trips, food tours, visit to the ISKCON temple & other attractions, and more.
What is the tariff for different rooms in Hostel Mantra?
The hostel comprises of five rooms, which are actually three dorms and two private rooms. The dorm with 9 beds cost INR 599 per night and the two other with 6 beds cost INR 649 per night. While these two are mix-dorms, the third dorm is only for women travelers and cost INR 649 for one of the six bunk beds. The remaining two private rooms have a double bed and twin beds and cost INR 2,200 per night respectively. Needless to say, the tariff for all of these rooms include complimentary breakfast!
How to reach Hostel Mantra?
This new hostel in Mumbai for budget travelers is located in Andheri West and is only a 10-minute rickshaw ride from the Versova Metro station. For reserving your stay in advance, you can either call them or reach them through Facebook.
Suggested Read: You Must Get To Mumbai At Once: Bioluminescence Turns Juhu Beach Blue
Location of Hostel Mantra: Bungalow no. 87, Janki Devi School Road, SVP Nagar, Andheri West, Mumbai
So, if you're heading to Mumbai anytime soon or have been postponing your trip because the hotel accommodation seemed too expensive to you, then rejoice, book your tickets, and go experience a stay at this new budget hostel!