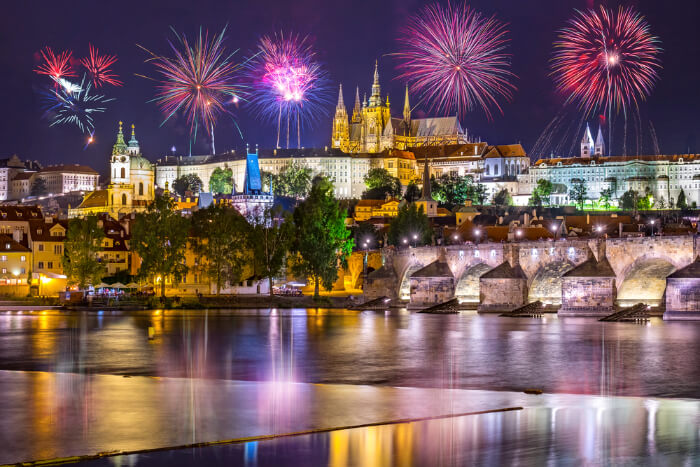 New year in Prague is never a low-key affair. There's a bit of snow, clear skies ready to display the most gorgeous fireworks, champagne bottles popping up in the bars and restaurants, midnight cruises, and a romantic feeling in the air. No matter what time of the year, Prague is always worth visiting but when it comes to celebrating the New Year, it is the place to be in Central Europe. Here are some interesting ways in which one can celebrate this New Year in Prague.
New Year's Eve Fireworks
The fireworks display takes the center stage in the New Year celebrations in Prague. It is a spectacle to behold. The best views are from the main square in the Old Town and Wenceslas Square. If one prefers a quiet time away from the crowd to enjoy the display, Charles Bridge or any of the Prague's 14 bridges are a better option. Petrin Hill or the riverbanks, along with the wall of Kampa Park, also provide a good view. However, the grand firework display happens on January 1st at 6 PM while on the eve of the New Year amateur fireworks are set off by locals and event organizers. The sight of the sky lighting up above the Prague Castle is a sight to behold.
Must Read: Wandering Beyond Prague: 5 Day-trips For A Dreamy Czech Escape
Top 5 New Year's Eve River Cruises
Prague offers many party cruises along the Vltava river. The luxury boats cruise past the Charles Bridge, Prague Castle, the Rudolfinum, Prague Parliament, the lesser town, national theatre, dancing house, and Vysehrad. These cruises are perfect for a romantic evening with your partner while sipping on champagne and watching the fireworks. There are five river cruises for New Year's eve in Prague to choose from and this year's bookings have already begun. The following cruises are available for 31st December 2018 and the boarding point is the river embankment in the city center.
1. New Year's Eve Party Boat
This is the original party boat that has been running from the past 15 years. It is exclusively for the New Year's Eve. A welcome drink is served once you board and it offers a buffet dinner along with drinks.
Duration of the cruise: 5 hours
Timings: 21:00 to 2:00
Dress code: No dress code
Cost: INR 12800 per person
Suggested Read: 20 Things To Do In Prague: Key To An Apt European Vacay
2. New Year's Eve Jazz Cruise
This cruise exclusively plays jazz live music all throughout the journey. This year they have two exclusive jazz boats, one that serves a buffet dinner and one that serves a 3-course set menu. Vegetarian options are also available.
Duration of the cruise: 5 hours
Timings: 20:00 to 1:00
Dress code: Smart casuals
Cost: INR 12800 per person
3. New Year's Eve Grand Panoramic Cruise
These boats have a live band playing old tunes throughout. Gourmet buffet dinner is served with unlimited drinks and they have other entertainment such as a pop quiz on board.
Duration of the cruise: 4.5 hours
Timings: 20:30 to 1:00
Dress code: Smart casuals
Cost: INR 21000 per person
Suggested Read: Prague Honeymoon Guide: 10 Sizzling Recipes To Spice Up Your Trip To The Land Of 100 Spires
4. New Year's Eve Panoramic Cruise
This is quite similar to the Grand panoramic cruise except for the kind of entertainment they provide. This boat hosts a karaoke and a buffet dinner with unlimited drinks.
Duration of the cruise: 5 hours
Timings: 20:30 to 1:30
Dress code: Smart casuals
Cost: INR 21000 per person
5. New Year's Eve A La Carte dinner cruise
They offer a set 3-course gourmet dinner that starts with a glass of red wine as soon as one board the boat. Unlimited drinks with an exclusive waiter at your service on board are provided along with some live music and dancing. They have a limited number of tables making its availability a bit tricky. This cruise is perfect for those looking for a romantic evening with their partners.
Duration of the cruise: 4.5 hours
Timings: 20:30 to 1:00
Dress code: Suits and Evening dresses
Cost: INR 28000 per person.
Suggested Read: 6 Cool Beaches In Prague For Some Sun, Sand And Dash Of Fun
Dine At The Most Scrumptious Restaurants
Prague boasts of a huge number of restaurants and bars to dine at. New Year in Prague is a busy time for restaurants. They generally have a set menu and they start taking bookings a month prior to the New Year. They provide live music like jazz or the local Czech folk music to groove to. Here are some of the most recommended restaurants to eat at this New Year's Eve in Prague.
1. Restaurant Hergetova Cihelna
It is situated near the main square of the Old town. Known for its palatable food, this year they are following the traditional black and white party with a 5-course menu, welcome drink, live music and is known for hosting the best New Year party in Prague that goes on even after midnight. As an added bonus, the location is just perfect to observe the midnight fireworks.
Location: Prague-1,Cihelna 2b, Mala Strana.
Cost for two: INR 40000/-
TripAdvisor rating: 4.5/5
Reviews
2. Restaurant Kampa Park
Kampa Park is a popular riverbank area restaurant. This New Year, they are hosting a 5-course menu with octopus carpaccio, beef fillet, cod with parsley puree, venison with celeriac puree, and lemon tart with sorbet and raspberries for the dessert. The DJ entertains while one eats and vegetarian options like onion and mushroom ravioli to are available at this restaurant.
Location: Prague-1, Na kampe 8b.
Cost for two: INR 44000/-
TripAdvisor rating: 4.5/5
Reviews
Suggested Read: Shopping In Prague: 5 Places To Feed The Shopaholic In You!
3. Restaurant Bellevue
It is located at the heart of Prague. One of the most sought after fine-dining restaurants in Prague and specializes in modern European cuisine. They are offering a 7-course menu this year with oyster, venison accompanied with chestnut puree. Beetroot lime and lavender sorbet and valrhona chocolate sphere are being served for dessert.
Location: Prague-1, Smetanovo Nabrezi 329/18.
Cost for two: INR 48000/-
TripAdvisor rating: 4.5/5
Reviews
4. Restaurant Asian Temple
If one is looking for a different cuisine from the usual Czech delicacies, this is the place to go. This year it is going to be oyster with chili ginger, beef fillet accompanied with foie gras, lobster with mango and lime, pork belly with noodles and spiced cake for dessert. For entertainment, they have live music and dance performances.
Location: Prague-1, Bilkova 13
Cost for two: INR 16000/-
TripAdvisor rating: 4/5
Reviews
Suggested Read: 20 Best Places To Spend Christmas In Europe 2018: Where Festivities Breathe Magic Into The Air!
5. Elements Restaurant
This restaurant is located in the Presidential Hotel and offers a lavish 10-course menu and the food is based on Italian cuisine. It includes foie gras, tuna fish and ravioli. Baccala mantecato with polenta chips, glazed lamb and poached calamari, and are serving licorice panna cotta for dessert.
Location: Prague -1, Namesti curieovych 1/100, Hotel President
Cost for two: INR 29000/-
TripAdvisor rating :5/5
Reviews
Go On Historical Walks
If one wants to get out of the party mode and spend some quiet time before the fabulous fireworks show begins on January 1st, going around Prague to imbibe some history and culture of the Czech Republic is a good idea. One can visit the Karlstejn Castle where the crown jewels and the likes are stored. This medieval castle holds a Guinness Book Record for being the largest coherent castle in the world. It was rebuilt in the Gothic style by Emperor Charles IV. The Castle is open from 10.00 am to 3.00 pm on New Year's day.
There is a treetop walkway near the Lipno Dam and a walk is organized every year on January 1st. The walk gives an incredible view of the Alps and the air is peaceful. One can enjoy the serene beauty and sunset before returning for the fireworks. It is open from 10:00 to 16:00 on the New Year's Day.
Other than these, skiing and snowboarding on the Czech mountains are also a popular option among the Czechs. Sometimes the Rudolfinum holds a New Year concert. These are some relaxing activities to those wondering how to celebrate New Year in Prague in 2019.
Further Read: 10 Finest Prague Restaurants To Let You Taste Heavenly Czech Cuisine In 2018
Spending New Year in Prague always leaves one with a heart brimming with joy and love to carry throughout the year. So don't think twice and plan your trip to Prague with us today! Have an amazing New Year in Prague.
Comments
comments