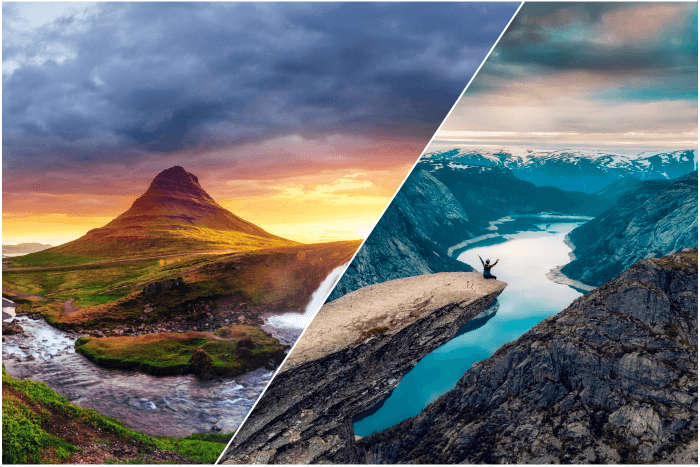 It's a very difficult task to choose a specific destination for your next travel list. And if you're keeping in mind the preference of Norway vs Iceland, it is one of the most difficult tasks because both offer incredible scenery, hidden gem experiences, and unique food and culture. Iceland is often called the Land of Ice and Fire and is mainly known for its rugged terrain, steep mountains, and wide landscapes. So, if you are more of an adventure person, wanting to explore nature in its best possible ways, Iceland is the best for you. On the other hand, like Iceland, Norway is a hub for scenic beauty, hiking or a taste of a variety of culture. You must opt for Norway if you are looking vibrancy in places and a colorful aura.
Currency: Norway vs Iceland

The currency of Norway is Norwegian Krone and stands at an equivalent of 8.24 Indian rupees. You need to get your rupee notes converted into Kroner before you get into this nation.
On the other hand, Iceland has a weaker currency unit, known as Icelandic Króna that values for around 0.57 Indian rupees. You can get the exchanged notes and coins at several currency exchange centers within the country itself.
Visa: Norway vs Iceland

Visa requirement is also a determining factor whenever you're visiting a country, be it Norway, Iceland or any other. Talking about which, a valid passport for up to 3 months beyond the stay is sufficient for a trip to Norway.
At the same time, a trip to Iceland won't require a visa as far as there is a valid passport for 6 months from the day of entry in Iceland. If you're hiring a travel agent, better confirm all the details regarding the cost of accommodation so that you can manage your budget accordingly.
---
Looking To Book An International Holiday?
Book memorable holidays on TravelTriangle with 650+ verified travel agents for 65+ domestic and international destinations.
---
Norway vs Iceland: The Best Time To Visit

The best time to visit Iceland depends on what you're looking for. If you want to visit the place during midnight Sun, a phenomenon where the sun never sets, you should visit in July or August. However, if you want to see the Northern Lights, February and March, as well as September and October, is the best period to pay a visit.
June to August is the best time to visit Norway to chase the midnight Sun. However, to look for the Northern Lights you must have to endure a lot of colds to be able to get a view of it. You should definitely visit during January, February if you really have a craze for Northern lights. Offseason is the best period for adventure freaks to visit these places.
Top 5 Places To Visit In Norway
While Europe is an all-around beauty, when it comes to the land of rising sun, you should be nit-picky. These places in Norway should definitely be on your checklist:
1. Alesund

It is located on the western coast of Norway. It is also called the gateway to the iconic northwestern fjords and surrounding alpine mountains. A fire in 1904 destroyed most of the city and after the renovation and reconstruction, it has become a wonderful picturesque in the present day. The city was rebuilt with stone and brick in the architectural style of the time. It stands as an example of Jugendstil design. A hike up the 400 steps can give a view of Fjellstua which is worth the time. The mountain peak offers stunning views of the city of Alesund along with the surrounding islands.
Must Read: Norway Travel – The Land of Midnight Sun Is Calling
2. Tromso

Tromso is the largest city in Northern Norway which is popular for its wooden houses of the eighteenth century and particularly its scenic beauty. The city which is present on the island of Tromsoya has a great collection of museum and the city has a historical importance. Tromso gives an excellent trip of the Storsteinen Mountain in the Fjellheisen Cable Car which offers visitors stunning views of the surrounding fjords and steep mountains. The arctic aquarium Polaria and the Polar Museum are the popular assets of the city. In addition to that, Tromso is a great location for Northern Lights.
3. Oslo

Oslo is the capital city of Norway and is a hub for various tourist destinations. It is one of the most vibrant cities. It is full of 19th-century centered museums, lively bars, and restaurants. Also, the Nobel Peace Center located in the city's former railway station, Oslo is culturally rich and the people are amiable. Famous across all of Europe, it is a famous tourist hotspot of the country.
Suggested Read: Make Your Reservations At The Upcoming World's Largest Underwater Restaurant In Norway
4. Jotunheimen

Jotunheimen is also known as Home of the Giants and is one of the famous national Park of Norway. The national park is located in the southern region and has Norway's 29 highest peaks. Jotunheimen has many waterfalls. The park is also home to Vettisfossen, which at 275 meters (900 feet) is the highest waterfall in Norway. Many visitors come here for adventure trips and also get access to glacier hikes, summit tours, mountain climbing, and skiing. Trekking and outdoor activities are also popular here
---
Planning your holiday but confused about where to go? These travel stories help you find your best trip ever!
Real travel stories. Real stays. Handy tips to help you make the right choice.
---
5. Svalbard

It is also one of the world's northernmost inhabited areas. It can be called a perfect place for adventurous people. It feels like home and you can try your hand at dog-sledding or summer hiking. There is a high possibility that you will spot a polar bear. Svalbard is also an amazing place to watch the Northern Lights, as its remote location can mean less light pollution and better visibility. If you consider Norway vs Iceland northern lights, Svalbard in Norway has one of the most fascinating lights that appear very appealing in winter.
Suggested Read: 12 Beaches in Norway Where You Can Spend A Tranquil Evening
Top 5 Places To Visit In Iceland
Iceland is no less when it comes to places with breathtaking scenery and awe-inspiring beauty. While many agree if you don't believe that, here, take a look:
1. Reykjavik

The capital city of Iceland, Reykjavik is also the largest city. If you're looking for a relaxed trip or more means to explore, it is suitable for both types. There are a number of shopping malls, fancy restaurants, parks that will help you relax during your trip if you visit this place. It is also an excellent place for nightlife. Along with it, Reykjavik is a home to a variety of museums. You will find a number of museums in this city which are even kid-friendly and will make your kids curious about this place too. It is a storehouse of art and culture. The Goldensquare is one of the most beautiful tours that Reykjavik offers. If you consider the option of choosing Norway vs Iceland in winters, Reykjavik can appear to be the best place to spend your winter.
2. Akureyri

This city is present at the base of Eyjafjörður Fjord, in the north of Iceland. It is rich in biodiversity. The most attractive feature of this city is its botanical garden. It contains nearly every plant found naturally in Iceland, as well as various other species of plant. Symphony Orchestra of Northern Iceland is very popular here. If you plan your visit to this city, you must definitely go for it. Or, you can also explore a Medieval trading place preserved in time. You can also visit Grimsey Island in Akureyri, which is a home to one hundred people and a million seabirds.
Suggested Read: 8 Magnificent Waterfalls In Iceland Every Nature Lover Out There Must Visit
3. Húsavík

On the shores of Skjálfandi Bay is located the famous city, Húsavík. It is a home to just over two thousand locals and various forms of countless adventures are prevalent in this place. Many of Iceland's famous hot springs are found here. It is a great place to relax and has some real healing powers. This place is excellent if you are into outdoor sports like horse riding, golf, hiking, and birdwatching. Photographers have a great time in clicking pictures of birds here. Although Húsavík has plenty of exploration sites and probably is one of the finest places of picturesque beauty, it is a smaller town and has certain amenities, such as restaurants in the off-season.
4. Reykjanes peninsula

Reykjanes peninsula is one of the most attractive places of Iceland. It is well known for its raw and rocky landscapes and is often compared to the moon. The famous Blue Lagoon is situated here and has milky blue water and is surrounded by lava, making the place enchanting and mysterious. It is a geothermal spa, filled with seawater and has healing powers. The water is rich in silica and minerals and has worked well on all sorts of eczema and other skin related diseases. It is believed to have cured diseases of many. Both Norway and Iceland have excellent hot springs, but if you contrast Norway vs Iceland, there is no place such Blue lagoon.
Suggested Read: The 7 Best Water Parks In Iceland For A Great Weekend Out
5. Husey in East Iceland

It is located between two glacial rivers and surrounded by the Mountains of the East, Húsey offers endless opportunities for excursions to discover Iceland's untouched nature. Moreover, it contains 175 species of plants in the area. It is a great nesting spot for the 30 species of birds who squat there every spring. The view of birds in this area is incredibly beautiful. If you consider Norway vs Iceland in summer, Husey can be considered the best place to visit in summer because the view is excellent there. You can climb up and ride and get a view of grazing reindeer, hundreds of idle seals can be seen, lazing under the midnight sun.
Further Read: 10 Museums In Iceland That Must Feature On Your Euro Trip Itinerary
Every place has its own standards and beauty that depends on the preferences of people where they would like to visit. The portrayal of Norway vs Iceland in the article is shown to highlight the specific areas of these countries. Now the final question is, which is it for you? Norway, the beautiful land of midnight sun or the island of fire, Iceland?
---
Looking To Book A Holiday Package?
Book memorable holidays on TravelTriangle with 650+ verified travel agents for 65+ domestic and international destinations.
---