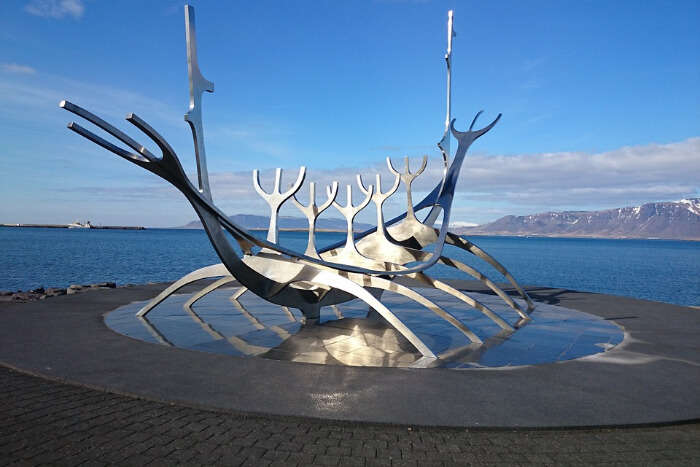 Iceland is a unique nation in itself, there are several different cultures and norms followed across this small nation. Having a long history of humans since the arrival of Vikings to this small Island itself, this nation has seen lots of different rulers and with ruler's different cultures. There are numerous unique museums in Iceland showcasing this culture. Let's have a look at some of the best ones:
10 Best Museums In Iceland
While most of the museums are concentrated in the capital and largest city of Reykjavik, there are museums outside it too. Here's a list of museums in Iceland you shouldn't miss:
1. The National Gallery of Iceland
The National Gallery of Iceland is also known as one of the best art museums in Iceland. Founded in 1884 and moved into its current premises around 1987, this museum showcases the best pieces of arts and artifacts of the Icelandic history through the 19th and the 20th Century making it one of the best historical museums in Iceland too. Exhibitions here feature an array of art from both Icelandic and international artists. Have a great time exploring the place.
Location: Fríkirjiuvegur 7, Fríkirkjuvegur, 101 Reykjavík, Iceland
Website
Google Review: 4.1/5
Must Read: Iceland In December: 15 Experiences For Having The Best 2022 Winter Vacay Ever!
---
Europe Holiday Packages On TravelTriangle
Explore the most beautiful places to visit in Europe, from Paris to the Venice canals and from the Greek islands to the Swiss alps. Book customized packages by expert agents on TravelTriangle. Inclusive of airport transfers, cab, resort, sightseeing and meals. Best holiday experience Guaranteed. Book Now
---
2. The National Museum of Iceland
If you want to know about the Icelandic culture through the centuries, then this is the best museums in Iceland. The Museum showcases and covers anything and everything about the small island nation known as Iceland. The exhibits are displayed here with great effect using audios and graphics visuals giving loads and loads of information to the visitors. A trip to this place can increase your knowledge manifolds.
Location: Suðurgata 41, 101 Reykjavík, Iceland
Website
Google Review: 4.4/5
3. Viking World Museum
Situated inside the seaside town of Reykjanesbaer, the Viking World Museum has various exhibitions on the show each tackling with a different aspect of the Viking Life. The Museum also holds a ship model depicting the 9th Century Viking ships, also exhibits related to the Viking Mythology and Norse Ideology are there in the Museum. The most recent and notable addition to the Museum has been the video archives.
Location: 1, Víkingabraut, 260 Keflavík, Iceland
Website
Google Review: 4.2/5
Suggested Read: Did You Know? You Can Take The World's Only Active Volcano Tour In Iceland!
4. Aurora Reykjavik
As the name suggests, this Museum is dedicated to the Aurora Borealis or the Northern Lights, this is one of the top museums in Iceland. Nothing is better than witnessing the lights of nature by your own eyes but when in some rare conditions nature fails to deliver this eye-catching site, you can visit this Museum, the exhibits are second best to nature itself.
Location: Grandagarður 2, 101 Reykjavík, Iceland
Website
Google Review: 4.2/5
5. The Culture House of Iceland
Originally built to house the National Library and the National Archives of Iceland, the culture house is one of the most beautiful buildings in all of Iceland. A designated national monument, housing the remarkable Reading Hall preserved in its original form. Currently, the Points of View exhibition is on the show in this museum, the exhibition is a part of an ambitious project to showcase all aspects of the heritage of Iceland.
Location: Hverfisgata 15, 101 Reykjavík, Iceland
Website
Google Review: 4.0/5
Suggested Read: An All-Paid Trip To Iceland For 3 Months! This Summer Wow Air Is Offering The Coolest Job Ever
6. The Settlement Exhibition
Also known by its Icelandic name, Landnámssýningin, just from your arrival into the premises, this museum will take you into the Viking Age. You'll feel like you are walking in the footsteps of the Vikings which settled in Iceland and lived between 930 and 1000 AD. The touchscreen displays let you delve deep into the Viking Culture by providing some of the rare information that can't be found anywhere else.
Location: Aðalstræti 16, 101 Reykjavík, Iceland
Website
Google Review: 4.2/5
7. Akureyri Arts Museum
This the first visual arts museum to be opened in Iceland outside Reykjavik. As one of the main cultural centers in the North of Iceland, the Museum focuses on supporting and promoting all kinds of visual art both in Akureyri and all of Iceland as a whole. You can see and witness works of both Icelandic as well as emerging International Artists on show here. This is a unique Museum in Iceland dedicated to a unique art.
Location: Akureyri, Iceland
Website
Google Review: 4.2/5
Suggested Read: Let Us All Raise A Toast To Iceland's Beer Spa!
8. The Saga Museum
Also labeled as one of the most amazing museums in Iceland, experience the Icelandic and Viking sagas come alive at this museum. Life-like elaborate statues of important and controversial figures throughout History will make you reconsider whether you have taken a journey back in time to witness some of the most dramatic events that ever happened in Europe
.
Location: Grandagarður 2, 101 Reykjavík, Iceland
Website
Google Review: 4.0/5
9. Reykjavik Maritime Museum
A fabulous Museum dedicated to the life of fishermen and the fishing community of Reykjavik. The Reykjavik Maritime Museum displays information and perspective of the maritime fishing and sailing community of Iceland, there take on the various wars, blockades and the daily hardships they used to face in the Cold wars. Audio guidance in multiple languages and booklet will help you guide through the exhibitions.
Location: Grandagarður 8, 101 Reykjavík, Iceland
Website
Google Review: 4.1/5
Suggested Read: 10 Things To Do In Iceland You Shouldn't Miss At Any Cost!
10. The Settlement Center – Borgarnes
This open-air museum primarily focuses on the life of the first settlers in Iceland, how they lived, how they went about things, their culture and their houses. Divided into two parts, the second part of the museum exhibits the life of Egil Skallagrímsson, a famous Viking poet and warrior whose father was amongst the first settlers and landowners in Iceland.
Location: Brákarbraut 13-15, 310 Borgarnes, Iceland
Website
Google Rating: 4.4/5
Further Read: 18 Magical Reasons To Visit Iceland That You Just Can't Say No To!
Who would have thought that a vastly unexplored nation like Iceland could house numerous museums and galleries to showcase its rich and vibrant culture? Visit Europe at the earliest to witness the rich cultural heritage of Iceland and stop by at the museums in Iceland for lessons in history.
---
Looking To Book An International Holiday?
Book memorable holidays on TravelTriangle with 650+ verified travel agents for 65+ domestic and international destinations.
---