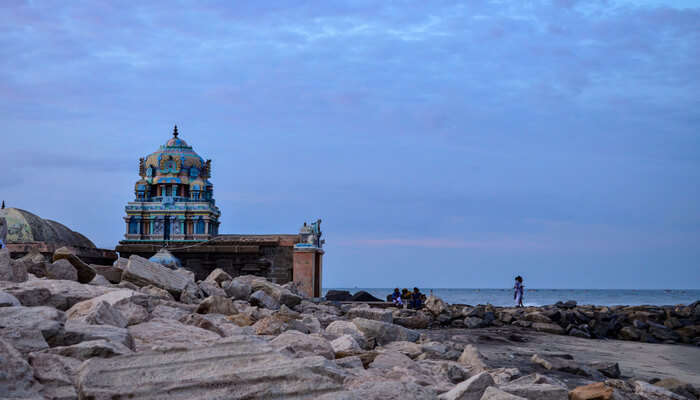 India is an incredible country, with many gorgeous yet unexplored sites kept as secret and not adulterated with present economy and commercialization. In case you have already explored most of India and are in search for that secret gem in the Southern part of India, then here are a list of offbeat places in South India. Starting from beaches in Malabar to peaceful and quiet corners of Western Ghats, there is a lot to grab. These places are away from tourist spotlight and you can find peace and solitude here even during peak seasons. These places are away from the discordance that is often found in various famous tourist attractions. While you cover them, it would be worthwhile to spend a day or two at these places too.
7 Offbeat Places In South India
Take a look at this list of the offbeat places in South India and choose which place you are going to visit next. Whether planning a family or couple trip, these places are best for every kind of traveler.
1. Thalassery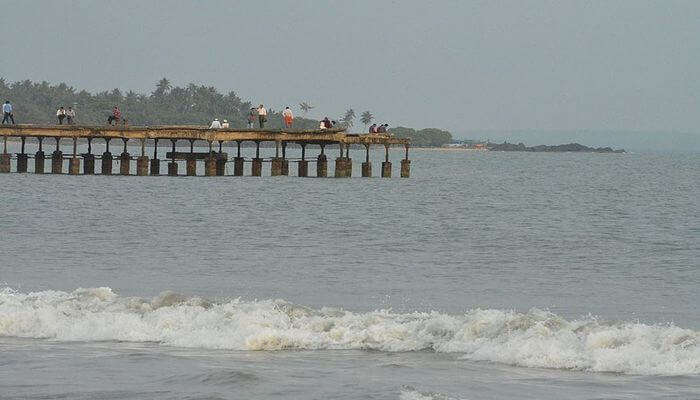 Thalassery, is a city on the western coast of Kannur district, mostly Malabar Coast in Kerala. It is one of the largest cities in North Malabar. Thalassery is an island amidst the Eranjoli river and is fully covered by the Arabian sea. Thalassery has got seven hills which are auspicious and are known to be the reason for prosperity that lies in this city. Eranjoli and Dharmadam are two rivers that are flowing around the city forming a ring around it. The place is also popularly called 'City of seven hills.'
The place provides a picturesque landscape for its travelers. The town is located amidst the wooded hills and is protected by a natural breakwater of rocks. The city has various tourist attractions which are yet to be brought into popular tourist spots like Arakkal Museum, Aralam WildLife Sanctuary, Bekal Fort, Dharmadam Beach Island, Gundert Museum, Kottiyoor Shiva Temple, Lokanarkavu Temple and many more.
How to reach: Thalassery has its railway station, which is connected to various cities in Kerala and outside. Nearest Airport is Calicut International Airport.
Must Read: 33 Romantic Honeymoon Places In South India For 2020 That Cast Utter Magic
---
Looking To Book A Holiday Package?
---
2. Tharangambadi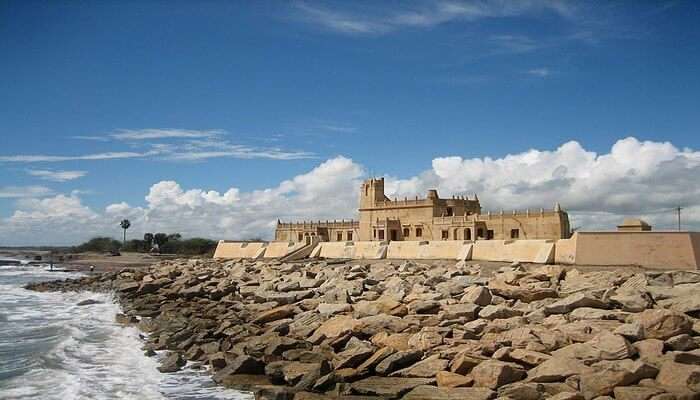 Tharangambadi is a small beach town in Nagapattinam district in Tamil Nadu. The place is still untouched and still possess that tranquility of ancient times. The city is popularly known as 'The land of singing waves'. The city is on the banks of the Kaveri river and the Bay of Bengal and holds the magic of various cultures. The famous tourist attractions in this city are Fort Dansborg, the town gate, the Zion Church, Old Danish cemetery, the Ziegenbalg museum, and the Masilamani Nathar temple.
The city reflects Danish history in India. The place has got it all from fancy bars to beaches and sand. The name ' Tranquebar' was christened by the Scandinavians because they found it difficult to pronounce the Indian version of it. There is always the sound of sea waves at the background which is why it is called the 'land of singing waves'. The place was damaged by the tsunami in 2004 and still is building, but the archaeological department helped to restore most of it. One of the juxtaposing views of the city is colorfully painted old homes besides picture-perfect beaches.
How to reach: There is no straight rail or flight to this place. You need to take the state-run buses from Chennai's Metropolitan Bus Stand at around 8 PM to run down the East Coast Road to Pondicherry via Mamallapuram and reach this place via NH45A. Nearest Airport if Chennai and the nearest railhead is Mayiladuthurai.
Suggested Read: 8 Exciting Things To Do In Calicut On Your 2019 Trip To South India
3. Pollachi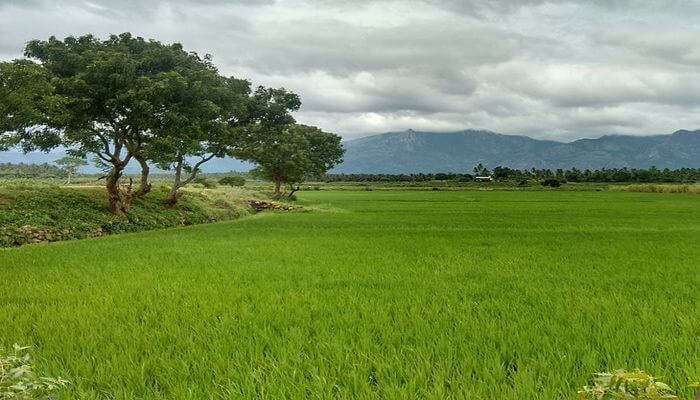 Pollachi is another untapped destination in the southern part of India. It is around 40 km away from Coimbatore and got a picturesque landscape that has its warmth and joy to pass on to its visitors. Also, the place has several adventure activities to be explored in the awesome climate of the location which expands all year round due to the cool breeze coming from Palghat Ghats.
The place is located around 40 km from Coimbatore and is a backdrop place behind many of the famous South Indian films and advertisements. Also, there is an ideal picnic spot located at Annamalai which is around 34 km away from Pollachi Town. Other major attractions of this place are Arivu Thirukoil, Arulmigu Masani Amman Temple, Topslip Tiger Forest, Annamalai Wildlife Sanctuary, Anamalai Tiger Reserve and many more. The place is mostly famous for its temples and waterfalls.
How to reach: There is no regular train or flight to this place. Nearest Airport is in Coimbatore which is around 41 km from the city. And the nearest railway station is also located in Coimbatore. You can hire cabs from these places to reach your destination in Pollachi.
Suggested Read: 12 Best Places To Visit In South India In December 2020
4. Badami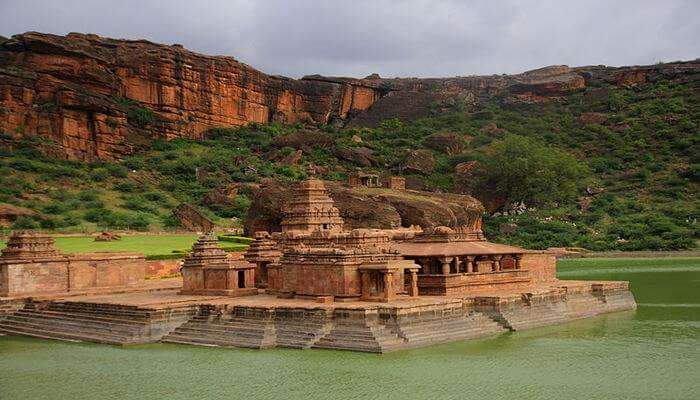 Badami is a place of rock-cut cave temples and Redstone cliffs which almost resemble the American Wild West. The landscape is stunning in this place and gives an ideal hideout from the busy lives of the city. One not to miss features of this place is Badami's backstreets which are covered with very many fascinating and welcoming old houses with carved doorways and Chalukyan ruins. The top attraction includes the cave temples, the north fort, archaeological museum, and the Agastya Tirtha tank.
The city was the capital of Chalukyas and resemble their essence in each building built in ancient times. It also holds Mahakuta Group of Temples which were also built by the Chalukyas. Badami Fort is known for its ancient architecture which stands on the top of a hill and again resembles the Chalukyan architecture style. You can also take on some adventure activities like rock climbing. If you are here during November- December, then a small fair held in Godachi village is a must-visit.
How to reach: The Badami city has its small railway station with trains connecting from Bangalore and Bijapur. The closest airport is at Belgaum which is just 150 km away from Badami. The city is also accessible via buses and has its bus stand.
Suggested Read: 14 Best Places To Visit In South India In October 2020 For A Pre-Winter Vacation!
---
Planning your holiday but confused about where to go? These travel stories help you find your best trip ever!
---
5. Nagarhole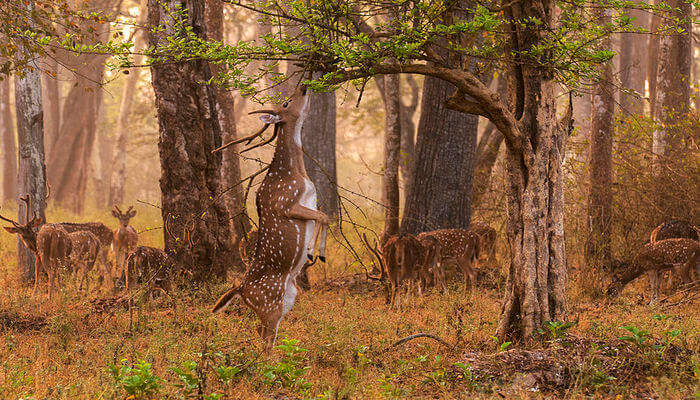 Nagarhole is mainly famous for its national parks which expands in 247 km in Karnataka and holds an astonishing abundance of wildlife including tigers, leopards, wild elephants, dhole, and guard. The place is called Nagarhole because of a large number of serpentine holes in this place. The place has gentle slopes and shallow valleys and is covered in deciduous trees. This is one of the best national parks in India and has got many elephants and bison. You can see a wide variety of birds at this place. The last count was around 250 different species which were spotted in this national park. The park also has the Kabini river flowing through which provides a unique viewing experience to its visitors.
Apart from wildlife, you can also take a look at the variety of flowers and plants at this national park. The place is on the verge of being declared as UNESCO World Heritage Site and is a hunting reserve of the Wodeyar Dynasty. The place is also ideal for photography. The place is open from 12 in the night up till 8 in the morning and then 3 in the evening up till 5 PM. The entry fee is just INR 200 for Indian nationals, you can carry your cameras along at an additional charge of INR 1000.
How to reach: Nearest airport to Nagarhole is I Mysore which is 96 km away and Bangalore which is 236 km away. The nearest railway station is Mysore which is again 80 km away. Regular Bus Service is available from Mysore and Bangalore.
Suggested Read: 11 Museums In Kerala To Explore The Art, History, & Culture Of South India
6. Devbagh Beach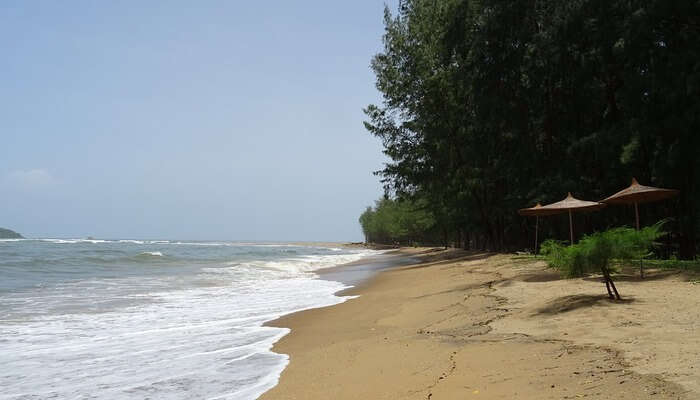 Devbagh Beach is yet unexplored and you can find your quiet time in this place. It also has a resort which could provide you with private islands. Other activities include water sports including snorkeling, kayaking, banana boat rides, water scooters, and others. You can sit across the beach and look at the quiet sunset on Devbagh Island while lazing around on the sacks near the beach. The place has very a smaller number of footfalls and is known for its serene beauty.
The beach is covered with pristine blue water and a backdrop of beautiful mountains covered in casuarina trees. It is an exotic island that lies along the Arabian sea and is about 2 km from southern goa. This beach town is famous for seafood and mesmerizing sunsets. The place is a perfect getaway for couples who are looking for an isolated and secluded vacation in a beautiful destination.
How to reach: Kudia is the nearest railway station to Devbagh. Goa is connected to this place via NH66 is make it accessible via road. The nearest airport is in Goa.
Suggested Read: 15 Majestic Places To Visit In South India In August 2020 That Bring Out The Best Of Monsoons!
7. Araku Valley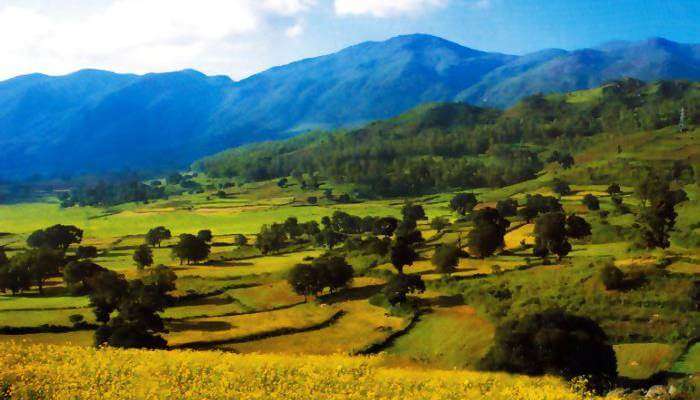 This place is located on the border of Odisha on the Eastern Ghats and is a popular hidden holiday destination for nature lovers and wildlife lovers. The place has it all including magnificent mountains, greenery, waterfalls. It is located on the lap of three hills namely Galikonda, Raktakonda, and Chitamogondi and is a perfect destination to be checked out in your bucket list of unexplored destinations.
How to reach: Araku Valley does not have any airport. The nearest Airlink is Vishakhapatnam which is 112 km away. The railhead in Araku Valley has one train coming to the destination every day from Visakhapatnam. The place is conveniently bridged via an efficient network of state-run buses.
Further Read: Visit These 17 Tourist Places In South India During Summer Of 2020
Here are some of the incredible best-kept secrets from the travel bucket in South India. These places are yet untouched and unexplored and have a lot of serenity still imbibed in the place. In case you are looking for offbeat places in South India then these are ideal locations to start your bucket list, which covers the dreamy Malabar Beaches to silent corners of Western Ghats. So without any delay, plan your vacation to India with TravelTriangle and get a chance to customize your own trip.
Frequently Asked Questions About Offbeat Places In South India
Q. Is it easy to reach these offbeat destinations?
A. Most of them do not have a direct link via rail or flight, but they have some sort of road connectivity which will help you reach there from the nearest railway station and airport.
Q. What is so good about these offbeat places?
A. The best part about these places is its untamed beauty and nature. These are some of the best-hidden destinations of South India, where you won't find many crowds even during the peak tourist seasons.
Q. Do we get lodging easily at these places?
A. These are offbeat places and that doesn't mean they are underdeveloped. They all are famous for their specialties, however are not so famous tourist destinations. You can very well find a three-start lodging at each of these places.
Q. Are there tour packages available from travel agencies to these places?
A. Well, since these are not so popular destinations, for most of them you will have to arrange your itinerary. However, some of them like Nagarhole National Park, you can get a guided tour package.
Q. Are these places good for couples or just for backpackers?
A. These places are appropriate for any category of travelers. As a couple, you would like to explore these places together, enjoying the seclusion and peaceful vibes which might be difficult to get other popular destinations.
Q. Are these places perfect for budget travel?
A. Well, it all depends on the itinerary you choose. The main cost of any travel is the cost of coming to that place and then lodging. You can vary these two components and alternatively decide your budget. 
Q. Why people don't come to this destination often?
A. Well, these places are beautiful, however, are not so popular and are not listed as top tourist destinations on the map of most travel agents. Hence you don't see too many footfalls to these places.
---
Looking To Book An International Holiday?
---
People Also Read:
Tourist Places In Telangana Historical Places In Karnataka Offbeat Places In Uttarakhand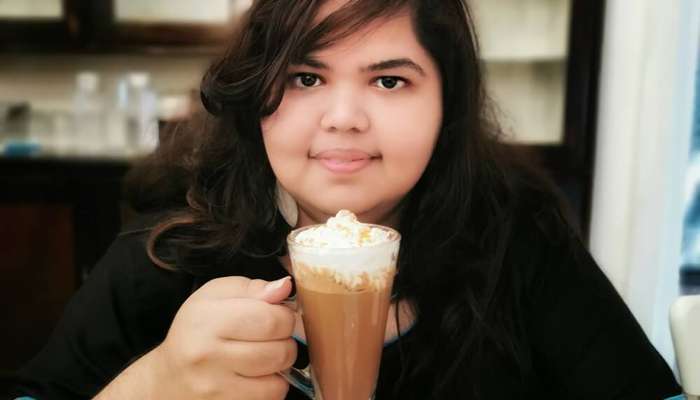 Comments
comments