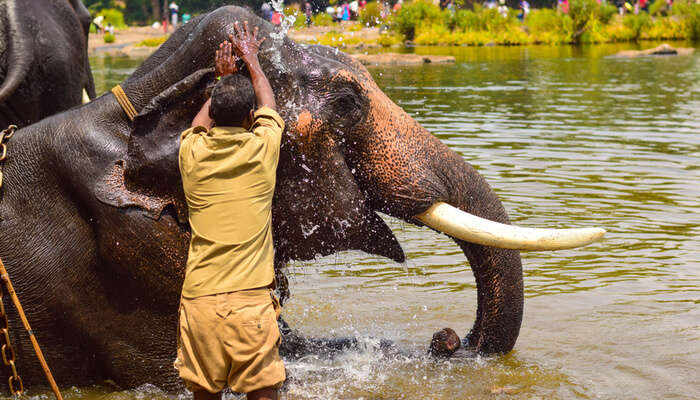 Madikeri is an intriguing, enthralling and South India's most popular hill station. This exalted paradisaical little hill station in Karnataka's alluring Coorg district is among the favourite destination amongst the tourists to this state. Surrounded by Western Ghats mountain rage this hill station is a stunning land of nature's beauty with breathtaking views and delightful tourist spots. This is why we are going to look at the top places to visit in Madikeri that add to the beauty of the place.
The hill station isn't just popular for its natural beauty but also some stunning historical architectural marvels which are popular among tourists. A scintillating place if you happen to be here once, it will make you want to come here again and again. 
25 Best Places To Visit In Madikeri
Madikeri is popular for its natural beauty which will awe inspire you and blow your mind away. Here is a list of some of the most popular places to visit in Madikeri that one shouldn't miss while travelling to this town. Read on to know more about these stunning places and have a blissful vacation in Karnataka.
1. Raja's Seat – A Historical Landmark

Raja's seat is a marvellous garden and historical landmark which is full of enthralling beauty. The garden in the Coorg district is popular for its amazing fountains and variety of ambrosial flowers. This is among the most popular tourists spot in Madikeri. You will find a lot of colourful animal statues in the garden. The views are incredibly awesome from the place. Soak in nature, relax and enjoy the awe-inspiring sunset.
Location: Stuart Hill, Madikeri, Karnataka 571201
Must Read: 11 Things To Do In Madikeri That'll Help Create Beautiful Memories
---
South Weekend Holiday Packages On TravelTriangle
---
2. Madikeri Fort – An Architectural Masterpiece

The Madikeri fort is a 17th century architectural masterpiece. The fort was initially built by King Mudduraja in the later part of the 17th century. The fort was later claimed and reconstructed by Tipu Sultan. There is also a palace inside which has now been converted into government office. This glittering prince of architecture is one of the oldest forts in this region and is still very much intact in its original shape. The fort has been designated as a National Heritage Site. There is also an alluring elephant statue which is popular among tourists for photographs. If you are looking for the places to visit in Madikeri in 2 days, this is the place to add to your list.
Location: Madikeri Fort, Stuart Hill, Madikeri, Karnataka 571201
3. Omkareshwara Temple – For Ultimate Spirituality 

The Omkareshwara temple is situated in picturesque surroundings and has immense serenity around it. There is an adorable pond in front of the temple and people like feeding the fish in the pond. The temple is dedicated to Lord Shiva. This entrenching temple is also a fantastic piece of architecture. Situated in a large complex, the temple and surroundings are very well maintained. A wonderful place to meditate and spend time in tranquility.
Location: State Highway 88, Stuart Hill, Madikeri, Coorg, Karnataka, 571201
Suggested Read: 10 Dreamy Madikeri Homestays For Couples That Are Worth A Stay
4. Abbey Falls – Witness Nature's Marvel

Abbey Falls is one of the main attractions at Madikeri. This awe inspiring majestic waterfall is frequented by many tourists. The surrounding areas to this fall are well maintained and you can easily find decent parking and toilets around. The waterfall is quite scenic and whole area is simply breathtaking. There is also a lovely bridge near the waterfall. One would need to climb down to witness this nature's marvel. The whole place and water fall looks quite surreal during the monsoon season. This is one of the best places to visit in Madikeri for couples.
Location: Abbey Falls Road, Hebbettageri, Karnataka 57120
5. Raja's Tomb – Relish The Royal Architecture

This intriguing place is the tomb for kings and royals of Kodava kingdom. Situated in an ambrosial garden, the tomb has a very captivating architecture. This is one of the most beautiful historical places in Karnataka offering great views of the hills. You will have fantastic views of Coorg area from this place. The architecture is inspired by Indo scenic architectural style. There are two major tombs in this place and both these tombs were built in the early 19th century. If you are a history buff – you will not want to miss this place in Madikeri.
Location: SH27, Mahadevpet, Madikeri, Karnataka 571201
Suggested Read: 56 Ultimate Weekend Getaways From Bangalore
6. Mandalpatti – In The Midst Of Nature

Mandalpatti hills situated in Mahadevpet are truly incredible and enchanting due to the stunning beauty of the whole area. Right in the midst of nature, this is a glittering place to be at. The cliffs are covered with lush greenery touching the clouds. Whole view from the cliffs here truly breathtaking. Sometimes this place gets foggy and a bit cloudy, making the whole place heavenly.
Location: Mahadevpet, Madikeri, Karnataka 571201
7. Government Museum – Learn About Amazing Facts

The museum is situated inside the Madikeri Fort and is a must visit place in Madikeri. This incredible museum is full of amazing artifacts and ancient sculptures. The museum houses some entrancing sculptures of gods and goddesses from past eras. There isn't any entry fee for this lovely museum.
Location: Stuart Hill, Madikeri, Karnataka 571201
Suggested Read: 15 Homestays In Karnataka That Have Ample Of Offbeat Experience To Offer
8. Kootu Poley Dam – Listen To The Sound Of Nature

Kootu Poley Dam is an enthralling little dam with full scenic views. The surroundings are incredibly picturesque around the dam. This is a blissful place with lot of serenity and away from the hustle bustle of the city. In the surrounding areas, there is a lot of lush greenery which is full of colorful flowers. The place hasn't been developed much so it has its raw natural beauty intact. Sounds of the water flowing and falling from the little water fall will soothe your senses. This is a breathtaking little place full of nature's beauty and one will love spending some good relaxing time here.
Location: Hebbettageri, Karnataka 571201
9. Shree Kanchi Kamakshi Temple – For Religious Visits

This is a small temple situated near Raja's Seat in mid Madikeri hill town. This is perhaps the oldest temple in this hill town. Temple is dedicated to goddess Kamakshi – one of the forms of deity of Parvati. The temple has great religious significance in this part of the country. The temple is famous for its incredible idol of goddess Kamakshi. The temple sees huge rush of pilgrims on Fridays. The temple is also popular for its annual religions festivals.
Location: Shree Kanchi Kamakshi Temple, Kohinoor Road, Stuart Hill, Madikeri, Karnataka 571201
Suggested Read: 15 Top Hill Stations In Karnataka To Rejuvenate Yourself
10. Mercara Downs Golf Club – For A Game Of Golf

Mercara Downs Golf Club is an alluring green area situated near Galibidu village. This is an incredible attraction even for people who aren't into Gold. There is a lovely club house inside the golf club where you can sit, sip some coffee and eat your favorite snacks amidst the sprawling natural green beauty. This beautiful golf course surrounded by enthralling Coorg hills is also home to many birds and birds lovers will love this place. For the non-members there is an entry price of INR 200 which is excluding of golf equipment.
Location: Galibidu Village, Madikeri, Karnataka 571201
11. Dubare Elephant Camp – Play With the Giant Creatures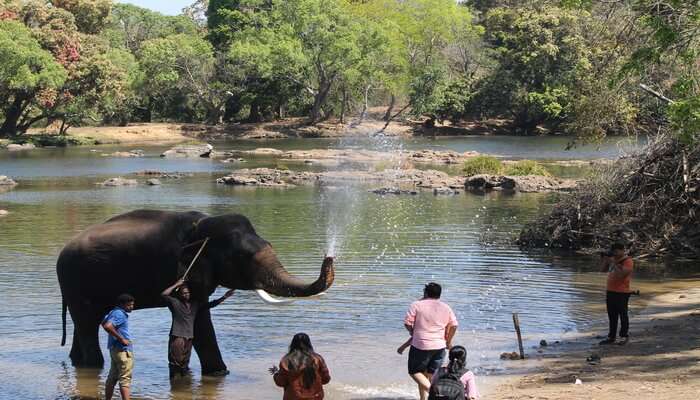 If you love cute giant animals, then this is the perfect place to hangout with them. This Elephant camp is one of the most famous tourist attractions to spend a memorable time with these animals. Amongst the best places near Madikeri, you can watch or play with them, enjoy sharing a few good moments whilst they take a bath. These human-friendly animals are worth every second of your time, at one of the best Madikeri tourist places to visit. 
Location: Tourism House #8, Papanna Lane, St Marks Rd, Bengaluru, Karnataka 560001
Suggested Read: 20 Scenic Hill Stations Near Shimoga To Visit
12. Kote Betta – For Trekking Enthusiasts

Located in the heart of Coorg and about 30 km away from Madikeri, this one of the top Madikeri tourist places to see. An ideal spot for trekking, you can trek through the meandering rivers, rambling waterfalls, verdant forests, vibrant meadows and explore the rich flora and fauna. You can also visit the temple of Lord Shiva on the way and seek blessings. Enjoy a beautiful sunset along with a bonfire camp.  
Location: Sirangalli, Karnataka-571251
13. Tadiandamol Peak – For Surreal Views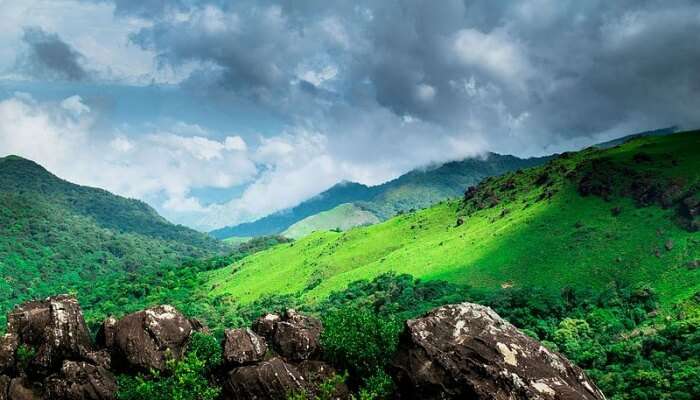 This is the highest mountain peak in Coorg and one of the most famous places to visit in Madikeri. If you're looking for camping sites in Madikeri or trekking spots then this peak is ideal for all adventure junkies and trekking enthusiasts. You can hike to the peak and rest there, grab a quick bite from the small tea stalls along the way. If you are seeking the adventurous places to visit in Madikeri in 2 days then Start your trek from Nalknad Palace and witness the breathtaking views from the top.
Location: Tadiandamol, Yevakapadi, Karnataka- 571212
Suggested Read: 10 Places Near Gokarna For A Rejuvenating Trip To Karnataka
14. Talacauvery – A Holy Place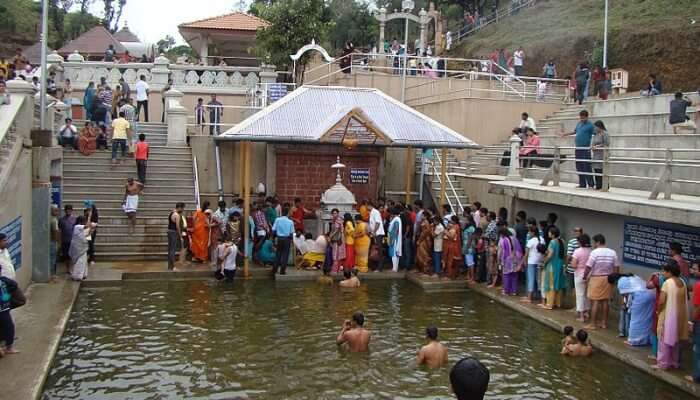 It is the origin of river Cauvery that lies 27 km from Madikeri and serves as a pilgrimage site for a lot of devotees. It is generally considered to be the source of the river Kaveri and a holy place for many hindus. Besides being a pilgrimage center, it is also known for its natural beauty and the scenic surroundings. A 407-step steep climb from the temple takes you atop the hill where you are supposed to get views of the surrounding mountain ranges – I only got to see the anatomy of clouds.
Location: Talacauvery, Brahmagiri hills, Coorg, Karnataka
15. Bhagamandala – In The Foothills Of Talacauvery

A pilgrimage site located in Kodagu district, the Triveni Sangam or Bhagamandala, symbolises the merger of three rivers and it is situated in the foothills of Talacauvery. It lies at a distance of 35 km from Madikeri and is one of the best places to see in Madikeri. If you come down from Talacauvery, you can witness the popular temple of Bhagamandala that is considered to be a sacred spot that attracts a lot of devotees, locals and tourists alike.
Location: Bhagamandala, Kodagu, Coorg, Karnataka 571247
Suggested Read: 13 Best Honeymoon Places In India In June That You Cannot Miss
16. Cauvery Nisargadhama – In The Lap Of Nature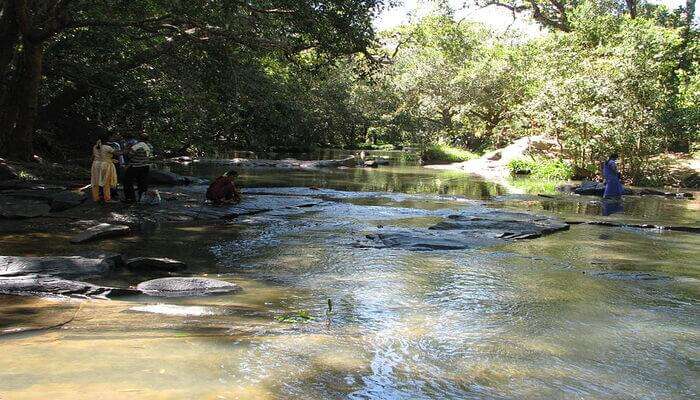 This beautiful place is surrounded by lush greenery and encapsulated by the river Cauvery that makes it an ideal place to venture out and indulge in boat riding with your loved ones. Explore the wildlife and spot the wild animals like deer, elephant, and orchidarium in their natural habitat. Large bamboo groves, rosewood, teak and other foliage make this place a great escape to unwind and relax in the lap of nature and beautiful surroundings. You can choose to stay in some of the best cottages in Madikeri and enjoy the mesmerizing views of the surrounding jungle, making it one of the best places to see in Madikeri.
Location: Nisargadhama, Coorg, Karnataka, 571234
17. Pushpagiri Wildlife Sanctuary – Witness The Rare Animals

One of the famous wildlife sanctuaries, it provides shelter to some of the most endangered species of birds. You'll come along striking terrains, beautiful waterfalls, mountain streams and some breathtaking views from the highest peaks. Wildlife lovers, and nature lovers must visit this place as it's one of the best places to visit in Madikeri in one day.
Location: Somwarpet, Kodagu, Coorg-571251
Suggested Read: Coorg In Summer: The Best Places To See And Things To Do For A Fun Holiday
18. Iruppu Falls – Wash Away Your Sins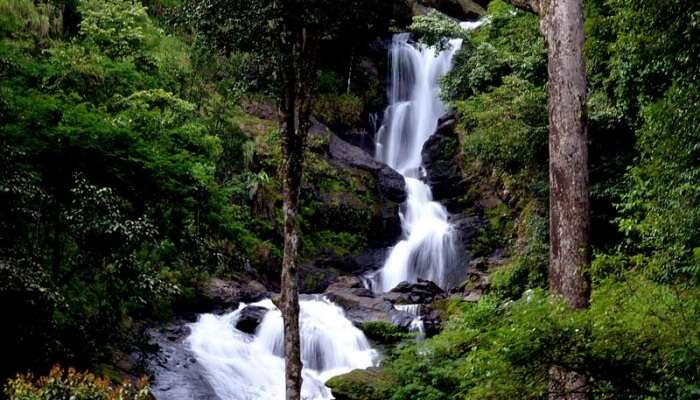 Also known as Lakshmana Teertha falls, it is situated about 50 km from Madikeri. The locals believe that the water from this fall has the power to wash away one's sins.This is probably one of the main reasons why it has gained popularity amongst tourists. The stunning waterfall is cascading from the mountains of Coorg and makes for a visual treat to the eyes and peaceful, making it one of the best places to visit in Madikeri for couples.
Location: Brahmagiri, Kurchi, Karnataka 571250
19. Chingara Falls – Best Picnic Spot

The location of this waterfall makes it one of the best tourist places in Madikeri to visit. Surrounded by coffee plantations and tropical forests, it is one of the most scenic places against a stunning backdrop of the pristine waterfall. This waterfall is also a favourite haunt for many trekkers and adventure enthusiasts who can indulge in rock climbing and rappelling. You can choose to stay in some of the best Madikeri resorts and enjoy your time away in the lap of nature.
Location: Yavakapadi Village Post, Kabbinakad,, Madikeri Taluk, Coorg District, Karnataka 571212
Suggested Read: 6 Gorgeous Hill Stations Near Gokarna For A Beautified Vacation
20. Harangi Backwaters – Witness A Surreal Sunset

Probably one of the most scenic and secluded backwaters, the path to reach the backwaters is quite treacherous but absolutely worth it. After you hike through dense jungles, you'll be rewarded with breathtaking sights that will leave you completely awe-struck. Witness a surreal sunset on the pristine backwaters surrounded by lush greenery and beautiful landscape. Karnataka is one of the best family holiday destinations in India to plan a getaway soon and enjoy the natural beauty.
Location: Harangi Dam, Hudgur, Somwarpet, Kodagu, Karnataka -571234
21. St Michael's Church – The Peaceful Place

St Michael's Church is a catholic church and one of the many religious places to visit in Madikeri. Longing for the well desired peace you want from a vacation? There can be nothing better than visiting this church especially on a Sunday when there is mass. The church has an interesting and modern architecture with plenty of open space around. Just being there will make you feel better.
Location: Madikeri – Virajpet Road, Stuart Hill, Madikeri, Karnataka 571201
Suggested Read: Shopping In Madikeri: A Guide For All Those Who Love To Splurge
22. Chettali – An Adorable Village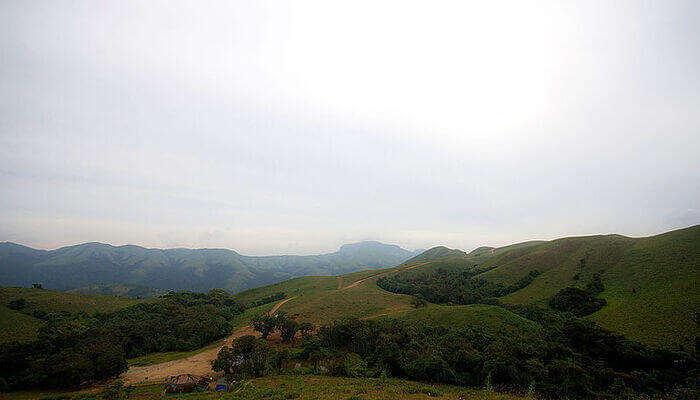 Another one of those Madikeri tourist places which offers an experience that is simply private. A village in Madikeri which is tiny, adorable and full of greenery. Upon visiting, you will be amazed by the peaks, hills and the admiring scenery that the village offers just like your art book. Do not forget to visit the waterfall nearby and the Cherala Bhagavathy temple. Ohh, if you have not seen, there are vast expanses of plantations too!
Location: Madikeri, Karnataka 571248
23. Chiklihole Reservoir – For A Private Excursion

Chiklihole Reservoir is a place where you need to spend at least a day to fully explore. Yes, it's one of the top Madikeri tourist places – one that offers you a refreshing atmosphere, lots of greenery and peace. However, you will not find the usual crowd here but get the desired seclusion and privacy you long for. The dense cover of green and plenty of open spaces will invite your soul for a soothing picnic with family or even friends.
Location: Chiklihole Reservoir, Attur Forest, Karnataka, 571234
Suggested Read: 5 Hotels Near Madikeri You Should Consider Staying At
24. Coffee Plantations – Where The Aroma Attracts You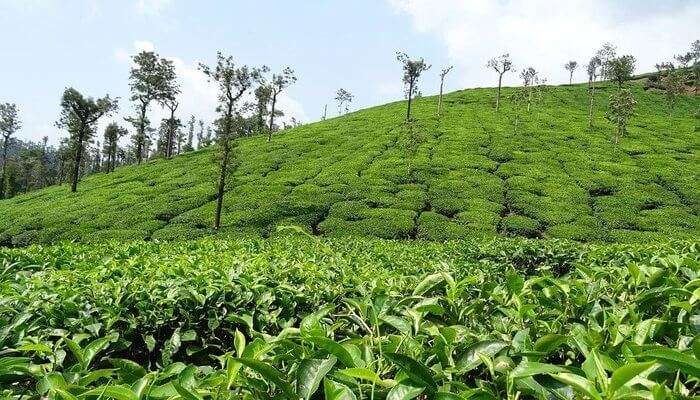 This is not a particular place but a huge area, an estate covered in lush greens supported by the fresh aroma of herbs. Yes, these are the coffee plantations of Madikeri, one that is found in abundance. The plantations are laced with acres of greenery, tiny walking trails and refreshing vibes that particularly fill your travel with joy. Can you think of any other places to visit in Madikeri that will give you the same result? Needless to say, no!
Location: Stuart Hill, Madikeri, Karnataka 571201
25. Nehru Mantap – A Great Spot For Picnic

Nehru Mantap is one of the lesser-known places to visit in Madikeri. The mantap area presents welcoming views of the Madikeri Radio Station and the nearby mountains. Located very close to Raja's Seat, Nehru Mantap is definitely a detour you'd like to take especially if you are a nature lover. Do not miss the breathtaking views of the sunrise and sunset!
Location: Stuart Hill, Madikeri, Karnataka, 571201
Further Read: Monsoon In Karnataka: Here's 15 Places You Must Visit During Monsoon
So, there are plenty of places to visit in Madikeri. The charming hill station and quite different from others make for a wonderful vacation time. Full of natural beauty and intriguing charm, this is the place to relax, soothe your senses, and to rejuvenate your soul amidst the entrancing scenic nature's beauty. Plan a Madikeri tour and visit this captivating and tantalizing hill town of Karnataka today.
For our editorial codes of conduct and copyright disclaimer, please click here.
Some Frequently Asked Questions About Places To Visit In Madikeri
Is Madikeri the same as Coorg?
Coorg is one of the districts in Karnataka. Madikeri is a small hill town in the Coorg district. Madikeri also happens to be the headquarters of the Coorg district.
Is Marcara and Madikeri the same?
Yes, Madikeri is also popular as Mercara locally.
How far is Madikeri from Bangalore?
Madikeri is approximately 265 km from Bangalore.
How far is Madikeri from Mysore?
Madikeri is just 118 km away from the city of Mysore.
What is the best time of the year to visit Madikeri?
Winters and Monsoon are the best time to visit Madikeri and experience its entrancing beauty. During winter the weather here is quite pleasant with a little cold but it won't be extremely cold. During monsoon, this place turns heavenly with sublime natural beauty all around.
What is Madikeri popular for?
Madikeri is famous for its sprawling gorgeous hills, delightful lush green natural beauty. The town is famous for its enthralling beauty, captivating tourist spots and few marvelous historic monuments and temples.
How far is Madikeri from Mangalore?
Madikeri is approximately 132 km away from Mangalore.
---
Looking To Book A Holiday Package?
---
People Also Read
Places To Visit In Varkala Places To Visit In Port Blair Places To Visit In Lavasa