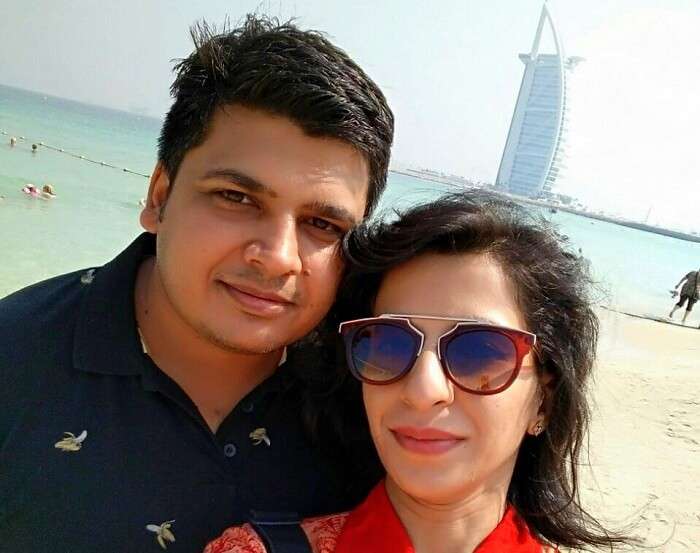 Parag Arora talks about his fabulous romantic trip to Dubai that he took with his wife. He elaborates on their incredible experiences in the modern city and tells us why Dubai is a perfect choice for all those wanting a blend of old & new, luxury & budget! He booked his Dubai tour package from TravelTriangle and it included their hotel, transfers, sightseeing, and flights – all for a cost of INR 2,33,400/- Let us hear their story.
Dubai was an incredible trip for us. There was fun, excitement, lot of sightseeing, and shopping. Plans for Dubai had been going for a long time and when finally both my wife and I got an opportunity, we decided to go for it.
To book our Romantic Dubai Tour package, we chose TravelTriangle (found on the internet) for it provided us an option to customize our package along with multiple quotes to choose from.
We finally chose our best package and now were now waiting for our trip to begin.
Day 1: A warm welcome and a fantastic Dhow Cruise experience!
We took our flight from Delhi and reached Dubai at around 4pm in the evening. The journey was a smooth one and after our arrival at the airport, we were transferred by the agent's representative to our hotel.
Post our check in, we rested for a while and then proceeded on for the famous Dhow Cruise experience.
Dhow cruise was a fantastic affair and gave us an introduction to the rich and interesting culture and history of the Arabs. There was dancing, a magic show, buffet, and sightseeing from the boat – all of which came together to form a beautiful evening full of joy.
We later returned to our hotel and roamed around in its vicinity for a while before calling it a night.
Dubai Shopping Festival 2022: All You Need To Know
Day 2: Soaking in the goodness of Dubai on a city tour!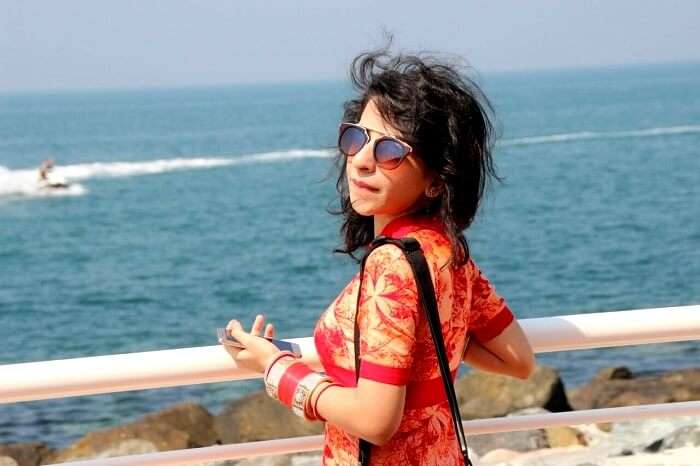 This day, we woke up early, had our breakfast and then at 9am set off for a Dubai city tour.
The city tour included a lot of fascinating places including the Jumeirah beach, City Centre Deira, and the famous Atlantis Hotel. The guide with us was an excellent one and gave us a thorough insight on all the places we visited. By 2:30pm, we were done with our tour after which we went for some shopping on our own.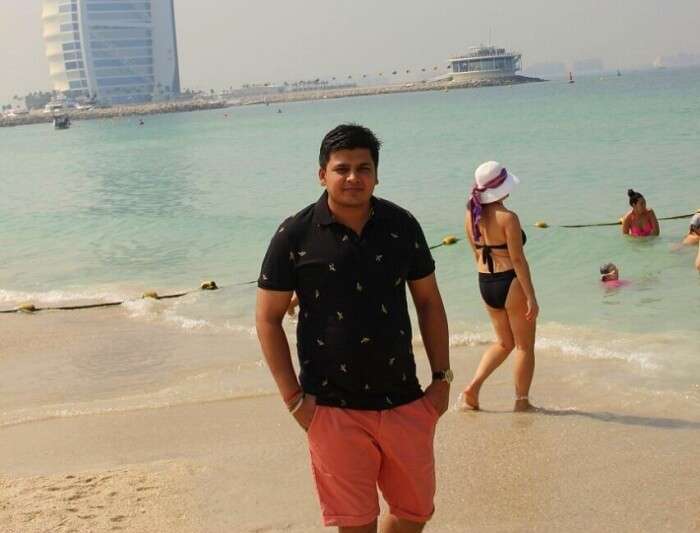 We visited the Dragon Mart, which had over 4000 shops selling Chinese and Korean goods and it was a wonderful experience here. Once we were done with our shopping stint (by 11:30pm gosh!), we returned to our hotel for dinner and later called it a night.
Day 3: Desert Safari and unlimited fun!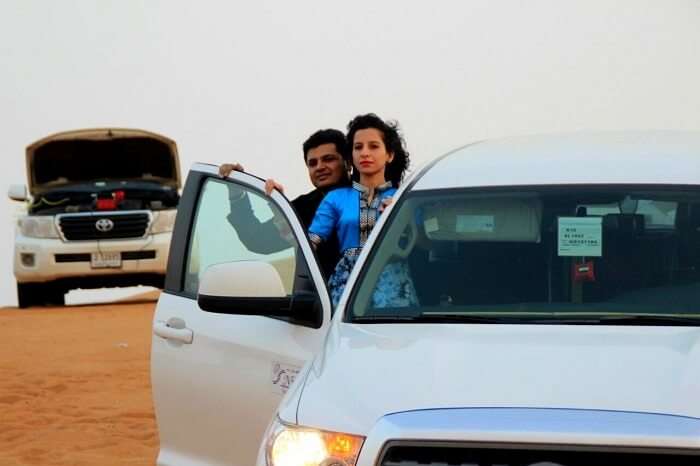 This was an exciting day for us and after breakfast, we visited the Gold Souk (bazaar), and it was a very nice experience. The deals we got on our purchases were value for money.
Later on, we returned to our hotel, relaxed for a while and then proceeded for the Desert Safari.
The Desert Safari experience was the best part of our trip and we had a blast here. We did Dune Bashing and it was a thrilling experience. It was followed by a mesmerizing sunset a photo session post which we proceeded for an evening dinner full of entertainment and fun.
Nightlife In Dubai: What's In The Store For The Kind Of Traveler You Are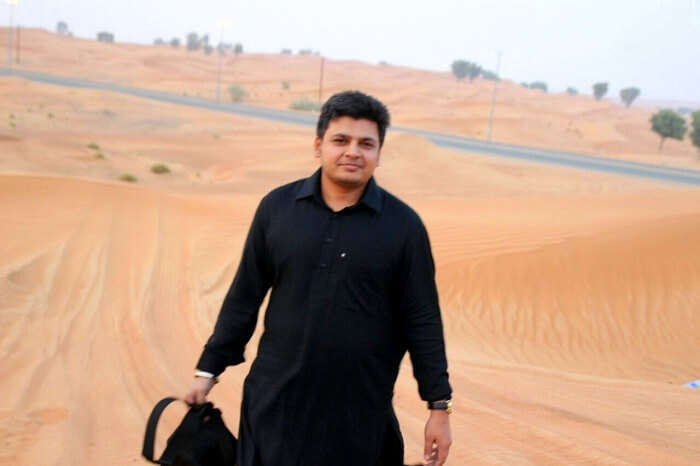 There was belly dancing, tambura dance performance, a lavish Arabic buffet and henna painting – all of which was thoroughly enjoyed by my wife and I.
Day 4: Reveling in the charm of Meena Bazaar!
This day started with a visit to the Meena Bazaar which is famous for gold and reasonably priced shopping and dry fruits among other things. We enjoyed our time here and then took a driver less metro to visit the Dubai mall. We enjoyed the evening show there and then paid a Visit to the Ibn Battuta Mall. This mall had amazing Arabic architecture and looked no less than a palace.
After spending some time here, we returned to our hotel tired but at the same time happy for having such a wonderful time.
Day 5: A goodbye with a promise to return
This day we once again visited the Gold Souk to finish the leftover shopping and then roamed around the city on our own before returning to the hotel at 5pm. We rested for a while and then checked out and were transferred to the airport for our flight back to Delhi.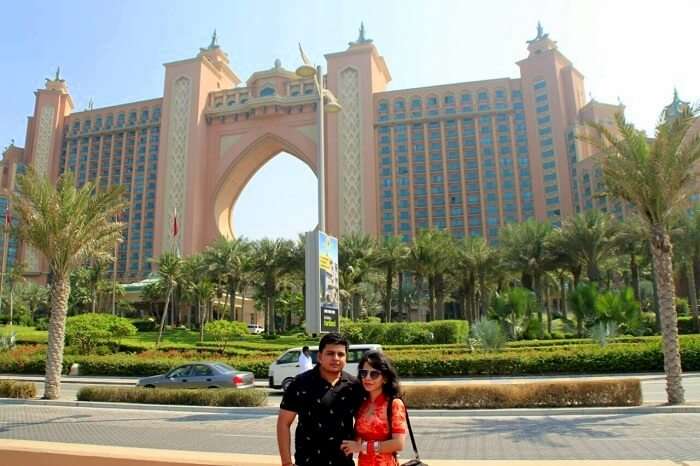 Dubai was an enriching experience for my wife and I. It offered us a refreshing break from daily life and showed us both the luxurious and the ordinary side of the modern city. It offered us a very cultural, fun, and luxurious holiday experience!
High Points: Dubai city tour, Desert Safari experience and the local shopping!
Tips for travelers: Dubai is an excellent destination for couples wanting a modern holiday with a twist of cultural fun and entertainment. Go for it.
Experience the delights of Dubai with your partner! Go on a holiday full of romance, adventure, and fun. Book Now!
Comments
comments