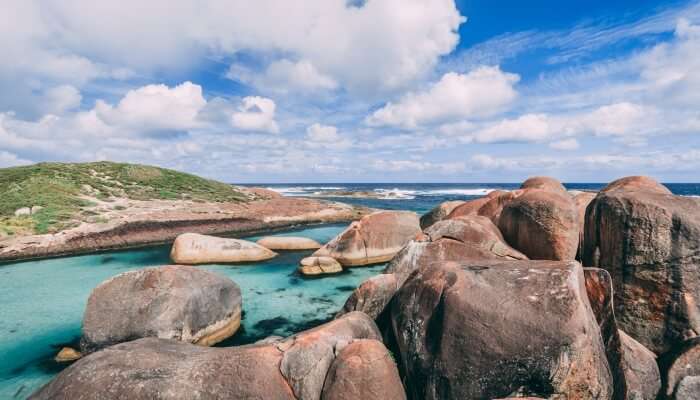 Australia, the country that has perfected the mixture of a laid back beach life and a thriving metropolis. From the Gold Coast to New South Wales, there are numerous examples of Australian cities that have an abundance of summery charm to offer.
One very special city amongst these is Perth. With an exemplary public transport network, year-round sunny weather, an abundance of awe-inspiring beaches, and an overwhelmingly friendly population, Perth is paradise for those looking for the perfect beach holiday. Perth has so many beautiful beaches that for a passionate explorer, making a plan can be a dizzying task. If you agree, we've written this blog to make life breezy for you (pun intended!).
Here's a list of the top 10 Perth beaches that you must visit during your time in the city:
Top 10 Perth Beaches
The following are the most popular beaches in Perth that will surely make your vacation the most memorable one!
1. Cottesloe Beach

Cottesloe Beach has been placed at the top of the list (along with Rottnest Island) because it offers something for everyone. You don't necessarily have to be a beach person in order to have a good time at Cottesloe.
Locally known as Cott, the beach is one of the two beaches in Perth that are overshadowed by high rise buildings of the city. Couple that with a menu loaded with fun water activities, along with a plethora of trendy beach cafes, bars and restaurants, and long stretches of soft, blond sand, and you get the perfect mixture that is Cottesloe Beach.
Additional Info: Right across the street from the beach, is the Cottesloe Pub. For sundowners or simply those that are looking for a jolly time and a chance to mix with the locals, the pub, also commonly known as the Cott, is the perfect place to be.
Must Read: 5 Cruises In Perth That Are Known For Their Incredible Services!
2. Rottnest Island

As the name suggests, Rottnest Island, or Rotto, as it is commonly known, is a group of islands off the shore of Perth. Located in the Indian Ocean, the limestone islands are truly a marvel of nature. From clear waters with a fairytale green tint, to an exquisite collection of cozy covers overlooking breathtaking ocean vistas, the island is something right out of a film.
The beaches of Rottnest Island offer every kind of watersport under the sun, along with a host of bars, restaurants, and cafes. Evenings on the island are nothing short of a carnival, especially around the weekend.
Additional Info: Those that aren't interested in crowded places can hire a bike and ride it to the southern end of the island. Here, Longreach Bay and Little Armstrong Bay welcome curious tourists with expansive beaches that lack any human activity (especially during the wee hours of the morning).
Suggested Read: Top 10 Hotels In Perth That Are Ideal For A Luxurious, And A Perfect Vacation!
3. City Beach

One of the most popular beaches in Perth, the City Beach is aptly named as it is located slap bang in the middle of the Perth Suburbs. The beach is great for watching a calm sunset or getting a cocktail that resembles the sunset.
The intimate beach is exceptionally popular among the locals, thanks to its convenient location. For this reason, tourists visiting the beach during an evening may run into a lot of crowds.
Additional Info: Unlike the beaches we previously mentioned, the City Beach attracts strong current of water that may put a wrench in your plans to plunge into the water. Thankfully, the cafes and restaurants in the area offer a great alternative to traditionally beach-related activities, coupled with the same beautiful views of the ocean.
Suggested Read: 10 Fun Things To Do In Perth So Good That You Can't Resist Switching To Repeat Mode
4. Scarborough Beach

Another one of Peth's beaches that is incredibly close to the metropolis, The Scarborough Beach is the epitome of tourist beaches. The expansive beach has a backdrop lined with hotels, cafes, bars, restaurants, shops, ice-cream parlours, and everything else you may require for a fun day (or night) at the beach.
Beach bums, don't worry, the presence of metropolitan amenities does not compromise your experience at the beach. The Scarborough Beach is also blessed with all the essentials one would expect to find at the beach, including, but not limited to, watersports, breathtaking sunsets, and a never-ending expanse of blue ocean waters.
Additional Info: Try and schedule your visit to the Scarborough beach during the evening time as there is much more happening around the area. Live entertainment and Australian street food are just some of the activities offered at Scarborough Beach.
Suggested Read: 10 Phenomenal Places To Visit In Perth That You Dare Not Miss
5. Mettam's Pool

Located in the northern part of Perth, Mettams Pool is one of the most popular beaches in Perth. Located just off the West Coast Highway, the beach is easily accessible and thus, frequented by a lot of tourists, and for good reason.
Mettams Pool offers a heady combination of Perth's happy, laidback vibes, coupled with splendid views of the ocean.
Additional Info: Mettams Pool is home to a thriving ecosystem consisting of many unique aquatic creatures. This incredible collection of marine fauna, combined with shallow waters of Mettams Pool, make for a perfect spot for snorkelling.
Suggested Read: Sonic Side Of The Sunny Capital: 11 Places To Spend An Electric Night In Perth
6. Leighton Beach

All beaches have their unique vibe and the vibe at Leighton Beach is more Carribean than Australian. A 1.5 kilometre expansive stretch of white sand that extends into shallow waters gives the beach the impression that you may have seen it in one of the Pirates Of The Carribean movies.
The beach is a local favorite among those looking for a typical sunny beach day. Visitors may find that a lot of locals have set up a "camp" on the beach with the intention of bathing in the seawater and the sunshine.
Additional Info: Leighton Beach is a popular destination for windsurfers and kitesurfers, thanks to the shallow waters and strong winds. Don't worry if you're a beginner, there are plenty of opportunities to learn the craft at Leighton Beach.
Suggested Read: Top 21 Things To Do In Australia: Scuba, Skydiving, And More
7. Bathers Beach

Bathers Beach was once a "local's secret" which now, fortunately for the travelers is out in the open. The 300-meter long beach looks like it was painted, every element, the calm waves, the soft sand, even the position of the sun, looks like it was intentionally put there to make the scenery more beautiful.
The beach is surrounded with some of the most reputable bars and clubs of Fremantle. The public artwork adorning the broadwalk gives the whole place a very art-sy feeling.
Additional Info: With the opening of Bathers Beach House, Bathers Beach became the first Urban Australian beach to be awarded a liquor licence. Thanks to this fact, the beachside bar is a popular destination among local partygoers.
Suggested Read: 10 Australia Travel Tips To Swear By For A Smooth Vacay
8. Sandtrax

One Perth beachy gem that still remains mostly undiscovered by the flocks of tourists is the Sandtrax Beach. Deriving its name from the white sand present here, the beach is an intimate one. Moreover, since the beach is right next to the Fremantle Port, it's not as windy as Leighton and other beaches in the area.
This means calmer water, fewer crowds, and a superb opportunity to bask in the sunlight without worrying too much about the wind blowing away your snacks.
The Sandtrax is a popular destination among the local surfers. While there is no formal training organisation for the same, there are surf lifeguards patrolling the area. This means, if you are good at making friends and can manage to rent a longboard, you can maybe treat yourself to a few free surf lessons at Sandtrax Beach. Not to forget, those who already know how to surf, should definitely pay Sandtrax a visit.
Additional Info: There is no official parking demarcated for those visiting the beach. With that said, there is a "free for all" unofficial parking area for cars but as you can guess, it is available on a first come first serve basis. However, parking isn't a big problem until the waves are especially fantastic, which may attract a big crowd of surfers.
Suggested Read: 14 Crafty Things To Buy In Australia That You Must Not Return Without
9. Trigg Beach

Speaking of surfers, if you've ever taken any interest in the activity, Trigg Beach must be at the top of your list. The beach is a surfer's heaven and attracts some of the best surfers and boogie boarders from around the globe, along with a large crowd of locals.
Trigg beach a convenient drive away from the city and makes for a perfect getaway if you're looking for some typical beach fun day. With that said, there are days when the weather is not very suitable as Trigg Beach attracts some pretty nasty dump waves that make the beach a bit dangerous.
On these days, the cafes and restaurants offer a great alternative as a thrilling dining experience by the ocean.
Additional Info: Near Trigg Island, there is a rocky patch of water that is perfect for body boarding.
Suggested Read: Australia In September: 7 Best Places To Visit To Embrace The Springtime!
10. Port Beach

Lovely expanses of sand, fantastic views of the Indian Ocean, and calm waves are the three things that best describe the Port Beach of Perth.
Add a host of water activities to the mix, and you get a beach destination perfect for all sorts f=of travelers. Port Beach also boasts a lively collection of restaurants and bars all of which, without exception, are offering a meal with a superb view. Thanks to this, there is a lot of competition amongst the restaurants as a result of which, the experience for the visitors is more delightful.
Additional Info: The Coast Port Beach is a famous restaurant that is absolutely a must-visit if you're near Port Beach
Further Read: 27 Most Beautiful Beaches In Australia To Pamper The Beach Baby In You
As it is apparent, Perth has no shortage of mesmerising beaches that are thriving with activity. In fact, there are so many other fantastic beaches that aren't even on the list. This indicates one thing, if nothing else, Perth is surely a paradise for those who love to get some Sun. Plan your next Australia trip with TravelTriangle and enjoy holidaying!
---
Looking To Book An International Honeymoon?
---