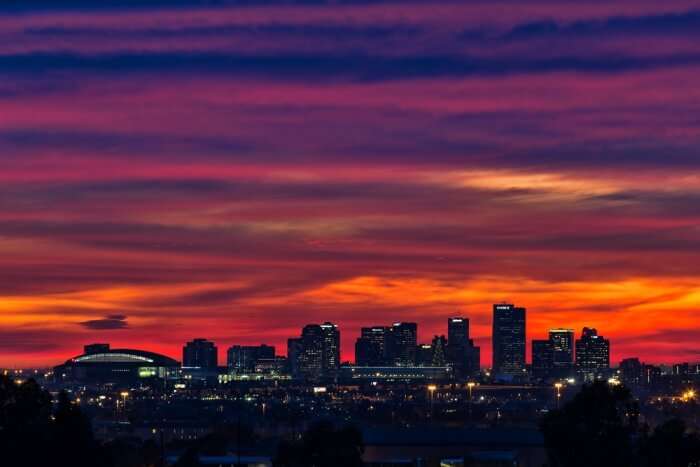 Given the fact that majority of the people tend to correlate Phoenix with hot weather climate, it is often quite hard to picture the winter scene in the area. If you are someone who wants to explore Phoenix in winter, the choices and the options are quite abundant for you to choose from. Majority of the people who have actually visited Phoenix during the winter seasons tend to say that the place is actually beautiful and amazing around that time. The temperature tends to stay in the realms of 60 degrees which is pretty amazing for you to explore around.
Here is an ultimate guide where we are going to walk you through the top things to do in Phoenix during the months of winter.
Weather In Phoenix In Winter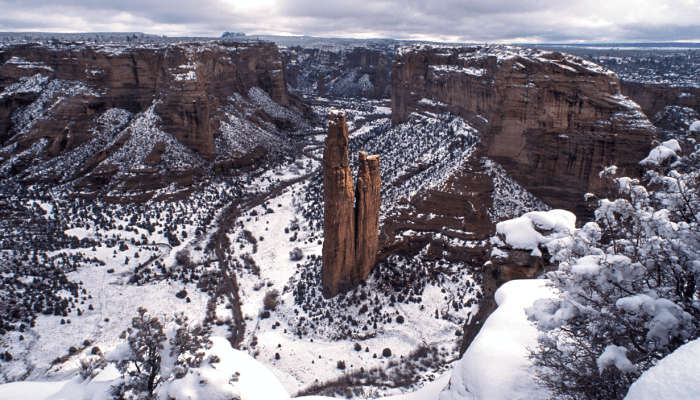 If the summers are extreme during the months between May till August, Phoenix in winter weather is actually breathtaking and quite amazing to be in. As mentioned before, the weather skirts around 60 degrees which are pretty amazing for you to roam and explore around the place.
The winters predominantly prevail from the months of November till February, more or less. January is believed to be the coldest month of them all, mainly because of the fact that the temperatures tend to drop up to 44 degrees Fahrenheit which is pretty cold.
17 Top Things To Do In Phoenix In Winter
Now that we have more or less talked about the weather conditions and what you can expect from the climate around, it is time we speak of the amazing range of activities one can indulge in. Some of the top things to do in Phoenix in winter season include:
Las Noches De Las Luminarias At The Desert Botanical Garden
Go Hiking
Topgolf
Zoolights In Phoenix Zoo
Shopping
Visit The Musical Instrument Museum
Arizona Snowbowl
OdySea Aquarium
Old Town Farmers Market
Polar Express Train Tour
North Pole Experience
Rock 'n' Roll Marathon
Winterhaven Festival of Lights
Glendale Glitters
NYE Block Party
Attend Superbowl
1. Las Noches De Las Luminarias At The Desert Botanical Garden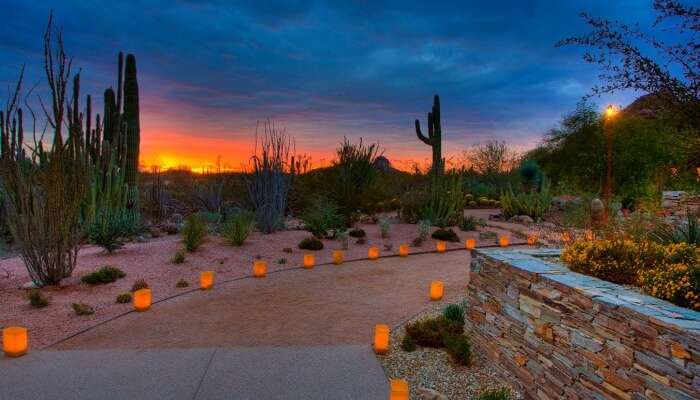 If you want to experience the overall natural beauty around the place, visiting the Desert Botanical Garden during the months of winter is exactly what you need. Majority of the people who visit during the winter suggest that it accentuates the beautiful Sonoran desert to its full glory. If you are visiting during the months of November and December, you can even witness the amazing beauty hand-lit luminaria bags and the twinkle lights which lets you enjoy the amazing beauty of the desert at night illuminated with the lights.
Must Read: 6 Lakes In Phoenix Which Will Give Every Traveler A Relaxing Escape Amidst The Nature!
2. Go Hiking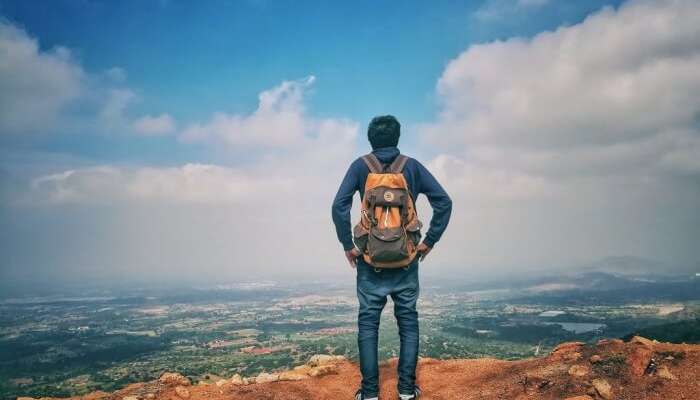 Hiking and all the walks along the adventure trails which are often impossible to do during the scorching heat of the summer can be indulged in during the winter days. If you are spending winter in Phoenix, the best way to spend the time is by going on a long hike. There are a number of steep hiking trails in Arizona, especially Phoenix, which you can easily take your time with. If possible, make your friends tag along and plan for a full-blown camping session with them. If the Phoenix hiking trails don't interest you, go down to Sedona.
Suggested Read: 7 Enchanting Castles In Arizona To Add Your USA Bucketlist
3. Topgolf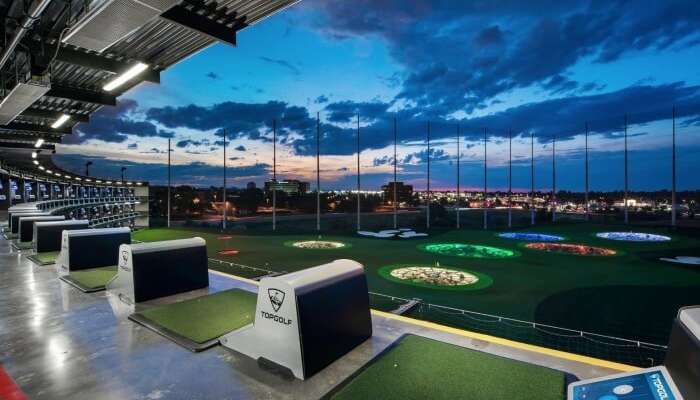 If you are a golf enthusiast, you would definitely know what we are talking about. While the majority of the people only known and relate to the arcade games around along with bowling alleys, golf lovers will relate more to Top Golf. This includes a 240-yard outfield where you score points by hitting the balls around.
You primarily play with your friends and family and the thrill during the game is actually indescribable. Golfin may seem too much during Phoenix in summer which is why winter is a good time. The entire place has a majestic view of the mountains which is an added bonus. If you are worried about the temperature around, they put the heaters on, so you won't feel cold. Phoenix in winter is perfect for golf players.
Suggested Read: Phoenix Nightlife: 10 Famous Hot Spots In The City To Venture Out After Dark!
4. Experience The Zoolights In Phoenix Zoo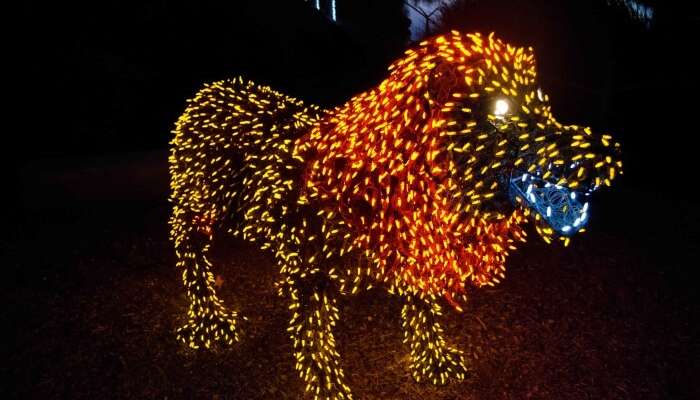 Phoenix Zoo is one of the biggest around and if you are on the lookout for a once in a lifetime experience, visiting the Phoenix Zoo during winter is a must. The zoo lights are one of the most popular Phoenix attractions in winter. This is held during the months of December and January and during these two months, the main attraction of the zoo is not the animals but the scenic beauty of the lights around. This is particularly an amazing site to behold, especially for the children.
5. World Lantern Festival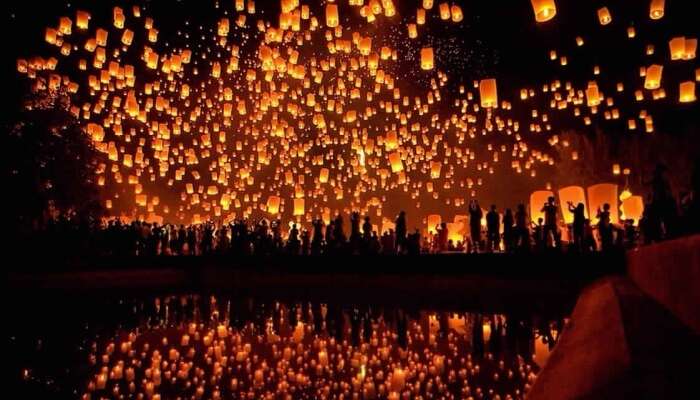 From the end of November till January, Phoenix witnesses one of the most beautiful events in the entire year. Following the Chinese tradition, the lantern festival is held during that time of the year. The only change is the fact that they use modern technology and lights. Apart from the main attraction of the lights, it also hosts a plethora of global cultures and cuisines. You can even indulge in various carnival rides and games in Phoenix in winter.
Suggested Read: 7 Best Places To Visit In Phoenix For An Extraordinary Vacation With Your Family!
---
Planning your holiday but confused about where to go? These travel stories help you find your best trip ever!
---
6. Explore The Shopping Options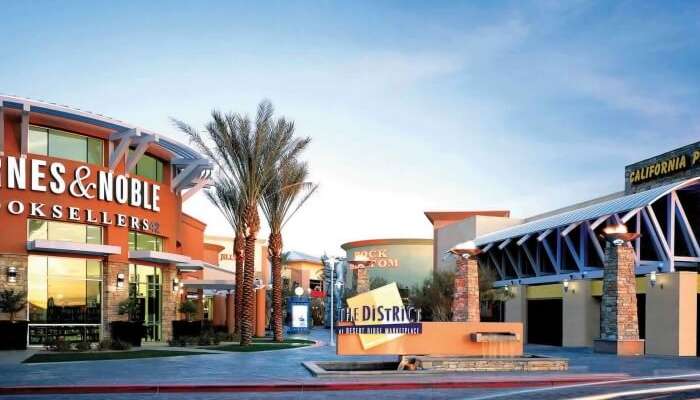 Many often don't know this but the shopping options around Phoenix is definitely worth checking out. If you are afraid of visiting the malls around in Phoenix because of the rush around the winter season, think twice. The winter does have amazing sales and discounts around which is exactly what you need. Visit the malls and the local stores for the best prices around. If you wish, even thrifting can help save up a lot of money.
Suggested Read: 5 Arizona National Parks You Must Explore To Spend Time In Nature In 2020!
7. Visit The Musical Instrument Museum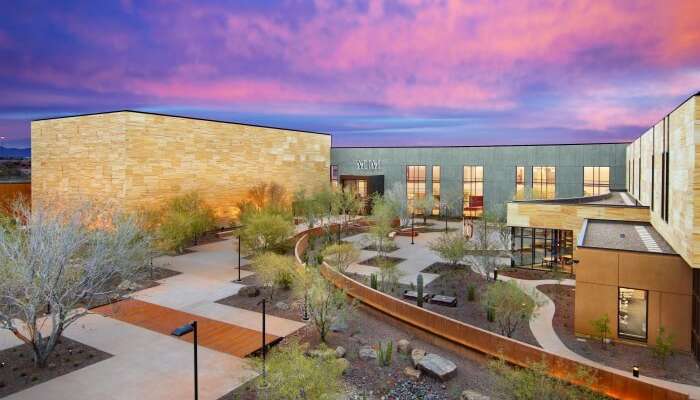 Just as the name suggests, The Musical Instrument Museum (MIM) is one of the most popular museums in Arizona. If you are on the lookout for experiencing viewing the widest range of musical instrument exhibits, this is the place to be in. It has over 6500 instruments from around 200 countries which is what makes it one of the most interesting visits around.
Suggested Read: 10 Exquisite Cafes In Phoenix You Can't Afford To Miss While Walking Down The Streets!
8. Arizona Snowbowl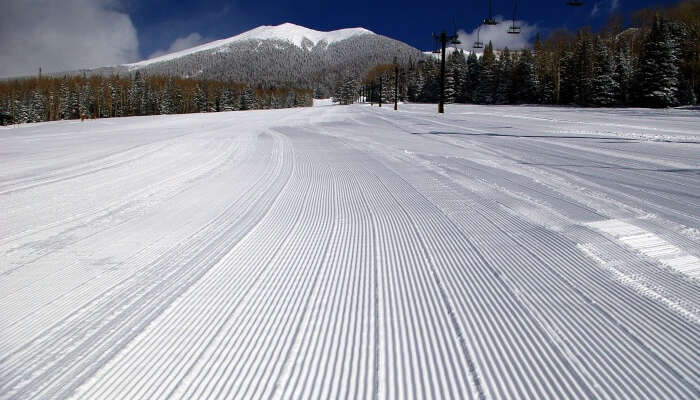 Phoenix temperature in winter is perfect for the season of the Arizona Snowbowl. If you have been looking for ways to have fun with the white blanket of snow around, visiting the Phoenix during the winter season is the perfect place to be in. You also get to experience a different side of Arizona with this place, the pine trees with snowy peaks being one of them.
Suggested Read: Top 10 Places To Visit In Arizona For An Action-Packed Vacay
9. OdySea Aquarium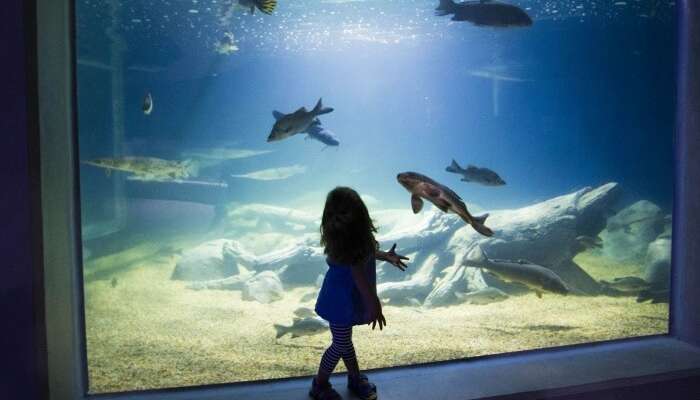 The OdySea aquarium is primarily a newly built one around the place. It is spread across 200,000 sq.ft and is home to different variants of marine life. It has over 50 different exhibits and over 30,000 animals. Child or old, this place has a little to offer to everyone.
Suggested Read: Shopping In Phoenix: 9 Best Places For Treating Yourself With Ultimate Retail Therapy
10. Old Town Farmers Market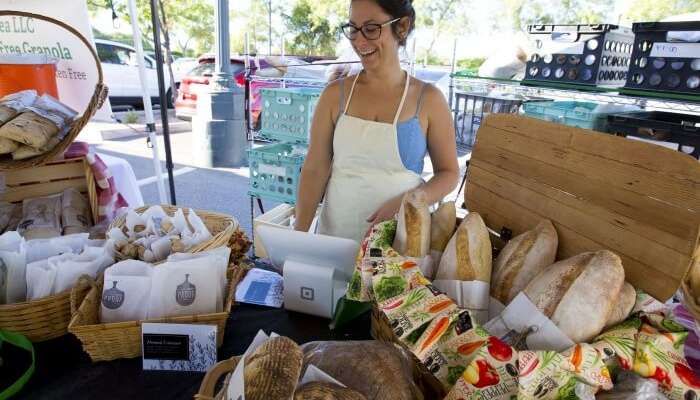 The last on the list is the Old Town's Farmer's Market which is held every single Saturday morning. The best thing about this place is the fact that everything sold in the market is locally sourced and is free of pesticides and any kind of additives. You can get everything from bread and cheese to meats and vegetables. Apart from that, their flower shops are a popular attraction around the place. If you want to experience Phoenix in winter weather, visiting this market once is a definite must.
Suggested Read: Arizona Travel Tips: Things To Keep In Mind Before You Venture On Your Journey
11. Polar Express Train Tour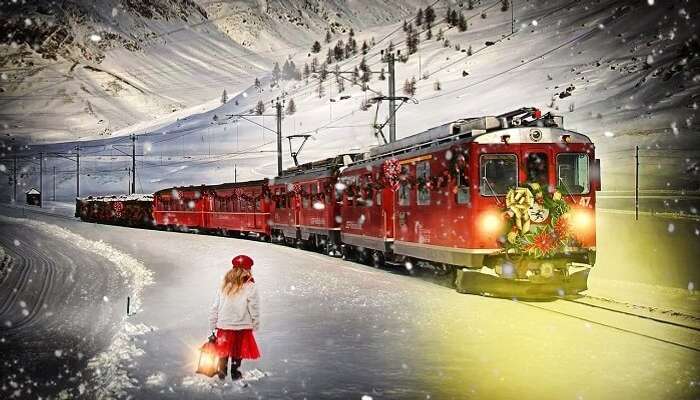 If you have watched the movie and wished for a similar experience, then your wishes have been granted. The Grand Canyon Tour Company allows you to have a similar experience where you are taken on a 1.5 hour ride from the Williams Depot to North Pole and back. It is one of the best things to do in phoenix in January as you get to hear classic stories, drink hot cocoa, and eat cookies before you meet Santa and his reindeers.
Suggested Read: 7 Amazing Arizona Restaurants You Must Visit On Your Next Trip!
12. North Pole Experience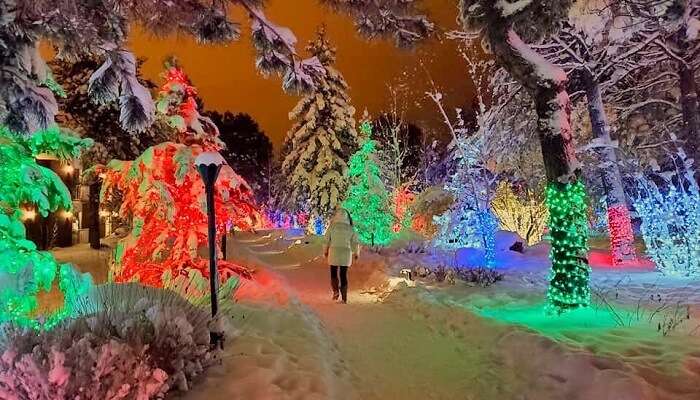 One of the fun things to do in Phoenix in winter for kids is to have a North Pole experience. The whole activity lets you sneak peek into Santa's workshop. The activity takes place in Little America Hotel where kids are taken on a trolley ride to the North Forest covering attractions like Santa's mailroom, toy factory, Mrs. Claus' Bakery, and Elf University. It is one of most exciting Phoenix winter activities during Christmas.
Suggested Read: 5 Arizona National Parks You Must Explore To Spend Time In Nature In 2020!
13. Rock 'n' Roll Marathon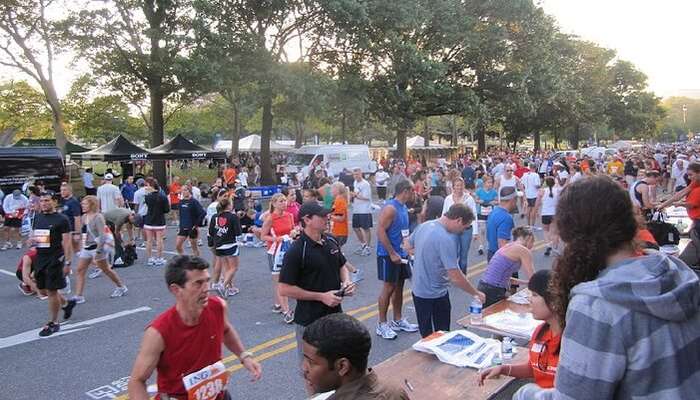 If you are visiting Phoenix in January, then you have got to participate in the Arizona Rock 'n' Roll marathon. The event is attended by long-distance runners but you don't necessarily have to be a pro to be a part of it. There is a series of races like 10k, 5k, and kid's race. Even if you are not a runner, you will still have plenty of things to enjoy like cheering runners from the bleachers and listening to live music.
Suggested Read: 8 Haunted Places In Arizona That No One Even Dares To Talk About
14. Winterhaven Festival Of Lights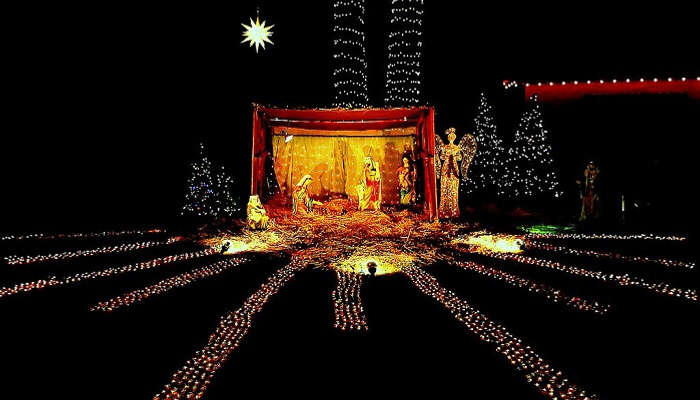 One of the most recommended things to do in Phoenix in winter is attending the Winterhaven festival of Lights. During the month of December, the locals open their homes to the visitors. Their houses are decked with an amazing display of lights depicting a beautiful scene. It is one of the most amazing things to do in Phoenix in winter. You must attend at least one festival in Phoenix to experience the culture of this place.
Suggested Read: Arizona Waterfalls: 7 Most Beautiful Water Falls That Are Perfect For A Refreshing Dip
15. Glendale Glitters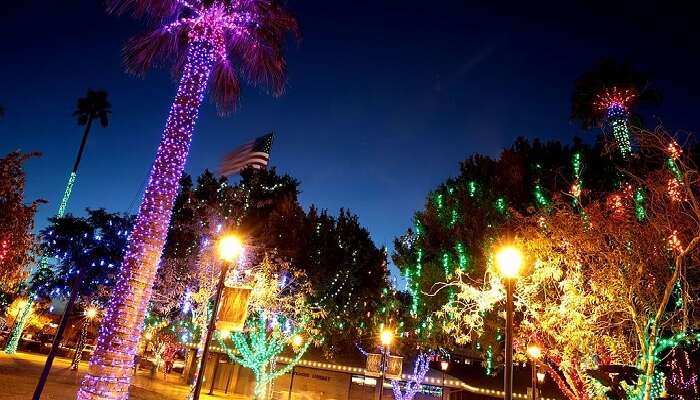 Arizona is all about magical places. One of these places is Glendale Glitters where you will find 1.6 million LEDs on display across 16 blocks of Glendale. The whole is so lit (pun intended). The display continues from Thanksgiving until January. Visiting this town during this time is indeed one of the best winter activities in Arizona to indulge in. Glendale has a rich past and history making it one of the interesting places to visit in the state.
Suggested Read: 6 Magnificent Arizona Rivers To Stop By On Your Next Trip
16. NYE Block Party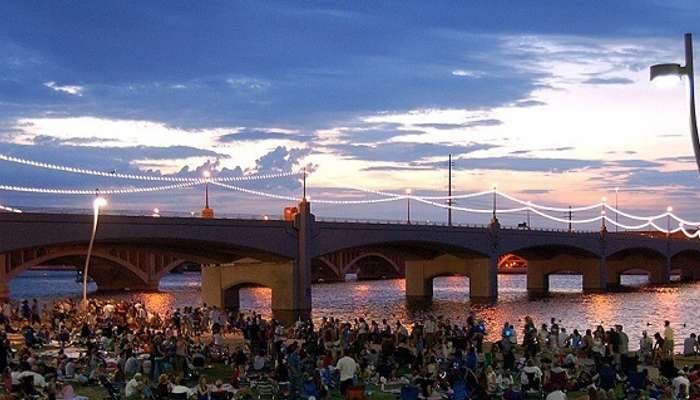 If you have decided to spend your winter in Phoenix, then why not immerse yourself in New year celebrations? Head to Tempe to take part in the biggest and most happening NY celebration in Phoenix in winter. Arizona nightlife is known to be phenomenal. The streets are filled with wild party people dancing and jiving to the music and drinks in their hands. The celebration is nothing like you have ever been part of. It's legit crazy!
Suggested Read: Arizona In September: A Complete Guide For A Wonderful Vacay!
17. Attend Superbowl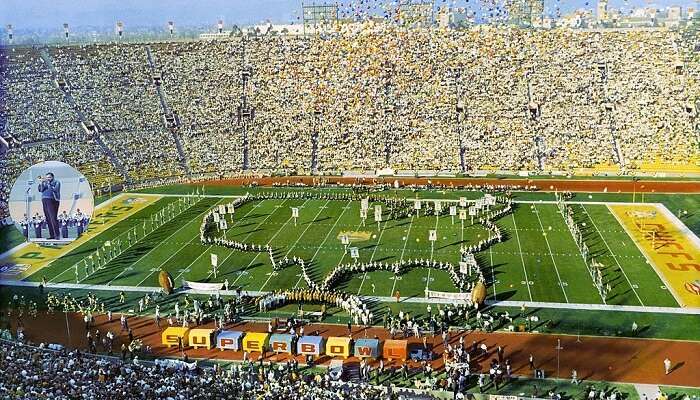 One of the most interesting things to do in Phoenix in February 2020 is attending the Super Bowl game. Football is a tradition in America and Superbowl is a custom. If you have never watched a game, then you have all the more reasons to do so. After all, your visit to the USA is all about the most American experiences. Isn't it?
Further Read: 7 Best Water Parks In Phoenix That'll Give You Both A Dose Of Thrill And Adventure
Whatever the place be or whatever the kind of activity is, visiting Phoenix in winter is a blessing in disguise. So, if you can't wait to go on a discovering spree, then plan a holiday to Phoenix with TravelTriangle and make the best out of the winter season!
---
Frequently Asked Questions About Phoenix In Winter
Q.Is Arizona cold in the winter?
A. The maximum temperature in Arizona in winter is 21 degrees Celsius and the minimum temperature is 10 degrees Celsius.
Q. Is December a good time to visit Phoenix?
A. Yes, absolutely. December is the time when there are various events planned in Phoenix. You are going to have a great time during Christmas and New Year.
Q. What are the winter months in Arizona?
A. December to February are the winter months in Arizona.
Q. Does it snow in Phoenix?
A. No, it does not snow in Phoenix. 1998 was the last year it snowed in Phoenix.
Q. Can you swim in Phoenix in February?
A. Phoenix in February is cold when the temperature is between 10-15 degrees Celsius. It is not a good idea to swim in this weather but it is up to you.
Looking To Book A Holiday Package?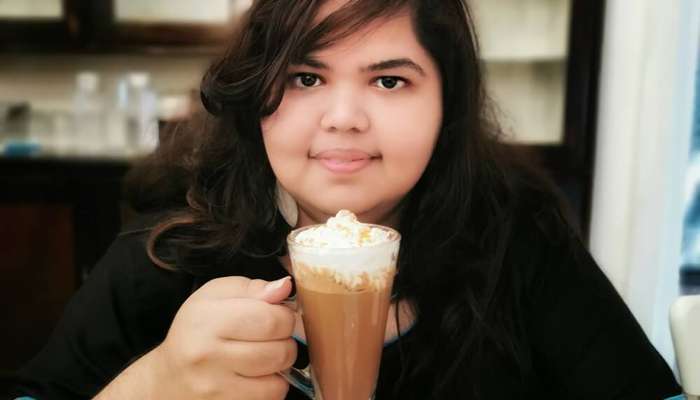 Comments
comments