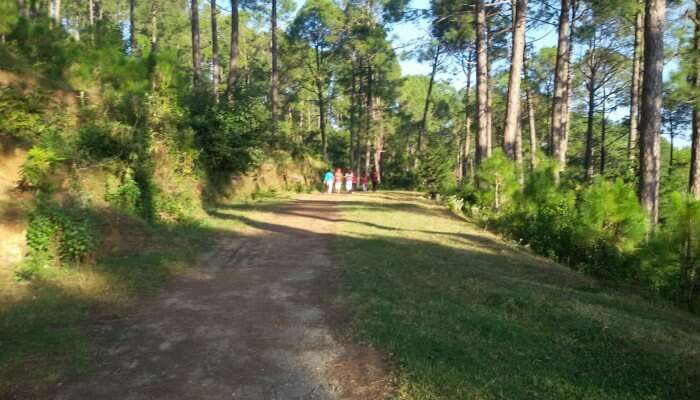 Cover Image Credit: Wikimedia
Kasauli is the new found attraction for tourists, though the place is still developing. But this rawness provides a vast array of places here where you can sit and enjoy our whole day in the lap of nature. This is an ideal place with various picnic worthy spots here. The place is very near to Shimla and could be covered in around two days. People from nearby locations also come here to spend their weekends. Most of these places are best explored by walking. However, during winters this place is quite isolated, and you may need to travel a while before you could encounter a human face. The place has various trekking paths which are quite famous amongst the tourists. So if you're looking for some picnic spots near Kasauli, make sure to not miss out on these.
4 Best Picnic Spots Near Kasauli
Here is a list of the best picnic spots near Kasauli which one must visit to enjoy a great time away from the hustle-bustle.
1. Churdhar Wildlife Sanctuary – 96 Km From Kasauli
2. The Glen – 18 Km From Kasauli
3. Barog – 18 Km From Kasauli
4. Indira Tourist Park – 89.4 Km From Kasauli
1. Churdhar Wildlife Sanctuary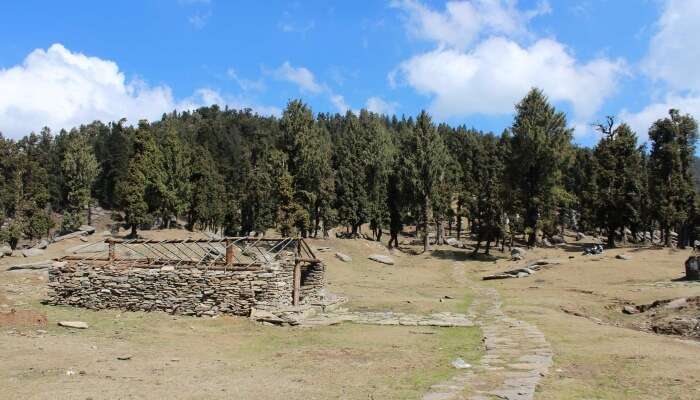 This sanctuary is in the Sirmour district in Himachal Pradesh and is a significant place to take your whole family and enjoy your day watching wildlife and forests here. It's a surreal experience to be amidst the wild in here. The place also has religious significance due to Churdhar Peak, which is some sort worshipped by locals. The peak is dedicated to a deity – Shri Shirgul Maharaj, who is widely worshipped by people of Sirmour and Chaupal.
You can trek through various routes in this sanctuary to reach the top of this peak. This is a perfect wanderlust for people who desire to get lost from the city's busy lives. The expert guides in the place will help you spot the special breeds of animals who reside here. You can also avail organized group trips to this place.
Distance from Kasauli: 96 kms
Things to do: Explore wildlife, sit and enjoy the serendipity of the place, listen to the birds chirping while you walk through the sanctuary exploring the flora and fauna of the place
Best time to visit: All around the year except for the rainy season
Places to stay nearby: Chureshwar Resort, Kasauli Exotica, Winnies Holiday Resort, Baikunth Resorts, Kasauli Hills Resorts
Restaurants nearby: Mehak Restaurant, Rider Cake Dockyard, Bridge View, Brown WOrld, Patio Terrasse, Dastarkhan
Must Read: Enjoy Camping In Kasauli In These 3 Places For A Surreal And Amazing Experience
2. The Glen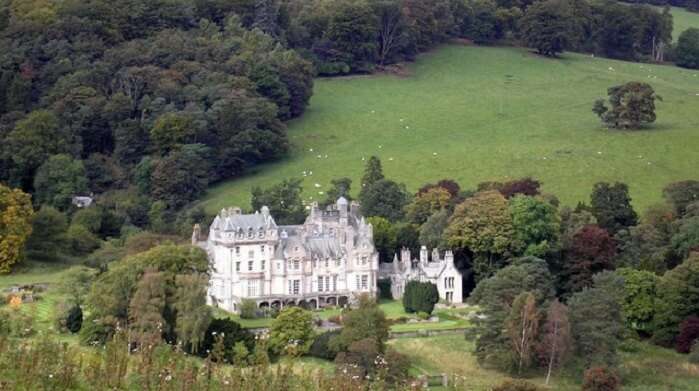 This is a famous picnic spot near Shimla. It's just 4 km away from the main city of Shimla and is a thickly wooded ravine with lots of stream flowing through it. It's filled with God's most beautiful creation from nature and you would feel that you are not in this world while you are traversing through this place. The place has a thick forest of deodar and pine trees and is famous for various hiking and trekking trails.
People often come here with their families and spend their entire day in the calmness and greenery. This place is a mecca for weekend travelers. People like to picnic amidst the woods. Also, you can bring along your old parents and grandparents as this place is easily accessible via car. But people prefer to walk to this place through the woods trailing into this dense forest.
Distance from Kasauli: 18 kms
Things to do: Hiking, sitting and enjoying the calmness of woods away from the city hustle, admire the pristine beauty of this place, enjoy your whole day with your friends and family
Best time to visit: All around the year
Places to stay nearby: Radisson Jass Shimla, Hotel Willow Banks, Summit Le Royale, The Cedar Grand Hotel, Landmark Shimla, Hotel Combermere
Restaurants nearby: Cafe Valley Vue, ANC Bar, and Restaurant, Seventh Heaven, The Brew Estate, Hideout Cafe, Wake, and Bake, Cafe Simla Times
Suggested Read: Snowfall In Kasauli : Everything You Must Know For An Entrancing Winter Escapade
3. Barog
This mystic place is a small village which got established due to a railway track construction nearby during the times of Britishers. The place is a treasure for travelers who like offbeat locations. There are various attractions that people can enjoy in this place. The place is quiet and often seen visited by people who admire such serendipity.
People come here on weekends and stay here to enjoy places like Dolanji Bon Monastery, Choor Chandni Peak, Barog Camping Grounds, Suketi Fossil Park, and the graveyard of Barog. The place is also famous for having the longest straight tunnel which is around 1143 meters long. This place is a perfect weekend getaway with your family and enjoys various attractions of this small hill station.
Distance from Kasauli: 18 kms
Things to do: Visit Dolanji Bon Monastery, view mystic Choor Chandni Peak, Camp in Barog Camping Grounds, Visit Suketi Fossil Park, and pay tribute to the engineer at the graveyard of Barog
Best time to visit: All around the year
Places to stay nearby: Pine Drive Resort, Hotel Barog Heights, Valley View Barog, Hotel Pinewood, Sartaj Homestay, Millennium 2000 Resort, Boparai Home Stay
Restaurants nearby: Little Punjabi Dhaba, Chachu Da Dhaba, Little China, Narinder Sweet House, Full Chow, Haveli, The Coffee Lodge Cafe, Hangout Rooftop Bar, and Restaurant
Suggested Read: Kasauli In December: When the City Transforms Itself Into Heaven
4. Indira Tourist Park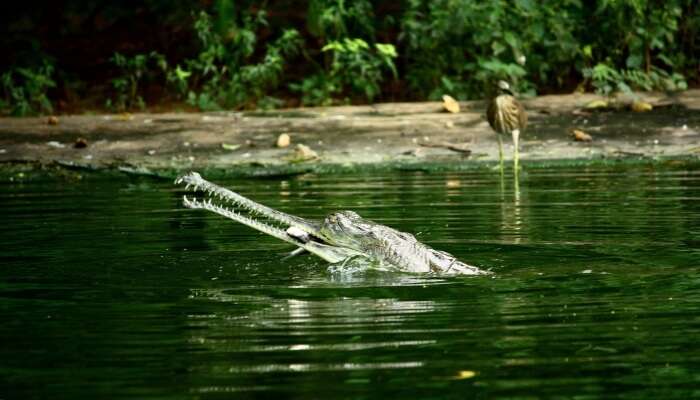 This is one of the most popular tourist spots in Kufri. People come and enjoy their whole day here with their friends and family. The place came into limelight after the late prime minister Indira Gandhi visited this place to sign the Shimla pact with Pakistan in 1972. The park is located near the Himalayan national park. The place is quite famous for arranging Yak rides. Also, you can ride a pony here in this park.
People often like to be here and spend their whole day. All kinds of arrangements are there for the tourists visiting this place. You even have hotels for a comfortable stay. Also, the place has various shops and game parlors and beer bars.
Distance from Kasauli: 89.4 kms
Things to do: Play video games in game parlors, drink beer in bars here, shop for various local motifs, spend your day at leisure, enjoy Yak and Pony rides
Best time to visit: All around the year
Places to stay nearby: Kufri Holiday Resort, The Himalayan Odyssey, Stay Apart – The last Village, Kufri Holiday, Homestay, Royal Tulip Shimla, Kufri, Hotel Kufri Ashray, Hotel Kufri Holiday Inn
Restaurants nearby: The Brew Estate Shimla, Bawa Cafe, Northern Lights, Cafe Lalit, The Restaurant at the Oberoi Wildflower Hall, Viceroy, The Himalayan Odyssey, Hideout Cafe, Wake, and Bake
Further Read: 14 Things To Do In Kasauli In 2022 For A Revitalizing And Rejuvenating Retreat
People can travel to this place via all means of transport. The nearest airports are Shimla and Chandigarh. The nearest railhead is Kalka. Various buses travel day and night to and from this place. The place offers a lot to its visitors. Some of the highlights are Gurudwara Shri Guru Nanak Ji, Sunset point, Manki point, and Christ Church. One must try one of the hiking trips when you are here, that is the best way to explore this place. Also, one must shop at Pinekonez, which is a famous souvenir shop in Kasauli. All these picnic spots are quite accessible and ideal to spend a day along with your family members. They are in extreme serendipity of Kasauli and have a lot to offer in each one of them. So next time, if you're planning a vacation in Himachal Pradesh , make sure to not miss out on these places in Kasauli which are ideal for a picnic with friends and family.
Disclaimer: TravelTriangle claims no credit for images featured on our blog site unless otherwise noted. All visual content is copyrighted to its respectful owners. We try to link back to original sources whenever possible. If you own rights to any of the images, and do not wish them to appear on TravelTriangle, please contact us and they will be promptly removed. We believe in providing proper attribution to the original author, artist or photographer.
Frequently Asked Questions About Picnic Spots Near Kasauli
What are places of interest in Barog?
Barog is a small hill station. It's a kind of offbeat destination where people often travel during weekends to spend some time here. It's not exactly a picnic spot. There are various attractions in this place to explore. Some of them are like Dolanji Bon Monastery, Choor Chandni Peak, Barog Camping Grounds, Suketi Fossil Park, and the graveyard of Barog.
Why is Indira National Park so famous?
Indira National Park got famous during 1972 when Indira Gandhi came here to sign the Shimla Pact with Pakistan. Since then, the place is highly developed and is a great spot to spend a leisurely day here with your friends and family. You also have various options to spend your day here. You can play games at game parlors, spend your day drinking beer at the bars in this place. Also, small eateries are there. And a special souvenir shop is established which sells local motifs at reasonable prices.
How can you reach Kasauli?
Kasauli has all modes of travel to reach here. You can fly to Shimla airport, which is 35 km from Kasauli or more frequently, to Chandigarh which is around 65 km from Kasauli. Then you can hire a cab to reach here. The nearest railhead is Kalka which is again 40 km from Kasauli. People also love driving their way to Kasauli from Delhi or other nearby places. Various buses are scheduled to and fro from this place daily.
Is winter a good time to travel to this Place?
The place is good to go all year round just the density of people becomes less as winter arrives. You might have to travel quite a bit to see a human face from point to point during winters. Local people either move to their summer houses downhill or like to stay inside during winters.
Is it a backpacker's destination?
Well being a backpacker, it will get difficult to find a cheap place to survive here. The place is still getting developed and has become quite popular. It is only in the off-season like in months from November to February that you can find some rebate in the prices.
Are there any night clubs in Kasauli?
Kasauli has some of the best night clubs here. Some of them are Kasauli Club, Hangout Kasauli Regency, and Punjabi Rasoi. Out of these Kasauli Club is the most prestigious and famous drinking club in Kasauli. Also, due to its proximity to Army cantonment, it offers a lot of variety of drinks. Also, it holds various kinds of activities like tennis courts, bridge rooms, billiards, etc.
Are there any places to stay near Churdhar Wildlife Sanctuary?
If you talk about the premises of Churdhar Sanctuary, then there is just one option that is Chureshwar Resort. Otherwise, people often like to live in nearby cities and travel to this sanctuary during the day to explore it.
People Also Read:
Picnic Spots Near Nainital Picnic Spots Near Dandeli Picnic Spots Near Manali
Comments
comments