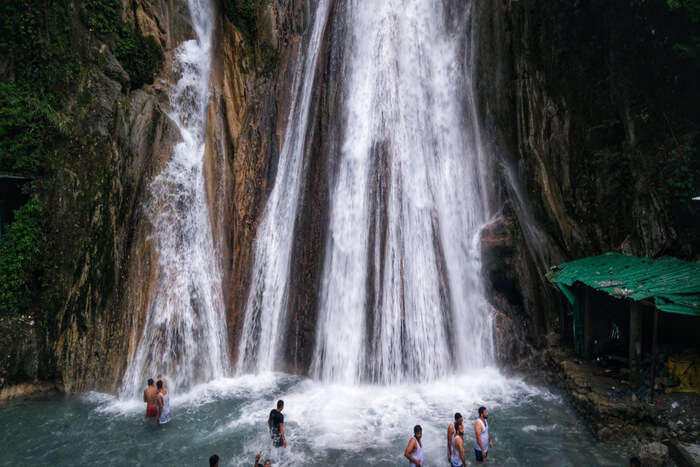 While you're sauntering through the byways and highways of Dehradun, don't forget that there are many adventures and serene places around that you can visit. Some of the beautiful places near Dehradun are just a few kilometers drive away and quite easily accessible. All you need is a spare day or two, to explore the known as well as off beaten places near Dehradun.
12 Best Places Near Dehradun
Are you staying in Dehradun and looking for beautiful escapes? Go through the list of 12 most beautiful places near Dehradun that you can cover on your getaway to Dehradun.
1. Chakrata

One of the best places to visit near Dehradun, Chakrata is a remote and serene hill retreat, fit for an idyllic escape. There are many interesting things to do in Chakrata, including camping and trekking. It is small yet one of the most stunning places to visit near Dehradun, and also a great weekend getaway from Chandigarh and Delhi.
Famous For: Camping, trekking, and nature photography
Suitable For: The hill station is ideal for couples and solo travelers. It is also a common stop for adventurers and nature lovers.
Distance From ISBT Dehradun: 88 km |
Travel time: 3 hrs
Best Time To Visit: Throughout the year
Things To Do: Camping And River Rafting
Places To Stay: Hotel Himalayan Foxhole, Stunning Hills Asmarh, Water valley resort, Vertical Valley Resort, Oxygen Resort Chakrata
Trekking Near Dehradun: 14 Places You Must Trek To With Your Pals In 2022
2. Dhanaulti

Snuggled in the lofty Himalayas, Dhanaulti is one of the smallest but beautiful tourist places near Dehradun. It is usually preferred for a weekend getaway during summers but as snow covers it in January, it becomes one of the most spectacular places to visit in Uttarakhand in winter. With famous attractions like temples of Surkanda Devi and Dashavatar, Deogarh Fort, Eco Park, Barehipani and Joranda Falls and Potato Farm, Dhanaulti offers enough activities for tourists
Famous For: Skywalk, rappelling, trekking, zip lining, and rock climbing
Suitable For: Adventurers and peace lovers; if you are looking for a quiet break, this is the place for you
Distance From ISBT Dehradun: 65 km |
Travel time: 2 hrs 20 minutes
Best Time To Visit: Sep-Jun
Things To Do: Trekking, Sky Walking and Camping
Places To Stay: Ransuli Resort, Hotel Drive Inn, Garden Cottage, The Green Valley Resort, Dhanaulti Camp Homes and Nature Resort
3. Haridwar

Haridwar is among the must-visit places to visit near Dehradun, primarily for spiritual seekers. People generally drive down to Haridwar from Dehradun and Delhi to take a dip in the Holy Ganges at Ghat, and visit Mansa Devi and Chandi Devi temples. And don't miss the evening ghat aarti – it is a sight to behold! Undeniably, with its serene ambience featuring the holy River Ganges, it is one of the best tourist places near Dehradun (within 100 km).
Famous For: Evening and early morning ghat aarti, temple hopping, taking a dip in the holy waters, meditation sessions in ashrams, Rajaji National Park, street food, and bird-watching
Suitable For: For spiritual and peace seekers, Haridwar is one of the easily accessible places near Dehradun, which makes it a great place for a short trip
Distance From ISBT Dehradun: 55 km |
Travel time: 2 hrs
Best Time To Visit: October – February
Things To Do: Spiritual Bath, Ziplining, Meditation And Yoga
Places To Stay: Hotel Pardesi's, La Casa, FabExpress Pramila, Ganga Lahri, Radisson Blu Hotel, Hotel Arun
Shopping In Dehradun? Make A Beeline For These 10 Amazing Spots In 2022
4. Rishikesh

Rishikesh is one of the most popular places near Dehradun for a weekend getaway. Located by the Ganges, it boasts of immense natural beauty, heritage temples, and ashrams on one hand, and quaint cafes and yoga retreats on the other. No matter where your interest lies, there are so many exciting things to do in Rishikesh that'll never disappoint you!
Famous For: River rafting, kayaking, rappelling, bungee jumping, flying fox, giant swing
Suitable For: Adventure lovers, spiritual seekers, and solo travelers
Distance From ISBT Dehradun: 48 km |
Travel time: 1 hr 30 minutes
Best Time To Visit: September to June
Things To Do: River Rafting, Bungee Jumping, Trekking
Places To Stay: The Narayana Palace, Shiv Shakti Hostel, Swiss Cottage Rishikesh, Hill Top Swiss Cottage
5. Kalsi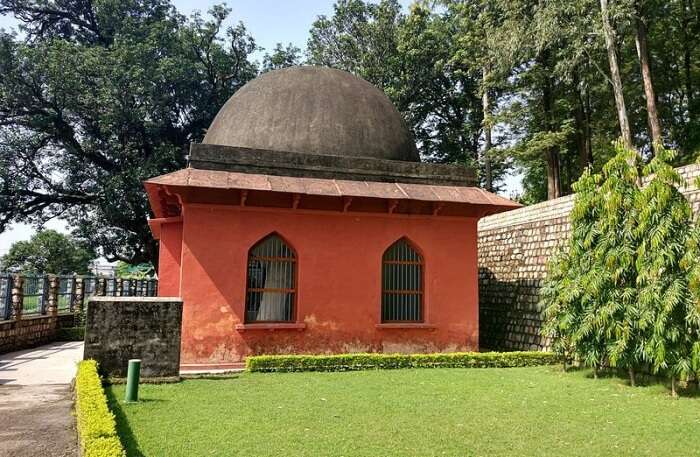 In the middle of Chakrata and Dehradun, on the banks of Yamuna river, lies a serene village called Kalsi. The village is known for its heritage importance, and tribal communities, including Khils, Bhutis, and Mundar have been living here for years. If you love to learn about the different types of cultures, then there's a lot for you in Kalsi, including folk music, unique festivals, cuisine etc. Also, walking on the shores of Yamuna river in the middle of velvety green mountains of Kalsi is going to be an experience to remember.
Famous For: A walk along Yamuna river, village exploration, and unique festivals
Suitable For: Offbeat traveling, a cultural tour, and a peaceful getaway. Kalsi is not one of the most popular tourist places near Dehradun but it is surely a sight for sore eyes
Distance From ISBT Dehradun: 45 km |
Travel time: 1 hr 30 minutes
Places To Stay: Vertical Valley Resort, Yatrik Inn, Anandam Heights, Celebrations Hotel, Villotale Nagthat RH
12 Bakeries In Dehradun For A Delightful Trip To The State Of Uttarakhand
6. Mussoorie

It is popular one of the best honeymoon places in Uttarakhand, perfect for romancing in the hills, relishing their beauty, and reveling in the silence in the air. Mussoorie is not just a place that ignites romance, the adventurous activities in the valleys will pump up your adrenaline if your want something thrilling. With a plethora of awe-inspiring places to visit in Mussoorie, travellers find this hill station as one of the best tourist places near Dehradun. Famous For: Trekking, cable car ride, watching peaks, boating in lake and shopping- the place offers everything for a fun-filled vacation
Suitable For: Mussoorie is one of the most beautiful hill stations in India for couples, trekkers, and those who enjoy scenic beauty Distance From ISBT Dehradun: 35 km |
Travel time: 1 hr 15 minutes
Best Time To Visit: Sep-Jun
Things To Do: Trekking, Hiking, Paragliding
Places To Stay: Hotel Nand Residency, Mussoorie Honeymoon Inn, The Dolina, Fortune Resort Grace, Rock Villa
7. Har Ki Dun

Hai Ki Dun is a beautiful hanging valley that is in the shape of cradle. One of the best places to visit near Dehradun in August, Har ki Dhun is nearly 45 km long valley, covered with alpine forests and offers panoramic views of the stunning Garhwal Himalayas. The route to this valley also takes you to the majestic Govind National Park from where you can catch the glimpse of snowy river valley of Baspa.

Famous For: Natural beauty
Suitable For: Nature admirers, romantic escapes
Distance From ISBT Dehradun: 213.5 km |
Travel time: 4 hours
Best Time To Visit: March – June; September – November
Places To Stay: Panchgai Homestay, Panchgai Camp, Dev kyara Homestay, Govind Pashu Vihar Homestay
9 Homestays In Dehradun That Will Make You Want To Stay In This Paradise Forever
8. Nag Tibba

One of the most interesting excursion near Dehradun is planning a trek to Nag Tibba. It is the highest trek in Garhwal Himalayas and offers charming views of sunrise and sunset. The area is home to distinct flora and fauna and is one of the most popular expedition for adventure freaks looking for an enthralling experience.
Famous For: rekking, natural beauty
Suitable For: Adventurers
Distance From ISBT Dehradun: 109.2 km |
Travel time: 4-5 hours
9. Assan Barrage

Assan Barrage is built on the river Assan and this small dam is known for purveying awe-inspiring views of the surrounding valley. The dam creates a small reservoir names Dhalipur Lake. The place is truly a paradise for bird watchers. The place is residence for over 53 indigenous species and nearly 19 migratory birds.
Famous For: It's a small dam, famous for its scenic beauty
Suitable For: Birdwatching
Distance From ISBT Dehradun: 41.6 km |
Travel time: 1 hour
Places To Stay: Uma's Homestay, Hotel Nirmal Bar & Restaurant, Hotel Star City Heart, Hotel Rockwood
20 Cafes In Dehradun That You Must-visit In 2022
10. Rupin Pass

Rupin Pass is nestled at a high altitude in Himachal Pradesh and this 4,650 metres tall way attracts adventure enthusiasts with their amazing experiences. The pass is also an age-old shepherd route and the backdrop keeps changing as you move from the start to the end point.
Famous For: Scenic beauty
Suitable For: Nature walks, treks, camping
Distance From ISBT Dehradun: 227.8 km |
Travel time: 4-5 hours
Places To Stay: Banjara Camps And Retreat Sangla, Mahima, Debbhumi Regency, Hotel Aryan The Classic, The woods homestay
11. Tehri Dam

Image Credit: Yogendra Singh Negi for Wikimedia Commons
Tehri Dam is one of the most famous places to visit near Dehradun for a weekend trip. Located at a distance of 108 Km from Dehradun, Tehri Dam is the highest dam in India. The height of this dam is around 260 meters and it is popular all around the world as one of the highest dams. In 1978, the construction of Tehri Dam was started and it was completed in 2006. You can visit this dam to enjoy the picturesque view and gain knowledge about hydroelectricity generation.
Famous For: Hiking, Witnessing scenic view
Suitable For: Nature and peace lovers
Distance From ISBT Dehradun: 108 km
Travel Time: 3 hrs 20 minutes
Best Time To Visit: Sep-March
Things To Do: Walki and Enjoy the view
Places To Stay: THDCIL Guest House, Himalayan Eco Lodge
5 Best Museums In Dehradun To Witness The Other Side Of Dehradun
12. Nagthat

Image Credit: Aringraphy for Pixabay.com
Disclaimer: The image is for representation purposes only.
Located in Uttarakhand, Nagthat is another popular place to visit near Dehradun with your family. If you want to enjoy the view of snowclad mountains, then Nagthat is the perfect place for you. Visit in the winter season and have a blissful vacation. Nagthat is a spot for a romantic trip on which you can savor the view of snowfall, get all cozy, and make a snowman with your beloved.
Famous For: Trekking, Snowfall
Suitable For: Couples, Families, Snow Lovers
Distance From ISBT Dehradun: 78 km
Travel time: 2 hrs 26 minutes
Best Time To Visit: Dec-Feb
Things To Do: Make a snowman, explore nearby attractions, a refreshing staycation
Places To Stay: Hotel Hill Paradise, Himalayan Eco Lodges, Viraatkhai
For our editorial codes of conduct and copyright disclaimer please click here.
Frequently Asked Questions About Places Near Dehradun
Which is the most beautiful place in Dehradun?
There are plenty of places to visit in Dehradun like Robber's Cave, Tapkeshwar Mahadev Temple, Sahastradhara, Mall Road, and other historic temples. It is hard to choose one out of them but you should definitely not miss visiting Sahastradhara. The waterfalls are known for their picturesque beauty.
Is Dehradun a good place to visit?
Even though Dehradun has become popular among tourists, it still has not lost its charm and beauty. It is indeed a beautiful place to visit in Uttarakhand. You can explore the cafes on Mall Road and nearby to enjoy coffee and amazing views of the mountains.
What is Dehradun famous for?
Dehradun is famous for enchanting views of the mountains and valleys. You can also nearby towns near Dehradun that are even more beautiful than Dehradun.
Is Dehradun safe at night?
Yes, Dehradun is safe to wander at night, however, everything in the city closes very soon. So, you don't have much to do at night except taking a stroll on the road.
Does snowfall occur in Dehradun?
The chances of snowfall in Dehradun are quite slim now. If you want to enjoy snowfall in winter, then you should go upwards to the places like Mussoorie or Dhanaulti.
Why Dehradun is called Dehradun?
Dehradun is made up of two words; Dehra and Dun. Dehra means dera or settlement and dun in the mountain language means valley.
What is the Best Time To Visit Dehradun?
Summer is the peak time of tourism in Dehradun. Come summer vacation, everybody flocks to Dehradun to get respite from the summer heat. If you do not mind cold, you can also visit Dehradun in the winter season. Avoid monsoons at all costs as Uttarakhand is prone to landslides.
Which place is the best, Mussoorie or Dehradun?
Most people prefer Mussoorie over Dehradun as the former has better resorts and hotel options. Dehradun is more of a residential town while Mussoorie offers a touristy experience.
---
Looking To Book A Holiday Package?
---
People Also Read:
Places Near Pahalgam Places Near Sikkim Places Near Malappuram