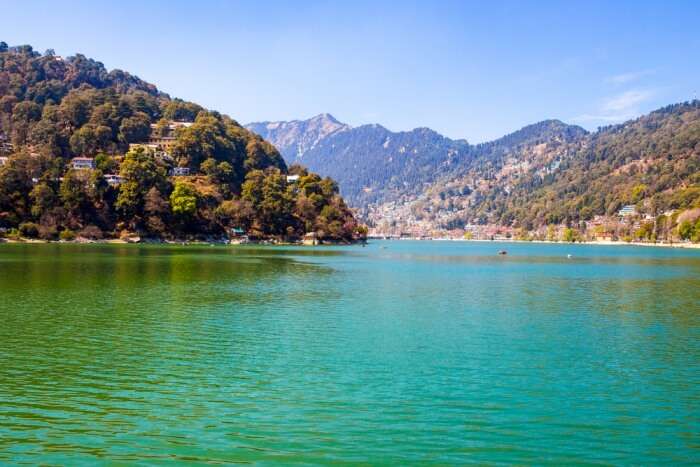 A honeymoon in Uttarakhand's peaceful hill towns is all you need to get rid off the post-wedding weariness and spend quality time with your partner. Uttarakhand, tucked in the Garhwal Himalayas is a soothing retreat for every newly married couple.

There are awe-inspiring honeymoon places in Uttarakhand located in the mountainous terrains that are decked up with the great Himalayas in the backdrop. Dotted with dense alpines, wrapped up in snow during winters, and well decorated with blooming flowers in summers, these honeymoon destinations in Uttarakhand pamper the lovebirds with perfect weather and scenic vistas.
Why Uttarakhand Makes A Premiere Honeymoon Destination In North India?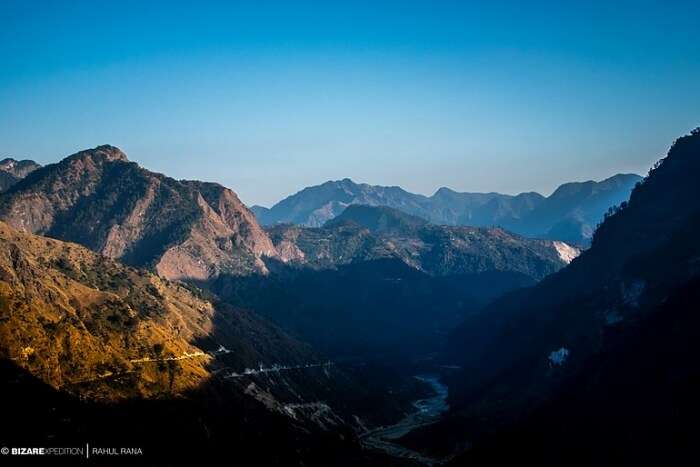 The imposing hills and fascinating hill stations boasting of pleasant weather conditions and romantic places blessed with nature's unadulterated view make Uttarakhand a treat for honeymooners. Sky hugging mountains, never ending emerald green valleys, picture-perfect lakes, and swiftly rappelling rivers are major attractions of beautiful places in Uttarakhand for honeymoon! Get ready to be spoiled by nature as you plan a honeymoon in these captivating destinations.
Best Time To Visit Uttarakhand For Honeymoon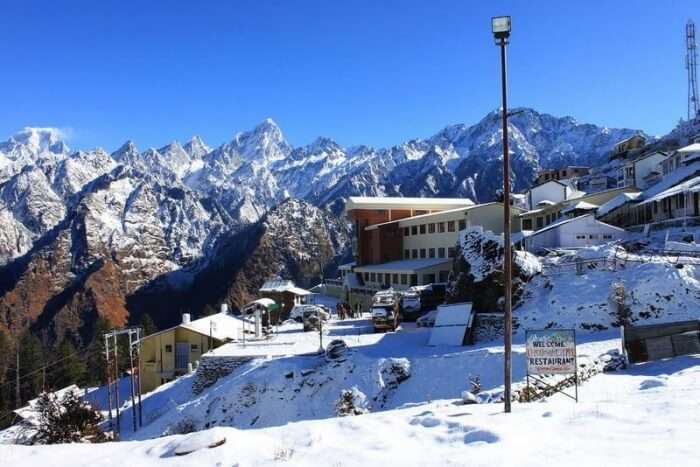 The topography of the most popular honeymoon destinations in Uttarakhand is not very different. Most of them experience a scenic winter season beaming with snowfall, and a pleasant summer epitomized by colorful valleys and lush meadows. Depending upon your bucket list you can choose the most suitable time for you.
Weather in Uttarakhand in summer: Summers are mostly pleasant; the temperature remains between 18 – 25 degrees
Weather in Uttarakhand in winter: Temperature drops to sub-zero degrees and goes up to 15 degrees in winter. Most of the honeymoon destinations in Uttarakhand experience considerable snowfall.
* Note: Planning a honeymoon to Uttarakhand during the monsoon months, i.e. June and July is not advisable because the hilly terrains experience frequent landslides.
---
Uttarakhand Holiday Packages On TravelTriangle
Witness the beauty of Uttarakhand and indulge in spiritual pilgrimages, adventure sports, and treks. Visit Nainital, Rishikesh, Haridwar, Auli, Jim Corbett, and more. Get best holiday deals on TravelTriangle.
---
Top 12 Honeymoon Places In Uttarakhand
Here are the 12 most exciting honeymoon destinations in Uttarakhand that would leave you spellbound with their stunning escapades and raw appeal! Have a look at the best places to visit in Uttarakhand for honeymoon These best honeymoon places in Uttaranchal with details will help you plan your honeymoon better.
Auli
Dehradun
Jim Corbett
Kausani
Mussoorie
Nainital
Ranikhet
Binsar
Almora
Lansdowne
Dhanaulti
Rishikesh
1. Auli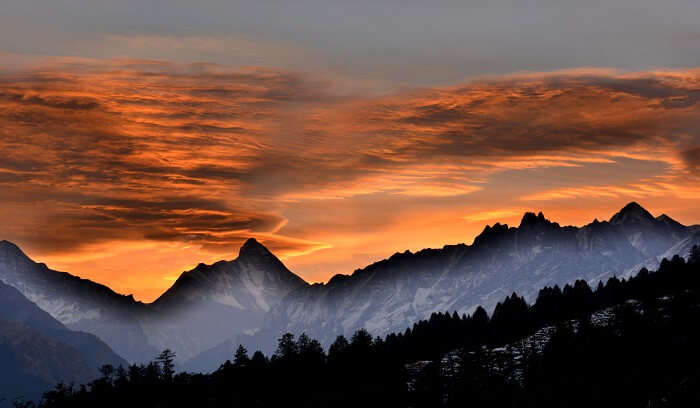 While most of Uttarakhand revels in the glory of scenic views and exhilarating experiences, Auli is best known for exciting winter sports and thrilling adventure activities. Skiing in winter and a drive on the breathtaking road from Haridwar to Auli via Joshimath are two of the many attractions of Auli for adventurous couples.
And when you are tired, pamper your body and mind by spending some cozy moments in a quaint hotel room with a view of mighty Himalayas. Summer or winter, Auli is an ideal Uttarakhand honeymoon destination for nature and adventure lovers in all seasons.
Romantic experiences for honeymooners in Auli
The mesmerizing view of Nanda Devi, Hathi Parvat, Trishul, and Nikanth
The romantic Gondola ride
Skiing at Auli Ski Station
Watching the sun go down by the Auli Artificial Lake
A tour of Chenab Lake
Romantic stays for honeymooners in Auli: Ski Resorts of GMVN, Clifftop Club, The Royal Village – Auli Resort
Must Read: 10 Reasons Why You Must Be In Auli Right Now
2. Dehradun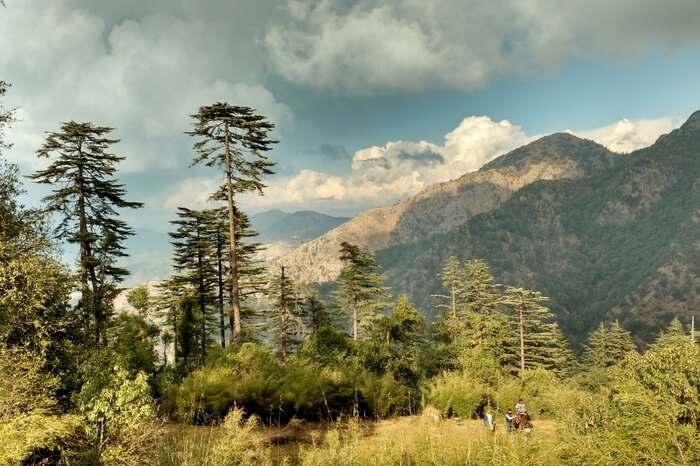 The capital city of Uttarakhand, Dehradun is located in the heart of the Doon Valley. An all time favorite among honeymooners, it is one of the most preferred Uttarakhand honeymoon destinations. Be it the year round, scenic vistas of the Garhwal Himalayas, or romantic stays, Dehradun truly justifies itself as a top honeymoon destination.
Top reasons why Dehradun is counted among the best places in Uttarakhand for honeymoon include pleasant climate all round the year, breathtaking views of the Garhwal Himalayas, plenty of romantic stays, and a range of interesting things to do.
Romantic experiences for honeymooners in Dehradun
A momentous trip to Tapovan
Excursion to Robber's Cave
A fun-filled noon visit to the Tiger Falls
Water activities at Asan Barrage – the water sports resort
A visit to Sahastradhara
Romantic stays for honeymooners in Dehradun: Lemon Tree Hotel, The Solitaire, Hotel Rajpur Heights, Madhuban
Suggested Read: 6 Auli Resorts For A Luxurious Stay In This Ski Destination In 2019
3. Jim Corbett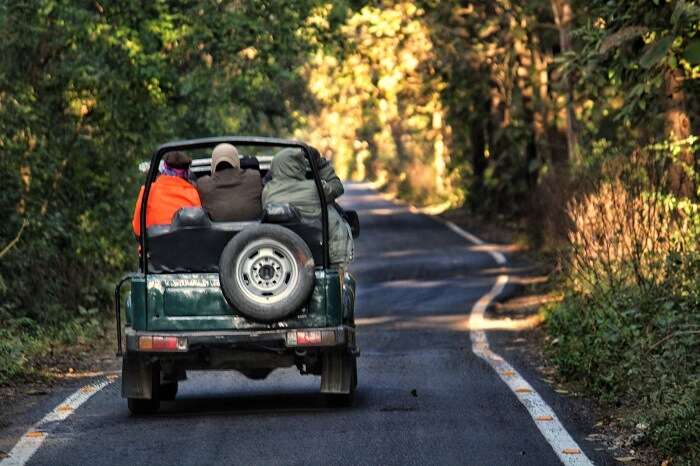 Nothing beats the excitement of a honeymoon in Jim Corbett, a soothing retreat cradled in the foothills of Garhwal Himalayas. It is also known as the 'Land of Roar' owing to the number of tigers found in the national park region.
Jim Corbett is certainly one of the most preferred honeymoon places in Uttarakhand. Explore wilderness at its best while on a jungle safari in Corbett; if you are lucky you'd end up spotting a tiger and elephants.
Romantic experiences for honeymooners in Jim Corbett
Spending romantic moments by the Kosi river
A morning drive into the Jhirna Range for Tiger Safari
Seeking divine blessings at Girija Mata Mandir
A ride to the Corbett Falls
Romantic stays for honeymooners in Jim Corbett: Namah Resort, The Solluna Resort, Jim's Jungle Retreat, Corbett Riverside Resort
* You can also plan a detour to Nainital, which is a 3-hour drive from Jim Corbett
Suggested Read: 15 Resorts In Jim Corbett That Are Definitely A Class Apart
4. Kausani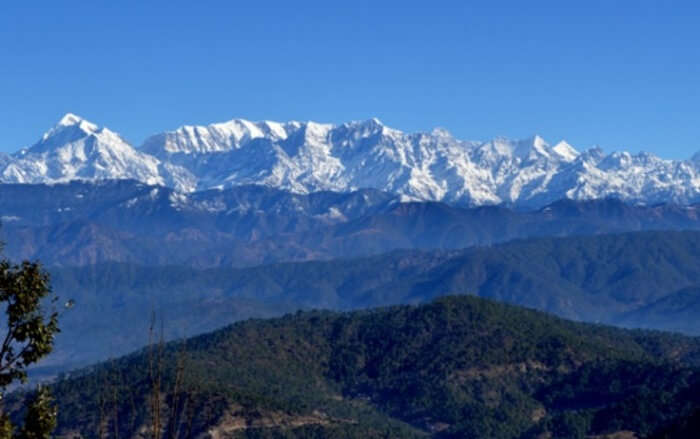 Who doesn't like waking up to the enchanting view of snow-capped Himalayan peaks on their honeymoon? Kausani is yet another hot favorite of honeymoon places in north India that dwell upon the spectacular views of stunning peaks and lush grasslands. The magical glimpses of Bandarpoonch, Trishul Peaks, Nanda Devi, Badrinath, and Kedarnath enchant honeymooners to the core.
The spectacular sunset views and the confluence of sacred rivers and temples located ashore put Kausani among the top 5 places to be in on your honeymoon in Uttarakhand.
Romantic experiences for honeymooners in Kausani
Excursion of Rudradhari falls and caves; and lush green terraced fields
Short romantic walks through the dense jungles
Watching the planets show
A walk through the scenic Kausani tea estates
A visit to the 12th century Baijnath temple on the bank of Gomati river
Romantic stays for honeymooners in Kausani: Krishna Mountview Resort, Heritage Resort Kausani, Kausani Best Inn, Suman Royal Resort
Suggested Read: Reasons Why A Weekend Trip To Kausani Will Totally Spoil You
5. Mussoorie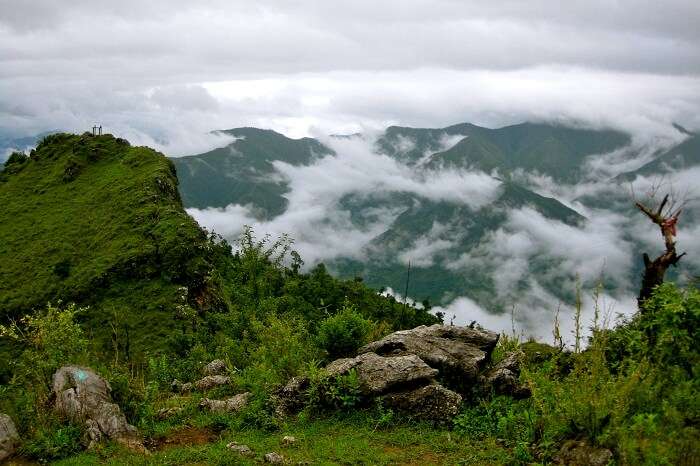 Be it the enchanting view of clouds suspended mid-air, or a romantic ride along the topsy-turvy road leading up to the hill-station, Mussoorie completely justifies its spot among the best honeymoon places in Uttarakhand.
The vivid market and a picturesque Tibetan settlement in the Happy Valley are some offbeat attractions, besides popular tourist places in Mussoorie.
Romantic experiences for honeymooners in Mussoorie
Trip to Benog Wildlife Sanctuary
Climbing to the top of Lal Tibba
A romantic boat ride in Mussoorie lake and Lake Mist
Cable car ride from Jhula Ghar to Gun Hill
Romantic stays for honeymooners in Mussoorie: Honeymoon Inn Mussoorie, Fortune Resort Grace, The Claridges Nabha Residence, JW Marriott Mussoorie
Suggested Read: Honeymoon In Mussoorie Is A Dreamy Start To A New Beginning
6. Nainital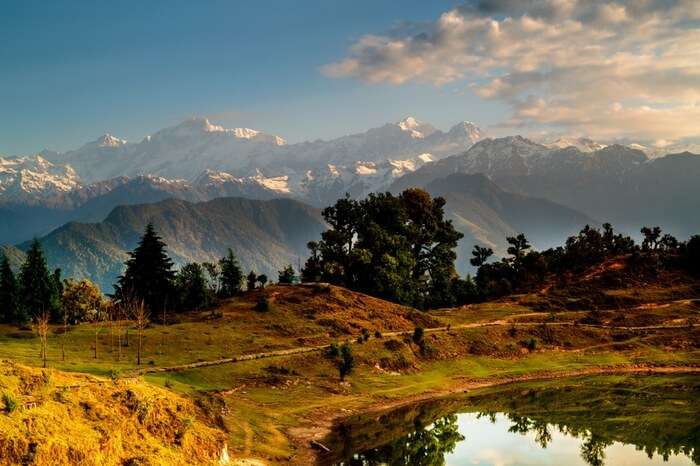 From beautiful lakes fenced by the imposing mountains and inclined roads to a happening marketplace and exciting viewpoints, Nainital is a lovely collage of beautiful places and amazing experiences.
It is one of the most sought after honeymoon places in Uttarakhand for newlyweds who are looking for a pleasant romantic rendezvous in north India. It is a budget destination, but you can also plan a luxury honeymoon by opting for the best resorts in Nainital.
Romantic experiences for honeymooners in Nainital
Boating in Naini Lake
Catching uninterrupted view of Naina Peak
Walking up to the Tiffin Top
A drive up to the snow viewpoint
Romantic stays for honeymooners in Nainital: Shervani top, The Naini Retreat, The Manu Maharani Hotel, The Pavilion
7. Ranikhet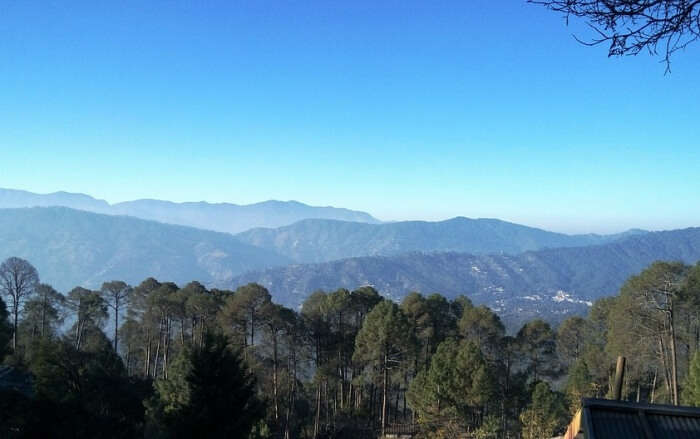 One of the exciting places to visit in Uttarakhand for honeymoon, Ranikhet is your cup of tea if you are looking for a private and secluded retreat. The hill station is surrounded by nature's quietude and resembles a picture-perfect frame, luring romantic couples to its appealing environs.
From stunning sunrise to mesmerizing sunset, Ranikhet has all romantic attractions that make it a popular honeymoon place in Uttarakhand.
Romantic experiences for honeymooners in Ranikhet
Stunning view of Mount Trishul from Majkhali
Excursion to Bhalu dam and adjoining garden area
Tour of Chaubatia garden and fruit orchards
A spectacular view of popular sunset point Machkhali near Woodville Point
Romantic stays for honeymooners in Ranikhet: Chevron Rosemount, West View Ranikhet, Hotel Royal Mountain, Cosmos Himalayan Villas
Suggested Read: 10 Best Honeymoon Places In India In June
8. Binsar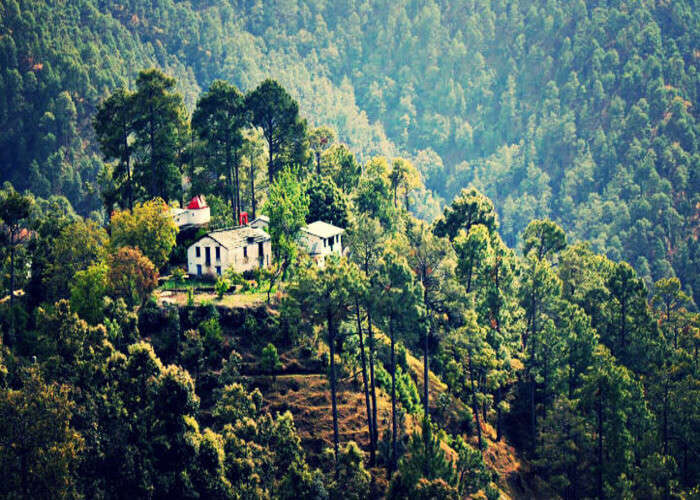 If you are looking for a quanit vacation in the hills, Binsar is one of the best places to visit in Uttarakhand for honeymoon. Its alluring scenery and serene environ will make you fall in the love with the place.
One of the highest hill stations in Kumaon Range, Binsar is from where you can lay eyes on revered mountain peaks like Trishul, Nanda Devi, and Kedarnath. If you are a nature loving couple, then you could go to Binsar Wildlife sanctuary.
Romantic experiences for honeymooners in Binsar
Safari in Binsar Wildlife Sanctuary
Explore trekking trails
Camping beneath the stars
Romantic stays for honeymooners in Binsar: Club Mahindra Binsar Valley, Binsar Eco Resort, Imperial heights Binsar
9. Almora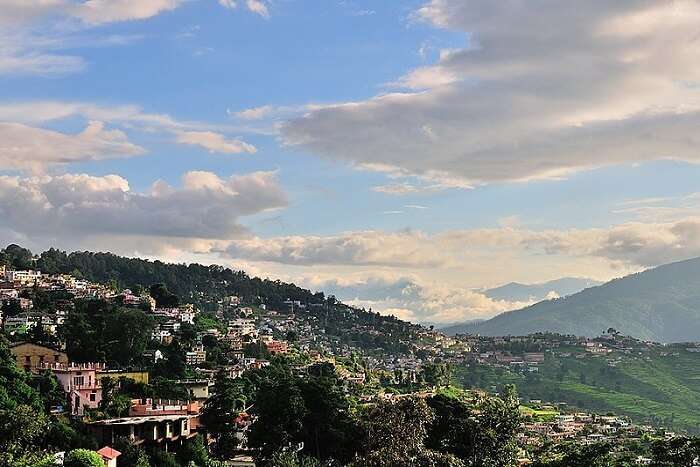 Go further beyond Nainital and arrive at one of the most beautiful hill stations in Uttarakhand that is Almora. It has to be one of the top honeymoon destinations in Uttarakhand because of rich cultural heritage and abundance of nature.
Experience the colonial charm and captivating views of Himalayas while you are on your vacation in this horse-shoe shape town. It is one of the best places to go on a holiday if your idea is to do nothing but cuddle and sleep.
Romantic experiences for honeymooners in Almora:
Visit cultural heritage sites
try sumptuous cuisine
Shop local handicrafts
Romantic stays for honeymooners in Almora: Thikalna Himalayan Village stays, Eco Camp Almora, Abbott Mount Cottage
10. Lansdowne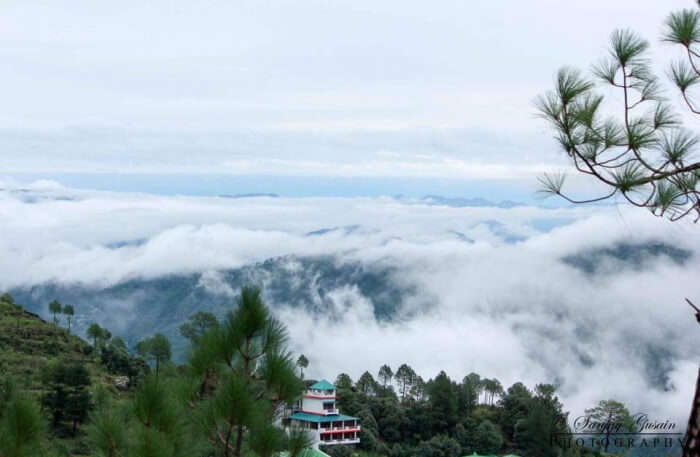 Escape to the charming hill station of Lansdowne if you want nobody to disturb on your honeymoon. Though an army cantonment area, Lansdowne offers you striking views of the mountains. It is blessed with pleasant and cool climate all throughout the year.
Take romantic strolls in the lanes decorated with oak and pine trees. It is one of the best places for honeymoon in uttarkhand if you want to spend uninterrupted quality time with your spouse.
Romantic experiences for honeymooners in Lansdowne
Bird watching
Trekking & camping
Boating
Romantic stays for honeymooners in Lansdowne: The Alpine Resort, FairyDale resort, Tip N Top Resort
11. Dhanaulti
Located around 24 kilometers ahead of Mussoorie, Dhanaulti is a small hill station nestled in the foothills of the Garhwal Himalayan range. It is an ideal place to visit mainly due to its weather which is pleasant during the summers and one can enjoy snowfall here during the winters.
It is one of the most sought after honeymoon destinations, especially after the commercialisation in Mussoorie. So, if you are looking for peaceful environs and great weather then keep Dhanaulti in mind.
Romantic experiences for honeymooners in Dhanaulti
Experience camping here with your partner
Take a stroll in the mountains
Gaze upon Doon valley when it is all lit at night
Romantic stays for honeymooners in Nainital: Apple Orchard Resort, Hotel Mount View, Rock Resort and GlamWood Resort
12. Rishikesh
Rishikesh doesn't usually come to mind when thinking of a honeymoon destination but if you want to spend some adventurous time together, then there would be no better place, with an amazing weather and adventure activities to indulge in.
Spend a day or two on your honeymoon in Uttarakhand in this city and experience river rafting, bungee jumping and more.
Romantic experiences for honeymooners in Rishikesh
Experience camping by the river at Shivpuri
Sit by the river and watch the sunset
Enjoy river rafting in the clear and chilly waters
Romantic stays for honeymooners in Rishikesh: Aloha on the Ganges, Palm Bliss Resorts, Glasshouse on the Ganges
Further Read: 11 Beautiful Places To Visit In Nainital For An Incredible Vacation
Uttarakhand is truly a slice of nature wrapped up in nature's magnificence, making it a perfect setting for a honeymoon! If you have just a few days on your hand and need a quick romantic fix, you can choose from any of these options above. Plan a honeymoon to Uttarakhand and be a live testimony to nature at its romantic best.
Frequently Asked Questions About Honeymoon Places In Uttarakhand
Q. Is Nainital a good place for a honeymoon?
A. Nainital is a great choice for a honeymoon as it has a pleasant weather throughout the year and the place is very beautiful. The Naini Lake adds on to the beauty making it one of the best hill stations in Uttarakhand.
Q. Which is the coldest place in Uttarakhand?
A. Auli is one of the coldest places in Uttarakhand.
Q. Is Mussoorie good for honeymoon?
A. Yes, Mussoorie is an amazing honeymoon destination. The weather here is pleasant, the ambiance amazing and some great resorts to spend a peaceful and romantic time.
Q. Which month is best for Uttarakhand?
A. One can visit Uttarakhand all the year-round depending on which season they want to enjoy. July and August are the only two months that one can skip due to the monsoons.
Q. How can I reach Mussoorie from Delhi?
A. One can reach Mussoorie from Delhi via road. One can hire a private taxi from Delhi. If one wants to take the bus then there are no direct buses, and one will have to first take a bus to Dehradun and then further to Mussoorie. The nearest airport and railhead too are in Dehradun, and one can catch a bus or taxi from Dehradun to reach Mussoorie.
---
Looking To Book A Holiday Package?
Book memorable holidays on TravelTriangle with 650+ verified travel agents for 65+ domestic and international destinations.
---
People Also Read
Honeymoon Places In Gangtok And Darjeeling Honeymoon Places In Rajasthan Honeymoon Places In India
Comments
comments