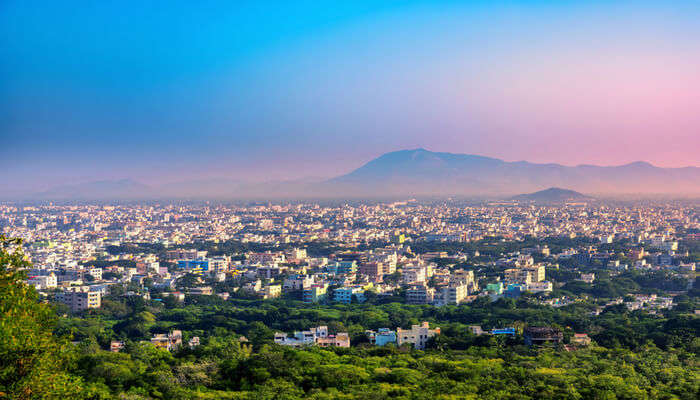 Tirupati is located in Chittoor district of Andhra Pradesh. It is famous for the Venkateshwara temple, one among the most famous pilgrim centers in India. Also, known as Govinda and Balaji, Tirupati is one such oldest city in India which has been mentioned in the Vedas and the Puranas. A unique geographical wonder makes Tirupati even more interesting. But what is more interesting are the places near Tirupati that will give you an extended sacred feeling and help you purify your soul and heart. All these places are easily accessible and suitable for travelers of all ages.
7 Best Places Near Tirupati
Here is a list of the places near Tirupati that you can visit during your vacation to Andhra Pradesh next time. Read along!
1. Mahabalipuram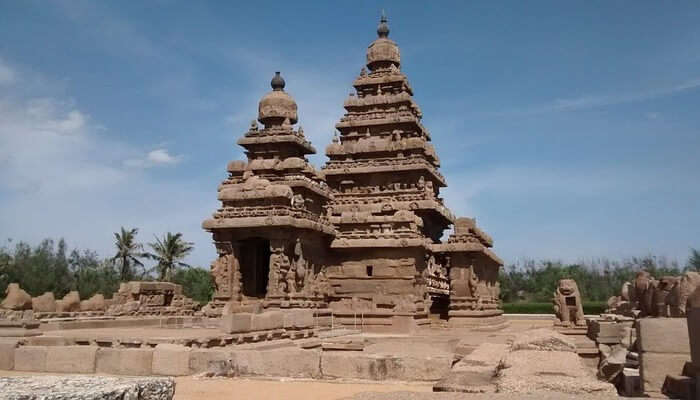 Also known as Mamallapuram, Mahabalipuram was once the capital of the Pallava dynasty. Now, it is home to several famous temples that have been listed under UNESCO world heritage sites and radiates spiritually uplifting energy and majestic sunsets to tourists. Mahabalipuram is the most visited place in Tamil Nadu offering an array of adventure activities from water sports to classic statuettes and hence is a paradise for voyagers.
All the temples in Mahabalipuram have a common characteristic, they have been constructed in the form of a chariot having open-air sanatoriums. The famous shore temple is said to be the last structure built by the Pallava kings. It is a marvellous rock-cut stone, overlooking the sea. Another famous creation is Pancha Rathas. Pancha Ratna denotes 5 monuments that had been carved out from a single rock. This place allows one to discover and explore the rich Indian history by displaying ancient stories of temples and their unique architectural structures.
Distance from Tirupati: 191.4 km
Things to do: windsurfing, sea diving
Special attractions: shore temple, Alamparai fort, Krishna butter hall, Pancha Rathas
Must Read: 25 Best Places To Visit In Visakhapatnam To Relish The True Charm Of This Coastal Gem!
2. Pondicherry

Pondicherry comprises everything that makes a dream vacation. Having a rich cultural heritage and interesting past, this union territory has millions of travellers coming from all across the globe. A former French colony, Pondicherry forms the ideal destination for people seeking solitude, photography lovers, art and nature lovers. Pondicherry offers a world of its own filled with heritage sites, fishing villages, scenic beaches, which are away from the chaos and monotony of everyday life.
People can enjoy days in Pondicherry by visiting museums like the French war memorial or soaking under the sun in the beaches or spending leisure afternoons in one of the cafeterias and enjoying live music in the evening. For adventure lovers, there are water sports they can indulge in. Remnants of a quaint town with a modern touch, Pondicherry is every artist's delight. People just can't get enough of the remains of gallic architecture and Bougainvillaea- adorned walls. If your concept of a perfect vacation consists of captivating cafes, paved streets, ancient structures, and eye-soothing, tranquil beaches, then Pondicherry is the place for you.
Distance from Tirupati: 224 km
Things to do: scuba diving, fishing, surfing, cycling, tasting delicious food and visit museums
Special attractions: Aurobindo Ashram, paradise beach, serenity beach
Suggested Read: 8 Charming Places To Visit In Vizag In Summer For Your Trip To Andhra Pradesh
3. Chennai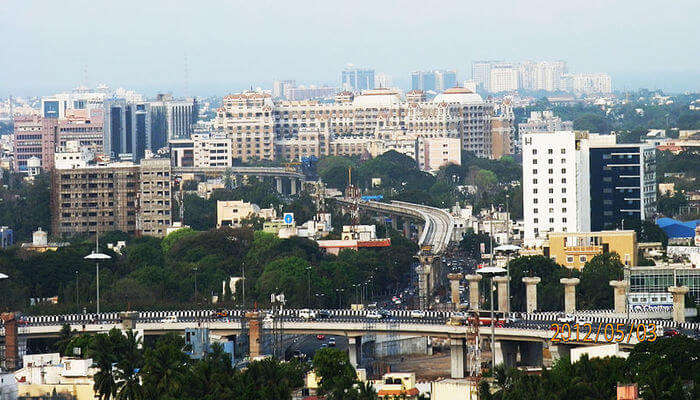 Formerly known as Madras, Chennai is the capital of the south Indian state of Tamil Nadu. It is an important cosmopolitan and a Metropolitan city situated on the coromandel coast. In terms of education, commerce, economics, and culture, Chennai is an important city in India. Chennai is popularly known as the cultural hub of South India. Art in all its forms, like music, crafts, dance has flourished in this region for ages. Chennai has been patronising art in its varied forms for a long time. Carnatic music forms an inseparable part of the people residing in Chennai. Also, the famous Madras music season, a cultural program based on music, is hosted by this city every year where artists all over the world come and participate.
Distance from Tirupati: 133.8 km
Things to do: explore the museums, scuba diving, surfing on the beaches
Special attractions: marina beach, government museum, fort st. George
Suggested Read: Araku Valley Guide: 6 Must Experiences To Go Off The Beaten Path In Andhra Pradesh
4. Lepakshi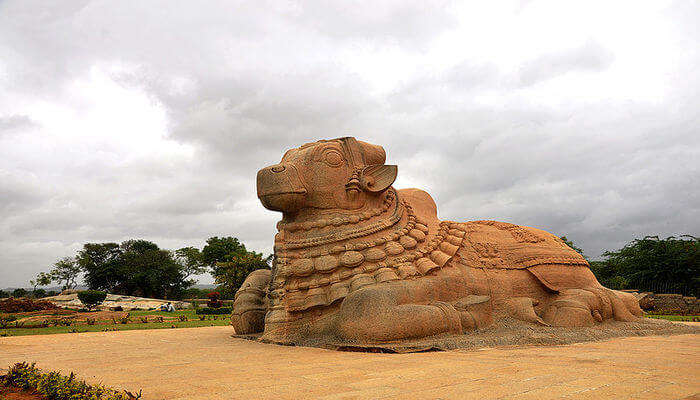 Lepakshi is a hamlet in South India, that has both religious and historical significance to its residents. This place is famous for 3 temples that are dedicated to Hindu gods- lord Vishnu, lord shiva and lord Vira Bhadra. Also, this place has a small hillock which is similar to the shape of a tortoise back. This hillock has been named as the Kurma Saila. On this hill, are temples of goddess Durga, Veerbhadra, Sri Rama, Raghunatha and Papanatheswara. These temples exhibit strong craftsmanship displayed by the sculptors who were employed for carving out decorations on the walls of the temples. These sculptors were called Vishwakarma brahmins. The temple walls have various scenes from Hindu mythological stories like Mahabharata and Ramayana.
Distance from Tirupati: 140.0 km
Things to do: explore the ancient temples
Special attractions: Veerabhadra temple, Nandi temple, Lepakshi Sarovar
Suggested Read: Mahabalipuram Temples: Visit These 10 Breathtakingly Beautiful South Indian Souls
5. Kadapa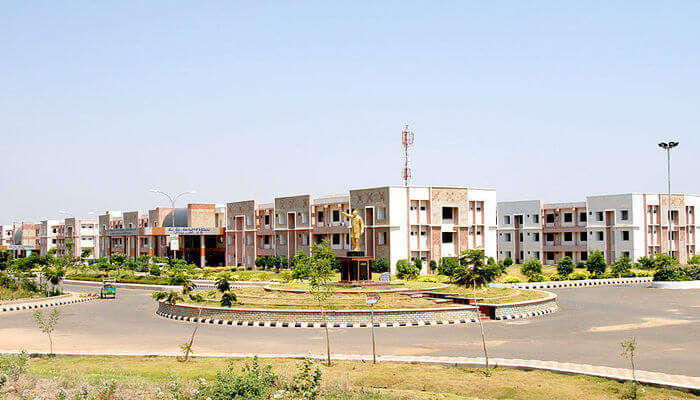 Kadapa, formerly known as Cuddapah, is a city located in the central-southern region of the south Indian state of Andhra Pradesh. The place is situated amidst two mountains, named Palankonda and Nallamala and is very close to the Penna river. It is 412 km away from Hyderabad. Kadapa used to be an important part of the Chola dynasty. The name has been derived from the Telugu word Gadapa, meaning a gate or a threshold. This place experiences hot summers and slightly cold winters and receives slight rainfall for about 3 months. The reason why the city has been named so is that it is considered as a gateway that leads to the sacred hill of Tirumala, located on the western end of Kadapa.
Distance from Tirupati: 140.1 km
Things to do: cycling, trekking
Special attractions: Ameen Peer Dargah, Bhagwan Mahaveer Museum, Chand Phira Gumbadh, Devuni Kadapa
Suggested Read: 10 Amazing Things To Do In Pachmarhi For A Fun-Filled Getaway In The Heart Of India
6. Sri Kalahasti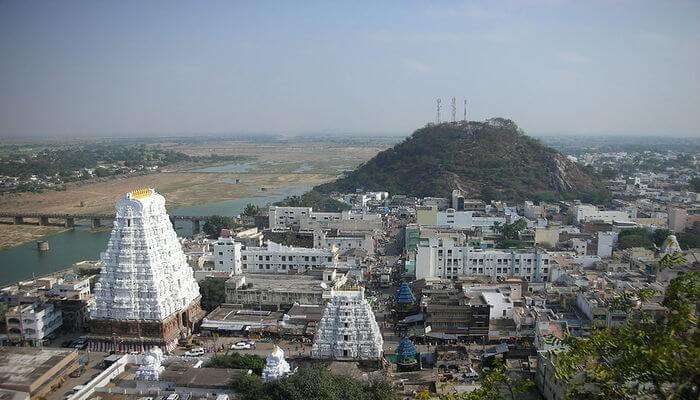 Srikalahasti, also known as Dakshina Kashi, is one of the most sacred towns in India located near Tirupati in Andhra Pradesh, on the banks of the Swarnamukhi River. The name Srikalahasti is an amalgamation of three words, Sri, Kala, and Hasti. Sri here means spider, Kala stands for snake and Hasti denotes Hathi.
All these three creatures are known to have prayed to Lord Shiva and have gained salvation at this place where the famous Srikalahasti temple has been constructed. A statue depicting these three animals has been built in front of the Main Shrine. One of the most important temples of shiva is Srikalahasti. Of the five elements, this temple symbolises air. The temple has been built between the hills on one side and river Swarna Mukhi on the other side. Millions of pilgrims come to pay a visit to this holy place. Since this place had been ruled by various dynasties, every dynasty has influenced the architectural style of this place.
Distance from Tirupati: 37.3 km
Things to do: explore the ancient temples
Special attractions: Sri Subrahmanya Swamy Temple, Bharadwaja Thirtham, the Kalahasti Temple
Suggested Read: 15 Places To Visit Near Madurai: The Gateway To Enjoying South India's Beauty
7. Nellore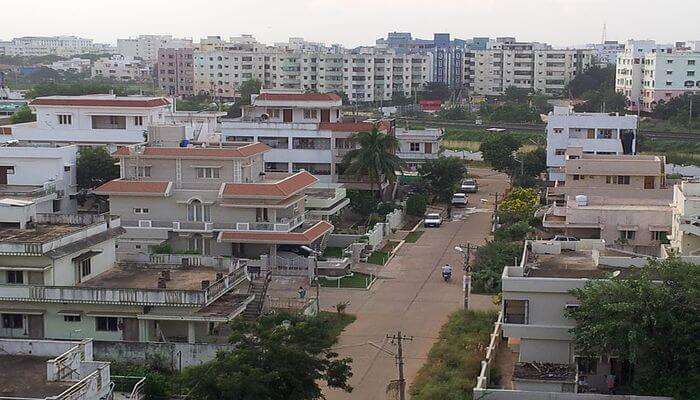 Nellore district in Andhra Pradesh is one of the fastest developing cities in southern India. It Houses famous temples and is an important agricultural center. The city is situated on the banks of the Penna river, where various crops are grown. Also, this place is significant commercially as it is located right beside the main road connecting Chennai with Vijayawada.
This place experiences a serene and calm atmosphere and offers a sight to behold. Nellore has previously been under the rule of different dynasties, which have influenced the architecture of this place and their influence is evident from the architectural styles of ancient temples and structures. In addition to being commercially and agriculturally important, it is important historically, since this place houses some of the ancient majestic temples that date back to the British rule.
Distance from Tirupati:136.7 km
Things to do: boating
Special attractions: Ranganatha temple, Narasimha Konda
Further Read: 43 Famous Historical Places In India To Visit
These places near Tirupati and everything around it is so alluring and beautiful. Nothing less, nothing more. You will definitely get a unique experience and if you are looking for peace and tranquility then you should wait no more! Plan a trip to Andhra Pradesh and bring forth the pilgrim in you!
Frequently Asked Questions About Places Near Tirupati
What is the best time to visit Tirupati?
The ideal time to visit Tirupati is between September and February since the weather remains cool and experiences intermittent showers. Tirupati, however, remains filled with tourists all through the year. But it is better to visit during summers because humidity remains high.
How's the weather in Tirupati?
Tirupati experiences a tropical climate with hot and humid summers. Average Temperature remains somewhere between 40 to 42° Celsius. Sometimes it goes up to 45 degrees.
What is the best place to stay in Tirupati?
Fortune Select Grand Ridge, Marasa Sarovar Premiere Tirupati, Pai Viceroy, Ramee Guestline Hotel Tirupati, Hotel Bhimas Deluxe and Hotel Mayura are some of the best places to stay in Tirupati.
What is the traditional food that is served in the temples in Tirupati?
Traditional food served in the temples includes food being served on a banana leaf. Food includes Daddojanam (curd rice),Chakkara-Pongal (sweet pongal), pulihora (tamarind rice), vada and miriyala-pongal, Appam, Murukku, Dosa, Payasam, Jaggery, and seera (Kesari).
What are the things to do in Tirupati?
Tourists can do the following things: 1. Visit the Talakona and Kapila Theertham waterfall 2. Explore the Venkateshwara museum 3. Stroll in the deer park
What is special about Tirupati?
Tirupati is world-famous for its Lord Venkateshwara temple at Tirumala that is visited by more than 35 million pilgrims every year. This is also one of the richest and holiest temples in the world.
What language is spoken in Tirupati?
Mostly, people living in Tirupati speak Telugu. Other languages widely spoken include Kannada, Tamil, and Hindi.
How many days are needed to visit Tirupati?
A maximum of 3 days is needed to visit Tirupati and tour around.
---