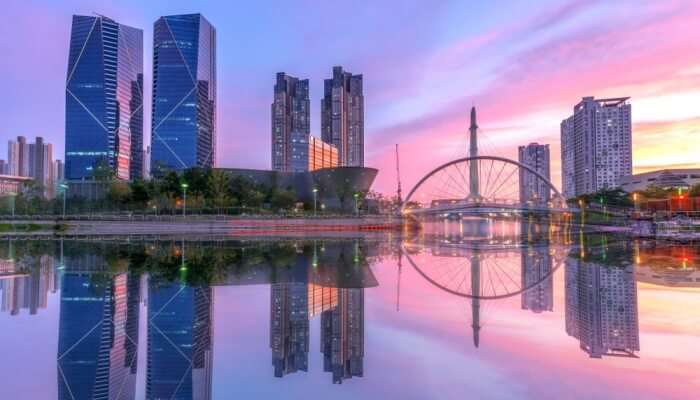 Incheon not only shares its borders with Seoul, the capital of South Korea but also its swag and vibrance. The numerous places to visit in Incheon guarantee to show you a good time around. Once you have explored Seoul, your next stop in South Korea should be Incheon because it has an array of experiences to offer to its visitors. From parks to beaches, theme parks to restaurants, you will be in a pickle what to attend and what to miss.
Top 8 Places To Visit In Incheon
Here are some of the best places to visit in Incheon that will take you closer to the culture and lifestyle of people in South Korea.
Incheon Grand Park
Eurwangni Beach
Jeondeungsa Temple
Chinatown
Wolmido Island
Sinpo International Market
Spasis
Fairy Tale Village
1. Incheon Grand Park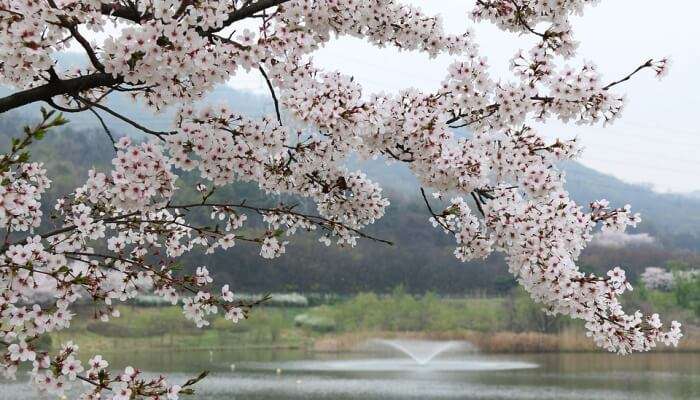 Incheon Grand park is sandwiched between two mountains. So, surreal views are given. The park spans across 727 acres making it the largest urban green park in the city. It boasts of lush greenery and peaceful environs where people come to enjoy picnic and scenery. During the spring season, you will find Cherry Blossoming everywhere in the park. The whole place looks so charming. There is also a children's zoo, botanical garden, and beautiful lakes in the park. One can easily spend a whole day at the park.
Location: Incheon Grand Park, 236, Munemi-ro, Namdong-gu, Incheon, South Korea
Must Read: Top 10 Reasons To Visit South Korea & Have A Blast With Your Friends & Family
2. Eurwangni Beach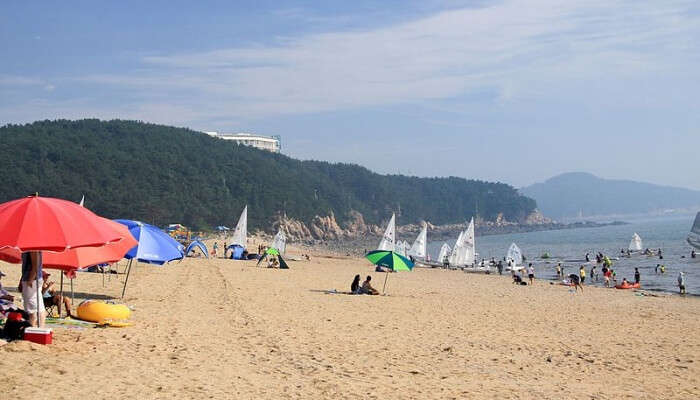 If you wish to enjoy some sand and surf, head to Eurwangi Beach in Incheon. It is one of the best places to visit near Incheon Airport. The cozy, white beach is excellent for those who are looking forward to enjoying exciting watersports like a banana ride. That's not all. You can come to this beach to observe the astronomical activity. Think how cool it would be lying underneath the stars. The sunset at Eurwangni Beach is no less dramatic. The beach is not that deep so, it is totally safe for kids too.
Location: Yongyu-dong, Incheon, South Korea
Suggested Read: Banpo Bridge: All You Need To Know For Your Visit To South Korea's Marvelous Attraction
3. Jeondeungsa Temple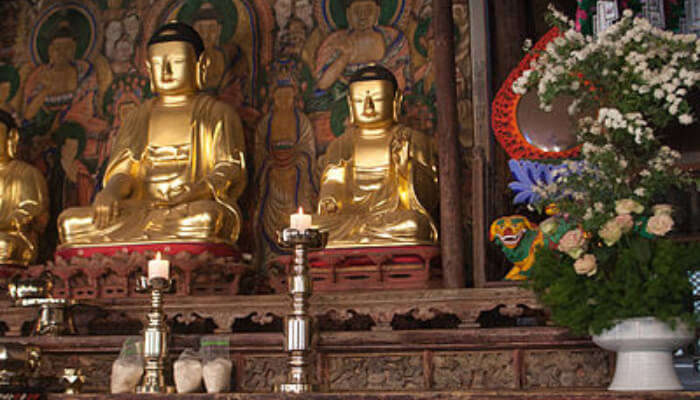 A thousand-year-old Buddhist temple in the wilderness of Incheon, Jeondeungsa Temple looks right out of a site from the game Temple Run. the temple is located inside Samrangseong Fortress and is a thousand years old. The temple is a complex of smaller temples and building and each one of them is a marvel of architecture. You will find a number of statues inside Daeungbojeon, Beomjong Bell, the Yangheonsu Victory Monument, and Yaksajeon. The whole sanctity is surrounded by trees and beautiful flowers.
Location: 37-41 Jeondeungsa-ro, Gilsang-myeon, Kanghwa, Incheon, South Korea
Suggested Read: 8 Hotels In South Korea That Are All About Class, Comfort, And Convenience!
4. Chinatown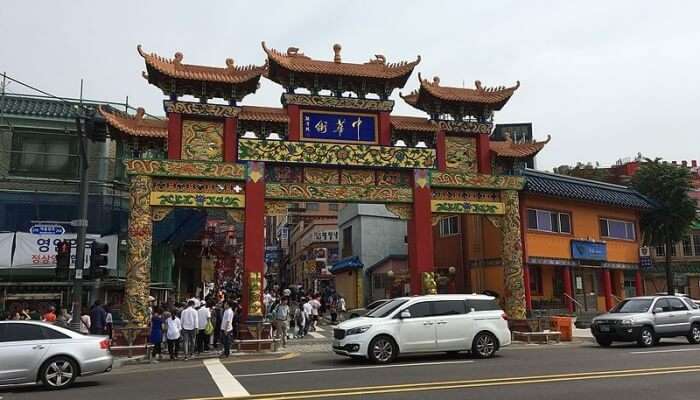 Korea's only official Chinatown and larges too, this place is a world in itself. You will find great restaurants, museums, and pedestrian streets inside the community town. Learn about the culture of Chinese-Korean people at the cultural center and how this part of the city came into formation in the year 1884. If you are hankering for amazing Chinese food, then head straight to this place. This town in Incheon was where noodles with black bean sauce were invented. So, it is mandatory to taste them on your visit.
Location: Gaho-dong, Jung-gu, Incheon, South Korea
Suggested Read: Top 10 Things To Do In South Korea To Experience The Essence Of The Vibrant Country
5. Wolmido Island

Shaped like a half-moon, Wolmido is one of the amazing places to go in Incheon, Korea where you can spend an entire day having unlimited experiences. It is an island located 1 km off Incheon coast. One can easily reach Wolmido with monorail which is an experience in itself. There is a huge theme park where both kids and adults go crazy and have unlimited fun. You can even take a walk by the shore to enjoy enchanting sea views. There are many seafood restaurants by the shore where you can taste fresh and delicious seafood.
Location: near Incheon, South Korea
6. Sinpo International Market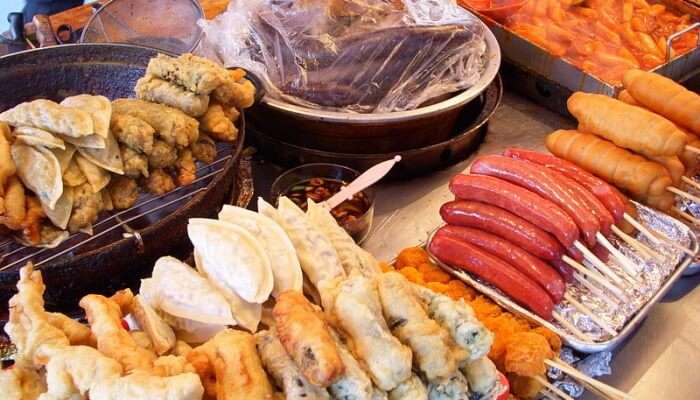 If you wish to try some amazing Korean food, then you should find your way to Sinpo International market. It is located near Sinpo-dong which is a major commercial port. This is where the market was formed in the 19th century when foreigners came to trade goods. Your sole reason for visiting this market should be Korean street food. Spicy rice cake, kimbap, kimchi, deep-fried chicken, try everything that stalls in the market have to offer.
Suggested Read: 28 Best Places To Visit In South Korea In 2022: Perfect Recipe For An Exotic Asian Vacation
7. Spasis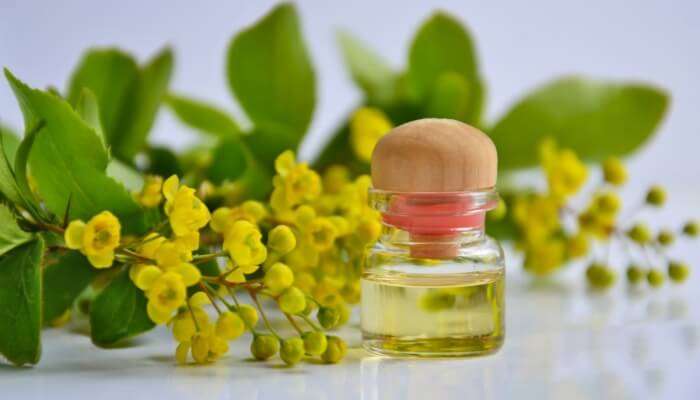 As the name suggests, Spasis is a sprawling facility in Incheon with relaxing spas and jacuzzis. If you ever feel like pampering yourself on your South Korean vacation, then you should head to Spasis for a rejuvenating experience. Spend an entire day treating yourself to spas or lying in a jacuzzi pool. The facility even has an eatery and a movie theatre. What more do you need? The place is a complete package in itself. The best part is that it is open for 24 hours.
Location: 263 Gyeongin-ro, Dohwa 1(il)-dong, Nam-gu, Incheon, South Korea
Suggested Read: Bukchon Hanok Village: Know The Historicity Of This Korean Village
8. Fairy Tale Village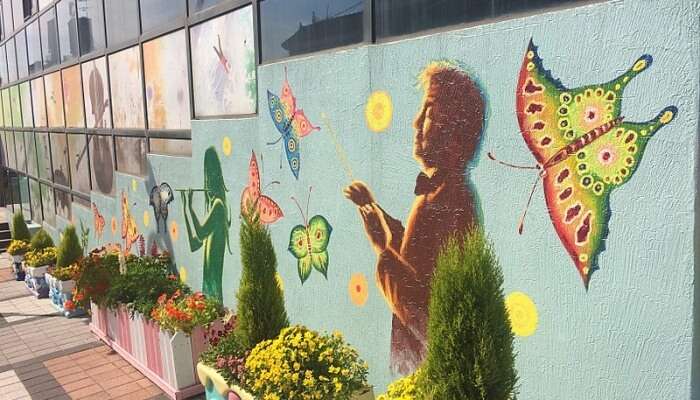 Songwol-dong or Fairyland is no less than a magical place. Watch a Disney movie set come alive at Songwol where you will find charming houses decorated in bright colors. From Little Red Riding Hood to Wizard of Oz, each of this house depicts a fairy tale. No matter how old you are, if you have spent your childhood watching Disney movies and cartoons, you will see the kid in you come alive. It is one of the most recommended places to visit in Incheon, South Korea.
Location: Jayugongwonseo-ro 45beon-gil, Songwol-dong 3(sam)-ga, Jung-gu, Incheon, South Korea
Further Read: 5 Places Worth Exploring On Korea Tour-Land Of Morning Calm
Do not conclude your trip to South Korea without checking all these places to visit in Incheon. In fact, you should set aside ample days to explore Incheon because there is so much to do and explore. Make your vacation in South Korea an amazing one!
Frequently Asked Questions About Places To Visit In Incheon
What is Incheon known for?
Incheon is known for its scenic vistas created by the West Sea and its surrounding islands. The place grew from Jemulpo port that once served to be a gateway to the sea from Hanyang.
Is Incheon better than Seoul?
Incheon and Seoul, both the places are known for their exquisite experiences. With the former being quite smaller as compared to Seoul. Incheon can said to be a hub of tourists and business travelers travelers and features palatial properties ensuring memorable stays. Seoul being the capital city, is more lively and features numerous tourist sites.
Is it safe to visit Incheon during Covid times?
You need to follow all the mandatory safety guidelines mentioned by the authorities to ensure a safe travel experience. Remain masked while stepping out and maintain social distance. Avoid visiting crowded places and keep sanitizing your hands after touching surfaces.
Is Incheon expensive?
Incheon is cheaper than Seoul in terms of accomodations, transfers, sightseeing tours, etc. You can also find pocket-friendly aternatives in the city to plan your meals.
Is Korea cheaper than Japan?
If you are planning to visit South Korea and comparing the expenses with Japan, then according to the latest reports, Korea is 2.1% cheaper than Japan. However, both the places have their own charm and can not be compared to each other.
What are the best places to eat in Incheon?
The following are the popular restaurants in Incheon:
1. Buam Galbi - Korean cuisine
2. Liquor Burger - American cuisine
3. Ilmi Hwapyeongdong Naengmyeon - Korean cuisine
4. Gonghwachun - Chinese cuisine
5. Sikgaek - Korean cuisine
6. Restaurant 8 - Multi cuisine
Which is the best place for shopping in Incheon?
The following are the best shopping places in Incheon:
1. Sinpo International Market
2. Incheon Complex Fish Market
3. Guwol-dong Rodeo Drive
4. Square 1
5. NC Cube Canal Walk
6. Bupyeong Market
7. Ganghwa Pungmul Market
8. Triple Street
What can I do in Incheon?
You can plan visiting popular attractions such as Incheon Grand Park, Spasis, Eurwangni Beach, Sinpo International Market, Jeondeungsa Temple, Wolmido Island, Chinatown, Korea Traditional Cultural Experience Centre, and more.
people Also Read
Places To Visit In Suwon Places To Visit In Seoul Places To Visit In Japan