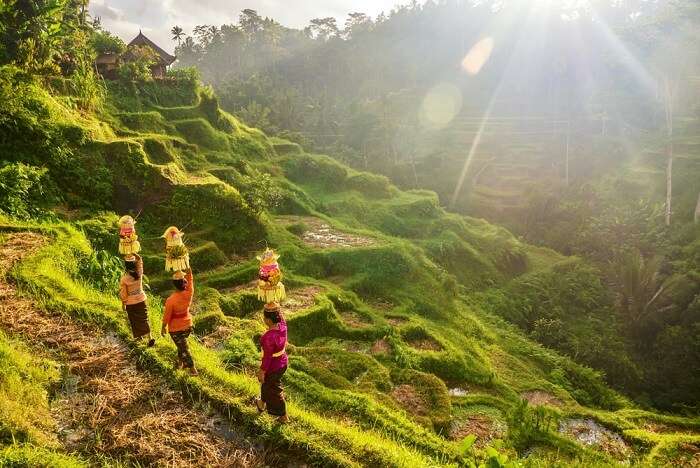 Bali is an island in Indonesia where people come from far away lands to enjoy the spectacular aura of this place. Families who come here and spend their holidays are really amazed by what this land offers to its guests. There are many places in Bali where you can come with your loved ones and spend your honeymoon time or precious family time. The 3 places to visit in Jembrana Regency Bali for 2 days are given below. You must visit these places when you are in Bali.
Jembrana Regency, located in the most western part of the Bali island is a mesmerizing place in Indonesia. There are many travelers who start their journey to Bali from this spot or its capital city, Negara. Most of the travelers come here by land and ferry from Java to Bali, and they prefer to visit these places in Jembrana Regency, Bali. It is believed that Jembrana is the most ethnically diverse city in Bali. You can witness many cultural forms this country holds. This city is a marvelous place, covering large mountains in the north and about 71 km of beaches. People love coming to these areas, especially the beaches in Bali are crowded with tourists throughout the year. However, you will observe more tourists in the months of July and August. Bali is also the busiest during Christmas and New Year, the whole city is covered in beautiful colors and people prefer this place to embark on their journey towards the next year.
Not all tourists are familiar with these places in the Jembrana Regency, but you will surely have the best time, visiting them. Rambut Siwi, Bunut Bolong, Pengambengan, Pengeragoan Beach and Prehistoric Museum are the other places worth visiting.
---
Bali Holiday Packages On TravelTriangle
Stay at luxurious private pool villas and resorts, Experience thrilling water sports – parasailing, scuba diving, and snorkeling – or take a sunset dinner cruise. Get best holiday deals for Bali offered only by TravelTriangle.
---
3 Places To Visit In Jembrana Regency Bali For 2 Days
The 3 places which you must visit during your trip to Bali in Jembrana Regency are given below. Don't forget to add them in your list and have a splendid vacay!
1. Yeh Leh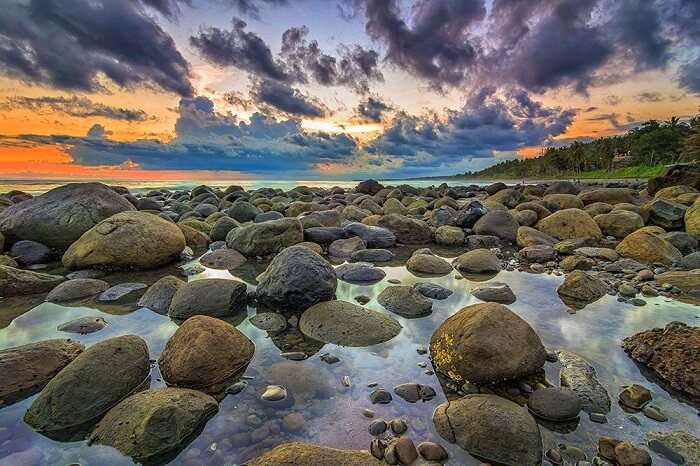 A must visit in any season, this beautiful beach has not yet found favor with tourists, and one look at it reveals why. While most of Bali's beaches are filled with pretty white sand, this fisherman's beach is filled with large and small pebbles and rocks of various colors. The pebbles have been washed clean of any origin story by the continuous waves, and the low tide is the ideal time to visit the place. Visiting Bali in October may put some places out of reach, but the Yeh Leh will not disappoint.
Location: Kabupaten Jembrana
Best Known: Fishermans beach
10 Places To Visit In Bali In October In 2022 That Prove It's More Than Just A Summer Retreat
2. West Bali National Park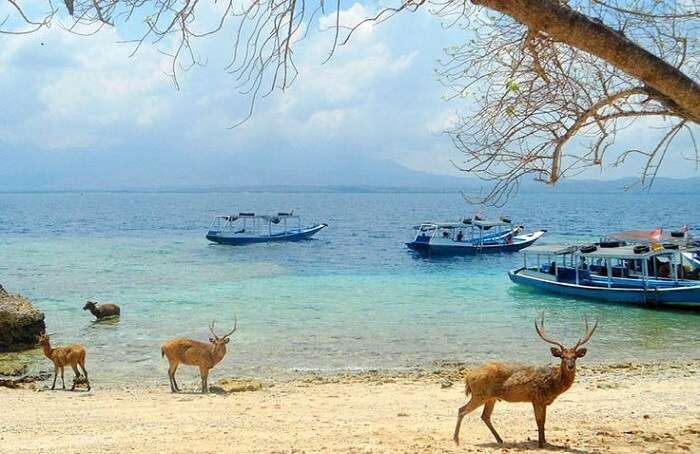 When you're in Bali, take your time to explore its national parks, wildlife reserves, forest, mountains, and gardens, that will let you explore the island in an unique way and make your journey more rewarding.
West Bali National Park in Bali is one of the most famous places in the world. Also known as Taman Nasional Bali Barat, this forested region is a conservation area which makes up the majority of central-western Bali. Founded in 1941, West Bali National Park was originally a Dutch initiative to protect the endangered Bali Starling bird, and the last remaining native animal from which most cattle in Bali descent is the wild banteng. Found in the westernmost part of the island, the park now has a total area of over 46000 acres.
Details About West Bali National Park
Best Time to Visit: August to December
Entrance Fee:
IDR 40,000 per person
A local guide must be hired for hiking, which costs about IDR 350,000
Location: Northwest Bali, Main Office – Jalan Raya Cekik-Gilimanuk Road, Jembrana
The boundary of West Bali National Park, located in the north-western part of the island, includes mangrove swamps, dense rainforests, wide open savannahs, and coral reefs. Off the north coast of Bali, there is also a small island reserve named Pulau Menjangan, also known as 'Deer Island'.
This little island is home to the rare Menjangan or Javan Rusa and attracts visitors from across the globe for its excellent snorkeling and diving.
Keep in mind that if you want to go on a West Bali National Park tour, you must have a park permit and be accompanied by an official guide.
Over 37,000 acres of Bali West National Park is made up of overland terrain while more than 7,000 acres are marine areas.
The park is managed in a zoning system, which consists of the Main, Jungle, Marine Protected, Religious and Historical, Cultural, Utility, Special, and Traditional Zones.
If you are looking forward to a snorkeling adventure, you should head to Menjangan Island. This is where you will find acres of vibrant coral reef gardens, making it an ideal destination for diving and snorkeling.
At the end of the last century, the marine reserve at Bali Barat National Park recorded 110 coral species belonging to 18 families and of these species, 22 belong to the mushroom coral family.
Only 29 mushroom coral species are recorded worldwide. However, there are at least 27 Acropora coral species found in an area as big as only 4 acres. Needless to say, you will have an amazing time exploring the coral reefs at one of the best national parks in Bali.
Home to about 160 different species of birds, make sure you get a glimpse of the mascot of the Bali Barat National Park – the Bali Starling
Sea and shorebirds like Lesser Frigate, and White Starlings are the most common types found in the park.
National Parks In Bali: All You Need To Know About The Terrific Two Escapes!
3. Prancak Beach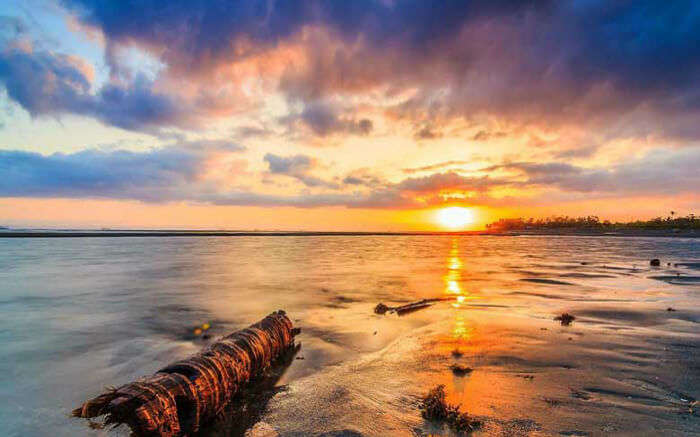 How about spending relaxing moments during your vacation by the serenity of a beach- Surfers loitering around and glittering sands are the Beach's prime attraction that has plenty for seekers. The best part about the beach is that it is surprisingly less crowded as compared to other popular attractions in Bali. Definitely, a place where you would love to spend your private moments!
Canggu Resort Village In Bali Is A Dreamy Offbeat Hideout For Couples
These places to visit in Jembrana Regency Bali for 2 days are mostly not touched by tourists, so when you go to Bali, make sure you discover some of the greatest places here. One of the most pristine areas in Bali, there are some unique dances performed here. On your way to this stunning destination, you will see some of the most beautiful sights. The magical island of the gods will keep you awestruck. Mostly covered with forests and mountains, the southwest coast of Bali is a rugged region, with the capital Negara. This place gives a breathtaking view and people come here from all over the world. Not just this, but there are also many beautiful coastlines here. These beaches are very famous and are bustling with tourists during the peak holiday time.
So, plan your holiday to Bali with TravelTriangle and we would ensure that you don't miss out on these amazing places, and have a rejuvenating time with your loved ones in this amazing island.
---
Looking To Book An International Holiday?
Book memorable holidays on TravelTriangle with 650+ verified travel agents for 65+ domestic and international destinations.
---