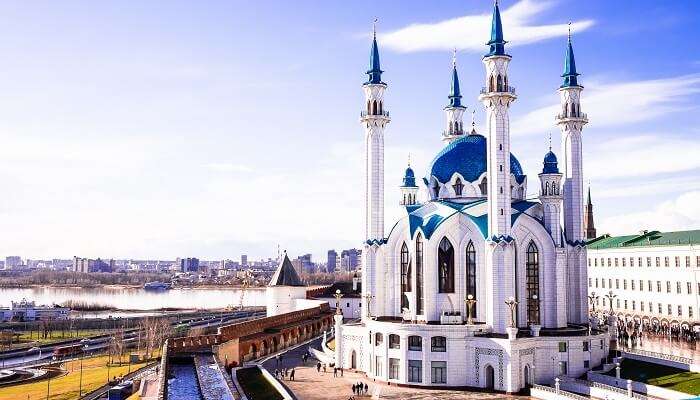 The vibrant city of the Republic of Tatarstan, Russia, Kazan is a mix of Oriental and Russian cultures which are blended perfectly and adds to the beauty of the city. Russia is one of the most frequented destinations in the world and the quaint city of Kazan allures a lot of tourists every year. If you are enticed to explore this ancient city, then you will be all delighted to know that there are a plethora of places to visit in Kazan. From the popular World Heritage Site to the stunning temples, Kazan is a paradise for all wanderlust souls. The oh-so-beautiful city of Kazan in Russia awaits your presence and its time for you to have an encounter with this impeccable Russian city!
5 Best Places To Visit In Kazan
Found more than 1000 years ago, Kazan will be the perfect spot for your next vacation. To help you out with the attractions that you ought to visit, here is a list of the best places to visit in Kazan. Keep scrolling down and read along to know more!
Kazan Kremlin
Hermitage Kazan Exhibition Centre
Kul Sharif Mosque
Temple Of All Religions
Kazan Arena
1. Kazan Kremlin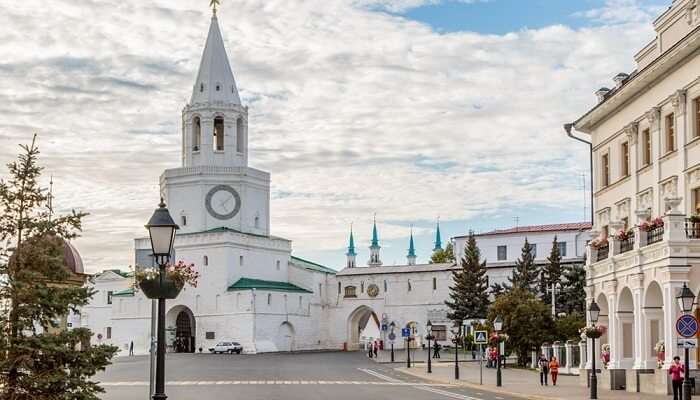 Built on the order of the grand prince of Moscow named Ivan IV Vasilyevich, Kazan Kremlin is a World Heritage Site and so a lot of tourists come to witness its beauty and grandeur. If you are passionate about history then you must add this Kazan Kremlin to your list of best attractions in Kazan, Russia.. This site includes a lot of eminent buildings that you can explore. The oldest building situated here is the Annunciation Cathedral which was built in 1154. Like most of the buildings located at this site, this Cathedral is also made of local pale sandstone. Kazan Kremlin is the only remaining Tatar fortress in Russia and you ought to visit it.
Must Read: Try Your Hands On These Fascinating Things To Do In Kazan While In Russia!
2. Hermitage Kazan Exhibition Centre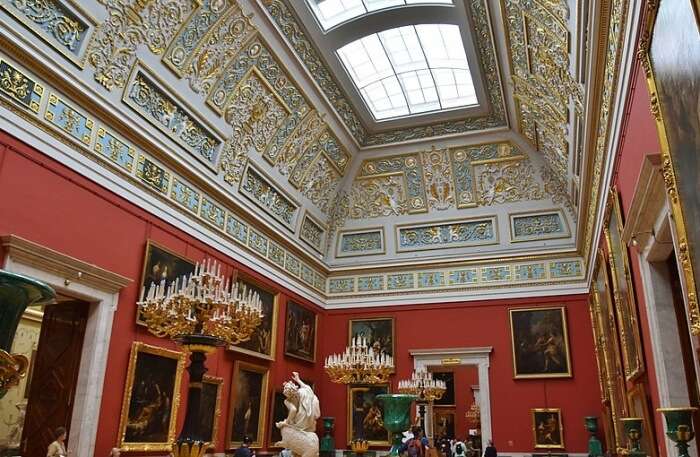 Hermitage Kazan Exhibition Centre is counted among one of the best places that you can visit on your vacation. If you are an art lover then this exhibition center will surely become your favorite spot in Kazan. The building of the museum dates back to the 19th century and this museum is placed inside a former school. You can witness the best of ancient Russian art and masterpieces at this museum.
Suggested Read: 8 Cities With Best Russia Nightlife; Say It Aloud, "Lights, Vodka, & Russians!"
3. Kul Sharif Mosque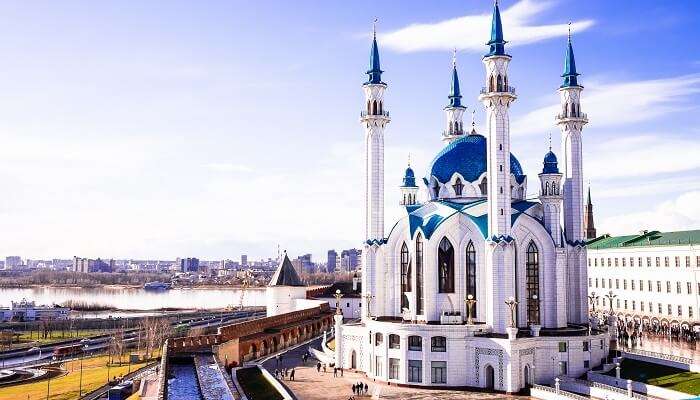 Kul Sharif Mosque was named after Kul Sharif who was a religious scholar. In 1552, Kul Sharif Mosque was destroyed by Ivan the Terrible and later it was rebuilt in 2005. This mystical mosque will surely captivate you as it is made of pearl white marble and the blue sky at the background add to its charm.
Suggested Read: 10 Places To Visit In Russia To Witness The Beauty Of This Incredible Nation
4. Temple Of All Religions

Famed as the Universal temple is located in the Staroye Arakchino Microdistrict of Kazan in Tatarstan. This magnificent architectural complex is one of the most famous places to visit in Kazan, Russia and you must add it on your itinerary. This temple is under construction since 1992 and has several types of religious architecture like a mosque, Orthodox church, and a synagogue which are an eminent part of this complex. This temple is also known as the temple of culture and truth which makes a worth visiting spot.
Suggested Read: 9 Fabulous Beaches In Russia That Let You Relish The Taste Of The Good Life!
5. Kazan Arena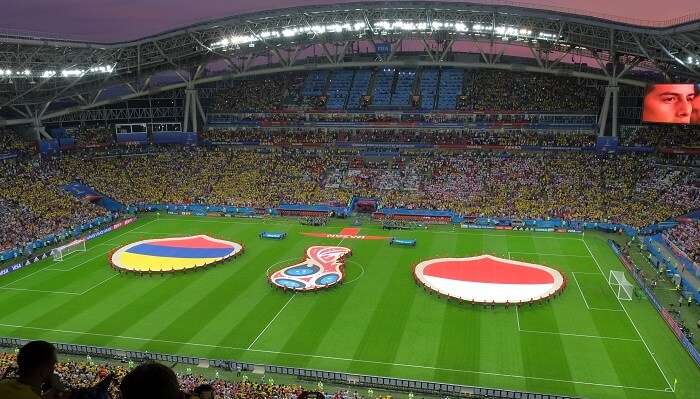 All the sports enthusiasts, Kazan has a special place for you and this place is the reason that gave Kazan the title of Russia's sports capital in 2009. Kazan Arena is the most important places to visit in Kazan for those who are all crazy about sports. This stadium has one of the largest screens in the world and you must watch a match at this arena to make your vacation a memorable one.
Further Read: Russia Plans To Open A Luxury Hotel In Space By 2022 Since Earth Is Too Mainstream!
From astounding tourists attractions to enthralling activities, which you can indulge in Kazan has a lot in store for all travelers. All history buffs can enjoy the museums, the food lovers can dine at the famous restaurants and the sports lovers can watch an exciting match in the world famous Kazan Arena. All in all, there are a lot of marvelous places to visit in Kazan. So, get packed, plan your vacation in Russia with TravelTriangle and get ready to explore the historical city of Kazan!
People Also Read
Places To Visit In St Petersburg Places To Visit In Moscow Places To Visit In Sochi