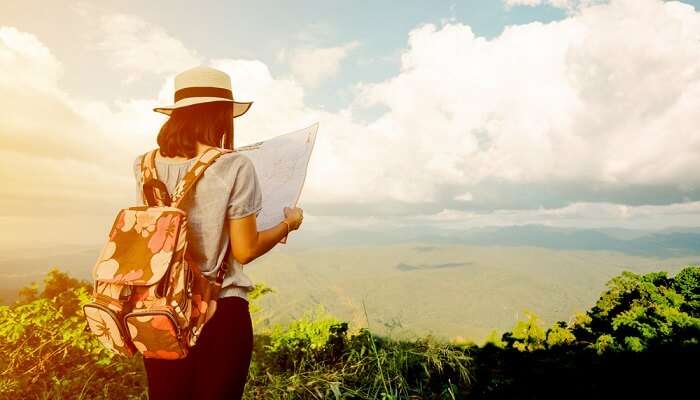 Do you really expect a lot when you think of Sri Lanka? Do you think of lush green, obscure forests or golden sand beaches? Do tea estates and rustic ruins come to your mind as soon as you hear Sri Lanka? If you don't then that is sheer injustice for the place reeks of all these things and so much more. Sri Lanka is all about beauty. Be it natural or artificial places that you prefer, in Sri Lanka you will find everything. Sri Lanka is home to a quaint little town which falls under the wet zone rain forest and is one of the wettest places in Sri Lanka. There are some really beautiful places to visit in Kitulgala and the destination is quite famous for the same. You just can't go wrong in Sri Lanka and we say because there is no dearth of great places to visit in Sri Lanka. If you don't believe us just check it out and the charm of the place will captivate you too.
Top 4 Places To Visit In Kitulgala
From gorgeous cascading waterfalls to forest reserves there is so much to do in Kitulgala that you will be surprised that such a small place can hold so much. One of the wettest areas of Sri Lanka, Kitulgala is all about nature. If you like being close to nature then Kitulgala is your safe haven. You will be thrilled and why not. Kitulgala is so beautiful that it will actually do that. No kidding, it was love at first sight for us too. Just take a look at these places to visit in Kitulgala and decide which ones you don't want to miss out on.
1. Laxapana Waterfalls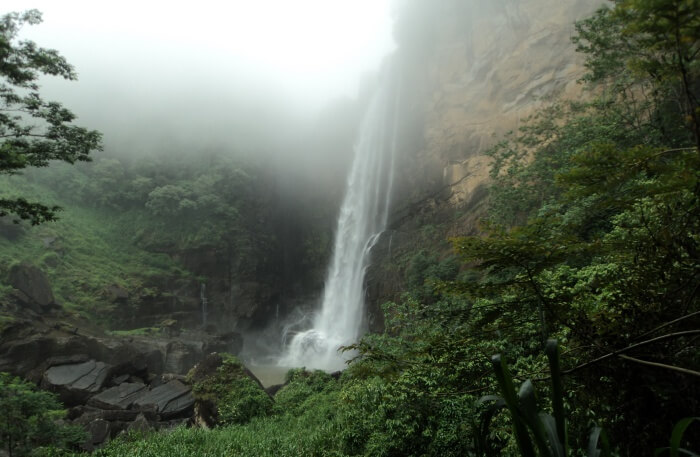 Laxapana Falls is the 7th highest waterfall in Sri Lanka with a height of 126m. It is situated in Maskeliya Oya and offers a fantastic view of the water rushing down the cliff. Earlier the flow of this waterfall was quite copious, which is now reduced noticeably with the construction of a dam. The water beautifully gushes over big rocks before falling into the rock face below.
Location: Nuwara Eliya, Sri Lanka.
10 Best Waterfalls In Hatton For Soothing Your Eyes And Soul!
2. St. Clair

St. Clair's Falls is another popular waterfall in this region and thus one of the top places to visit in Kitulgala. It is one of the widest waterfalls in the country, so much so that it is also known as "Little Niagara of Sri Lanka". The water of this falls gushes down a rock structure before finally cascading down in three sections as it traverses down into a pool. Surrounded by luscious green tea plantation, St Clair's waterfalls offers a beautiful view.
Location: Nuwara Eliya, Sri Lanka.
3 Great Resorts In Galle, Sri Lanka For A Comfortable And Luxurious 2022 Stay
3. Sri Pada

As said earlier, the Sri Pada of Sri Lanka is well known for its Buddhist pilgrimage. Sri Pada or the sacred footprint is a 1.8-meter rock formation near the summit of Adam's Peak which is at an altitude of 2,243 meters. This mountain is the junction of a bunch of religions such as Buddhism: who consider it to be the footprint of Buddha, Hindus believe it to be the footprint of Lord Shiva. In Islam and Christianity, this footprint is considered to be that of Adam or Saint Thomas. Adam's Peak is one of the most beautiful mountains in Sri Lanka and is located in the Ratnapura district on the edge of the central massif. The surrounding group of mountains in this region is known as Wilderness of the Peak and is extensive when compared to the bulk of other mountains.
Location: Sabaragamuwa, Sri Lanka
10 Mountains In Sri Lanka That Will Put You Under A Spell With Their Mesmerizing Beauty
4. Makandawa Forest Reserve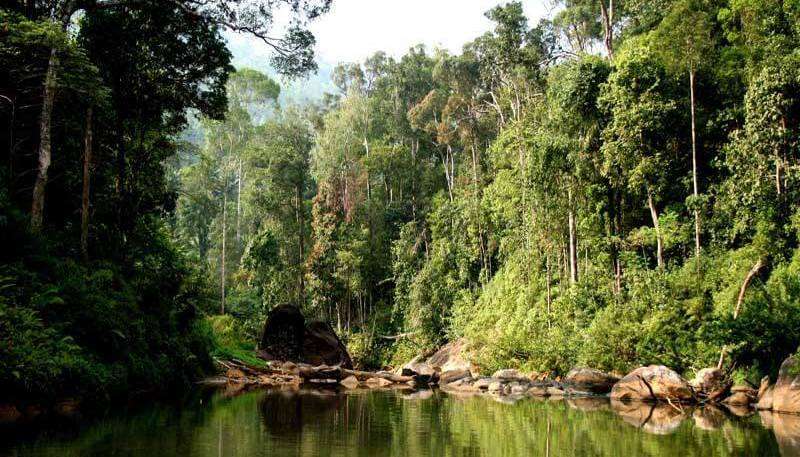 The Makandawa Forest Reserve was established for a great cause which was protecting the watershed of the Kelani River. Home to many endangered and endemic species the Makandawa Forest Reserve is a part of rainforest and there are many waterfalls in and around the area that you can explore. One of the wettest places in Sri Lanka, the Makandawa Forest Reserve has great weather year-round and you shouldn't miss it off your Sri Lankan itinerary. This is one of the best places to visit in Kitulgala.
Location: Makandawa Forest Reserve, Kitulgala, Sri Lanka
7 Best Yoga Retreats In Sri Lanka To Soothe Your Soul To Absolute Bliss
With these many exciting places to visit in Kitulgala and so much to do, you might get exhausted but will never run out of places to explore. This is one of those places that might not be on your list but if you do include it in your itinerary, we are telling you it would be the best decision of your life. If you are planning for your Sri Lankan holiday then check out these customizable options and plan your trip with TravelTriangle.
---
Looking To Book An International Holiday?
Book memorable holidays on TravelTriangle with 650+ verified travel agents for 65+ domestic and international destinations.
---