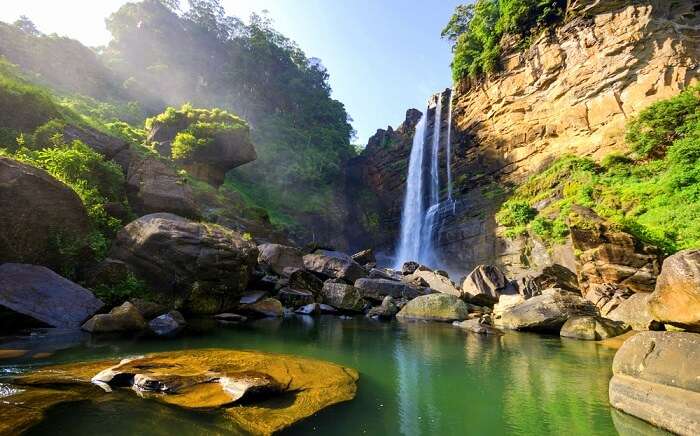 Hatton is a beautiful hill area in Central Sri Lanka. Lined by tea bushes the hillside of Hatton can be described in only one word, Green. The region receives more than average rainfall and hence it is surrounded by lush green vegetation. Mornings in Hatton, is generally surrounded by mist and as the sun shifts, you can get glimpses of the beautiful Adam's peak and beautiful vistas of the hilly countryside. There is a lot to explore in this hilly retreat in Sri Lanka including a lot of waterfalls. Here are some stunning Hatton waterfalls which you would love to visit.
Best Time To Visit Hatton

Hatton is characterized by cool weather and high average rainfall. Apart from monsoon season, this place receives odd rainfalls almost all season round. The best time to visit Hatton is probably during January to April as the daytime temperature stays around 28 degrees and it is also relatively dry during this time. Although, it is possible to visit this place all year round, you just need to be prepared for the rainfall.
10 Best Waterfalls In Hatton
Hatton has quite a wide assortment of waterfalls. Exploring this hilly country region, you will stumble upon many stunning waterfalls. Here we have assorted a list of 10 Hatton waterfalls, which are worth visiting on your Hatton trip. Take a look at our list.
1. Laxapana Waterfalls
2. St. Clair's Waterfalls
3. Devon Falls
4. Glen Falls
5. Aberdeen Falls
6. Ratna Ella
7. Nanuoya Waterfalls
8. Bomburu Ella Waterfalls
9. Mount Vernon Waterfalls
10. Galboda Falls
1. Laxapana Waterfalls

Laxapana Falls is the 7th highest waterfall in Sri Lanka with a height of 126m. It is situated in Maskeliya Oya and offers a fantastic view of the water rushing down the cliff. Earlier the flow of this waterfall was quite copious, which is now reduced noticeably with the construction of a dam. The water beautifully gushes over big rocks before falling into the rock face below.
Location: Nuwara Eliya, Sri Lanka.
Must Read: 12 Places To Visit In Katunayake That Will Show You The Essence Of Sri Lanka

2. St. Clair's Waterfalls

St. Clair's Falls is another popular waterfall in this region. It is one of the widest waterfalls in the country, so much so that it is also known as "Little Niagara of Sri Lanka". The water of this falls gushes down a rock structure before finally cascading down in three sections as it traverses down into a pool. Surrounded by luscious green tea plantation, St Clair's waterfalls offers a beautiful view.
Location: Nuwara Eliya, Sri Lanka.
3. Devon Falls

Devon Falls is another popular waterfall in the Hatton region and has viewpoints from different sides. It offers a stunning and clear view from the Hatton- Nuwara Eliya Road and the best view of this waterfall is probably from Dimbula, where you can find a special viewpoint. Also right across the street, from this vantage point is the Mlesna Tea Center, where you can enjoy a fresh cup of tea on your visit.
Location: Nuwara Eliya, Sri Lanka
Suggested Read: These 12 Places To Visit In Beruwala Will Make Your Trip To Sri Lanka Memorable
4. Glen Falls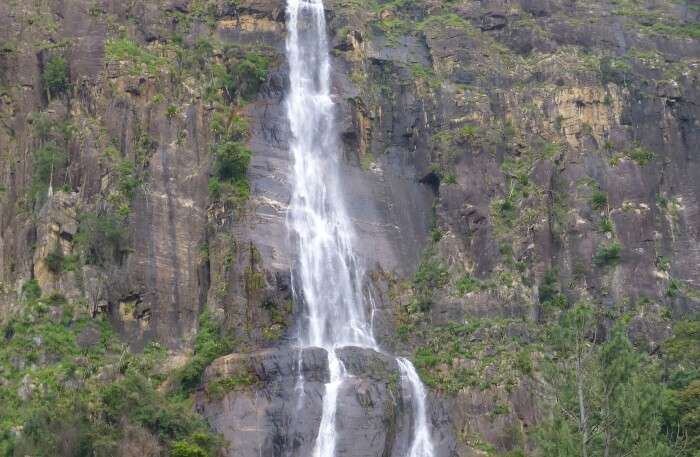 Located near the Lover's Leap Waterfalls, this waterfall is a "observe from distance" kind of waterfall. The waterfall is also a seasonal one, which means it dries up in the dry mean. But that doesn't mean that this waterfall is not equally beautiful. The waterfall is submerged among greeneries and tea plantations, making the view even more pleasing to watch.
Location: Nuwara Eliya, Sri Lanka
5. Aberdeen Falls

Aberdeen Waterfalls is a 98 m high waterfalls, situated close to the Laxapana waterfall. If you are visiting the Nuwara Eliya, it is a must visit. The waterfall has two pools and offers a very picturesque view from the bottom. Although to reach the pool at the base of the waterfall will require some hiking. So make sure that you are ready for a long hike before you reach the waterfall. The hike will be worth it once you reach the base pool, as it offers a stunning vantage point with the water beautifully cascades down.
Location: Ginigathhena, Sri Lanka.
Suggested Read: Koggala Beach: A Guide To Witness The Surreal Beauty Of This Hidden Paradise In Sri Lanka!
6. Ratna Ella

Located in Mahiyanga, Ratna Ella waterfalls is another beautiful waterfall in this region. To reach the waterfall, you have to hike through lush green forests. The hike is quite relaxing. After about 45 minutes of walking, you will reach at the site of this beautiful waterfall. The waterfall is about 101m high and the stream that serves the waterfall is used in paddy fields. Folklore has it that deep within the waters of waterfalls seven vessels filled with precious stones are hidden.
Location: Mahiyanga, Sri Lanka
7. Nanuoya Waterfalls

The waterfall originates from the Nanu Oya River and flows through Udaradella before falling down through a sequence of 25 steps. It is a cascading waterfall and as the waterfall cascades down through so many steps, it creates a beautiful misty effect. You can get some views of the waterfall from the main road, but to reach to the waterfall you have to take road by the railway station and travel for about 1.5km.
Location: Glassaugh, Sri Lanka
Suggested Read: Hikkaduwa In April: A Guide To Plan A Perfect Summer Vacation In Sri Lanka's Little Paradise
8. Bomburu Ella Waterfalls

Bomburu Ella Falls also known as Perawella Falls, is situated in the Nuwara Eliya district. Unlike other waterfalls, this is not a single waterfall but a collection of 10 little jungle falls. The waterfall is served by Duulgal River, a tributary of the Uma River. To reach the falls, you will have to complete quite a track down the jungle amidst big boulders.
Location: Nuwara Eliya, Sri Lanka.
9. Mount Vernon Waterfalls

Mount Vernon, is a small 12 m high waterfall in Nuwara Eliya region. This waterfall is less known among the travelers but if you ask a local of the Nuwara Eliya district they will guide you the waterfall. The waterfall is situated well into the tea estates and is not visible from the main road, you have to travel quite a bit through the tea estates to reach the waterfall but the view of the waterfall and the road leading to the waterfall is very beautiful.
Location: Nuwara Eliya, Sri Lanka.
Suggested Read: Talalla Beach: A Guide To The Most Serene Sri Lankan Beach With Turquoise Waters
10. Galboda Falls

This is another hidden waterfall in the region. the waterfall is very beautiful and if you are traveling by means of a vehicle, you can reach up to the Galboda tea factory and then a 2.5 km walk will take you to the this lovely waterfall. There are many huts and a children park around the falls and there is a snack bar too, in case you want to grab a bite on your visit to the fall.
Location: Nawalapitiya, Sri Lanka
How To Reach Hatton

The best way to reach Hatton is by rail. You can take a train from Colombo that goes via Kandy and slowly ascends the hill and soon you will start seeing tea plantations and Scottish like highlands. The journey to Hatton itself is worthwhile, as you get some of the best views of the hilly countryside.
Further Read: Sri Lanka Train Journeys: For A Soothing Vacation In This Charming Land!

There are many beautiful waterfalls in and around Hatton region and we have gathered the list of the best waterfalls for you, so that you don't miss out on anything on your Hatton trip. So, book a holiday to Sri Lanka and witness the beauty of these waterfalls!
---