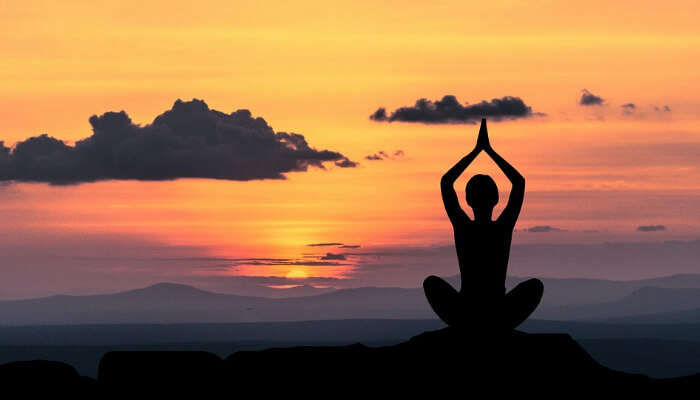 Cover Image Credit: Pixabay
Detangle, destress, and detox reconnecting to your inner consciousness aligning with the five elements through yoga retreats in Sri Lanka. Yoga is not a practice of twists and turns or a series of putting yourself into uncomfortable positions but majorly a medium to unite the body and mind and bring them in sync with the breath. Rather it is all about mastering a deep state of relaxation. Moreover, calm and steady is not a mood but a state of mind. Therefore, the island country of Sri Lanka is a perfect setting place to declutter and unwind. These retreats are nestled in various parts of the country and provide you with a holistic experience. Moreover, the flora and fauna of Sri Lanka further elevates the wellness experience.
7 Best Yoga Retreats in Sri Lanka
The roots of yoga are nestled deep in South Asian countries and the mystical island of Sri Lanka is one of the prominent ones. From authentic yoga practices to ancient healing techniques, Sri Lankan history speaks a lot about wellness. However, even today, the country is home to a plethora of yoga retreats that will take you to a journey within.
1. Ulpotha

Let the connectivity of your smartphones go down and find a stronger connection amidst the forest of Sri Lanka. Ulpotha takes yoga in Sri Lanka back to its roots. This yoga retreat is not only the country's best but also top rated across the globe. It focuses not only on the traditional aspects of it but also on the modern day aspect of it. In between Budhhist chants and the whistling of tree leaves, you will find an ideal place to meditate. Apart from yoga, the retreat also provides Ayurveda healing and take into consideration all aspects of yoga, be it Hatha or Ashtanga. One can reach here easily by taking a taxi from Colombo. Therefore, if you are looking for nothing but the best, then let the list of awards direct you to Ulpotha.
Location: Embogama, 60718, Sri Lanka
Must Read: Sri Lanka In September 2022: Explore The Eastern And Northern Parts Of This Island Country
2. Sri Yoga Shala

If you find yourself dangling between chores and craving for some time in the woods all by yourself, then Sri Yoga Shala will provide you the best of both worlds. Situated in between a dense forest, it provides you the right amount of isolation paired with the comfort of yoga and like minded people. One of the key highlights of this yoga retreat is that it hosts a women circle that focuses on the overall wellness of a feminie mind and body.
From nutrition to nurturing, it covers it all to elevate the overall fitness. It has also been featured in Vogue magazine, but when you plan on spending some days here you will know it is totally worth all the attention. It is definitely worth considering when scrolling through the list of authentic yoga meditation retreat in Sri Lanka.
Location: Thalpe Road Durage Watta Metaramba, Unawatuna, Sri Lanka
Suggested Read: Trips To Sri Lanka From India: An Ultimate Guide For A Lovely Vacation
3. Santani Wellness Resort

Santani Wellness Resort is nestled in the mountains built with a perfect blend of comfort and wilderness. The forest area surrounding the resort is protected by UNESCO and offers breathtaking views of the neighboring mountains and tea plantations. This resort is a go to place for luxury yoga and spa. It offers features like thermal salt bath, moreover, one can also opt to go on a hike and short treks. Anyone who is looking for to pamper oneself with a splash of yoga in Sri Lanka should halt here for some time.
Location: Aratenna Estate, 00013, Sri Lanka
Suggested Read: 10 Amazing Things To Do In Dehiwala-Mount Lavinia On Your Sri Lankan Vacation
4. The Mudhouse

If you want to partake in a private yoga retreat than the Mudhouse is what you are looking for. Unlike many mainstream yoga retreats, this yoga retreat focus only on indulging in extensive yoga and its many forms. Moreover, it is situated in an island in the middle of a lake which makes it all the more alluring. One can reach this yoga retreat through a boat. It is equipped with unique stay features that will give a one-of-a-kind experience. Some of its eccentricities like bare-earth floor and thatched roofs make an energy-rich atmosphere that is perfect for some soul searching. Moreover, you will also get to indulge in nature walks for a further refreshing experience.
Location: 153 Pahaladiulwewa, Anamaduwa, Puttalam District, Sri Lanka
Suggested Read: Dig Into 10 Sri Lankan Street Food Items That Are Pure Delight!
5. Soul and Surf Retreat

Just as the name suggests, it is a surf and yoga retreat in Sri Lanka. This place is an amalgam of yoga, therapy, soul food, good music, and amazing people, everything that works its way towards healing through quality time. It nurture you with healthy lifestyle. Moreover, exercises and blissful massages will help you keep your head light and body completely relaxed.
Location: Thalduwa, Ahangama, Sri Lanka
Suggested Read: Sri Lanka In Winter 2022: A Complete Guide To Plan Your Holidays In Cold
6. Talalla Retreat

Talalla Retreat blurs the line between a resort and a retreat by its wholesome wellness centric objective. This retreat is a part of Talalla resort wellness program. It focuses on providing travelers with a calm place to detox along with extensive yoga. When it comes to yoga, they provide it in different platters such as yoga, wellness, meditation, and surf yoga in Sri Lanka. Apart from yoga, one can also indulge in activities like surfing, photography, organic cooking, etc. Moreover, being in close proximity with the ocean and living in bamboo huts is just a perfect way to soothe your mind and body to absolute bliss.
Location: Tangalle Road, Sampaya House, Talalla 81170, Sri Lanka
Suggested Read: Let These 12 Sri Lankan Desserts Awaken Your Taste Buds On Your Next Vacay In 2022!
7. Kalundewa Retreat

Spend some time in Sen Wellness Sanctuary to turn your focus inward and go soul searching. Starting your day with Surya Namaskar and ending it on a blissful note with a comforting spa, isn't it just an awesome way to live your life. Experience serenity at another level and learn not only the different forms of yoga but also through different people partaking. Here, you will find a mini spa, meditation, and yoga paired together for an alleviating vacation experience.
Location: Kalundewa Retreat, Kalundewa Road, Dambulu Oya, Dambulla, Sri Lanka
Further Read: 22 Places To Visit In Nuwara Eliya In 2022: The Mini London Of Sri Lanka!
Step on a journey that turns your gaze inwards and bend you forward to deeper relaxation. Whether it is the peace of meditative state or the stretch that keeps you going, yoga retreats in Sri Lanka will make you drop down for all the right reasons. So sail your way to Sri Lanka for a soul pleasing journey.
---
People Also Read
Yoga Retreats In Kerala Yoga Retreats In Bangalore Yoga Retreats In India