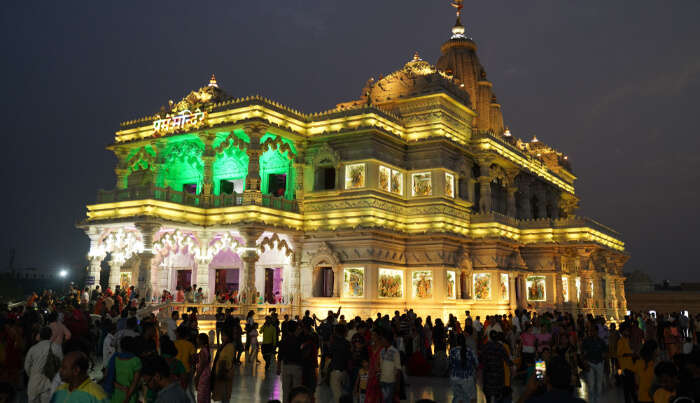 The saying 'they who are protected by the eye of the Lord, only they are attached to true love' goes true for Vrindavan—the holy town in Uttar Pradesh state of India. It is a land of spiritual ecstasy, splattered by the holy waters of the holy rivers. Its rich cultural heritage and glorious historical past are immersed in the souls of all its natives. The divine land is inhabited by the Lords themselves, imprints of whom can still be sensed in its atmosphere. Their seraphic presence is marked by the number of temples, which were built by the great rulers of India.
Notable Vrindavan temples as religious hubs of India are famous for the magnificent architectures. Also popular as the land of Lord Krishna and Radha ji, Vrindavan welcomes you to visit some of the popular temples here. Temples in Vrindavan are frequented by tourists from worldwide locations as it is believed to be the place where Lord Krishna had spent most of his childhood.
Top 16 Popular Temples In Vrindavan
The listicle below will take you to some of the famous temples in Vrindavan which you would like to visit for worship and to feel their immensely beautiful architecture and locations.
Banke Bihari Temple
ISKCON Vrindavan Temple
Prem Mandir
Radha Raman Temple
Shri Ranganatha Temple
Katyayani Peeth
Sri Govind Devji Temple
Gokulananda
Shahji Temple
Gopeshwar Mahadev Temple
Radha Vallabh Mandir
Nidhivan Temple
Shri Gopinath Temple
Priyakant Ju Temple
Jaipur Temple
Rangji Temple
1. Banke Bihari Temple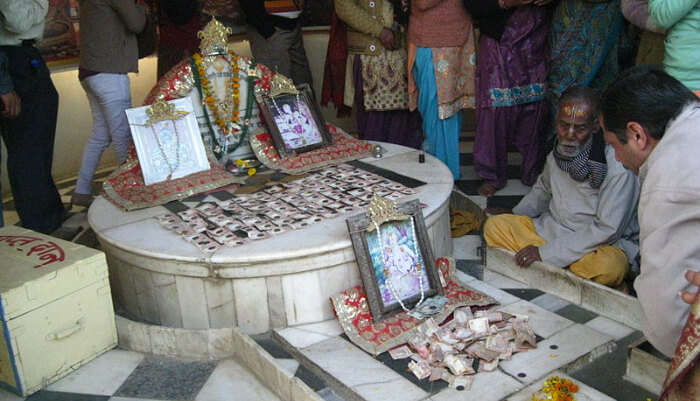 Banke Bihari Temple in Vrindavan is a famous Hindu temple dedicated to Lord Krishna. It is one of the most esteemed Hindu shrines in India that is full of multiple colours of spirituality. Architectural enthusiasts would surely admire its magnificent Rajasthani architecture. Embellished with the domed windows, structure has beautiful intricate stone works. Lord Krishna stands in the Tribhanga position in an image depicting the time of his childhood. You will be surprised to know that there are no bells and conchs in this temple. It is believed that he disliked the sound of such instruments. The sound of shabads of 'Radhe naam' being chanted creates a highly mystical and powerful atmosphere in the shrine.
Timings: Summer: 7:45 a.m. to 12 p.m. & 5:30 p.m. to 9:30 p.m.) | Winter: 8:45 a.m. to 1 p.m. & 4:30 p.m. to 8:30 p.m.
Location: Goda Vihar, Vrindavan, Uttar Pradesh 281121
Must Read: Mahabalipuram Temples: Visit These 10 Breathtakingly Beautiful South Indian Souls
2. ISKCON Vrindavan Temple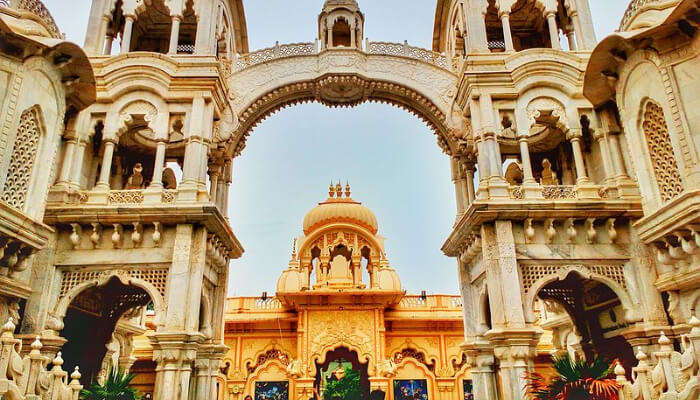 If you want to delve into the exact colours of the childhood of Lord Krishna, then ISKCON Temple in Vrindavan is the place. It is one of the most famous temples in Vrindavan, also known as Sri Sri Krishna Balaram Mandir. It is built in the memory of Sri Krishna and Sri Balram ji. With solely dedicated to the childhood days of Krishna and his brother Balaram playing together, this temple also arranges Aarti and Bhagavad Geeta classes to seek the attention of visitors and devotees. You will be mesmerized with the artwork of the images of Lord Krishna and Sri Balaram. Chaitanya Mahaprabhu with Nityananda, Swami Prabhupada, Sarasvati Thakura and the friends of Lord Krishna are also depicted through images.
Timings: 4:30 am – 1 pm and 4:30 pm – 8:30 pm
Location: Bhaktivedanta Swami Marg, Raman Reiti, Vrindavan, Uttar Pradesh 281121
Suggested Read: 10 Amazing Things To Do In Pachmarhi For A Fun-Filled Getaway In The Heart Of India!
3. Prem Mandir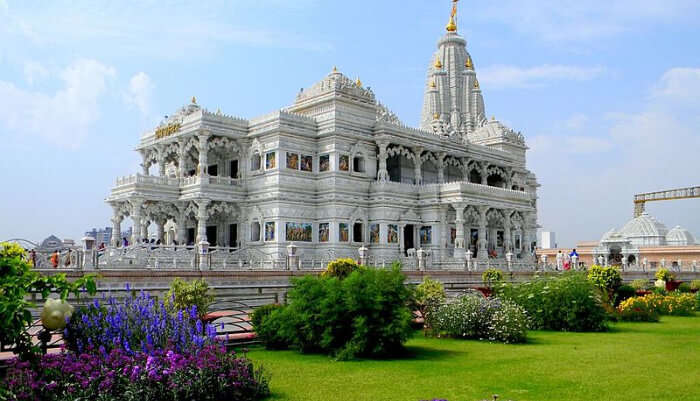 Prem Mandir was established by famous Jagadguru Shri Kripaluji Maharaj in the year 2001. Suffused by the eternal Love of Gods, this temple is popularly known as the 'Temple of God's Love'. Impregnated with loads of love, famous Prem temple in Vrindavan is purely dedicated to Radha Krishna and Sita Ram. Like most of the temples in Vrindavan, this one is also a symbol of beautiful traditional architecture. The structure is adorned with beautiful carvings and white marble which further glorifies charm. Beautiful statues of Lord Krishna depicting different series of occasions along with their admirers are worth seeing here.
Timings: 5:30–6:30am, 8:30am–12pm and 4:30–8pm
Location: Chhatikara, Road, Raman Reti, Vrindavan, Uttar Pradesh 281121
Suggested Read: Seaports In India: Know About The Important Ports Which Stands As A Glory Of The Country!
4. Radha Raman Temple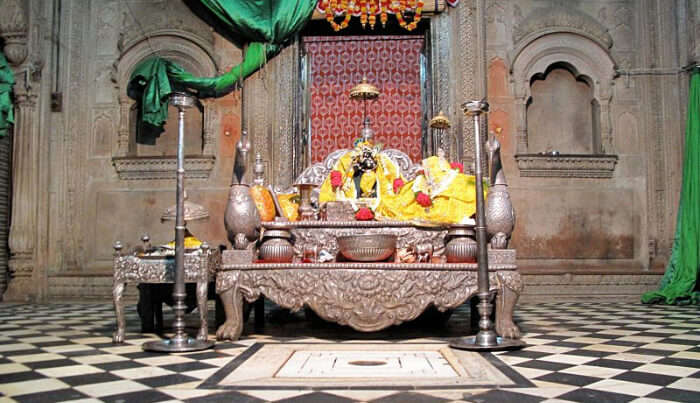 Radha Raman Temple is also dedicated to Lord Krishna. One of the highly revered temples in Vrindavan, it illustrates intense love to Radha. Though being dedicated to Radha, you would not find any idol of her in the temple. There is a magnificent crown placed next to Lord Krishna that signifies her presence. Counted among the seven temples of Thakur, this is also one of the most significant Vrindavan temples.
Timings: 8:00 am – 12:30 pm 6:00 pm – 8:00 pm
Location: Panchayat Mandir Shri Radharaman ji Maharaj, Vrindavan, Uttar Pradesh 281121
Suggested Read: 23 Things To Do In Chennai To Explore The Southern Pearl Of India At Its Best
5. Shri Ranganatha Temple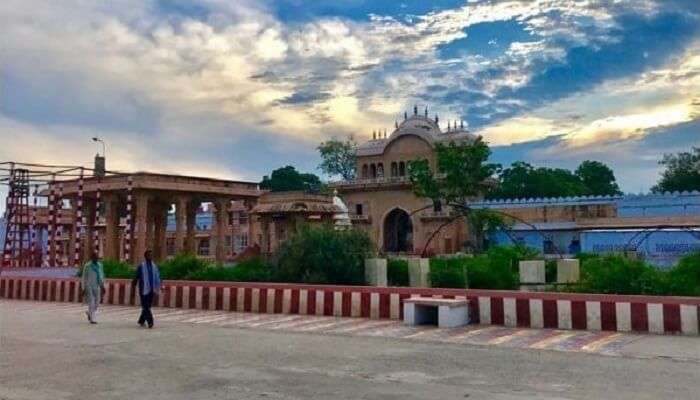 Almost all temples in Vrindavan are blessed with contrasting architectural edifices. This shrine in Uttar Pradesh attracts thousands of devotees and travelers every day and throughout the year. Ranganatha Temple is one of the largest in the list of temples in Vrindavan. The temple is dedicated to Lord Vishnu and Lakshmi. Lord Ranganatha, also known as Rangji, is the resting form of Lord Vishnu. It also venerate the idols of Rama, Sita and Lakshmana along with Lord Narsimha, Venugopala and Ramanujacharya. Its Dravidian style of architecture is a major highlight.
Timings: Open 24 hours
Location: Rangnath mandir, Goda Vihar, Vrindavan, Uttar Pradesh 281121
Suggested Read: 15 Romantic Airbnbs In India That Will Make You Fall In Love All Over Again
6. Katyayani Peeth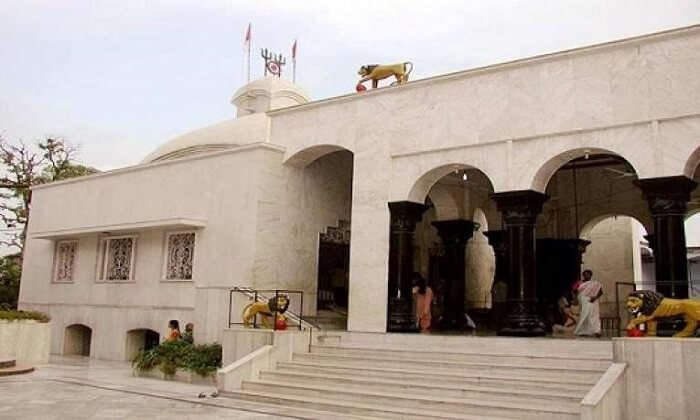 Katyayani Peeth is one of the 51 Shakti Peeths in India. It is also known as the Uma Shakti Peeth. Major Occasions like Navratri, Durga Puja, and Vijaya Dashami see huge big celebrations and attract devotees and travelers. You will be overwhelmed with the glorious and magnificent architectural sculptures and images places here.
Timings: Summer: 7 AM – 11 AM and 5:30 PM – 8 PM | Winter: 4 PM – 7:30 PM
Location: Bhaktivedanta Swami Marg, Goda Vihar, Vrindavan, Uttar Pradesh 281121
Suggested Read: 30 Amazing Places In India To Celebrate New Year
7. Sri Govind Devji Temple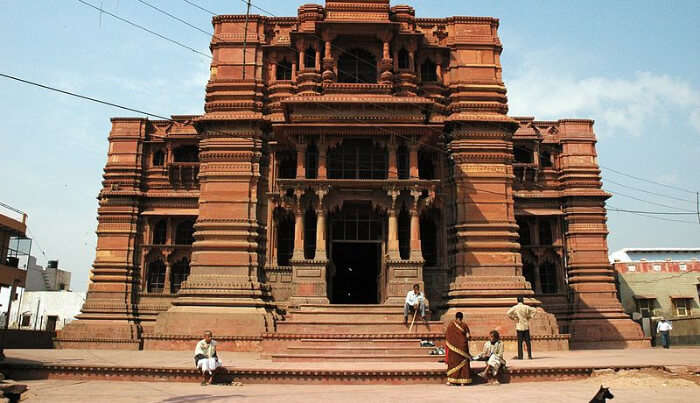 Situated in the vicinity of Vrindavan, Sri Govind Devji Temple is dedicated to the childhood of Lord Krishna. Embellished with the Red Sandstone, this temple depicts the childhood home of Lord Krishna. It is revered as one of the famous temples in Vrindavan. There is a belief that the face of the idol exactly resembles the face of the Lord when he was born. Visit this holy place at least once in your lifetime.
Timings: 4:30 am – 12:30 pm and 5:30 pm – 9 pm
Location: Vrindavan khadar, Raman Reiti, Vrindavan, Uttar Pradesh 281121
Suggested Read: 43 Famous Historical Places In India To Visit
8. Gokulananda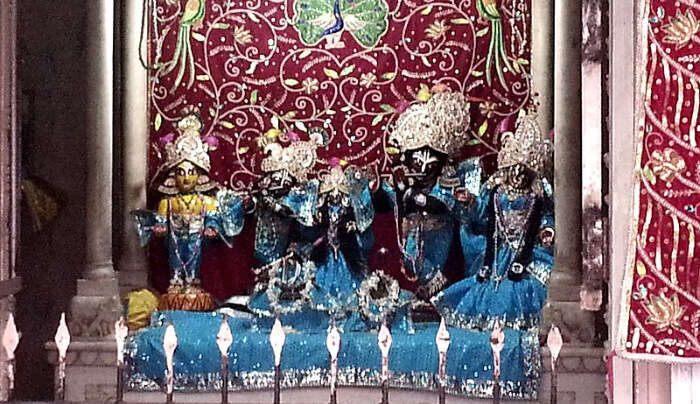 Set up in the lap of Keshi Ghat, famous Radha Gokulnanda Temple was established by Lokanath Goswami. It showcases the idols of Radha Vinoda, Radha Gokulnanda and Lord Chaitanya. You will feel an immense peace while the chants of the Aarti are being recited here. It is believed that a piece of the Govardhan Hill, Govardhana–Shila, that was given by Lord Chaitanya to Raghunath Dasa Goswami is kept here. According to the worshipers, the thumbprints of Lord Chaitanya are still engraved on the Shila.
Timings: NA
Location: Keshi Ghat, Vrindavan, Uttar Pradesh 281121
Suggested Read: From Royal To Offbeat, Here Are 30 Best Wedding Destinations In India To Tie The Knot
9. Shahji Temple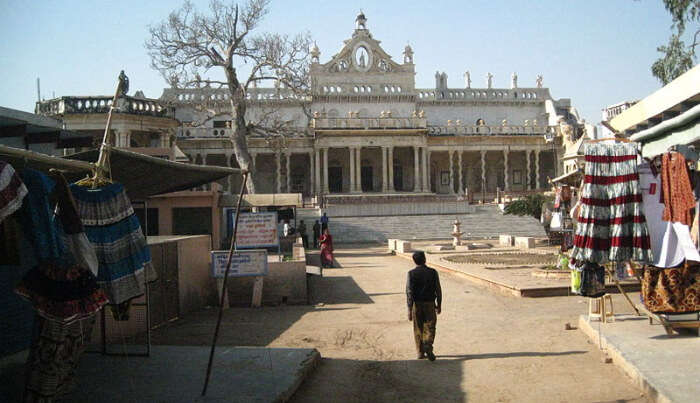 This temple was built by Shah Kundan Lal in the year 1876. Most of the temples in Vrindavan are dedicated to Lord Krishna. This one too contains the deity of the Chhote Radha Raman (Radha Krishna). The main attractions of this temple is its beautiful Hall known as Basanti Kamra. It has Belgian glass chandeliers and intricate paintings. Its intensely marvellous marble structure featuring 12 stunning 15-feet-high spiral columns is also a highlight.
.
Timings: 8 AM – 11 AM and-5.30 PM – 7 PM
Location: Gotam Nagar, Vrindavan, Uttar Pradesh 281121
Suggested Read: 16 Airports In India That Make A Dreamy Halt For Every Traveler
10. Gopeshwar Mahadev Temple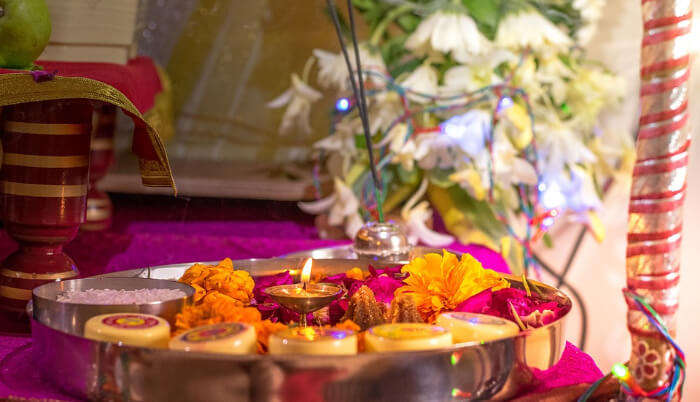 Listed amongst the oldest temples in Vrindavan, Gopeshwar Mahadev Temple lies close to River Yamuna. This temple is dedicated to Shiva Linga which was established by Vrajanabha, the great-grandson of Lord Krishna. The shrine is visited by devotees and travelers. Both Masculine and Feminine Powers are worshipped here.
Timings: 9 AM – 9 PM
Location: Wanshivat, Near Temple, Goda Vihar, Vrindavan, Uttar Pradesh 281121
Suggested Read: 20 Offbeat Honeymoon Destinations In India For A Romantic Getaway
11. Radha Vallabh Mandir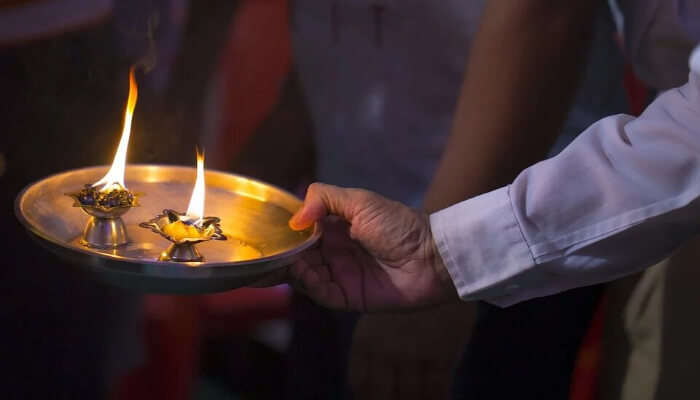 This temple is blessed to be the epitome of sacred love of Radha and Krishna that is being displayed in the rarest form of 'Ras-Bhakti'. The imperial red stone structured temple holds the title of being one of the oldest of the royal temples. The crown placed next to the idol of Lord Krishna signifies the presence of Radha.
Timings: Open 24 hours
Location: Gotam Nagar, Vrindavan, Uttar Pradesh 281121
Suggested Read: 38 Romantic Honeymoon Places In South India For That Cast Utter Magic
12. Nidhivan Temple

Nestled amongst the dense green forests, Nidhivan temple is dedicated to Banke Bihari, therefore, it is a famous Banke Bihari temple in Vrindavan. Beautifully decorated idols of Radha and Krishna in the sanctum sanctorum attract all devotees. A small well near it has a very divine importance.
Timings: NA
Location: NA
Suggested Read: 15 Captivating Honeymoon Destinations In North East India To Cover
13. Shri Gopinath Temple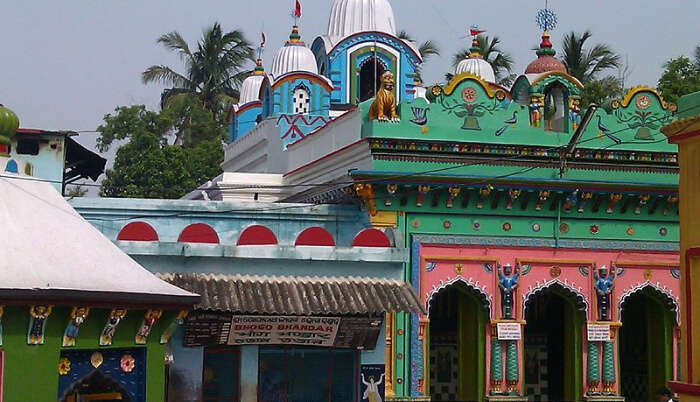 Considered one of the oldest in the list of temples in Vrindavan, Shri Gopinath temple is dedicated to Radha and Krishan. The idols of Ananga Manjari, Vishakha and Lalitha are also worshipped here. It's simple and unique ancient architecture is the main point of attraction for devotees and tourists alike.
Distance From Mathura: About 11.9 km.
How To Reach: Local transport is available.
Suggested Read: Top 51 National Parks In India: A List You Just Can't Ignore!
14. Priyakant Ju Temple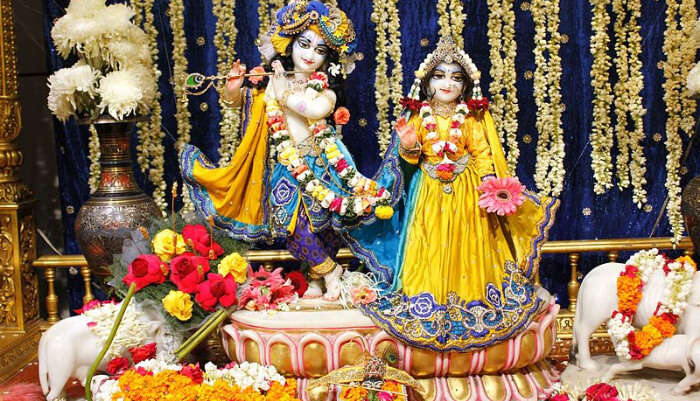 It is one of the most beautiful temples of Vrindavan whose unique beauty lies in the amazing architectural designs. Its designs are unbelievably different from the rest Vrindavan temples. The central edifice lies in the lap of a spectacular lotus that is surrounded by a water tank. Priyakant Ju – the idols of Radha Krishna are worshipped with total devotion.
Timings: NA
Location: NA
Suggested Read: 25 Places To Visit On New Year In India On Budget
15. Jaipur Temple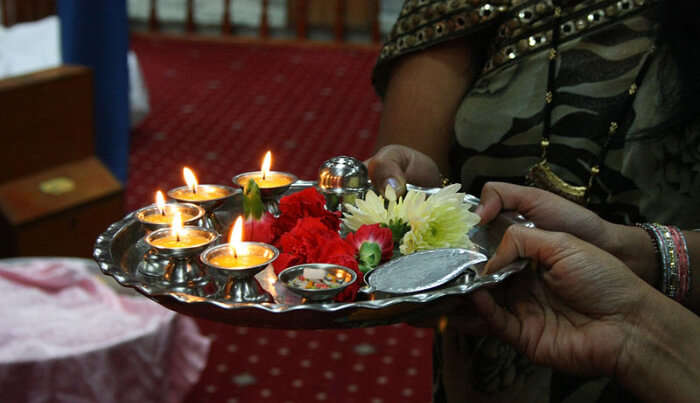 Lavishly appointed temple in Vrindavan admired for its supreme architecture and intricate craftsmanship, Jaipur Temple is the best temple to visit. Carvings out of a single rock, the entire sandstone and the exquisite patterns of the temple walls are awe-inspiring.
Timings: NA
Location: NA
Suggested Read: Celebrations Of Holi In Mathura And Vrindavan
16. Rangji Temple

The Rangji temple is one of the famous temples in Vrindavan which is worth a visit. Located at the Mathura marg in Vrindavan, this temple is dedicated to Lord Sri Goda Ranagamannar who is a south Indian goddess. Alongside that there is Lord Ranganatha which is believed to be an incarnation of God Vishnu. The architecture of the temple reflects the south Indian architectural pattern which makes it look majestic. In contrast to the inside of the temple, the outside reflects a North Indian architecture.
Location: Rangnath mandir, Goda Vihar, Vrindavan, Uttar Pradesh 281121
Timings: 5:30AM-8:30PM
Further Read: 20 Best Places To Visit In India During Christmas Holidays For A Grand Celebration
Vrindavan is one of the several holiest sites in India where Hindus come and worship different Gods. Even travellers without belief in Hinduism keep flocking this holy city to evaluate the unique architectures and great beauty of some of the oldest temples in Vrindavan. Plan a visit to any of the popular Indian religious-places including Vrindavan and get ready to explore their mystical beauty.
Disclaimer: TravelTriangle claims no credit for images featured on our blog site unless otherwise noted. All visual content is copyrighted to its respectful owners. We try to link back to original sources whenever possible. If you own the rights to any of the images, and do not wish them to appear on TravelTriangle, please contact us and they will be promptly removed. We believe in providing proper attribution to the original author, artist or photographer.
Please Note: Any information published by TravelTriangle in any form of content is not intended to be a substitute for any kind of medical advice, and one must not take any action before consulting a professional medical expert of their own choice.
Frequently Asked Questions About Temples In Vrindavan
What are the opening timings ISKCON temple?
The opening timings for ISKCON temple are:
Summer: 4.30 – 12.45 PM and 4.30 – 8 PM
Winter: 4.30-1 PM and 4 PM- 8.15 PM
Is there any entry fee for Iskcon temple?
No, there are no entry charges for ISKCON temple.
What is the best time to visit Vrindavan?
Can non-Hindus visit Vrindavan?
Anybody, irrespective of one's faith can plan a visit to Vrindavan as a tourist because for Hindus it is a holy site while for other travellers, it remains a place to explore to the most.
Is it safe for women to travel to Vrindavan?
Absolutely, it is safe for women to travel to Vrindavan. One should though take precautionary measures and always remain conscious for self-care, especially because of the extreme crowd of devotees throughout the year here.
People Also Read:
Temples In Ludhiana Temples In Varanasi Temples In Odisha