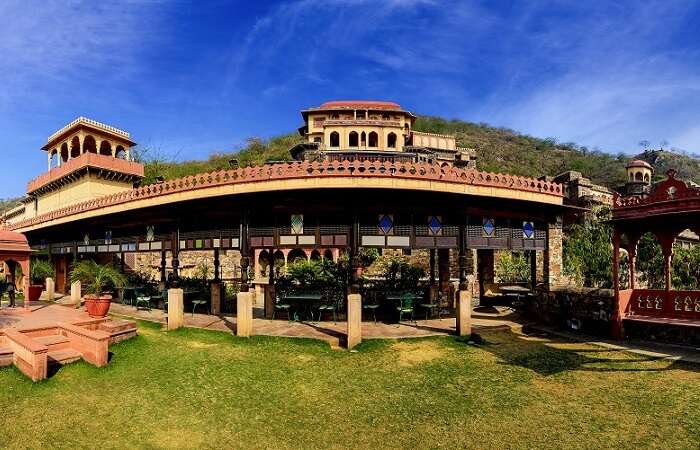 Peace amidst the hills and an experience which isn't run-of-the-mill, the places to visit in Neemrana offer all of this, and much more. While the ancient historic town situated in Alwar, Rajasthan might not be too big in size, it is still a great holiday destination for a quick weekend escape.
The town doesn't have a huge list of tourist attractions, but the few on the ground are absolutely worth witnessing. The aura of these six places in Neemrana is certainly captivating, enchanting, and alluring. Don't believe us? Take a look for yourself.
Best Time To Visit Neemrana
Wrapped up in greenery, the town of Neemrana has a soothing weather and attracts travelers throughout the year. While the monsoon here is refreshing, the winter season or the months from September to March is ideally the best season to visit Neemrana. The temperature during this season ranges between 27°C to 5°C, making it an appropriate weather to step out and explore the tourist attractions in Neemrana.
Must Read: 14 Best Romantic Places In And Around Delhi For The Love Birds
6 Places To Visit In Neemrana In 2020
While Neemrana is majorly famous for its sprawling fort palace, there are also a few other places to see in the town. Here's a list of the top places to visit in and around Neemrana that you can consider for your next road trip!
Neemrana Fort Palace
Sariska National Park
Baori
Bala Quila or Alwar Fort
Vinay Vilas Mahal or City Palace
Siliserh Lake
1. Neemrana Fort Palace
Luxurious, romantic, and full of bliss, the ever so popular fort palace is certainly one of the best places to visit in Neemrana Fort. A stay at this place not only makes sure you have the best vacay of your life, but also ensures you live each moment like royalty.
Price For Accommodation: INR 4,500 to INR 30,000 per room
Timings For Visiting The Fort: 9:00 AM to 3:00 PM
Entry Fee For Visiting The Fort: INR 1,900 which includes a buffet lunch, and INR 750 for only visiting the fort
Things To Do:
Take a ride in a vintage car
Indulge in a thrilling zip lining tour
Take an audio tour of the fort
Rejuvenate with a spa therapy
Enjoy the beautiful views while you swim
Location: 122nd Milestone, Delhi-Jaipur Highway, Alwar, Neemrana, Rajasthan
Suggested Read: Get The Rajasthani Bohemia On! 14 Amazing Shopping Places In Jaipur To Explore In 2020!
---
Rajasthan Holiday Packages On TravelTriangle
Explore Rajasthan, the land of Maharajas. Experience its royal cultural heritage, luxurious hotels, camel safaris, pristine lakes, and magnificent forts and palaces. Cover the best of Jaipur, Udaipur, Jodhpur, Jaisalmer, Pushkar and Ranthambhore at best prices with TravelTriangle.
---
2. Sariska National Park
Nestled in Aravalli Hills, Sariska is amongst the top places to see in Neemrana. The grasslands and dense forests are home to a number of species, especially the tigers, which make it a great tourist attraction. It is one of the ideal places to visit in Alwar, Neemrana if you're an animal lover, or are looking for a multitude of experiences during your trip.
Timings: 6:00 AM to 3:00 PM
Things To Do:
Wildlife spotting
Enjoy the views of flying vultures and eagles from the castle on the hilltop
Indulge in jungle safari
Location: Subhash Chowk Station, Road Malakhera, Alwar, Rajasthan
Suggested Read: Top 8 Resorts In Neemrana That Offer A Worthy Escape From The City Life
3. Baori
Image Courtesy: Delhikaravan.wordpress.com
Baori is one of the amazing places to visit near Neemrana. It is a multi-storied underground stepwell that reflects upon the history of the town's lifestyle, and also the beauty of old-age architecture at its best. Comprising of 170 steps, it takes you down to a narrower path, which has a cool and moist environment. There is no denying that its magnificence makes it amongst the unique places to visit near Neemrana Fort.
Entry Fee: There are no entry charges for visiting the stepwell.
Things To Do:
Capture the grandeur of the well
Admire the Rajputana architecture
Suggested Read: 12 One Day Road Trips From Delhi
4. Bala Quila or Alwar Fort
Built on a hilltop in Aravalli Range, Bala Quila is the oldest gem in the Neemrana sightseeing list. The 15 large and 51 small towers add to its magnificence, making it a work of architectural art worth witnessing. Apart from leaving you amazed with its grandeur, this huge fort also offers breathtaking views of the city. It is indeed one of the best places to see in Neemrana. 
Timings: 10:00 AM to 5:00 PM
Things To Do:
Admire the stunning views of the city from the top
Explore the different towers of the fort
Location: Bala Quila Road, Alwar, Rajasthan
Suggested Read: 9 Resorts Near Jaipur Where You Can Live Like A Royalty Without Pinching Your Pocket!
5. Vinay Vilas Mahal or City Palace
Of all the tourist places in Neemrana, the Vinay Vilas Mahal is an architectural marvel that gives you a sneak peek into the royal lifestyle. Apart from its ground floor, all the other floors reflect a museum, which lets you in the sweet secrets & memoirs of the old historic times, and opulence of the kings, making it one of the best places to visit in Neemrana. 
Timings: 10:00 AM to 4:00 PM except for Saturday
Things To Do:
Witness the Rajasthani and the Mughal architecture
Take a tour of the museum
Learn about the culture and lifestyle of the kings
Location: City Palace, Mohalla Ladiya, Alwar, Rajasthan
Suggested Read: Neemrana Fort Palace: A Brief Guide For Your Weekend Trip
6. Siliserh Lake
Image Courtesy: Eattravellaugh.com
One of the most beautiful lakes in Rajasthan, Siliserh is a major tourist attraction in the town and amongst the top places to visit near Ramada, Neemrana. From offering moments of bliss to letting one indulge in fun activities, this place has a lot of experiences in store for all kinds of travelers. If you are looking for places near Neemrana, then this could be your pick. 
Timings: 9:00 AM to 6:00 PM
Things To Do:
Sit by the lake and unwind
Bird watching
Boating
Take a leisure walk around the lake
Location: Alwar, Rajasthan
Suggested Read: 15 Private Places For Couples In Jaipur For A Super Romantic Date In 2020
Tips For Visiting Neemrana
Prefer planning your trip to Neemrana between September to March, as the weather during this time is pleasant, and absolutely perfect for exploring the town.
Pack a pair of sunglasses, hat, swimming costume, and sunscreen.
Neemrana Fort Palace is a beautiful place for staying away from the bustling city life, and living like the royalty did. Do plan at least a night's stay here.
Try and book your room in advance if you wish to stay at the Neemrana Fort Palace, especially if you're going during the peak season.
Don't forget to indulge in the trekking and thrilling zip lining tour in Neemrana.
Since all the places are located at a few kilometers distance, it's best to drive your own car there, and enjoy a road trip.
How To Reach Neemrana
Situated on the Delhi-Jaipur highway, 122 kilometers away from Delhi and 150 kilometers from Jaipur, Neemrana falls well within the Golden Triangle circuit. While the town can be reached via all modes of transport, here's a way to get here through the best routes available.
By Air: The nearest airport to Neemrana is the Indira Gandhi International Airport, which is some 100 kilometers away. One can take a flight from any major city till Delhi, and then hire a cab to reach Neemrana directly.
By Road: Situated on the Delhi-Jaipur highway, Neemrana is a major stop for all the buses running across this route. Though, one can also hire a taxi or drive his or her own car to reach the town.
By Train: The nearest railway station to the town is Rewari, which is 40 kilometers away from Neemrana, and the major station is the New Delhi Junction, which is around 120 kilometers away. One can get down at any of these stations, and then take a direct cab to reach the town.
Further Read: Stay At These Heritage Hotels In Rajasthan & Bask In The Royal Magnificence
So, when are you planning to explore these places to visit in Neemrana, Rajasthan? Don't think much and plan your road trip with TravelTriangle right away! We hope you have an exquisite holiday experience, and come back with interesting tales, which you can share with us at travelogues@traveltriangle.com
Frequently Asked Questions About Places To Visit In Neemrana
Comments
comments