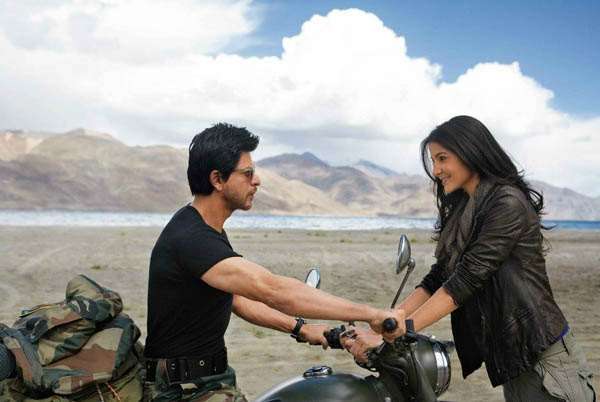 So, the travel keeda in you wakes up and starts jumping right at the sight of an enticing long road? Planning to go on a long drive from Delhi to get away from all the chaos and land in the lap of nature or great views? Well, then these exciting and rejuvenating one day road trips from Delhi are just for you.
For those tied with monotonous work all around the week with no possibility of a break, we present a handpicked list of 12 routes that are perfect for a road trip from Delhi! Now, wouldn't you want to take those bike trips from Delhi that you all dreamed of?
Must-Have Elements For Road Trips From Delhi
Make sure you have all these essentials with you before you embark on any one day trip near Delhi.
A Bike or a Car
Rs. 2000 for fuel (depends on you!)
Rs. 2000 for Food (depends on you again – but any road trip is incomplete without food!!)
A few friends (to tag along)
Some alcohol (Don't drink and drive!)
A Camera
Some Extra Cash if you plan to stay over/ indulge in activities around
Some real good music – a road trip is incomplete without music!
Spring is around the corner and this year is full of long weekends. Excuse yourself from the city buzz and elope with your travel keeda for a fun day out!
1. Road Trip To Morni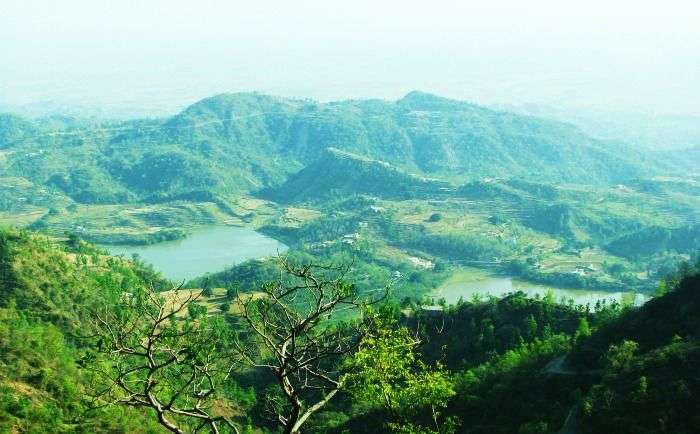 The nearest hill station, Morni located in Haryana, just a few hours from Delhi, is an absolute delight! Verdant environment, dense forest cover, scenic views and a lake make it a perfect relaxing hideout away from the city bustle.
Must Read: 10 Surreal Places To Visit Near Delhi In November In 2018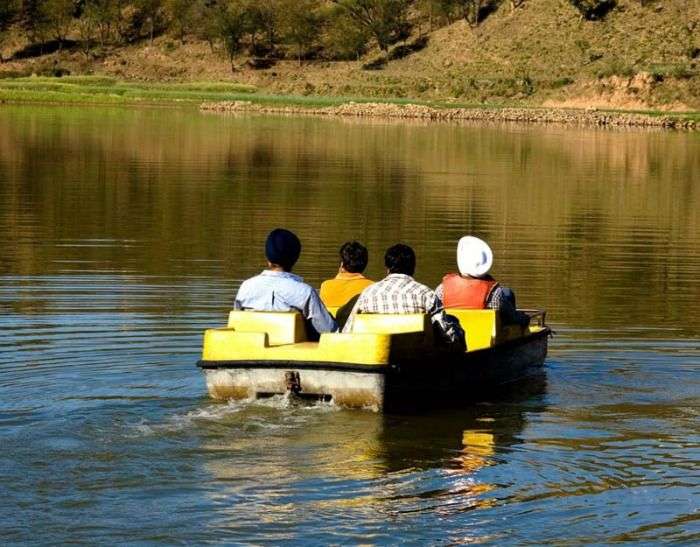 Well, it's not only the scenic views that charm the travelers, adventure enthusiasts can come here for trekking, boating & cycling.
Distance: 260 km
Time: 5 hours
Best time to visit: September to March
Dhabas en route: Amrik Sukhdev Dhaba (Murthal), Haveli & Neelkanth Star Dhaba (Karnal), Puran Singh ka Mashoor Vishal Dhaba (Ambala), and Sethi da Dhaba (Zirakpur)
---
Himachal Holiday Packages On TravelTriangle
Head to Himachal to witness lush valleys surrounded by snow-capped hills. Indulge in skiing, paragliding, and other adventure sports. Book holiday packages inclusive of airport transfers, cab, resort, sightseeing, and meals to Shimla, Manali, Kasol, Dharamshala, and more.
---
2. Road Trip To Damdama Lake
Hailing from the south and missing the vast expanses of water? With no beaches or waterfalls within your reach, Delhi may seem too odd and boring an entity until you find the peaceful lakes (sans the overloaded Hauz Khas lake). Damdama Lake is such an alternative and one of the best places to visit near Delhi for a day!
Must Read: 10 Best New Year Parties In Delhi For Welcoming 2019 Like A Boss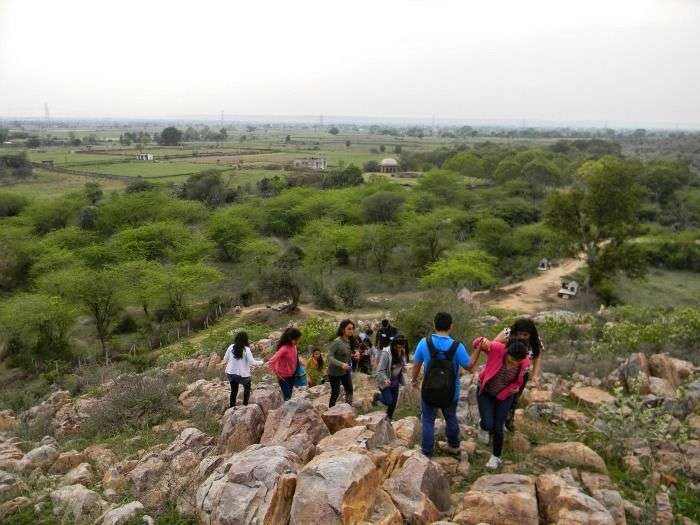 It has ample of adventure and eco-resorts in its vicinity and makes a perfect destination for a one day getaway for anyone.
In case you fall in love with the place, you should stay at The Dream Island Resort
Distance: 60 km
Time: 1 hour 30 minutes
Best time to visit: February to March and July to September
Dhabas en route: Satya Dhaba and Royal Blue Dhaba in Mahipalpur
3. Road Trip To Murthal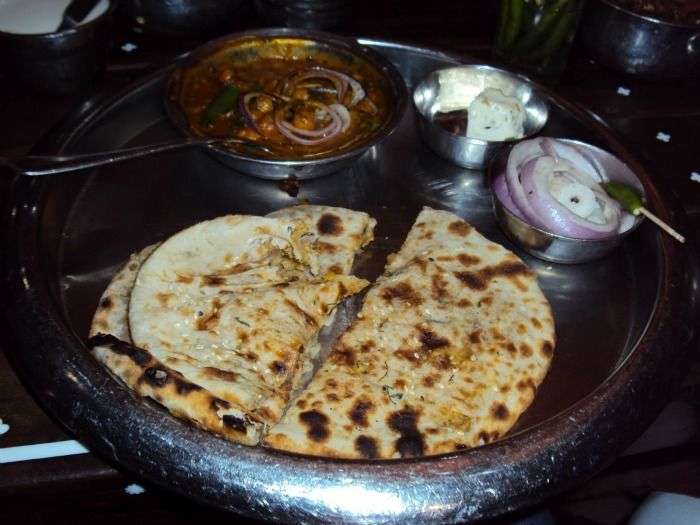 The first place that hits our mind when it comes to road trips around Delhi has to be Murthal! A long drive across the busy yet wide roads of Delhi, while the cool wind caresses you and the stomach is tempted for a gastronomic ride, you know your destination has to be Murthal.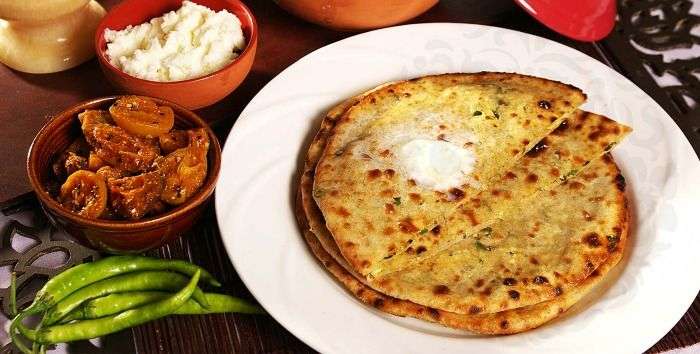 Indulge in the luscious butter loaded stuffed kulchas & parathas on the road side dhabas which are over 50 years old. If you're a foodie, this will be the best one day tour from Delhi that you can ever take!
Must Read: 14 Highway Dhabas in North India for Your Hungry Soul
Distance: 60 km
Time: 1 hour 30 Minutes
Best time to visit: Year-round
Best dhabas in Murthal: Amrik Sukhdev da Dhaba and Gulshan da Dhaba
4. Road Trip To Neemrana Fort Palace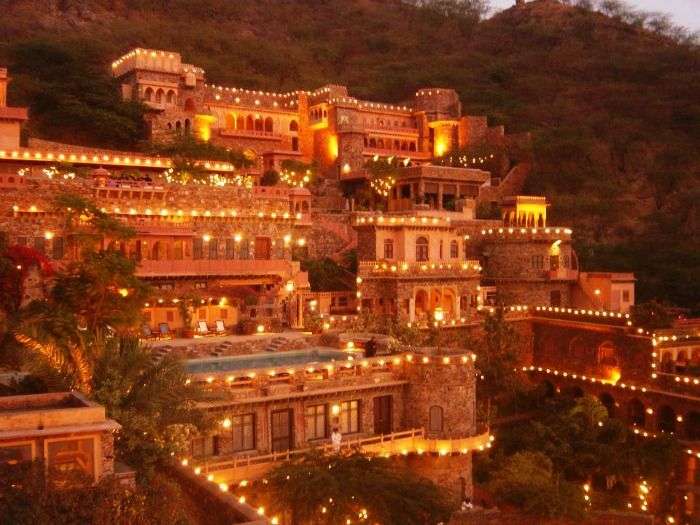 Well, Valentine's is around the corner and Neemrana is one of the best romantic one day getaways from Delhi. Even if Valentine's is not around and you two need some quality time together – Neemrana is the place for you! The drive on NH-8 is a pleasant one, however, in monsoons, it gets utterly romantic with lush vegetation on the rocky hills dotting the sides of the highway. Give her a call, take a break from the city life and chill for a while.
Distance: 120 km
Time: 2 hours 30 minutes
Best time to visit: July to March
Dhabas en route: Surya Dhaba in Alwar district and Old Rao Dhaba in Dharuhera
5. Road Trip To Parwanoo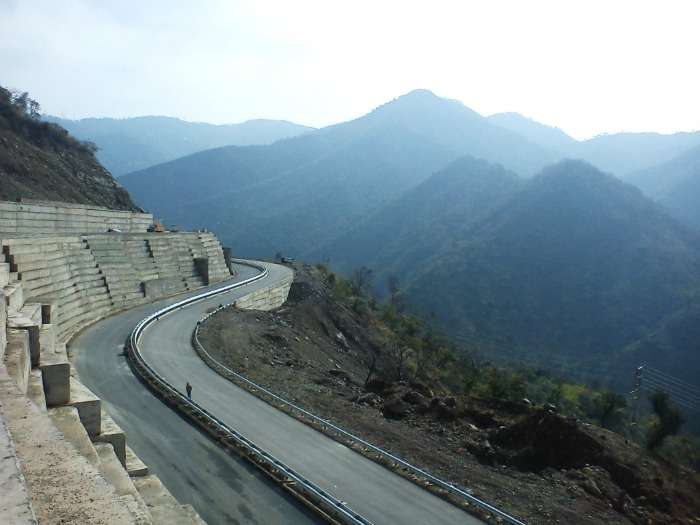 Though not so close to Delhi, but a road trip to the foothills of Himalayas is tempting enough for a visit to Parwanoo. A fascinating journey along the wide roads which lead to the lush green hills with a pleasant weather and scenic views is worth experiencing in the hot summers or the pre/post monsoon seasons.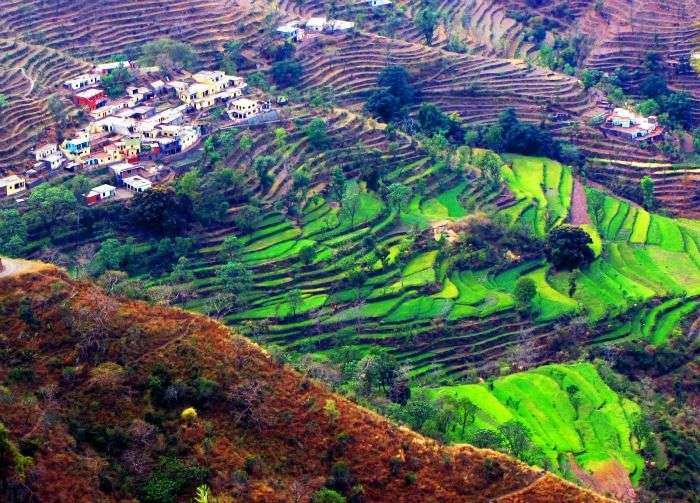 Take a cable car ride at the Timber trail resort to the top of the hill and dine at their restaurant offering an ecstatic view of the valley. This is a perfect getaway with friends or your love!
Must Read: 10 Resorts in The Hills of India with the most Romantic Views
Distance: 270 km
Time: 6 hours
Best time to visit: Year-round
Dhabas en route: Amrik Sukhdev Dhaba (Murthal), Haveli & Neelkanth Star Dhaba (Karnal), Puran Singh ka Mashoor Vishal Dhaba (Ambala), and Sethi da Dhaba (Zirakpur)
6. Road Trip To Bharatpur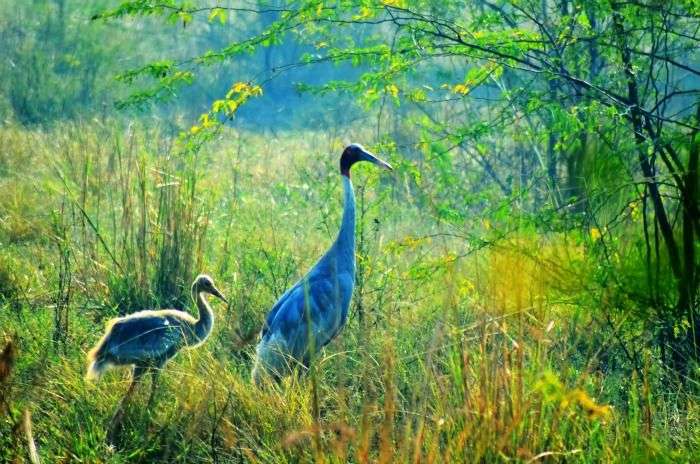 A fancy ride on NH2, the Agra-Jaipur highway takes you to a small town and misleading roads until the locals guide you to the Bharatpur Bird Sanctuary or the Keoladeo National Park. The entrance might not appeal to you initially because of the abandoned look & feel, but the interiors of the jungle will leave you mesmerized.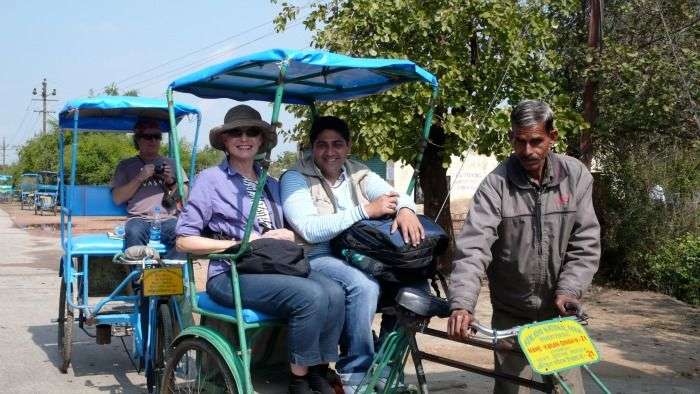 Park your car inside and explore the sanctuary on a rickshaw ride worth Rs.70. The rickshaw puller doubles up as a guide, spotting birds and giving all the details about them.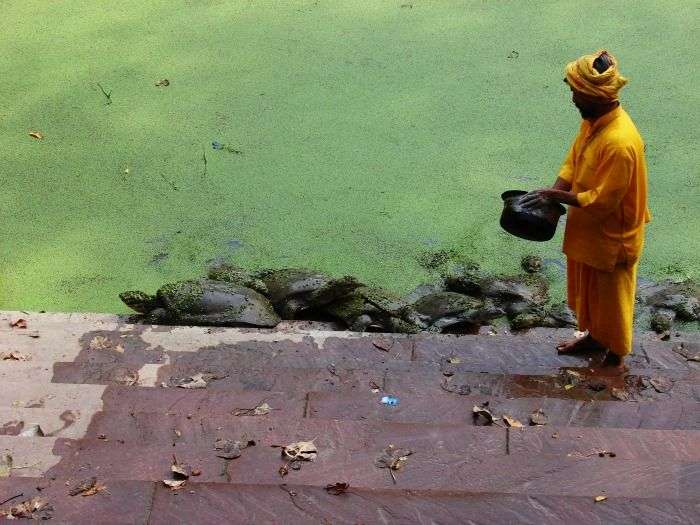 Visit the temple nearby and carry some atta (wheat flour) along. Wondering why? Let the Pujari throw balls of atta into the pond adjacent to the temple and see hundreds of healthy turtles come out for food.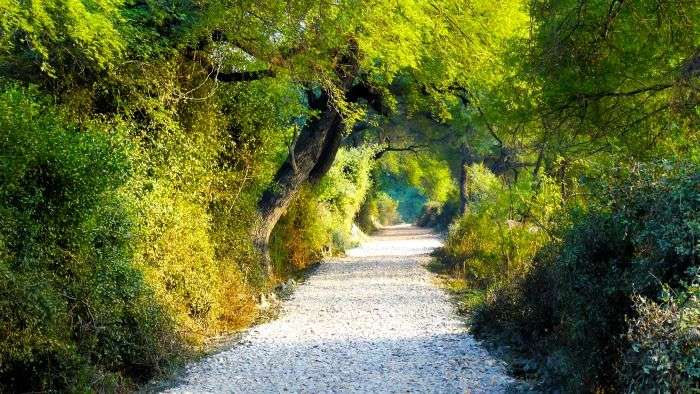 Distance: 182 km
Time: 3 hours 40 minutes
Best time to visit: August to November (Breeding Birds) | October to February (Migratory Birds)
Tip: Early morning visit is highly recommended. Also, stay at the Bharatpur forest Lodge for an incredible experience (Room rent – Rs.2500 approx.)
7. Road Trip To Unchagaon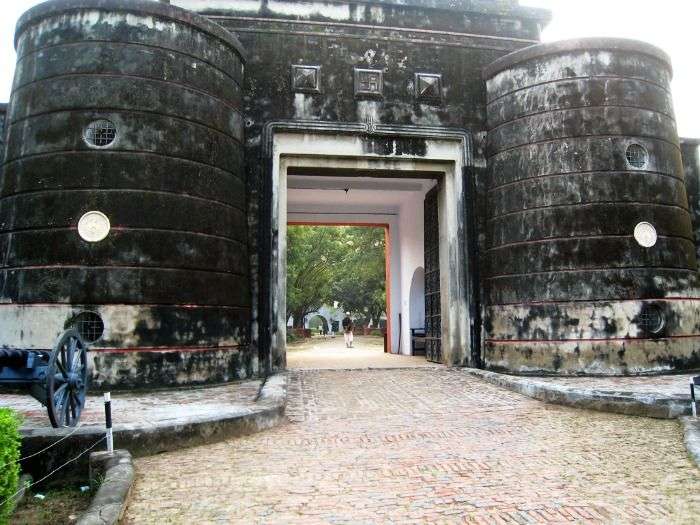 Image Source
For a royal heritage getaway in Uttar Pradesh, head to the 19th century Fort Unchagaon – a perfect destination for a rural experience. The fort is located close to the river Ganga and is surrounded by lush gardens all around. Doesn't yet attract you?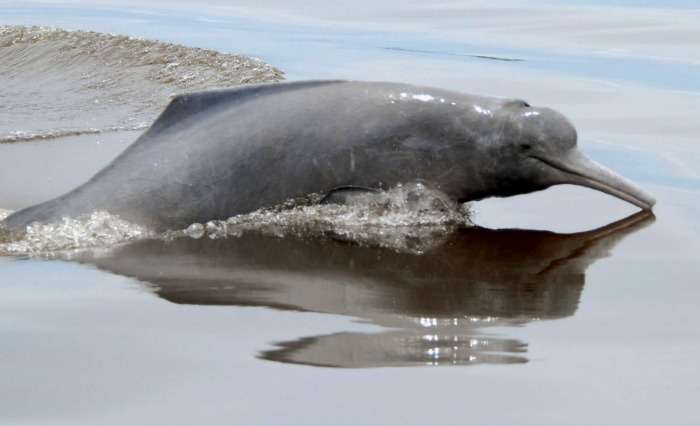 Sight Gangetic dolphins playing in the waters of river Ganges while you relax away from the city. The fort offers interesting activities like billiards, squash, pony rides, village safari, bullock cart ride & pottery making by local artisans.
Distance: 117 km
Time: 2 hours 30 minutes
Best time to visit: April to May to spot dolphins
---
Planning your holiday but confused about where to go? These travel stories help you find your best trip ever!
Real travel stories. Real stays. Handy tips to help you make the right choice.
---
8. Road Trip To Mathura And Vrindavan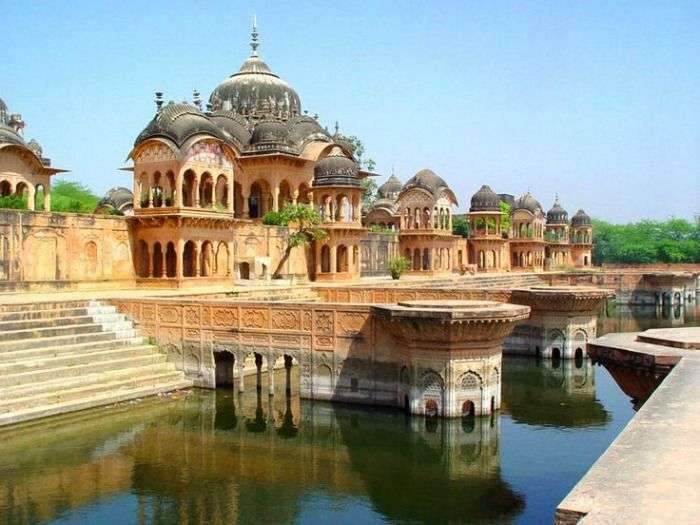 For those seeking solace in the temples & spirituality in the air must visit Mathura-Vrindavan. These epic areas hold an important historical reference being the birth place of Lord Krishna & invite each traveller with a warm environment. Sing along the holy chants with the devotees and leave back with wonderful memories of the city.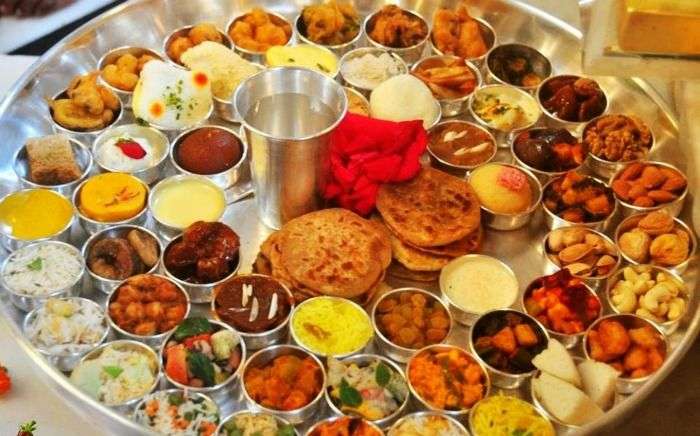 For all Lord Krishna lovers, visit during the month of August for Janamashtami to experience the magnificent celebrations. Stay over until the pooja ends and taste the delicious 'Chappan Bhog' Prasad.
Distance: 144 km
Time: 3 hours
Best time to visit: October to March; especially during Holi
Suggested Read: 15 Places In India To Celebrate New Year 2018
9. Road Trip To The Taj, Agra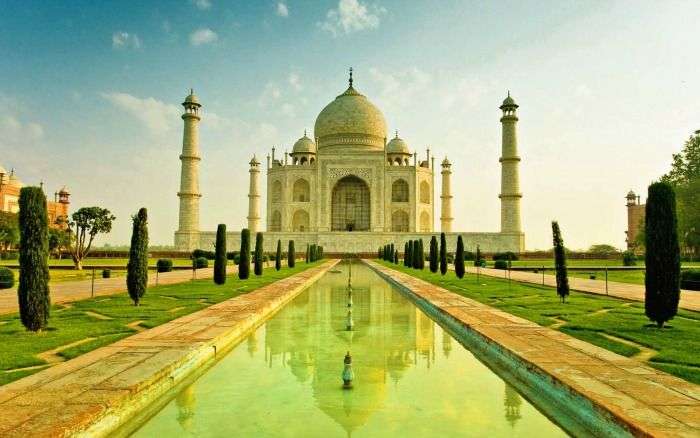 As the name says: this incredible road trip near Delhi on the newly built Yamuna Expressway leads to the city of Love – Agra. Grand roads, a glimpse to the F1 race tracks and some good music is all you need for this great drive. There have been many accidents on the expressway thus, be very careful with your speed limit.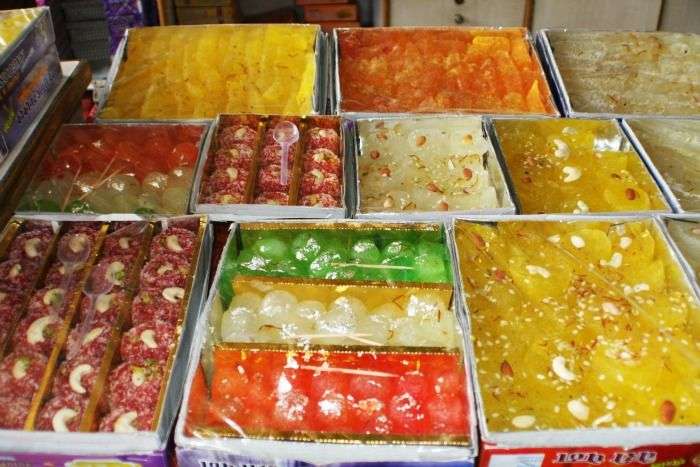 But Taj is not the only reason you should be visiting this city. There are various outlets on the way serving refreshments and do not forget to try the famous – Agra ka petha on your trip. Travelers can also try Bidaai and Jalebi available almost everywhere.
Distance: 202 km
Time: 3 hours 40 minutes
Best time to visit: November to March; especially at the time of Taj Balloon Festival in November and Taj Mahotsav in February
10. Road Trip To Sariska National Park, Alwar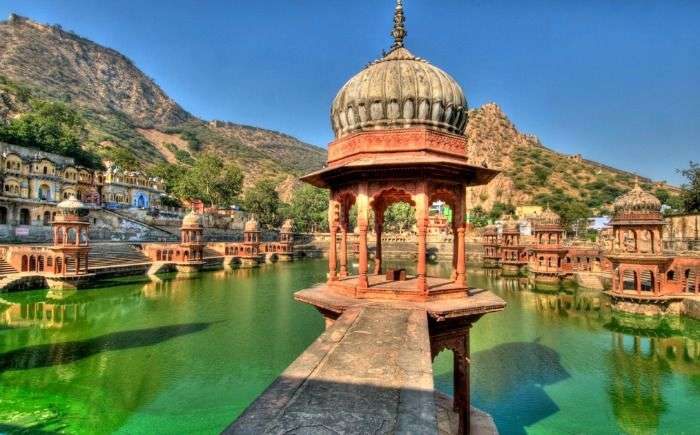 For those looking for a simple yet adventurous getaway, drive to Alwar. The princely city offers an experience of architectural grandeur and heritage hotels.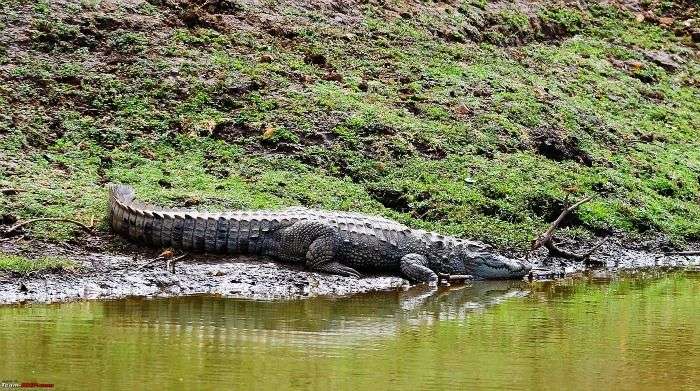 Further ahead lies one of the most famous Tiger reserves – Sariska, housing many endangered species.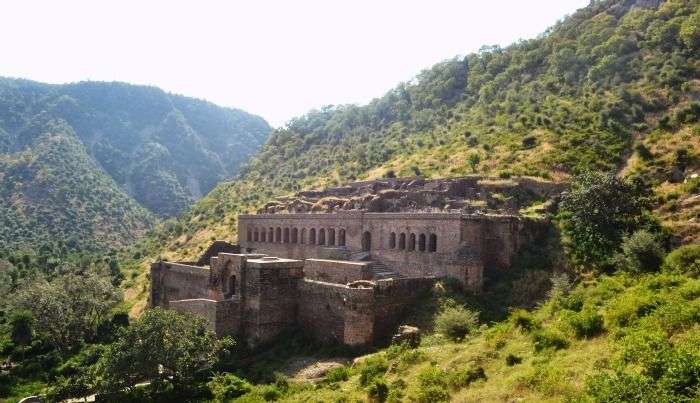 Tip: Leave early morning at about 4 am and you may reach Sariska by 7 am. The earlier you start your ride in Sariska, the more will be the chances to visit the most haunted place in India – Bhangarh!
Distance: 157 km
Time: 4 hours
Best time to visit: February to March
Must Read: 10 Haunted Places In Delhi That Will Give You Creeps
11. Road Trip To Kuchesar Fort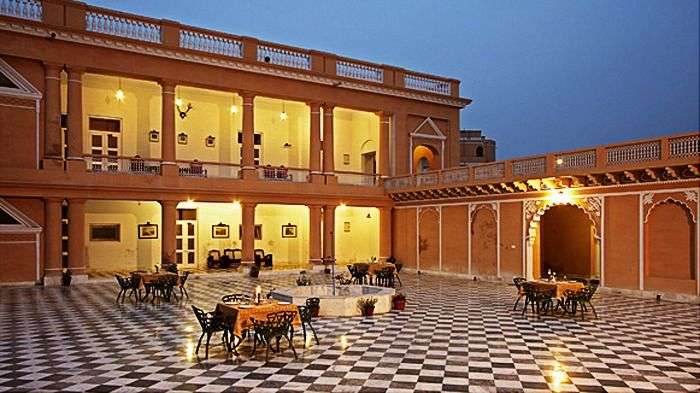 The 18th-Century Kuchesar Fort or the Mud Fort has been restored by the Neemrana group of hotels. For an authentic 'UP experience' drive down on NH4, slightly ahead of Hapur and reach the fort surrounded by 100-acre mangrove orchards. It is close to Brijghat – an ideal picnic spot by the holy river Ganges.
Distance: 84 km
Time: 2 hours
Best time to visit: November to February
12. Road Trip To Jaipur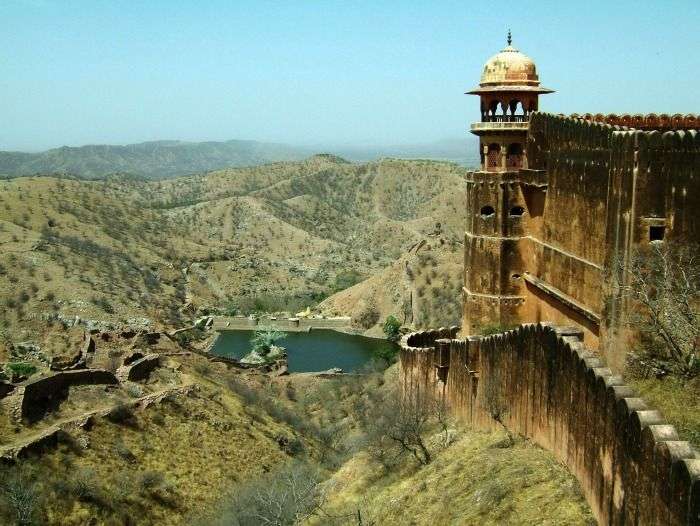 When it comes to places around Delhi, Jaipur falls in the list of must visits! Though the highway is mostly under construction, but leaving in the early hours will help you reach the destination faster. But what's amusing is the drive along the Aravallis, peacock glances on the highway and the fascinating bright turbans visible from a distance.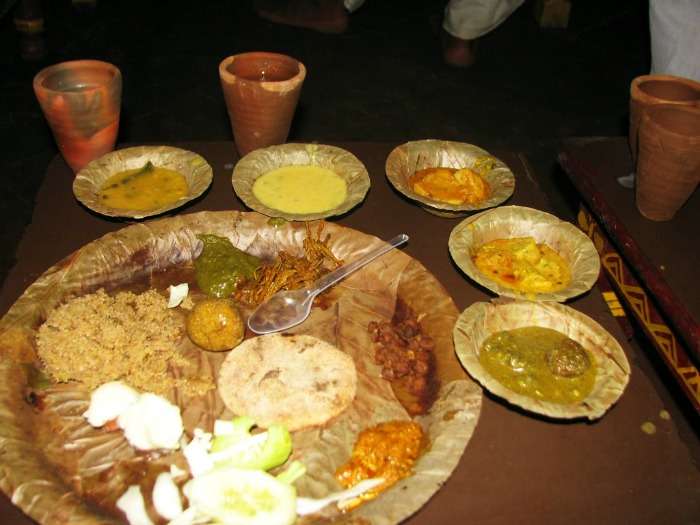 While on the go stop at Bajwa Ka Dhaba or Highway King or eat at Sharma Dhaba on the Sikar Road.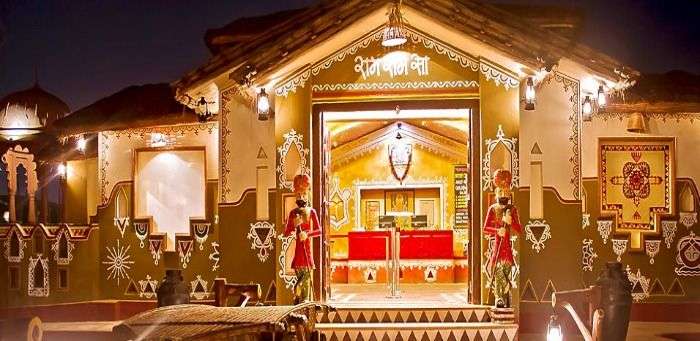 The city has many marvelous hangouts but for a true Rajasthani experience go straight to Chowki Dhani about 22 km before the Jaipur city.
These destinations will sure not burn a hole in your pocket and will keep you yearning for more. Get high on happiness to visit the local hideouts, call your friends, fill up the fuel and get set go!
Distance: 269 km
Time: 5 hours 30 minutes
Best time to visit: November to February
Dhabas en route: Surya Dhaba in Alwar district and Old Rao Dhaba in Dharuhera
Suggested Read: 50+ Incredible Places To Visit Near Delhi In 2019: Within 600 km From The Capital
13. Road Trip To Chandigarh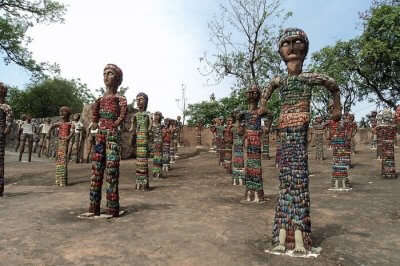 Image Source
Chandigarh is not merely a Gateway To The Hills. It is a complete destination in itself owing to the gleeful weather, endless greenery, and charming attractions it possesses. It's a great place to visit over the weekend and makes for one of the best family road trips from Delhi. From the Rose Garden to the Rock Garden, from boating in Sukhna Lake to shopping in the malls, there's a lot that Chandigarh offers to its visitors.
Distance: 243.7 km
Time: 4 hours 32 minutes via NH 44
Best time to visit: Year-round
Dhabas en route: Haveli and Sukhdev Dhaba in Murthal
14. Road Trip To Manesar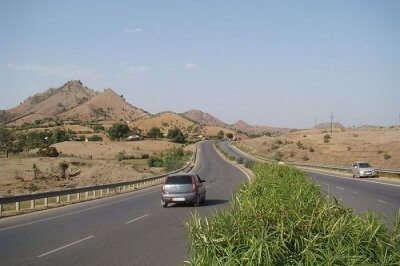 Image Source
Manesar has grown as a great place for tourism in the blink of an eye! It owes most of its fast-paced development as a tourist hotspot to the various leisure resorts and peaceful village life around. The blend of Rajasthani, as well as Haryanvi culture and hospitality of this delightful town, will surely leave you in a trance! Add to it the peace and calm it offers away from the urban centers, and you'll never want your holiday to end! You can also check out the Heritage Transport Museum and Sultanpur Bird Sanctuary while you're here.
Distance: 56.2 km
Time: 1 hour 23 minutes via NH 48
Best time to visit: September to March
Suggested Read: 14 Picnic Spots Near Delhi Perfect For A Quick Summer Break In 2019
15. Road Trip To Noor Mahal, Karnal
Image Source
Karnal's Noor Mahal is an exquisite destination for those looking for a short getaway, specially history geeks and architecture lovers. It's a brilliant example of royalty as well as skilled craftsmanship. The Mahal has now been converted into a 5-star hotel that amazingly showcases the influences of the Rajasthani and Mughal styles of architecture. The exteriors as well as intoriors of this palace are sure to leave you mesmerized! With so much to offer, this wonder definitely makes for one of the best short road trips from Delhi.
Distance: 122 km
Time: 2 hours 40 minutes via NH 44
Best time to visit: Year-round
Dhabas en route: Haveli and Sukhdev Dhaba in Murthal
16. Road Trip To Mussoorie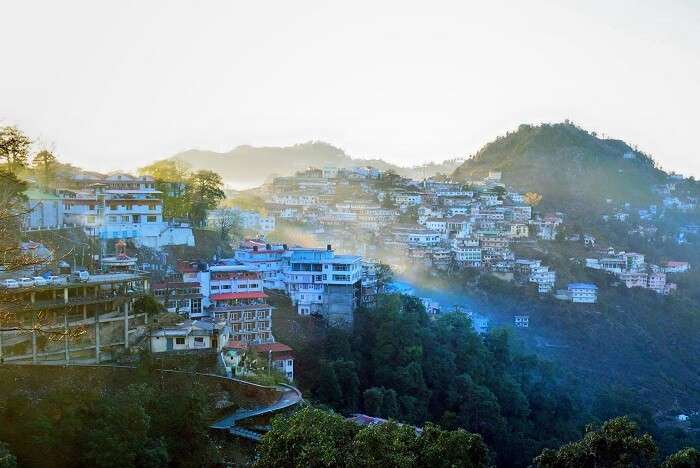 Mussoorie is the nearest most beautiful hill station for Delhiites. Driving over winding roads with lush greenery at all sides and a cool breeze blowing over your face is going to make your trip to Mussoorie all the more memorable. Other than splendid landscapes, this hill town has charming waterfalls, cable cars, bustling local markets, and delicious hilly street food, a few of the things that will make visiting this place one of the best long road trips from Delhi.
Distance: 300 km
Time: 6 hours 40 minutes via NH 44
Best time to visit: March to June
Dhabas en route: Cheetal Grand
Suggested Read: 37 Hill Stations Near Delhi For A Peaceful Getaway
17. Road Trip To Nuh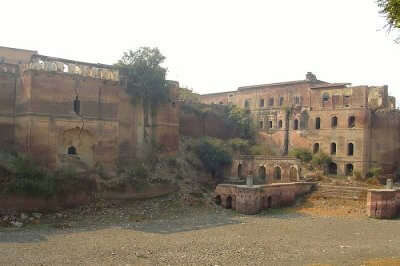 Image Source
Nuh is a historical town in Haryana that serves as the headquarters of Mewat and is popular for its erstwhile rule of Bahadur Singh. The town had become an important center for the trade of salt under his leadership, and this can still be seen in the ruins of this city right here that date as far back as the 14th century. This town is perfect for a one day road trip from Delhi owing to some of the major tourist spots like the mosque and tomb of the Mughal king Bahadur Khan Nadir, as well as other places like the Nalhad River and the Chui Mai Pond.
Distance: 88 km
Time: 2 hours 20 minutes via NH 48
Best time to visit: September and October
Dhabas en route: Shri Ram Dhaba
Further Read: 30 Reasons I Would Rather Be In Delhi Than Anywhere Else
We bet you weren't aware of all these splendid road trip options from Delhi! We tried covering as many places as we knew, but there can be so many more. So, if we missed out on anything and you're aware of the one-day hideouts please let us know. Till then, take a trip to Delhi and enjoy as many of these short getaways as possible!
---
Looking To Book A Holiday Package?
Book memorable holidays on TravelTriangle with 650+ verified travel agents for 65+ domestic and international destinations.
---
Comments
comments