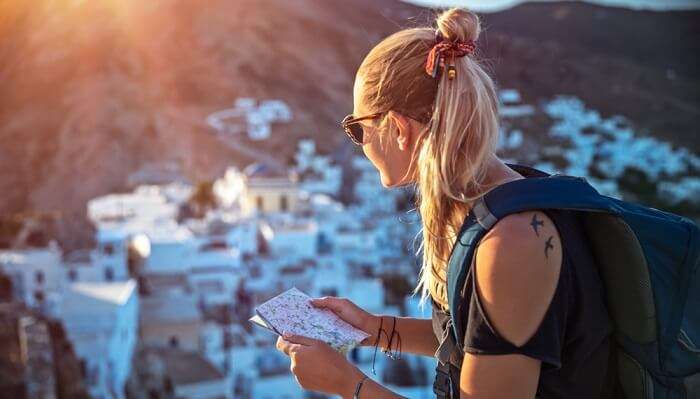 Here is a little riddle for you. The land of tea estates, beautiful beaches, delicious delicacies, perennial ruins, warm & friendly people and scenic & fun train rides. What is it? Yes, you guessed it right. Sri Lanka. The beautiful island nation is magical. It is one of the most picturesque South-east Asian countries and one of the prettiest Indian neighbours. Sri Lanka is gorgeous and the place looks even more happening in Summer. This beautiful country is home to a very aesthetically pleasing village named Pinnawala. If you are someone who loves the countryside then the many places to visit in Pinnawala in summer will allure you and you will definitely fall in love with the place. The city pretty famous for its elephant orphanage is special in every way and we will tell you why we say so, right here.
5 Places To Visit In Pinnawala In Summer
From a very special and one of its kinds of an elephant orphanage to fancy hotels and Buddhist museums to sacred temples there are so many places to visit in Pinnawala in Summer that you will be taken in by a shock, in a positive way, of course, and that is because of the potential of the place. Pinnawala is such a small place but has so much to offer. Before your patience wears out we will tell you all about the 5 places to visit in Pinnawala in Summer. Here you go.
1. Buddhist Museum & Museum Of Wall Paintings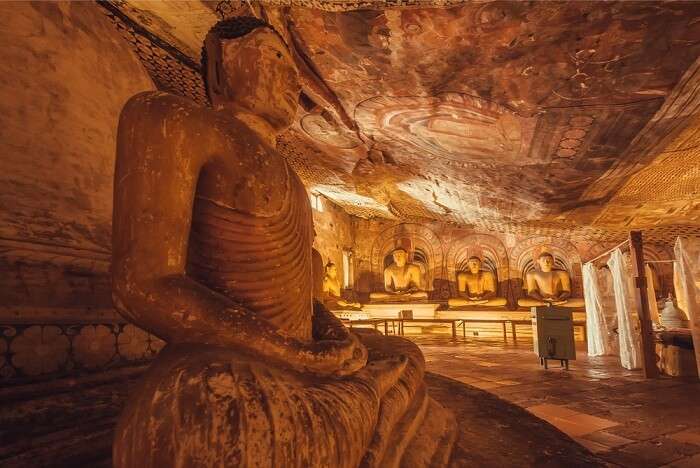 Even before you begin the steep ascent for reaching the Dambulla rock temple, you will be awed by the sight of a huge golden Buddha statue that marks the entrance to the Dambulla Museum. This majestic sculpture is considered to be Asias largest Buddha statue in the Dhyan Chakra mudra. To its right is a row of monk sculptres shown approaching the enlightened one with offerings. The path leads up to a terrace where you can spend some quiet moments in Budhhas serene presence. You can take a quick walk through the museum, which is free of charge. There is also a small museum of wall art for those interested in Sri Lankan art.
13 Best Places To Visit In Dambulla In 2022 That Showcase Its Spiritual And Natural Charm
2. Pinnawala Elephant Orphanage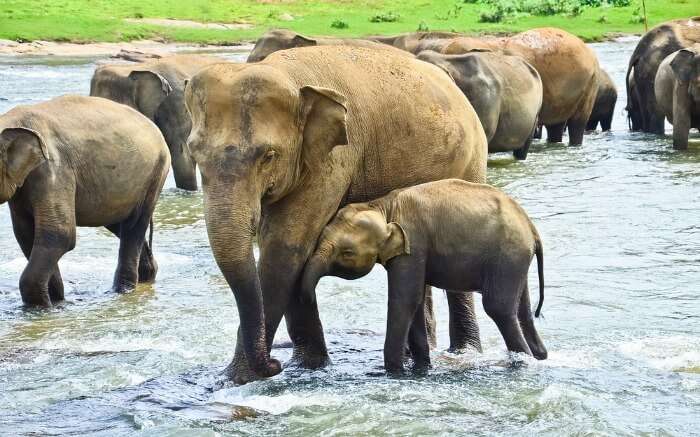 Plan a day out with wild Asian elephants at Pinnawala Elephant Orphanage. This is a -popular breeding ground of 90 plus elephants who stay in their natural habitat. Watch these adorable elephants bathe, play around, and feed them fruits. Tourists can see them when they take a tour around the orphanage to see the majestic animals. This place is perfect if you want to have a small picnic along with your friends or family.
Pinnawala is the place where abandoned elephants are raised. Not only orphans but also elephants who are seriously injured or those who get aloof from their group are given proper shelter & care at the orphanage. The place is situated in the Pinnawala village present in the Sabaragamuwa Province of Sri Lanka. The orphanage was started in 1975 by the Sri Lanka Department of Wildlife Conservation. The place has evolved into an amazing tourist destination in recent years. The elephants are kept quite well and you may definitely see that while at this place. The orphanage also accepts elephants that are donated to them and they bring them back to their health. The elephants have mahouts for them who give them baths and proper food on a timely basis. If you're looking for natural bathing places in Kandy, then this is it!
Prime attraction of Pinnawala Elephant Orphanage: Activities like milk feeding, fruit feeding, and elephant bathing
25 Best Places To Visit In Kandy In 2022 – Sri Lanka's Spiritual Capital
3. Temple Of Tooth Relic

Considered as one of the most important temples of Buddhists in Sri Lanka, the Temple of Tooth Relic is located to the north of Kandy Lake and is one of the most remarkable places to visit in Kandy Sri Lanka. The sacred tooth of Lord Buddha enshrined in the temple makes it one of the popular Kandy tourist places. The room housing the tooth is open to devotees to offer their prayers. However, nobody gets to see the tooth because it is kept in a golden casket inside a stupa-like structure. The temple is housed in the royal palace complex of the former Kingdom of Kandy. The place is of great importance due to the belief of the country on the tooth. The temple has rituals thrice a day. The temple was designated a UNESCO World Heritage Site 1988. The temple still stands strong even after facing attacks twice.
Along with the outside, tourists need to visit the inside of the temple to actually appreciate the architecture. There are holes in the walls which contain lamps lit using coconut oil. Tourists need to pay the entry fees and they should visit between 5:30 AM and 8:00 PM.
Prime attractions of Temple of Tooth Relic: World Buddhist Museum, Audience Hall, Alut Maligawa – a newer shrine to the rear of the temple with statues of Buddha donated by Thai devotees
7 Most Haunted Places In Sri Lanka To Make You Face Your Darkest Fears
4. Royal Botanical Garden

Spanning over 60 hectares, the Royal Botanical Garden is largest and one of the best places to visit in Kandy with a-hidden charm to explore. Situated in Peradeniya, the place is quite close to the Mahaweli River. Along with the most striking orchids, you can find more than 4000 species of plants in this Botanical Garden. You should definitely visit the National Herbarium of Sri Lanka which is attached to this Royal Botanical Garden. Tourists may tour the whole 147 acres of the garden to spend their day. The garden isnt something new as it was created in 1821 when it contained mostly coffee and cinnamon plants. Do check out the Cannonball Tree present in this garden which King George V of the United Kingdom and Queen Mary planted in 1901.
The garden is also an ideal place to plan a picnic with family and friends. However, romantic couples can be mostly seen hanging around the garden area. The cab drivers in Kandy mostly offer to cover Botanical Garden along with Pinnawala Elephant Orphanage or the Kandy temple to make it a Kandy sightseeing tour. The park remains open from 7:30 AM to 5 PM. You can consider this as one of the amazing places to visit in Kandy for couples.
Prime attractions of Royal Botanical Garden: Collection of orchids, royal palms, and Javan fig tree covering 2500 square meters
5. Helga's Folly

Have you ever seen something that is a hotel and an art gallery at the same time? Helga's Folly is a 35-room hotel and an art gallery. It really is unique and one of the fanciest hotels in Sri Lanka. Helga's mother designed theHelga's Folly hotel in the 1930s. All she basically did was converting her home into a hotel. When Helga took over the place some decades later she renamed the place as Helga's folly and accentuated the decor with artwork. This house has also been visited by dignitaries like Mahatma Gandhi, Jawahar Lal Nehru and even Indira Gandhi, during. Visiting this place looks like a living memorial to the spirits of the past by the owner, who lived on the top floor of the hotel. If nothing you should visit the place for the spooky feels it gives which definitely is intriguing.
7 Best Yoga Retreats In Sri Lanka To Soothe Your Soul To Absolute Bliss
With this we come to the closing note. We hope reading about the places to visit in Pinnawala in Summer was exciting for you and that you won't leave Pinnawala off your itinerary on your Sri Lankan trip. If you are already excited and just can't stop thinking about how amazing your escapade to Sri Lanka is going to be, then check out these customizable options and plan your trip with TravelTriangle.
---
Looking To Book An International Holiday?
Book memorable holidays on TravelTriangle with 650+ verified travel agents for 65+ domestic and international destinations.
---