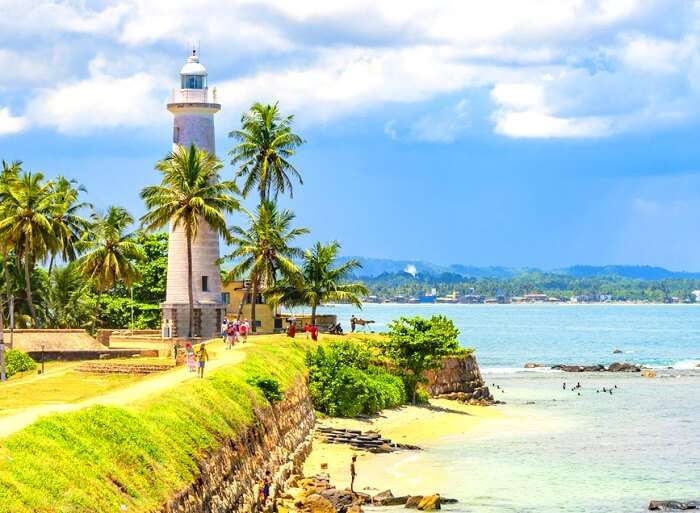 Sri Lanka is one of the most blissful destinations in the world. From a plethora of pristine beaches to n number of interesting ruins, it has a lot in store that will definitely leave you in awe of it. The country is blessed with a lot of tourist attractions that offer a glimpse into its rich culture and history. Some of the places to visit in Sri Lanka for 10 days are Sigiriya, Colombo, Kandy, Galle, Negombo and more. All of these places have something unique to offer and let you have a heartwarming experience.
Best Time To Visit Sri Lanka

Though Sri Lanka can be visited anytime of the year, the best time to visit Sri Lanka is from December to April. During this time, the weather is dry and the temperature ranges between 26 and 30 degree celsius. This is the perfect time to explore the country as well as indulge in the activities.
However, the country experiences different weather at different parts. Majorly, while planning a trip to Sri Lanka, you will have to note the weather of West Sri Lanka and East Sri Lanka. While you can visit the southern and western parts during December to March, the best time to visit the eastern side is April to September.
5 Best Places To Visit In Sri Lanka For 10 Days
Here is a list of the best places to visit in Sri Lanka for 10 days that will let you have a heartwarming experience of holidaying there. Take a look!
1. Snake Farm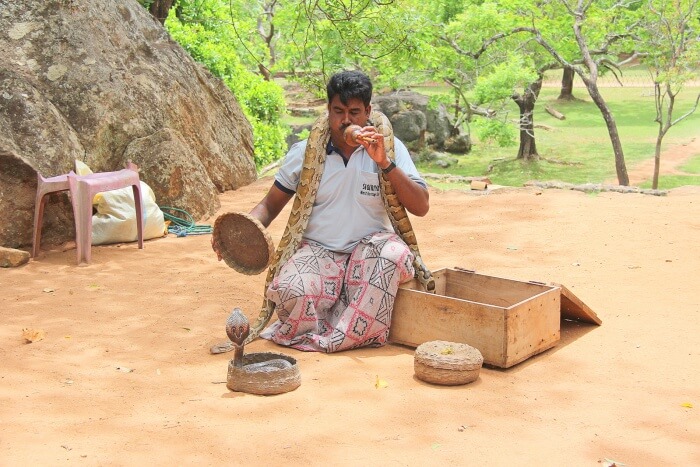 The Snake Farm in Weligama is also one of the most visited tourist attractions in Sri Lanka today. It houses several rescued snakes that can be seen at any given time. They range from non-venomous rat snakes to a highly venomous Russel's vipers et al. This farm is not only home to the non-venomous, mildly venomous and highly venomous snakes caught from the area but also a small conservatory cum an Ayurveda treatment center for snake poisoning purpose. It is run by a father and son duo to treat the masses as the cases of snake bite.
10 Places To Visit In Weligama For An Unforgettable Sri Lankan Experience
2. Ratna Ella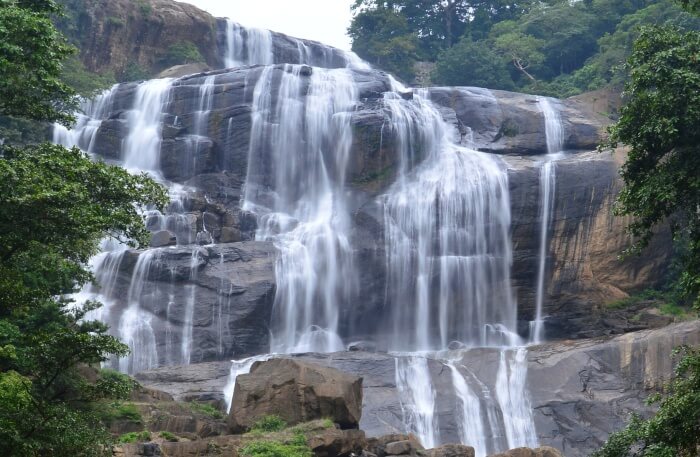 Located in Mahiyanga, Ratna Ella waterfalls is another beautiful waterfall in this region. To reach the waterfall, you have to hike through lush green forests. The hike is quite relaxing. After about 45 minutes of walking, you will reach at the site of this beautiful waterfall. The waterfall is about 101m high and the stream that serves the waterfall is used in paddy fields. Folklore has it that deep within the waters of waterfalls seven vessels filled with precious stones are hidden.
Location: Mahiyanga, Sri Lanka
10 Best Waterfalls In Hatton For Soothing Your Eyes And Soul!
3. Madukanda Vihara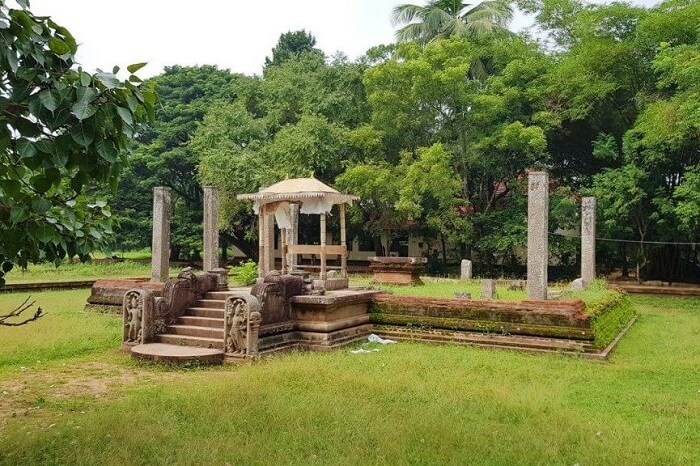 Also known as Madukanda Sri Dalada Viharaya, Madukanda Vihara is a historic Buddhist temple. The historic religious site is located within the Madukanda village, which is at a distance of 4 kilometres from Vavuniya. The Madukanda village and the sacred temple date back to at least 4th century AD.
As per the historians, during the journey of the holy Buddha's tooth relic, Madukanda was the 4th resting point. It also happens to be the first location where the first Dalada Maligaya (House of the Sacred Tooth Relic) was founded. Pilgrims who intend to follow the original trail often stop at Madukanda Vihara for rest.
Madukanda Vihara is the relic house where the sacred tooth was venerated until the temple in Anuradhapura was built. One can witness fine craftsmanship in the form of intricate carvings made on the granite stepping stones. In addition to the temple, one can even visit the Stupa nearby which lacks the adornments as compared to the Vihara but is of equal historical value.
As per a local legend, the giant Nandimithra, a top ranking official in King Dutugamunu's army was born here. Also, one can also visit the former residence, Madukanda Walawwa of a famous Sinhalese chieftain who lived there during the British reign.
Traveling to the Madukanda Vihara is easy. Getting to central Vavuniya costs about Rs. 250 for a ride on a three-wheeler. Additionally, the temple offers free accommodation and basic amenities to those visiting the Madukanda Vihara.
10 Places To Visit In Vavuniya To Know Sri Lankan Culture And History
4. Nuwara Eliya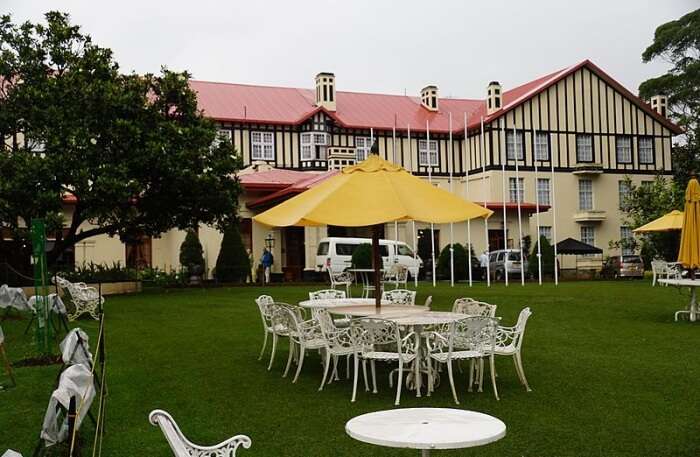 Little England of Sri Lanka, this lovely city is up in the Hill Country. Staying here will give the newlyweds a feel of the colonial culture with lush green slopes, red brick houses and country house-like clubs. With many romantic views to offer, it is amongst the best honeymoon destinations in Sri Lanka for a romance filled start.
Special for honeymooners: Treks, hikes, visits to waterfalls like Lovers Leap Fall, Laksapana Falls, Rawana falls. Tea estate and factory visits are a must-do.
Best time: December to April
Spend some time amidst nature with each other on your Sri Lankan honeymoon. After all, Adam and Eve spent all their time in nature and look how great a couple they were.
20 Honeymoon Places In Sri Lanka In 2022 That Will Sweep You Off Your Feet
5. Galle

Galle is an important city in Sri Lanka and is a one-stop destination wherein you can take in all sights and sounds. One of the best places to visit in Sri Lanka is the Galle Fort. The Galle Fort area has wide cobblestoned roads and a number of eateries and cafes. Try and catch the sunset while you are there. There are a number of trinket shops and galleries that you can visit.
Another picturesque destination for sightseeing in Sri Lanka is the Japanese Peace Pagoda. Quite close to the Unawatuna beach, it is a white dome of serenity.
Best Hotels to Stay: Jetwing Lighthouse, Amangalla, Tamarind Hill, Apa Villa Thalpe, and The Fortress
18 Amazing And Most-Visited Sri Lanka Tourist Places For Your 2022 Trip
How To Reach
There are three different ways to reach Sri Lanka, that is, by air, by train and by water.
By Air:
The nearest airport to Sri Lanka is Colombo International airport. You can take a direct flight from Delhi or Chennai to Colombo. It takes from 90 minutes to 3 hours to reach the destination which depends on the destination from where you have boarded the flight.
By Train:
The country has a good rail network. There are various trains commuting from cities to cities. If you are traveling within the country, you can take a train ride which is not only easy and relaxing but also offers picturesque views.
By Water:
If you want to go Sri Lanka via water, then there are cruises from Mumbai to Colombo. The cruise takes 2 days. You can take the ferry from Rameshwaram.
These places to visit in Sri Lanka are your way to have fun and absorb the culture of the country like never before. Whether you are visiting Sri Lanka with family, friends or your partner, you will find something interesting for yourself. So, don't think too much and plan a trip to Sri Lanka with TravelTriangle right away!
Frequently Asked Questions About Sri Lanka
Q. How many days are needed to visit Sri Lanka?
A. For exploring the country, you require 6-7 days.
Q. Is Sri Lanka expensive?
A. You can visit Sri Lanka on a backpacker's budget, however, some activities like safaris and heritage sites are quite expensive.
---
Looking To Book An International Holiday?
Book memorable holidays on TravelTriangle with 650+ verified travel agents for 65+ domestic and international destinations.
---