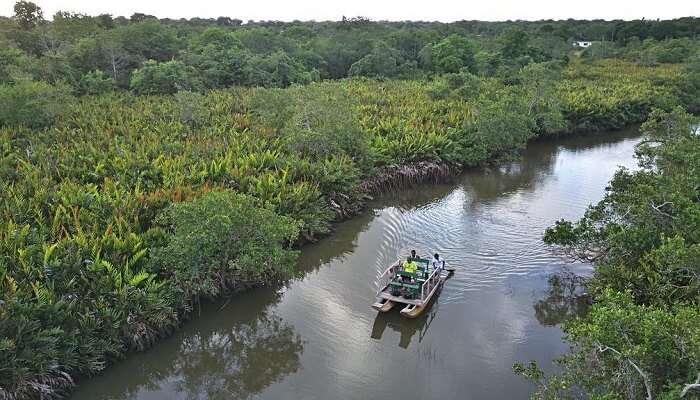 Sri Lanka is a land of endless beaches, timeless ruins and friendly people. Adorned by the exotic beaches and the lush-green tea plantations, this country is the land of nature's paradise. This was an undiscovered country which has come into the limelight in the past few decades. Some of the best coastal towns in Sri Lanka are Galle and Hikkaduwa which is known for attracting the tourists with its beauty. While these places are always on the cards, there is another place which will give that perfect space to relax. As compared to the famous coastal towns, Tangalle is known as the place for a relaxed beach vacation on its quiet and isolated pristine beaches. Tangalle is a place which is famous for its beautiful seaside vistas, mangroves and coves. Tangalle is a place which offers an authentic lifestyle on an island and apart from that, the mild weather is to enjoy. Alongside that, there are fishing boats which wade out into the sea and makes a beautiful scenery like view to enjoy. A holiday in Tangalle will be quite a laid-back vacation where the warm Indian Ocean adds an edge to the entire view. During the autumn season, the country welcomes the monsoon season and mild showers are expected. There are a lot of places to visit in Tangalle in autumn which one cannot miss while enjoying a relaxing vacation at this tropical place.
4 Best Places To Visit In Tangalle In Autumn
Here are some of the best places to visit in Tangalle in Autumn which one cannot miss if they're looking for a tropical and relaxing vacation.
1. Goyambakka

While the beaches in Tangalle are not that safe, but Goyambakka is a place where people can actually enjoy a relaxing session at the beach. Adorned by the white sandy beaches and surreal coves, this place looks like a true paradise. People will feel like they are on a private island, as this place is isolated and not many people visit this place. Set back and relax on the warm sand and admire the tropical view of this place.
2. Mulkirigala Rock Temple

Apart from the beach, there is something different experience to enjoy at the Mulkirigala Rock temple. Resting at the coconut grove, this ancient rock temple is located at the top of 205m natural rock. This place has around 7 caves which are located over the 5 different terraced levels. This 3rd-century temple is one of the most places to visit in Tangalle in autumn.
3. Tangalle Lagoon

Not just the beaches and other historic places are there to entertain in Tangalle, but there are many other things to do near this tropical place. Try out your hands on some water sports activities like surfing, diving and kayaking. For the people who experience Kayaking, they can enjoy the exotic view of the wildlife residing within the mangroves.
4. Mirissa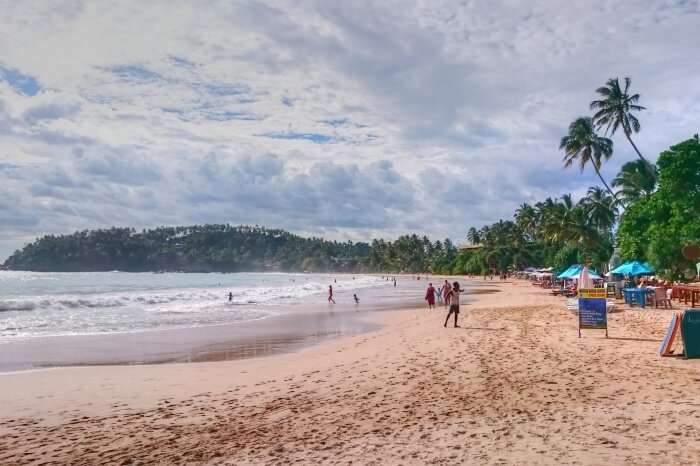 Another great location for snorkeling in Colombo is the Mirissa beach. This particular beach has always been one of the first places to enjoy the view of the whales. However, the price is a little high. However, this particular place has turned out to be an,excellent diving spot. There are about 5 diving sites around the Mirissa beach which is perfect for both snorkeling masters and beginners. PADI training courses are provided to beginners and there are travelling centres as well. The other additional info can be obtained from the internet or from the local traveling agencies which might be nearby.
Location: Mirissa Village
Snorkeling In Colombo 2022: 10 Best Places To Witness The Beautiful Life Beneath Water!
Are you excited to enjoy the rain of Sri Lanka and also explore these places to visit in Tangalle in autumn? These are some of the handpicked attractions which one must explore when visiting Tangalle. Whether you're an adventure freak or a nature lover, there is something for everyone here at this tropical paradise. So, if you're planning a vacation to Sri Lanka, then make sure to not miss out on these famous places in Tangalle and enjoy a completely relaxing beach vacation.
---
Looking To Book An International Holiday?
Book memorable holidays on TravelTriangle with 650+ verified travel agents for 65+ domestic and international destinations.
---