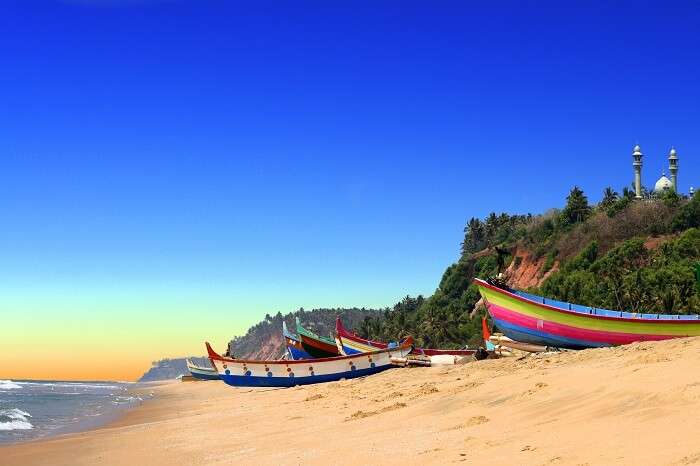 Kerala's reputation as a tourist hotspot is well-known. However, the coastal town of Varkala is often eclipsed by places like Wayanad, Kochi and Thiruvananthapuram. If you're looking to immerse yourself in the best that Kerala has to offer, this is where you should come to.
High cliffs bordering one of the most popular beaches in the state, Varkala Beach, and uninhabited islands like Ponnumthuruthu Island known for its pristine beauty are just some of the attractions here. Take a trip down south to this little slice of paradise and explore the best places to visit in Varkala.
20 Must-Visit Places In Varkala
From beaches to lakes, and from temples to backwaters, checkout the best places to visit in Varkala that will not fail ever to cast its magical spell on you!
Varkala Beach
Kappil Beach
Kappil Lake
Ponnumthuruthu Island
Anchuthengu and Anjengo Fort
Janardana Swami Temple
Sivagiri Mutt
Odayam Beach
Balimandapam
Edava Vettakkada Beach
Varkala Lighthouse
Vishnu Temple
Varkala Tunnel
Chilakoor Beach
Varkala Aquarium
Thiruvambadi Beach
Saint Sebastian's Pilgrim Church Moongode
Janardhanaswamy Temple
Varkala Cliff
Kaduvayil Juma Masjid
1. Varkala Beach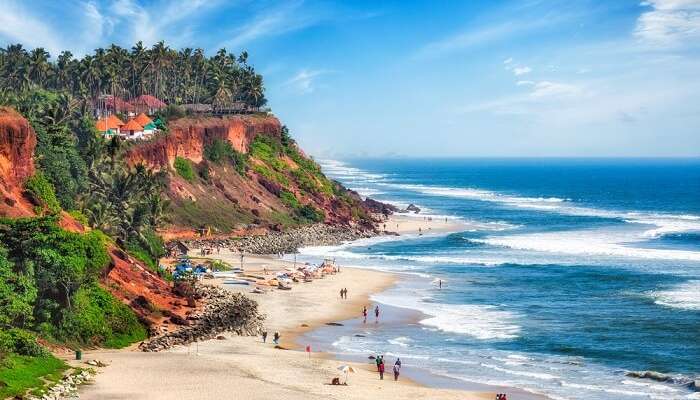 A visit to Varkala tourist places must start with Varkala Beach, one of the town's most popular attractions. What sets it apart from other beaches is the striking cliffs that fringe one end. In fact, the town is the only place in this part of Kerala that has cliffs near the Arabian Sea. The striking formation is known as the Varkala Formation. Aside from the magnificent view from up top, there are spas and water spouts to explore that are believed to be sacred and healing.
There are other places to visit in Varkala Beach including the Janardana Swami Temple, a 2000-year-old religious institution dedicated to Vishnu and Sivagiri Mutt, an ashram built by Sri Narayana Guru more than 100 years ago.
Suggested Read: Kerala In Summer: 10 Serene And Scintillating Places To Visit In This Heaven
---
Kerala Holiday Packages On TravelTriangle
A holiday in Kerala will fill you with memories. Witness pristine backwaters with comfortable houseboats, lush green hill stations, waterfalls, and plantations of tea and spice. Indulge in an ayurvedic massage or taste exotic cuisines. Book a Kerela holiday on TravelTriangle. Best prices guaranteed.
---
2. Kappil Beach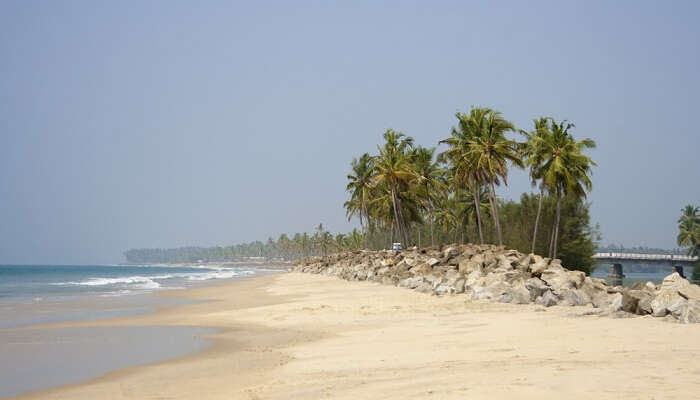 One of the best places to see in Varkala in Kappil Beach where Kappil Lake meets the Arabian Sea. The lake is right across and is separated by a metaled road. The beach isn't very large but rocks and palm trees create a little heaven and offer numerous opportunities for shutterbugs to get out their cameras.
For a better understanding of just how scenic Kappil Beach and Kappil Lake are, look for photos with a bird's eye view. The calm lake on one side and the roiling sea on the other make for a stunning contrast. When you've visited both sides of the area, you can make your way to Vettekkada Beach, which is a short distance away. It's charming and secluded – perfect for travelers looking for a little 'me' time.
3. Kappil Lake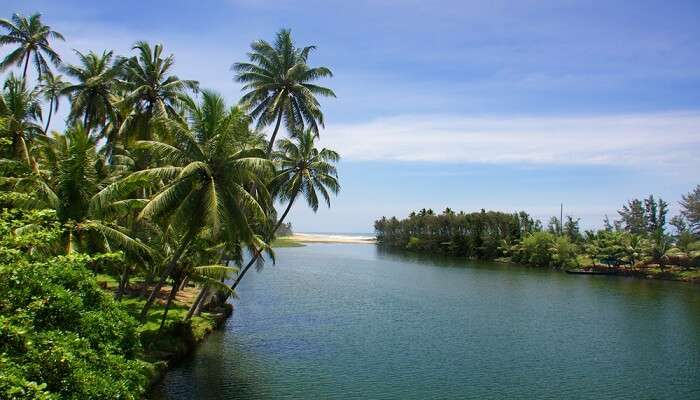 Kappil Lake is one of the top places to visit in Varkala Kerala. It's serene and extremely picturesque with coconut groves and placid waters creating an instant escape. It's just about six kilometers from Varkala town so you can head here anytime you need to get away from the noise.
There are boats available for rent so you get to explore the beautiful waterway. Do carry a camera and take photos of the palm trees nearby. You should also walk the bridge that's built across the lake. The views of the water stretching into the horizon are stunning and make it one of the best Varkala sightseeing spots.
Suggested Read: Monsoon In Kerala: Explore The Coastal Gem Like Never Before!
4. Ponnumthuruthu Island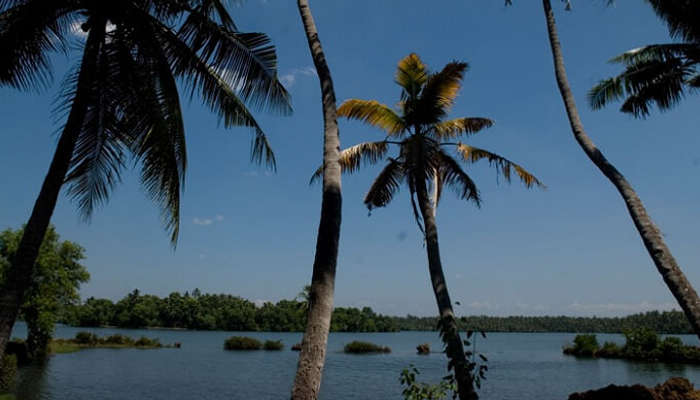 20 kilometers from Varkala is Ponnumthuruthu Island, an uninhabited green space that's perfect for nature walks and bird-watching. It's one of the most popular places to visit in and around Varkala. Migratory birds halt here and if you have an affinity for our winged friends, bring a pair of binoculars and enjoy seeing them go about their business. The island also has a century-old temple dedicated to Shiva and Parvati.
The only way to get here is to hire a boat from Nedunganda Village. You can plan a day trip and spend a few hours exploring the island and picnicking before heading back to Varkala town.
5. Anchuthengu And Anjengo Fort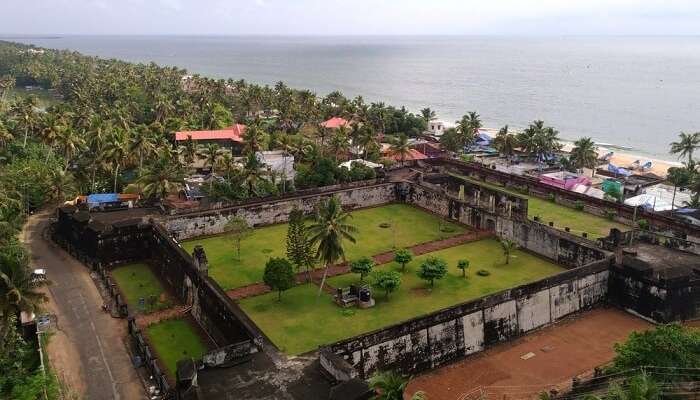 Old and full of history, Anjengo Fort was built in the late 17th century by the East India Company. It was gifted to the company by the Queen of Attingal. According to local legend, the British had a hard time pronouncing the town of Anchuthengu where the fort was built and called it Anjengo instead.
Today, Anchuthengu and Anjengo Fort are some of the most popular Varkala places to visit. The town features old structures including a century-old convent and tombs of soldiers. Walking through the streets, it's easy to feel like you've stepped into the past. The old world feel is very discernible!
Suggested Read: 23 Best Places To Visit In Kerala For An Enchanting Holiday
---
Planning your holiday in Kerala but confused about what to do? These Kerala travel stories help you find your best trip ever!
Real travel stories. Real stays. Handy tips to help you make the right choice.
---
6. Janardana Swami Temple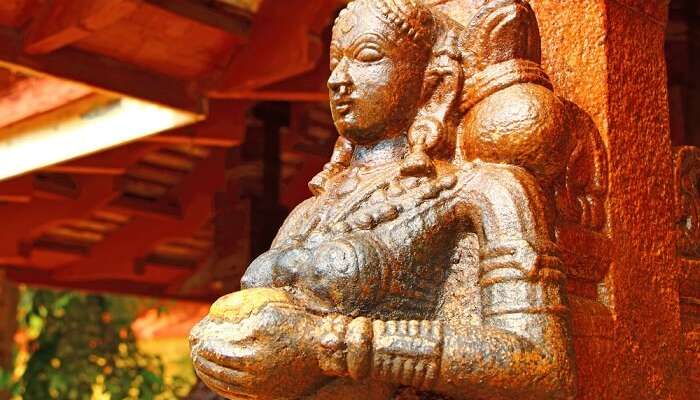 2,000 years old and still standing strong, Janardana Swami Temple is a place of worship for followers of Vishnu. Often referred to as the Varanasi of the South, it's located on a hill at the road to Varkala Beach. You can visit it along the way. A banyan tree stands on the grounds of this Varkala temple and is adorned with idols beneath. Non-Hindus aren't allowed inside the inner sanctum but you can explore the grounds and see the facade of the temple.
A 10-day festival known as Arattu is held each year from March to April and includes night-long traditional dances. Plan your holiday during this period if you want to see this and colorful processions.
7. Sivagiri Mutt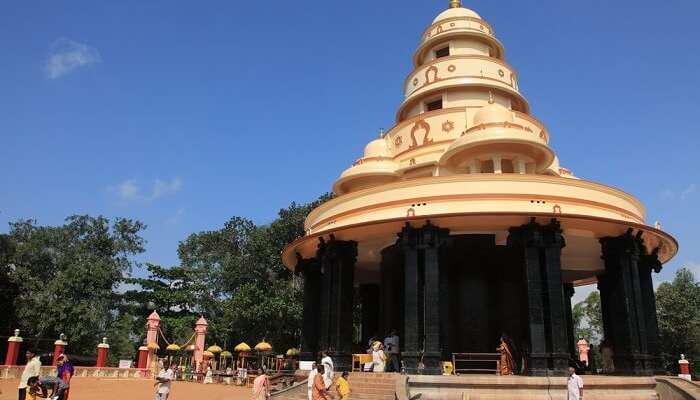 The ashram and tomb of Sri Narayana Guru, Sivagiri Mutt, is located atop Sivagiri Hills and is a popular tourist attraction. It's believed that this is where the social reformer became enlightened. You can expect to see a steady flow of devotees that swells to thousands during the Sivagiri Pilgrimage that takes place from December 30th-January 1st.
The rituals observed during the period are distinct from other religious pilgrimages. Devotees are required to purify themselves on the basis of Buddha's principles of mind, body, food, word and deed.
Suggested Read: 10 Boutique Stays In Kerala For Couples Looking For An Experiential Stay
8. Odayam Beach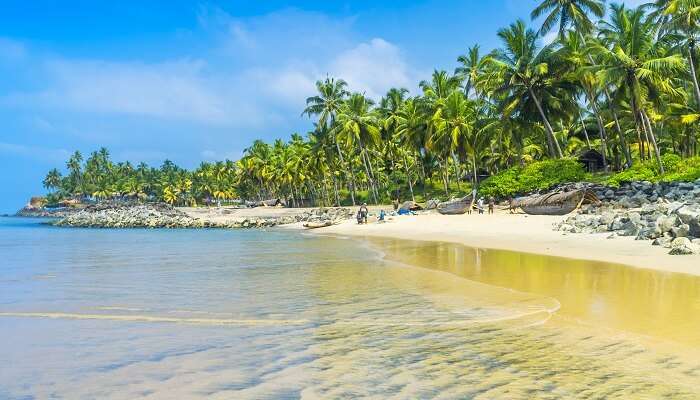 Located at a distance of just few kilometers, Odayam Beach is a pure stretch of soft sands between the beautiful Thiruvambadi beach and the Cliff beach. Letting the travelers explore the peaceful side of this coastal town, Odayam Beach is one of the best places to visit in Varkala. And for those who're looking forward to explore the hippiest side of Kerala, this is the perfect place to be.
9. Balimandapam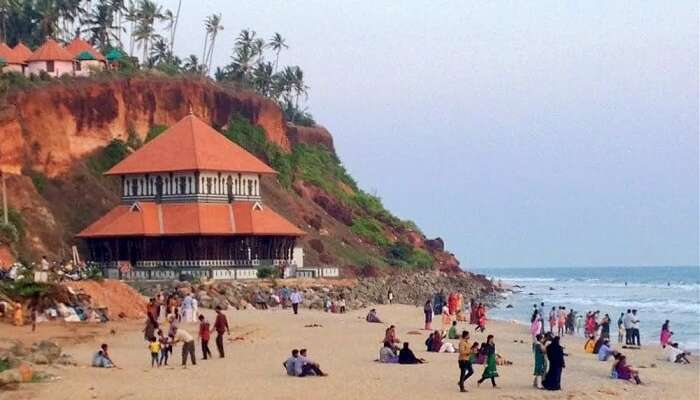 Considered to be a pilgrimage site wherein lakhs of travelers come annually to pay their respects to the departed souls, Balimandapam is one of the major and biggest projects of VIVID Corp. in Varkala. Dedicated to performing the rituals of Vavubali at the most sacred Papanasam River, Balimandapam is a must visit attractions in Varkala on your next trip. Don't miss it!
Suggested Read: 10 Holiday Homes In Kerala Where Family & Friends Can Relax In Peace
10. Edava Vettakkada Beach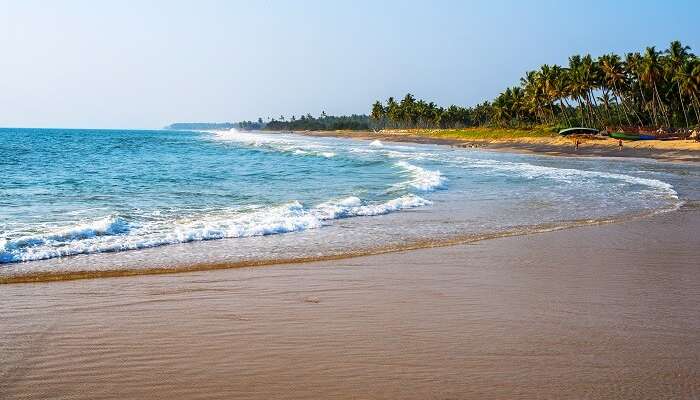 Set amidst two gorgeous cities of Varkala in the south, and the city of Paravur in the north, Edava is a quaint little town in the district of Thiruvananthapuram that overlooks the mighty Arabian Sea. Home to serene backwaters, cliffs, canals, lakes, and extended beaches, it is one of the best places to visit in Varkala.
11. Varkala Lighthouse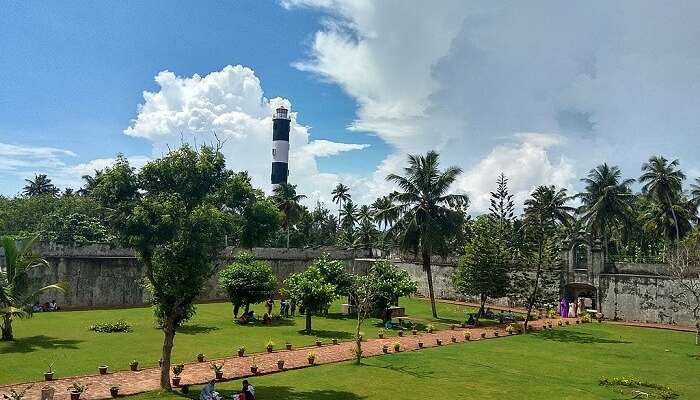 Built in 1684 by the Britishers to help ships coming from Britain with navigation, Varkala Lighthouse is a famous landmark in the beach town today. Standing tall at 130 meters high, the lighthouse tower offers resplendent bird's eye views of the coast. People come here to spend a nice evening or have a picnic. It is also a famous spot for photographers. Do bring your DSLR when you pay a visit to Varkala Lighthouse.
12. Vishnu Temple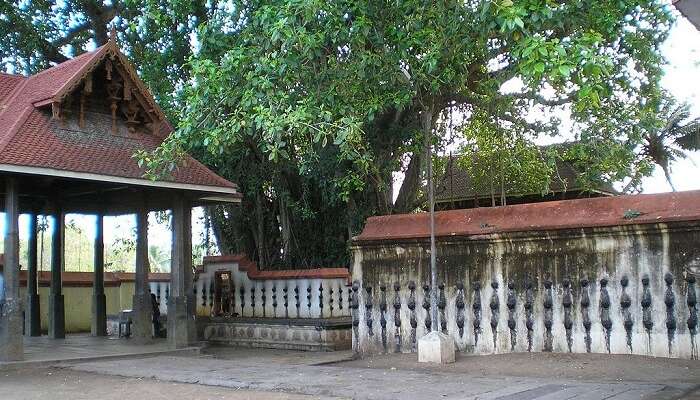 A popular religious spot in Varkala, this ancient temple dates back to 2000 years ago. The temple is located very near to Varkala beach. So, it is very easy to spot. People come here to pay their reverence to Lord Vishnu. If you are taking a stroll near the beach, you can pay a short visit to the temple.
13. Varkala Tunnel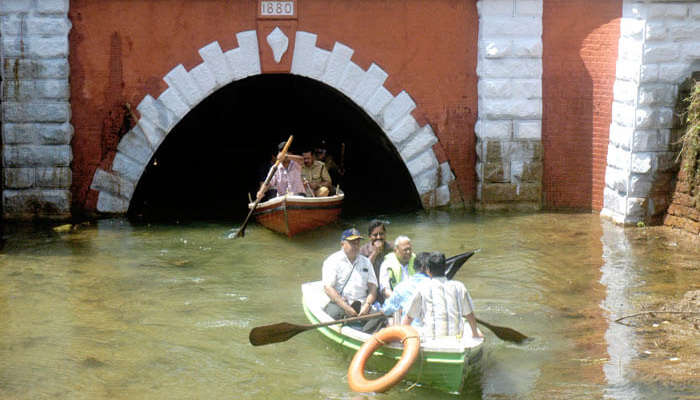 Have you heard about the Varkala Tunnel? If not, make a point of checking this place out on your trip next time. It was built in 1867 by Sir Madhav Rao who used to be the dewan of Travancore at that time. Believe it or not, this tunnel took14 years to build. It was built for merchants as a checkpoint before proceeding their journey to Thiruvananthapuram. The tunnel is an impressive example of architecture. If possible, do take a boat ride through the tunnel which will make you remind of Gondola Ride in Venice.
14. Chilakoor Beach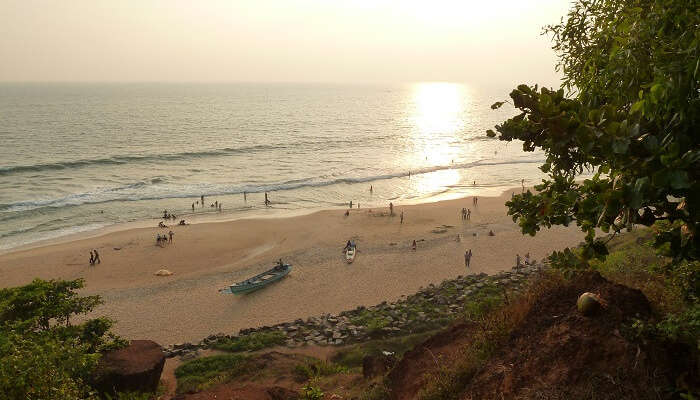 Chilakoor Beach is located 15 km from Varkala but what makes it worth going all the way to this beach is its casuarina groves. If you ever get bored of beaches in Varkala which is highly unlikely, you can take a drive to this place. Even the road to this beach is scenic and gorgeous. You pass through charming coastal villages where you can get a glimpse of seaside traditions. The serene environs of this place will make you want to stay here forever.
15. Varkala Aquarium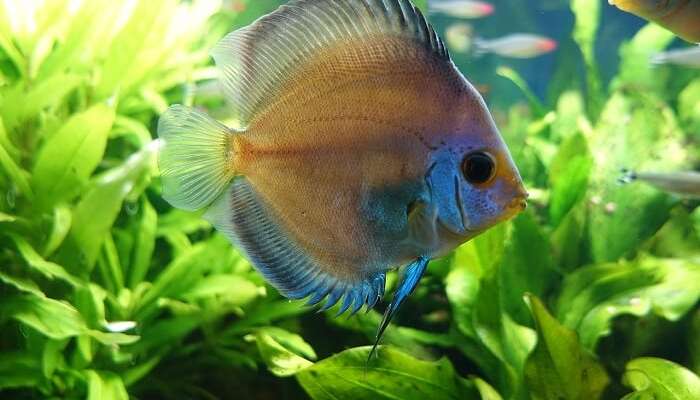 Located between Black Beach and Odayam Beach, Varkala Aquarium displays a large variety of fish and other aquatic organisms. If you are a marine lover, then you can put this place to visit on your list. It is worth visiting in your free time. The aquarium also runs 3D show where information about fish and other marine species is given out. It is a perfect place to visit along with your kids.
16. Thiruvambadi Beach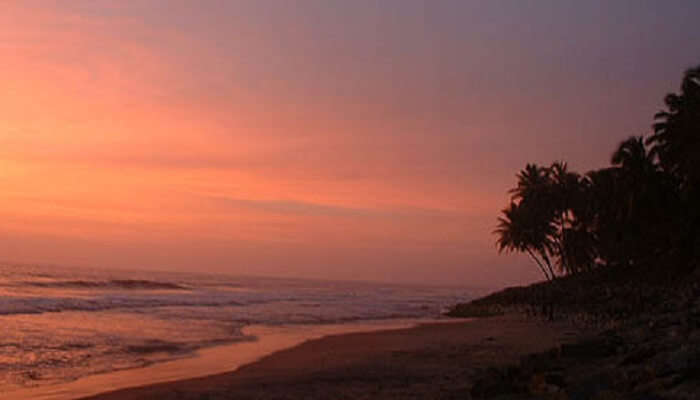 One of the most famous places to visit in Varkala, , Thiruvambadi Beach is a black sand beach and we bet you would not wanna come back. This beach amidst coconut groves is the best place to chill. Do not miss out this beautiful on your next trip to the city and have a good time. Relax and rejuvenate!
17. Saint Sebastian's Pilgrim Church Moongode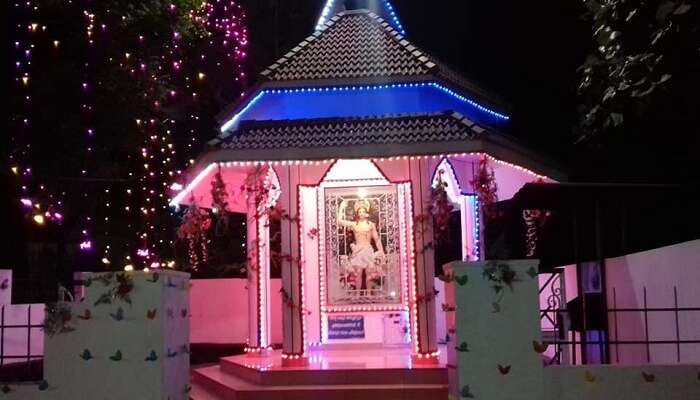 On the banks of the backwaters of Varkala is a very sacred and important place for Christians the Saint Sebastian's Pilgrim Church Moongode. The church was made by Portuguese missionaries and is popular and well known for the Feast procession of Saint Sebastian which takes place in February every year.
18. Janardhanaswamy Temple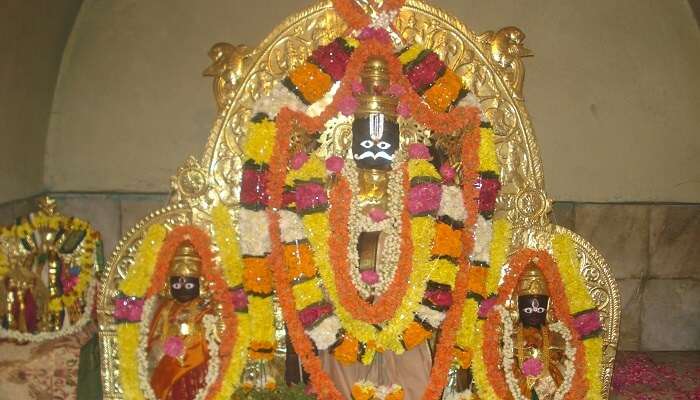 Located 25 kilometers north of Thiruvananthapuram, the Janardhanaswamy Temple is an ancient temple built some 2000 years back. Arattu festival is celebrated here and every year thousands of people come to attend the same. The temple is dedicated to Lord Vishnu and people visit the place because it's ancient and holy.
19. Varkala Cliff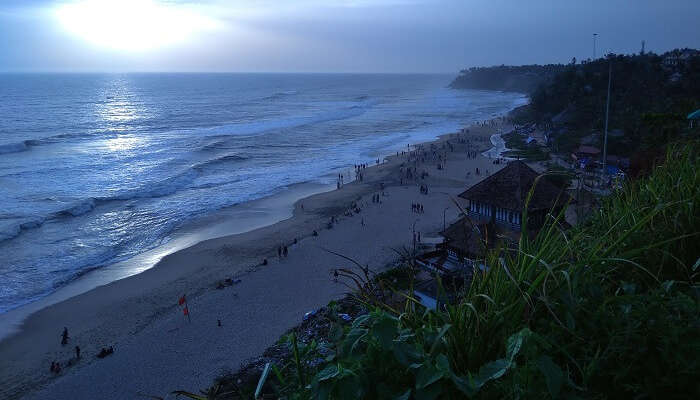 Overlooking the Varkala Beach, the Varkala Cliff is not just a popular tourist attraction in Varkala but a very important geological site too. Formed by laterite the Geological Survey of India called this cliff a Geological monument. The cliff offers a captivating view of the golden beach and this one is definitely worth a shot.
20. Kaduvayil Juma Masjid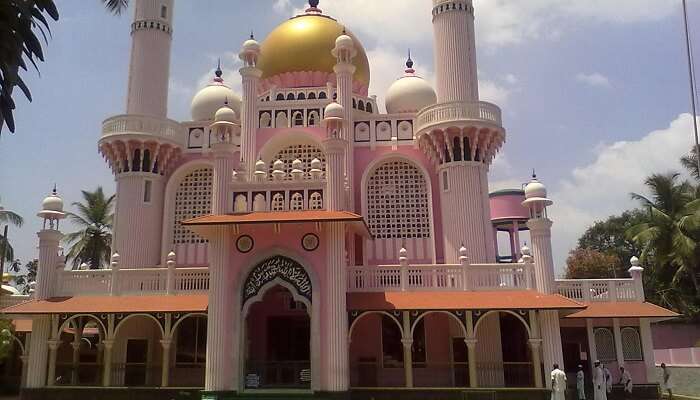 Built in the remembrance of Saint Kaduvayil Thangal who was said to have magical powers, the Kaduvayil Juma Masjid is a very important religious center among Muslims. With its marvelous architecture and very pure and divine vibes this mosque attracts many tourists. If you are seeking peace then make sure you visit this place.
Varkala is a peaceful coastal city that blends nature and spirituality perfectly. So if you're one of the peaceful kinds, we suggest you definitely visit this beach town of Kerala and soak in the tranquility here. And for a personalized trip, book a trip to Kerala from TravelTriangle, and enjoy a hassle-free trip.
Frequently Asked Questions About Places To Visit In Varkala
Q. Which district is Varkala?
A. Varkala is a calm and quiet village that lies on the outskirts of Thiruvananthapuram district and is located 51 km north of Thiruvananthapuram city in Thiruvananthapuram district and is around 37 kilometers south of Kollam.
Q. What is Varkala Cliff?
A. Varkala Cliff which is a quiet beach that sees very few visitors and is a great place can have a relaxing holiday without the crowds and the hustle-bustle of some of the other busier beaches in Kerala.
Q. Is Varkala worth visiting?
A. Varkala is definitely worth a visit if you are looking for a little "beach" and "chill out" time.
Q. When is the best time to visit Varkala?
A. As Varkala has a tropical climate, the climate is usually hot and humid during summers, while you can expect heavy rainfall during monsoons. The most pleasant weather is during the winter season. So, one of the best seasons to visit Varkala is during winters.
Q. Is alcohol allowed in Varkala?
A. As Varkala is a holy town, none of the beach shacks are licensed to serve alcohol
Q. How can I go to Varkala by flight?
A. There are no airports in Varkala. The nearest airport to Varkala is in Thiruvananthapuram, which is around 40 km away. You can find a number of taxis that ply between the airport and Varkala.
Q. How do I get to Munnar from Varkala?
A. It takes around 3 hours by train to reach Munnar from Varkala with Kuruppanthara being the nearest railway station. You can reach Munnar from Kochi airport which is about 71 km away.
By Road: You can hire a taxi from Varkala to reach Munnar.
Q.Where is the Varkala Beach situated?
A. Varkala Beach, which is also quite popular as the Papanasham Beach is a beautiful beach which lies in the Varkala municipality of Thiruvananthapuram. It is aligned along the Arabian Sea and forms a part of Indian Ocean
---
Looking To Book A Holiday Package?
Book memorable holidays on TravelTriangle with 650+ verified travel agents for 65+ domestic and international destinations.
---
Comments
comments