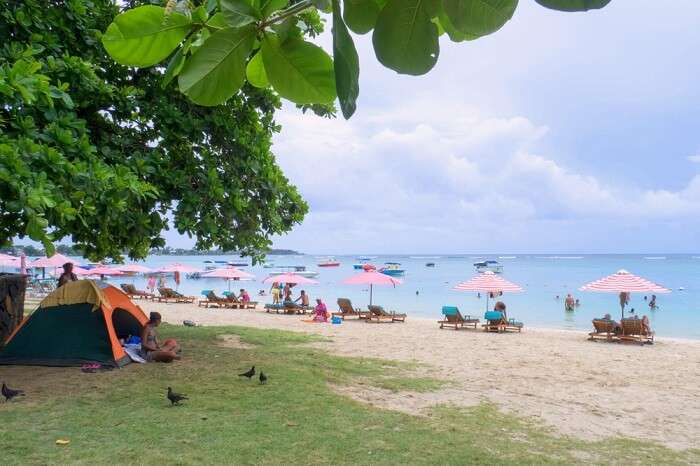 The Ilot Gabriel is among the many gorgeous islands or islets surrounding the main Mauritius mainland, and it's just as beautiful and worthy of a visit as the main island. Located off the northern coast of Mauritius, an area particularly famous for its catamaran cruises, snorkeling, and scuba diving, this island boasts of the stunning Ilot Gabriel Beach. It is among the most pristine beaches in Mauritius owing to its secluded location. Slowly turning into every honeymooner and adventure seeker's favorite destination, it makes for a perfect day trip with your loved ones! The beach is a sight for sore eyes with its pretty corals, endless natural beauty, and plenty of snorkeling opportunities. One can also just enjoy a relaxing walk on the beach and simply enjoy that fresh sea breeze and silver sand underneath. But what to do once you're done exploring this beautiful part of Mauritius with its? Well, you can surely head to the many places to visit near Ilot Gabriel Beach Mauritius to know what else this wonderful country keeps hidden from the outside world!
5 Places To Visit Near Ilot Gabriel Beach Mauritius
Done with Ilot Gabriel Beach? Don't forget to explore these equally charming and utterly thrilling avenues near this beach for a fun and memorable vacation in Mauritius.
Pereybere
La Cuvette Beach Grand Bay
Mont Choisy Beach
Plage De La Prison Beach
La Pointe Beach
1. Pereybere

The Pereybere beach is quite popular among travelers. Keep it in your list of places to see among all the Mauritius tourist places, if you love deep sea diving and snorkeling. Even though the water is deep in comparison to other beaches on the island, it is pleasingly calm.
Famous for: Corals and marine life at Pereybere is a treat for sea-life lovers.
Black River Gorges National Park: A 2022 Guide To This Nature's Wonder In Mauritius
2. La Cuvette Beach Grand Bay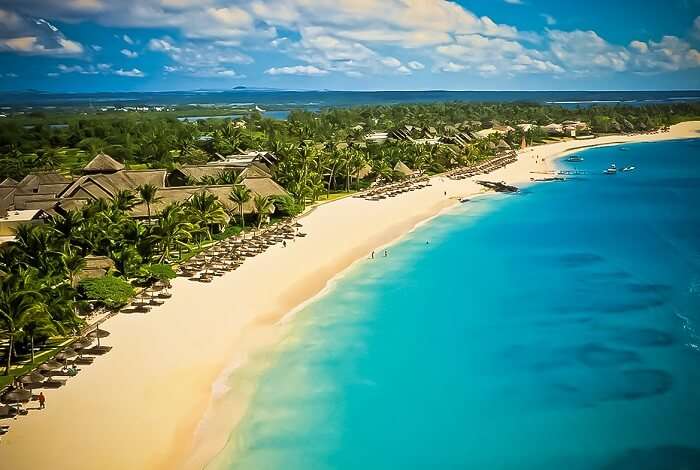 Situated near the town of Grand Bay in the northwest of Mauritius, La Cuvette Beach is a small beach as compared to the other beaches in Mauritius, but an extremely beautiful one, nevertheless. It is haven for those who love tranquil places minus all the hoopla related to heavy crowds. The azure, crystal clear waters coupled with the dazzling sand and boulders, and attractive cliffs, make for a perfect place for solitude seeking nature lovers.
Famous for: Tranquility. A visit to this beach promises a refreshing pleasure of being surrounded in the peace, serenity and beauty. It is also known for its perfect currents to indulge in sailing and yachting.
Key attraction/s: The luxurious Royal Palm Beach Resort nearby is a great crowd puller.
8 Best Heritage Places In Mauritius That Are Perfect For The Explorer In You!
3. Mont Choisy Beach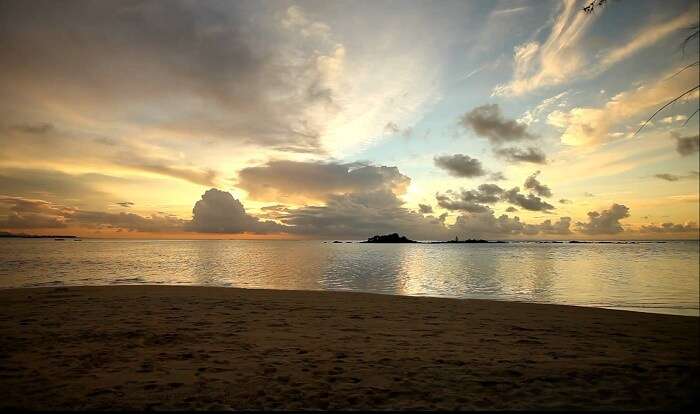 Located in the north of the country, Mont Choisy Beach is one of the most stunning beaches in Mauritius, in addition to its being the longest. Its proximity to the airport makes it a popular transit stoppage. The longest of all other best beaches in Mauritius glitters with sparkling blue water, attractive corals and the lively marine world. The gorgeous shore is perfect to sit by and unwind while watching the charming nuances of the world. The curve-shaped bay is dotted with beautiful Casuarina trees that add to the glory and serenity of the beach.
Famous for: Water sports activities like windsurfing, skiing, deep sea diving, fishing, speed boating is great fun here. Have fun playing volleyball or football on this wide, amazingly attractive beach.
Key attractions: It is the longest beach in the country with a variety of super fun water sports. Also, Mont Choisy Beach is a popular spot among nature enthusiasts and photography lovers.
Poste Lafayette Beach is located in Roches Noires Village on the east coast of the island. The beauty of its peaceful little coves, lovely coastline and beautiful kilometer-long lagoon are enhanced with shiny blue waters and lush greenery. The allure of the beach is breath-taking, calming and refreshing, creating a perfect ambiance away from the hustle-bustle of city life. The soothing sounds of the mighty waves under the vast, majestic sky make it an experience you must have at least once in your lifetime. Plus, the restaurants and luxury hotels nearby make your visit comfortable and fun.
Famous for: Its spectacular beauty. Remember to take a silent walk along the beach, click snapshots of its glory and indulge in the fun water sports lke kayaking.
Key attractions: The beach offers ample opportunities to dive, surf, snorkel, kayak, swim, and play around. No matter what you do, the enchanting beauty and right company can make your day.
 8 Waterfalls In Mauritius To Witness The Prodigious Work Of Nature!
4. Plage De La Prison Beach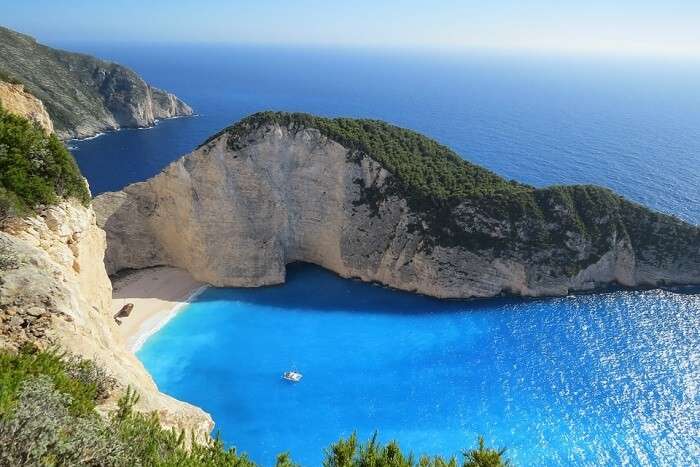 Plage de la Prison is a quaint and calm beach, perfect for quiet moments with ones own self. This beach offers a spectacular view of the sunset, which creates a dazzling effect in the deep blue sea. The rising gushing sound of the sea against the rocks and corals creates a perfect background score while you plan a barbeque with family and friends.
12 Exciting Water Sports In Mauritius For An Out-Of-The-World Experience In 2022
5. La Pointe Beach

Among the beaches in and around Port Louis, the La Pointe beach holds a significant place. This beach offers a fantastic sea front view and has the ability to excite even the most mundane souls. La Pointe beach is rich in corals and thus is quite picturesque, providing umpteen photo opportunities and a nice ambience for sharing a picnic basket with near and dear ones. Sunbathing on the pristine white sand beach with a wide blue ocean in front and a sprawling town in the background is a memory to hold close to.
 Hiking In Mauritius: Explore The Spectacular Nature Of The Island Nation
Best Time To Visit Ilot Gabriel Beach And The Places Near It

There isn't any specific season or time of the year to visit the gorgeous Ilot Gabriel Beach. This beach is accessible throughout the year and it's an amazing destination no matter what time of the year you choose to visit it in. As far as the ideal time of the day is concerned in order to visit it, it is preferable to come to the Ilot Gabriel Beach during either morning or afternoon. Past visitors, tour guides, and travel experts suggest that this beach looks spectacular in the morning as well as the afternoon. And once you're here, it'll take you about 3 hours to fully explore the entire beach and also relish the scenic beauty of this place.
How To Reach Ilot Gabriel Beach

The Ilot Gabriel Beach is located right next to the Ile Plate in Mauritius. Both these islands (or islets) are surrounded by a vast array of mesmerizing coral reefs. The Ilot Gabriel Beach could be easily reached via a catamaran ride or by a boat from the Pereybere port or Grand Bay in Mauritius. Usually, visitors spend about 5 hours on the island and the beach, and then it takes them another 4 hours to get back to the mainland via the same mode of transport.
Though the whole journey and the timing depend entirely on the weather conditions in the sea, it will surely be a trip to remember and totally worth your time. Taking a boat ride to this island is in itself a great experience and a truly magical journey for those who love adventure and nature. Imagine sailing softly over blue emerald waters while the cool sea breeze whistles in your ears. Moreover, the waves are as high as mountains in this part of Mauritius and riding over them will give you an adrenaline rush unlike any other!
14 Important Things To Know About Mauritius: A 2022 Travel Guide For All Travelers
Intrigued much? We bet you are! From La Cuvette Beach Grand Bay, Plage De La Prison Beach, to the splendid Mont Choisy Beach, there is no dearth of places to visit near Ilot Gabriel Beach Mauritius. Make sure you add each and every one of these to your itinerary so that you can enjoy a marvelous vacation in this tropical paradise. And while you're at it, start planning your holiday in Mauritius via TravelTriangle right away to avoid last minute hassles and grab great deals and discounts for your trip.
People also read:
Beaches In Port Louis Beaches In Balaclava Beaches In Grand Baie
Looking To Book An International Holiday?
Book memorable holidays on TravelTriangle with 650+ verified travel agents for 65+ domestic and international destinations.
---