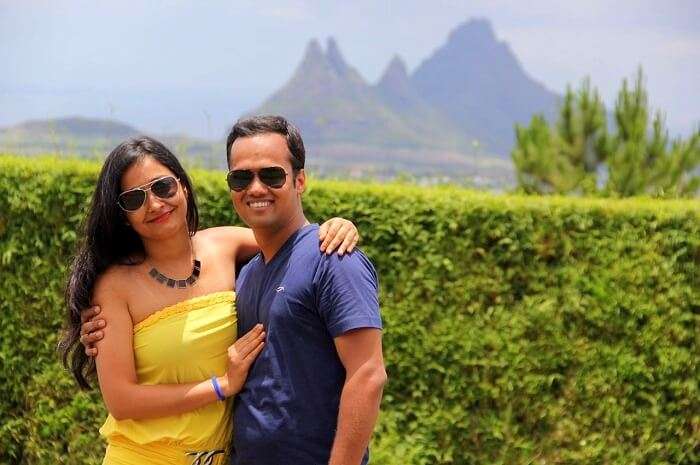 "Our honeymoon trip to Mauritius was a fine blend of leisure & fun. The tropical vibes of the country were surreal and by the time the trip was over, we were completely enchanted by its beauty."
Trip Type: 6 Nights 7 Days Mauritius honeymoon
Cost: INR 1,51,525
Inclusions: Hotel (Radisson Blu Lafayette) with breakfast & dinner, flights, airport transfers, sightseeing, and Ile aux Cerfs island visit.
Exclusions: Flic-en-Flac visit, paid water activities at Ile aux Cerfs, and lunch.
Weather in Mauritius: 23 – 25 degrees (May to December)
Why Mauritius for a honeymoon?
We wanted to go to some place different from the usual. Countries like Singapore, Thailand, and Bali were being visited by all in our vicinity and so to break the monotony, we chose Mauritius. Also, it was the only destination that offered sightseeing, water sports, luxury, and a modern experience.
How I booked a perfect Mauritius honeymoon package?
As an army major working with United Nations, I have had a lot of opportunities to visit foreign countries. During these occasions, I used to manage my bookings myself and was fairly good at it, however, this time, I wanted everything perfect. So I chose to go for a Mauritius honeymoon tour package that would give me perfect arrangements and a hassle free experience. Thankfully TravelTriangle came to my rescue. Every now and then, as I used to log into my Facebook, I used to notice one of friends 'liking' the TravelTriangle page and that is how I ended up contacting them for a quote.
Upon raising a request (filling basic details), I soon received a call from their representative asking for my requirements. After telling him so, I was connected to various travel agents who sent me different quotes and itineraries as per my needs. I finalized "Degenerates" travel agent for their itinerary and quotes were the best and also because of their representative, Monica, was an amazing agent who guided us excellently on our destination. Minute details about services and things to do were given to us and we were very happy with the whole trip booking process.
Tip: When in doubt, it is always better to bring in a travel expert since you can't afford anything to go wrong on your honeymoon.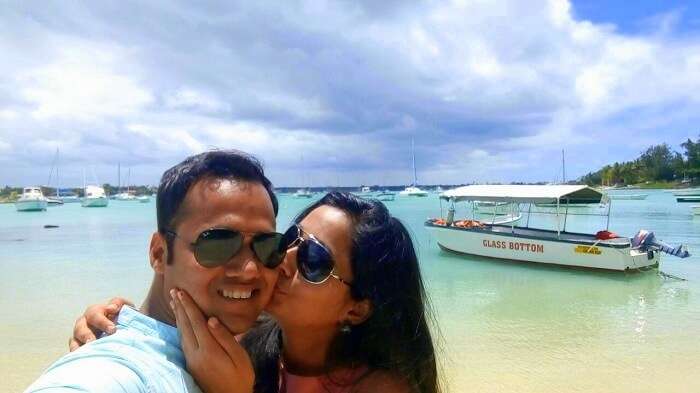 Suggested Read: Adventure, Romance, & Luxury: An All In One Exciting Trip To Mauritius
Our Mauritius honeymoon tour itinerary:
Day 1: Arrival and check in at the resort
Day 2: Leisure day – visited supermarket in Flac to grab all the essentials like water bottles – also visited the botanical garden
Day 3: South island tour of Mauritius – visited Shiva temple – Trou aux Cerfs – ship building factory
Day 4: North island tour – did sightseeing in and around Port Louis
Day 5: Leisure day spent at the resort – did activities like aqua gym, glass bottom boat
Day 6: Leisure day at the resort – chilled on the beach – indulged in water activities at the hotel
Day 7: Departure
And so our Mauritius honeymoon trip began
We boarded our flight from Mumbai at 6:45 am and reached Mauritius at 11:45 am. It was a smooth flight and upon our arrival at the airport, we were greeted by a representative from the travel agent's side. Mauritius was bright and sunny and gave us a happy positive vibe. We were subsequently transferred to our resort – Radisson Blu Lafayette. This was a beautiful property filled with modern amenities and top of the class luxury services. It was blissful. Our rest of the day was spent relaxing at the resort.
Tip: Radisson Blu was an excellent choice and was booked on my demand, benefits of a customized trip, I guess!
A visit to the botanical gardens and some shopping on our free day!
Suggested Read: Honeymoon In Mauritius: A Toast To The Best Trip Of Our Life
A leisure day for us, we decided to make the most of it by getting essential supplies like water bottles and snacking tidbits from a supermarket in Flac. We also visited the famous Sir Seewoosagur Ramgoolam Botanical Garden in Pamplemousses. This was a refreshing experience which also showed us the natural side and goodness of Mauritius.
Tip: The botanical garden is one attraction in Mauritius that most people don't opt for but I would suggest everyone to do so since its one of the best in the country.
Witnessing the marvels of nature and culture on the Mauritius south island tour
We went for our south island tour today. In the morning after breakfast, we were picked by our cab driver and taken to the south of Mauritius for the tour. We visited the Shiva Temple here and it was followed by the dormant volcano site of Trou aux Cerfs, Chamarel waterfall and the ship building factory in the city of Curepipe. All of these experiences were nice and overall, the day was great if not super! Dinner was at the resort as usual.
Tip: South Island tour is a little boring if you're not into religious and local sightseeing. One can opt for an underwater submarine ride or a trip to the Casela Nature Park instead!
Sightseeing in Port Louis
Suggested Read: Mauritius Honeymoon Guide: Here's All You Need To Plan The Romantic Vacation
As per our Mauritius tour itinerary, we did the North island tour today and it mostly comprised of sightseeing in and around Port Louis. Our sites included Citadel fort, Le Caudan Waterfront, Umbrella market, and souvenir shops. We returned back to our hotel in the evening before 5. This day was too an interesting one, mainly because of the sightseeing attractions.
Tip: The shops at Le Caudan Waterfront are great for souvenir purchasing.
Indulging in the Ile aux Cerfs activities
This was the best day of our trip for we visited the beautiful island of Ile aux Cerfs and did water activities over here. The island was beautiful and the beaches were clean and nice. It was amazing to spend time here with my wife. In the end, we reluctant to leave this beautiful paradise and go back to our hotel, but we had to.
Tip: Ile aux Cerfs is a wonderful experience for all couples and deserves extra time. One can get it included in their leisure day also so as to spend more time here. Also, the activities here are paid and one must also carry swimsuit and towels otherwise you would have to rent it.
A leisure day in Mauritius that was well spent at the hotel
My wife and I had a great time spending this leisure day in the luxuries of our hotel. We relaxed, ate delicious food, and in the afternoon went on to do water activities like boat ride on our own. During our time at the hotel, we also indulged in a unique aqua gym and also enjoyed our meals at the various restaurants of the hotel including the Aqua.
Farewell Mauritius, we will always remember you
This was the last day of Mauritius honeymoon and with a heavy heart, we bid farewell to this beautiful island nation. In the morning, after breakfast, we checked out of our hotel, enjoyed some time with each other at the lobby and then departed for the airport for our flight back to India.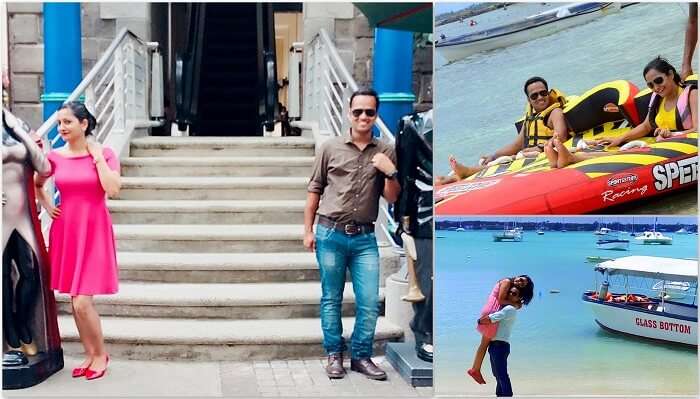 Suggested Read: 9 Most Romantic Mauritius Honeymoon Beach Resorts
Our honeymoon in Mauritius was full of tropical goodness. The weather was excellent, the food was sumptuous, and our hotel was super luxurious. The memories we made here will forever be cherished and given a chance, we would love to come back to this beautiful nation and indulge ourselves in the Mauritian delights once more. Till then Sayonara, you will be missed Mauritius!
Things I loved on the trip:
Our hotel – Radisson Blu Lafayette, it was an excellent choice and really elevated our whole trip experience.
Time spent at the Ile aux Cerfs. Spending precious moments with your partner at this island is totally worth its enchanting beauty totally compliments your romance.
Things that could have been better:
Every day by 5 pm, we were supposed to return to our hotel due to transport and local restrictions. We wish we could have given a little extra time at places like Ile aux Cerfs because wrapping up everything so quickly leaves little time for enjoyment.
Also, we could have been given more options to spend our leisure days.
Tips for travelers:
Mauritius is a great destination for honeymooners. One should always plan their vacation properly especially the leisure days so that there is always something to do and look forward to.
Keep two days for Ile aux Cerfs in your 6 Nights 7 Days Mauritius tour itinerary – it will be worth it.
Mauritius offers Visa on arrival for Indians with a validity of 60 days, given you have a return ticket and sufficient funds to manage your stay if you're not booked anywhere. It's hassle free.
Mauritius is a dream destination for all those want a paradisaical experience on their honeymoon. Everything from the beaches to nature to the activities is a magical affair and you too can experience the same with your partner. Simply book a Mauritius honeymoon package here.