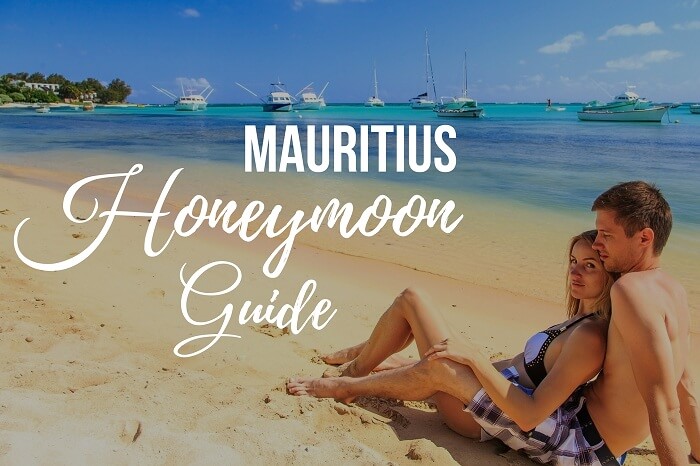 The mere thought of a romantic vacay in Mauritius creates images of clear waters, white sand beaches, and luxurious resorts. The beautiful destination has been offering opulence, scenic views, romantic settings, and unlimited pleasure to couples & honeymooners from around the world for decades. And in case you wish to plan a honeymoon in Mauritius, this guide is surely going to be of great help.
Browse through this all-inclusive Mauritius honeymoon guide before planning a romantic holiday.
Best beaches in Mauritius for Honeymoon: Boasting of natural landscapes & surreal beauty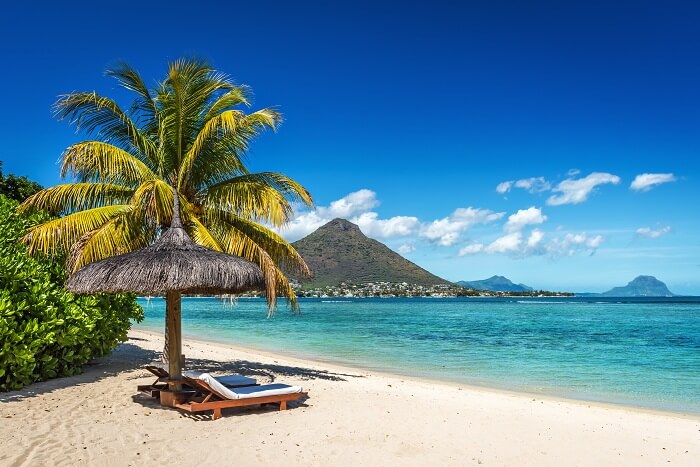 The best beaches in Mauritius have a lot of romantic experiences to offer to the couples. Be it a beachside candlelit dinner, a relaxing sunbathing session, or an adventurous water sport like parasailing – honeymooners will be spoilt for options on the beaches.
Best Mauritius Beaches
Tamarin Beach: Famous for surfing, sunbathing, and romantic sunsets
Flic en Flac Beach: Famous for snorkeling, coral reefs, long beach walks
Poste Lafayette Beach: Famous for kayaking, kilometer-long lagoon, peaceful coves, and relaxing beach walks
Grand Bay Public Beach: Famous for yachting, sailing, and fishing
Blue Bay Beach: Famous for yachting, windsurfing, snorkeling, and diving
Watersports in Mauritius: Romantic and thrilling things to do in Mauritius for honeymoon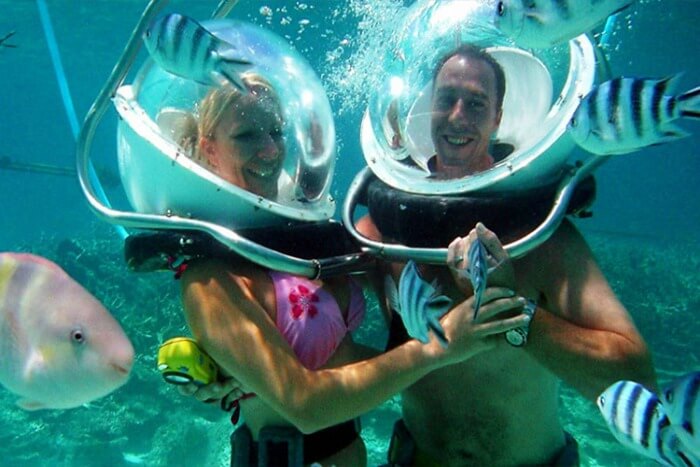 The clear & shallow waters beyond the beautiful beaches of Mauritius are perfect for snorkeling and swimming. And Trou Aux Biches & Ile Aux Cerfs are the best destinations for the same. And that's not all. For an exquisite honeymoon in Mauritius, honeymooners can head to the numerous beaches to try a large number of water sports in Mauritius.
Where to Stay in Mauritius for Honeymoon?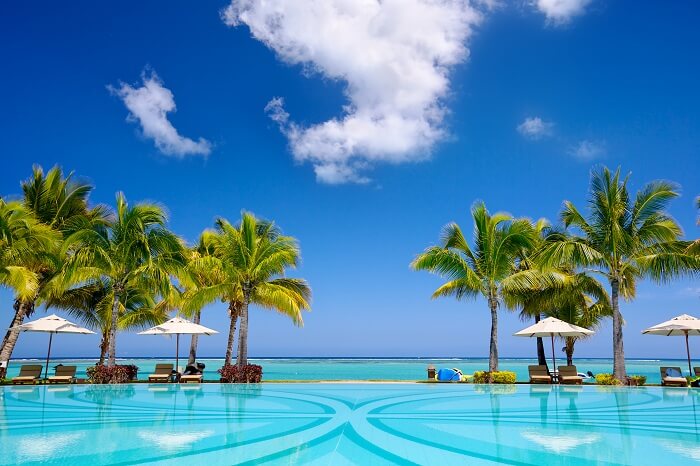 Just in case the beaches & the watersports haven't mesmerised you enough, these resorts in Mauritius will surely leave you in awe of their opulence and beauty. And with their exclusive love nests, luxurious suites, exotic villas, and quirky hideaways you can be sure of an exotic honeymoon.
Some of these best beach resorts in Mauritius have been listed below:
1. St Regis Mauritius Resort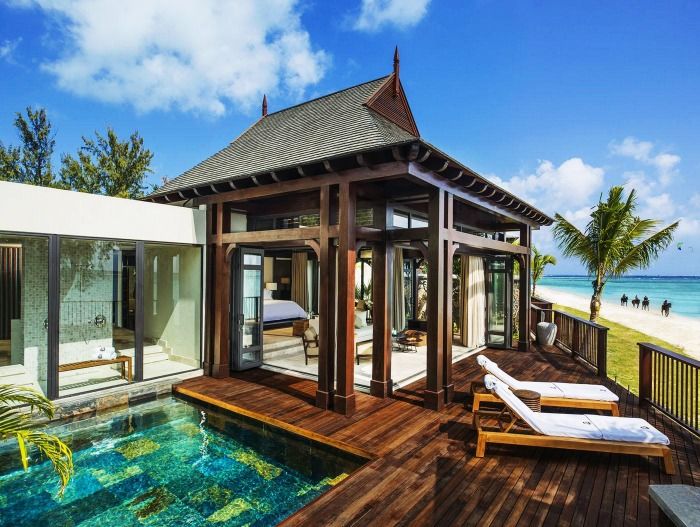 Location: Trou d'Eau Douce, East Mauritius
Tariff: £189 | INR 15,657 per night onwards
Must Read: 9 Most Romantic Mauritius Honeymoon Beach Resorts
2. Le Touessrok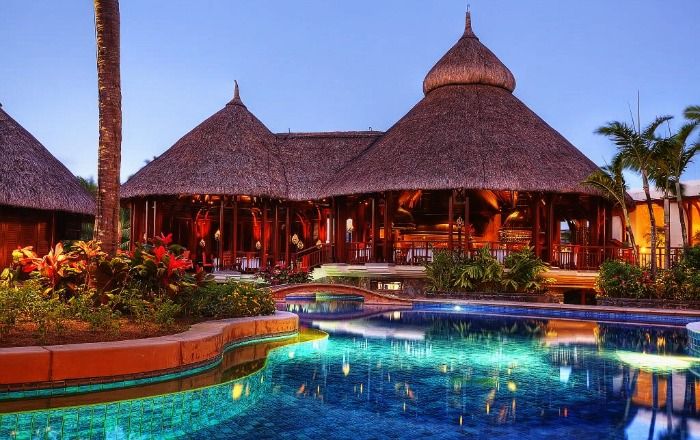 Location: Coastal Road, Le Morne, Southwest Mauritius
Tariff: £196 per night onwards | INR 16,237 per night onwards
3. Maradiva Villas Resort & Spa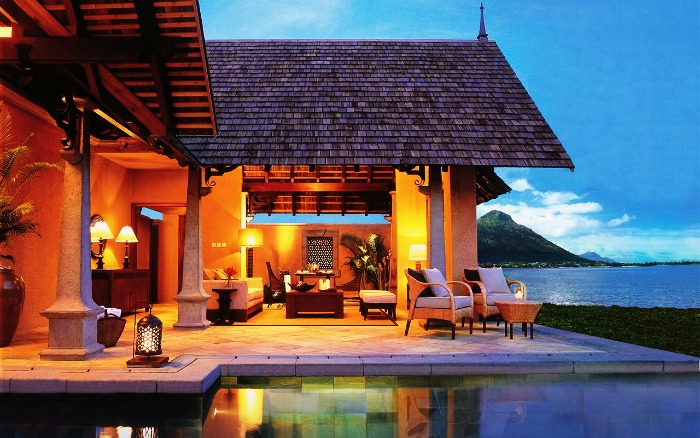 Location: Wolmar, Flic en Flac, West Coast, Mauritius
Tariff: £243 per night onwards | INR 20,131 per night onwards
Must Read: 9 Best Hotels In Mauritius For Every Budget
Mauritian spas: Setting the mood for the forthcoming nights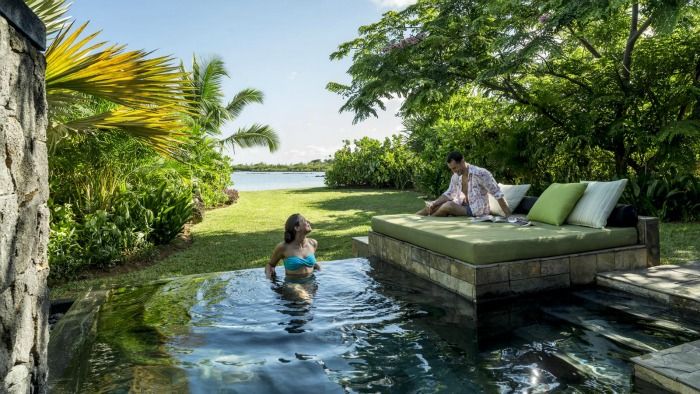 Taking a relaxing spa therapy at one of the local spas is one of the best things to do on a honeymoon in Mauritius. Of these Mauritian spas, the ones at the Four Seasons Resort at Anahita is the most popular one. The resort offers a blend of Indian, African, Chinese, and European therapeutic spas.
Places to visit in Mauritius: Sightseeing tours of the best attractions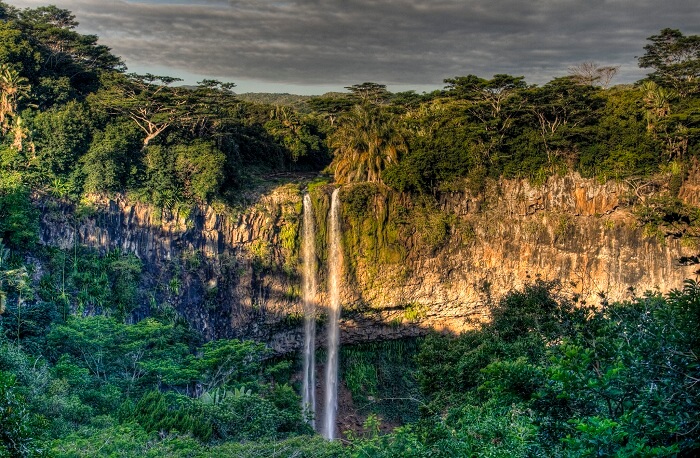 It's not everywhere that you find surfs, sands, and sun under one roof; which in this case is the blue sky. But with beaches, islands, waterfalls, parks, museums, and other places to visit in Mauritius, one can hope to have all this & a lot more.
Best places in Mauritius for nature lovers: Trou Aux Biches, Ile Aux Cerfs, Belle Mare Plage, Pereybere, Black River Gorges National Park, Parc Francois Leguat, Tamarind Waterfalls, Charamel Village, and Sir Seewoosagur Ramgoolam Botanical Garden
Best museums in Mauritius: Eureka House, Photo Museum, and Sugar Museum
Mauritian cuisine: Romantic dinners & local dishes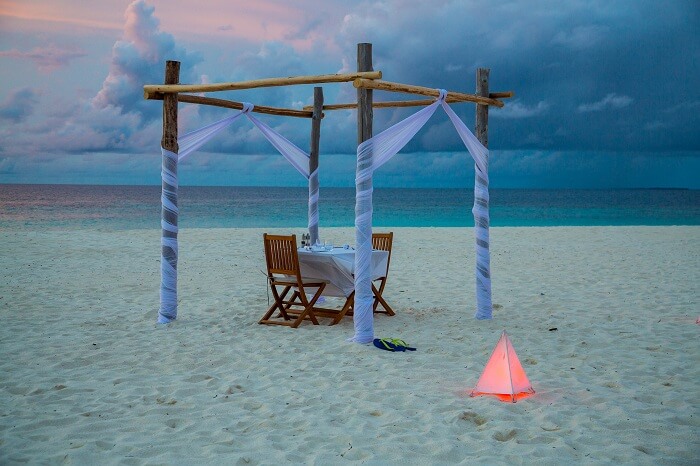 After a wonderful sightseeing tour on your honeymoon in Mauritius, head to some local diners for some amazing Mauritian food. And in case you want a romantic experience, you can ask for a beachside candle-lit dinner.
Best dishes to try in Mauritius
Beverages: Vanilla Tea in Bois Cheri Tea Estate, Petit Rum Punch, Alouda, and Phoenix Beer
Things to eat: Boulettes, Mine Frites, Mauritian Biryani, Bol Renverse, Rougaille, and Du Pain Frire
Something sweet: Gâteau de patates douces, Gâteau Napolitaine, and Poudine Mais
Shopping in Mauritius: For some retail therapy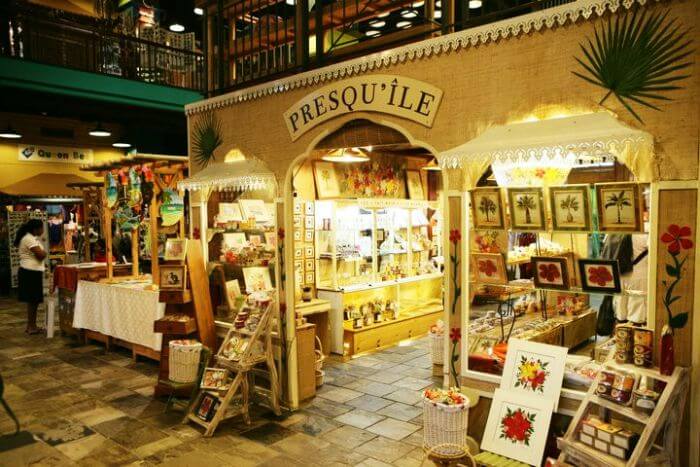 And it's not only the natural beauty, but also the beauty of the souvenirs & the other quality products sold here that should be on your bucket list. Furthermore, no romantic vacation is complete without surprising your beloved with gifts.
Best places for shopping in Mauritius: Grand Baie Bazaar, Goodlands, Quatre Bornes, Moka, Le Craft Market, and Flic En Flac
Let Us Help You Plan A Honeymoon In Mauritius
When should you visit Mauritius for honeymoon?
May to December is the best time to visit Mauritius for honeymoon.
What is the most ideal duration for a romantic vacation in Mauritius?
Choose a Mauritius honeymoon itinerary of 6 nights and 7 days from the long list of Mauritius tour packages.
How to reach Mauritius from India?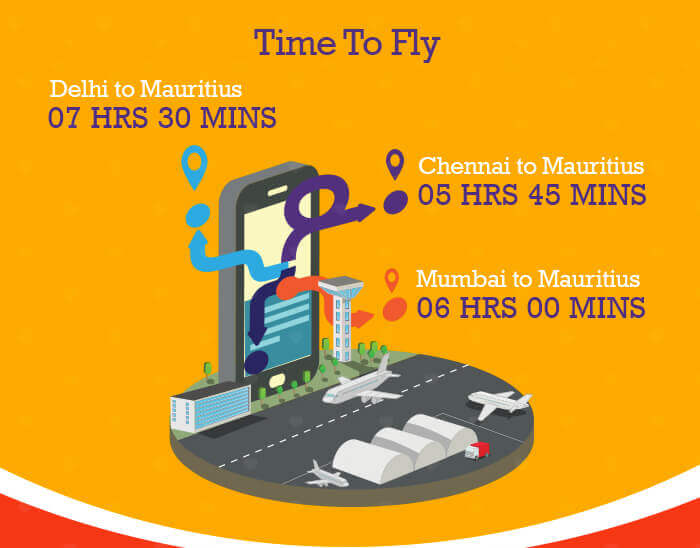 Flights to Mauritius are easily available from Chennai, Mumbai, and Delhi. The flight durations, as shown in the picture, vary from 5 hours 45 minutes to 7 hours 30 minutes. The 3 cities – Delhi, Mumbai, and Chennai – are well connected to other Indian cities by road, rail, and air.
So, what are you waiting for? Choose one of the best Mauritius honeymoon packages and decide for yourself if they are truly worthy of the associated hype.
Further Read: Honeymoon In Mauritius: A Toast To The Best Trip Of Our Life
Comments
comments