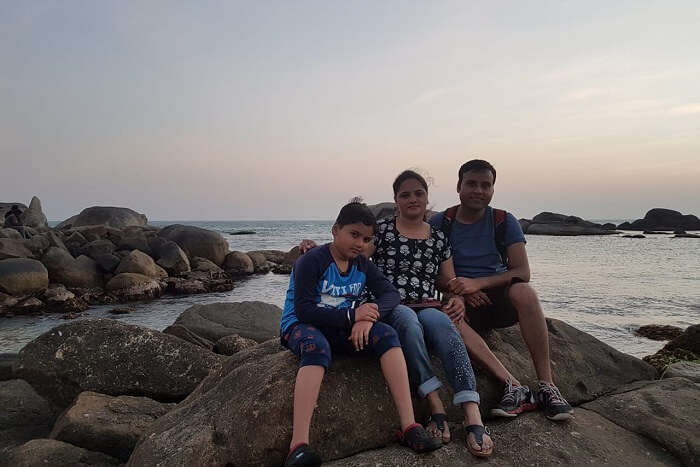 'The family that travels together stays together' as the new experiences captured after crossing your geographical boundaries gives memories of a lifetime. With similar intentions, Pushpkar Bharadwaj from Faridabad went for an enthralling holiday with his ménage to religious and illuminating places of Tamil Nadu, that's, Madurai, Rameshwaram, and Kanyakumari. Pushpkar's expedition with his family was amazing as their craving to explore the enormous temples and other attractions of South India was well-nurtured in these popular cities of Tamil Nadu with a plethora of dynamic experiences. Read more to know Pushpkar's Kanyakumari Travel Experience in his words that will surely help you in planning the next enthralling visit to this beautiful destination!
I was quite interested in exploring the famous Vivekananda Rock Memorial in Kanyakumari and capture the panoramic images of the majestic Indian Ocean due to which, I was allured to visit this southernmost city of Indian peninsular. Kanyakumari is located in proximity to the other two popular destinations, that's, Rameshwaram and Madurai. We decided to explore three destinations on this holiday. After searching numerous online packages, I booked our trip with TravelTriangle and got the itinerary customized according to our preferences.
Our Kanyakumari trip made us encounter numerous delightful memories but I am sharing the best ones here. Our escapades in these beautiful cities of Tamil Nadu will surely assist you in choosing the best attractions for your Kanyakumari trip.
Details Of Our Kanyakumari Trip
Trip Type: Tour Package
Trip Cost: INR 36,500
Trip Duration: 5D/ 4N
Inclusions: Breakfast, accommodation, transfers, sightseeing
Exclusions: Lunch & dinner, extra bed, flight tickets
The Itinerary Of Our Kanyakumari Trip
Day 1: Arrival at Madurai
Day 2: Rameshwaram sightseeing tour
Day 3: Exploring Kanyakumari
Day 4: Temple visit in Madurai
 Bike Trip from Kanyakumari To Kashmir: A Ride Of Glory
Weather In Kanyakumari In February
February is the peak tourist month to encounter the beauty of Kanyakumari. The days and nights are moderate during this month creating a perfect ambiance for sightseeing. The temperature stays between 15 to 27 degree Celsius during this time.
5 Best Pushpkar's Kanyakumari Travel Experience
Following are the best experiences of our vacation purveying things to do in and around Kanyakumari:
1. Thrilling Journey To Vivekananda Memorial




As we were desperate to visit Vivekananda Rock Memorial, we eagerly headed Vivekananda Memorial. The picturesque views of the enormous Indian Ocean were worth witnessing. The spectacular architecture of memorial was constructed to honor Swami Vivekananda in the early 70s.
There are two main structures here, the Vivekananda Mandapam and the Shripada Mandapam. We boarded a ferry to reach the memorial. The thrilling ferry journey midst the mesmerizing ambiance, made us fall in love with it. After visiting the memorial, we enjoyed the local delicacies from the nearby street shops.
 Top 23 Tourist Places In Kanyakumari 2022: The Land Where The Oceans Meet
2. Architectural Wonders Of Kumari Amman Temple



The next most memorable visit of our trip to Kanyakumari from Delhi was Kumari Amman temple. The temple is dedicated to Goddess Parvati. The goddess loved Lord Shiva and meditated for years to marry him. Our guide told us the entire story behind this temple and we glanced pilgrims offering homage to the goddess. This mystic place exhibits the architecture of the Pandya and Chola dynasty. The later alterations were done by Vijayanagara and Nayaka rulers. The beautiful paintings and carvings of Navaratri Mandapam reflect the brilliance of the workers who worked day and night to create this masterpiece.
3. Towering Statue Of Thiruvalluvar



We also visited the Thiruvalluvar Statue in Kanyakumari. As one can not miss out witnessing this one of the tallest statues of India here, we headed to this spot. It is located atop a small island quite near to the confluence of the Arabian Sea, Bay of Bengal, and the Indian Ocean. Thiruvalluvar was a famous ancient Tamil saint and this place gives you an opportunity to witness his contributions to the literature. The statue here was sculpted by V. Ganapati Sthapati and was inaugurated on the Millenium day. It stands on a three-tier pedestal and the surrounding natural ambiance enhances the beauty of this popular destination.
14 Heritage Places In Kerala To Make Your Trip Unforgettable In 2022
4. Visit The Mythological Meenakshi Temple



As we visited Madurai during our Kanyakumari trip, the historical temple of Meenakshi Amman was one of our preferred choices. The temple is located on the bank of river Vaigai and dates back to the fifteenth-sixteenth century. The magnificent architecture of the temple lures domestic as well as international tourists here. It is believed that the place was the abode of Goddess Parvati and Lord Shiva visited this sacred land to marry her. Later, the temple was built to pay respect to them. The pious ambiance of the temple and the dynamic architecture of the Meenakshi Temple makes it a must-visit destination for travelers staying in Madurai.
5. Devotional Hours At Ramanathaswamy Temple





The reason for our visit to Rameshwaram was this beautiful temple of Ramanathaswamy. This temple is amongst the twelve Jyotirlinga and was established during the Pandya Dynasty. The enormous corridors of this temple are the longest ones in India and looked stunning. According to the narrations, Lord Rama worshipped Lord Shiva after killing Ravana. One can spend devotional hours here, admiring the amazing architecture and mystic aura of astounding Ramanathaswamy temple.
Our Hotels In Kanyakumari
In Kanyakumari, we stayed at Sparsa Resort. It was a luxuriating accommodation which served gratifying hospitality. The resort is located in near the popular destinations of Kanyakumari. We could witness the stunning vistas of the Indian Ocean from our balcony while staying at this beautiful resort.
 25 Mesmerizing Hill Stations In South India That Are A Must Visit In 2022
Food In Kanyakumari
We preferred trying a variety of local food on our trip. The mouth-watering south Indian we had near Vivekanand temple was delicious and I would suggest future travelers to surely try the scrumptious local cuisine in this city. The food here is quite affordable and tasty.
Shopping In Kanyakumari
Most of the shopping we did here, was from local shops. We got really nice saree from Madurai and a few men outfits from Kanyakumari.
Kanyakumari Travel Tips
If you are heading to Commbank Rameshwaram, then be prepared to be stuck in traffic.
Avoid taking selfies at Commbank bridge, it is dangerous.
Don't do pre-booking for a temple darshan in Rameshwaram and Madurai. During weekdays these temples are not much crowded.
Pushpkar's Kanyakumari Travel Experience With Us
We were glad to book our holiday with TravelTriangle. They purveyed heart-warming facilities and it was executed the way we planned. They ensured us quite a comfortable and safe vacation and we look forward to traveling with them in the future.
 Amandeep's Kerala Travel Experience That Made His Awesome Vacay Memorable
Pushpkar's Kanyakumari travel experience made him capture some beautiful memories of a lifetime. Book a trip to Kanyakumari via Traveltriangle and get prepared for the enthralling vacation.
Common Queries You May Have About Kanyakumari Travel Experience
Which is the best way to reach Kanyakumari from Delhi?
The best way to go for a Kanyakumari trip from Delhi is via plane. The nearest station to this beautiful city is Trivandrum International Airport. You can board a taxi or local bus to reach Kanyakumari which is nearly 67 km from the airport.
Which is the best month to explore Kanyakumari?
The best time to explore Kanyakumari is from October to March as the temperature ranges between 17 to 35 degree Celsius, making it the most preferred time for sightseeing and if you are planning a visit in the month of February, you will surely get the most exciting vacation.
What are the best places to visit in Kanyakumari?
Vivekananda Rock Memorial, Thiruvalluvar Statue, Kanyakumari Beach, and Arulmigu Bhagavathy temple are the top attraction of Kanyakumari.
Which part of Kanyakumari is best for a holiday?
The entire city is quite peaceful and beautiful with gratifying locals. The place is safe and surrounded by numerous attractions. So, you can stay anywhere in Kanyakumari, the experience will surely be amazing.
What are the best shopping places in Kanyakumari?
One can get the best collections at Noor shopping centre, Amway India enterprise, and Vivekananda Rock Memorial but don't miss our to go for basic shopping in Madurai and Rameshwaram as well!