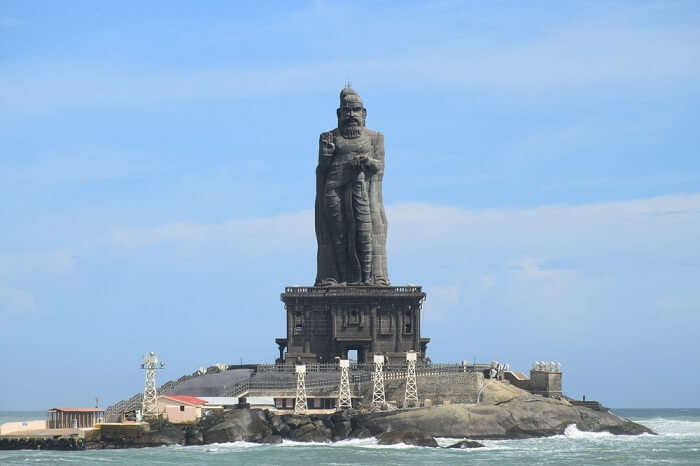 Kanyakumari, the southernmost tip of Indian mainland, is not just a meeting point of three water bodies but also an amalgamation of different cultures, religions and ideas developed over centuries. The allure of this charming town in Tamil Nadu attracts hordes of tourists all the year round. Blessed with beautiful temples, historical monuments and serene beaches, here's a list of best places in Kanyakumari you must definitely visit!
10 Best Tourist Places In Kanyakumari
1. Vivekananda Rock Memorial: Tranquil memorial with breathtaking views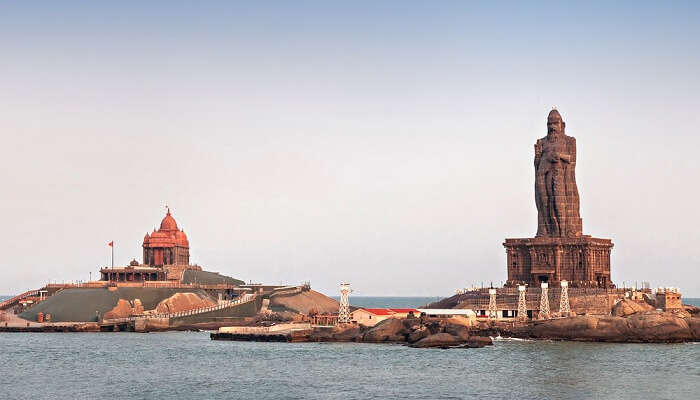 Suggested Read: 8 Tourist Circuits Of India To Witness The Wonders Of This Diverse Nation!
A Kanyakumari trip would be incomplete without a visit to this famous tourist attraction. As soon as you step off the ferry at this small island where India's most loved saint Swami Vivekananda attained enlightenment in 1892, you can feel the spiritual vibes and serenity of the place. It is a blissful experience to simply sit and meditate in the quiet Dhyan Mandapam (meditation hall) or gaze at the meeting point of three mighty oceans with wonder. The sunset and sunrise views from the Vivekananda rock make it one of the best places to visit in Kanyakumari. Just 500m off the mainland, the place can be easily reached by a regular ferry service.
Opening Hours: 8AM to 4PM on all days
Ferry ticket cost: Rs 35 for a normal ticket, Rs 169 if you want to skip the boat queue
---
South Weekend Holiday Packages On TravelTriangle
A trip to South India has a lot to offer – from tranquillity of forests to charm of sizzling beaches and from lost kingdoms to chills of a hill station. Visit Kerala, Coorg, Ooty, Mysore, or Kodaikanal. Book holiday packages inclusive of airport transfers, cab, resort, sightseeing, and meals.
---
2. Thiruvalluvar Statue: Majestic saint in stone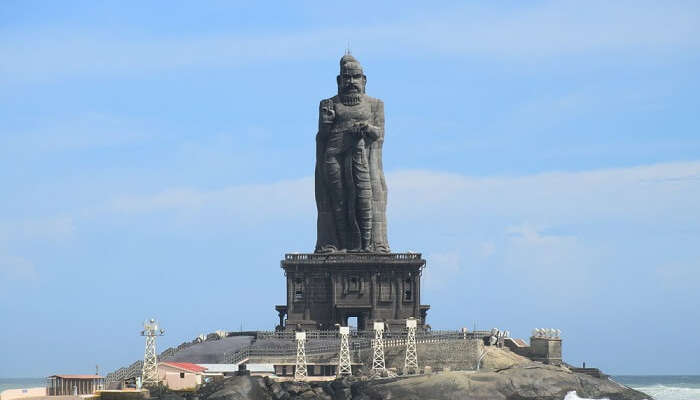 Just adjacent to the Vivekananda rock memorial is the towering stone statue of the much revered Tamil poet and philosopher, Thiruvalluvar. The 38-feet high pedestal is symbolic of the 38 chapters of virtue in the literary masterpiece, the Tirukkural, while the 133 feet high statue represents the 133 chapters in the book. This is a place of great cultural significance and one of the most popular Kanyakumari sightseeing places.
Opening Hours: 8AM to 4PM on all days
Ferry ticket cost: A single ticket includes a round trip to both the rock memorial and this statue
3. Bhagavathy Amman Temple: A profound religious experience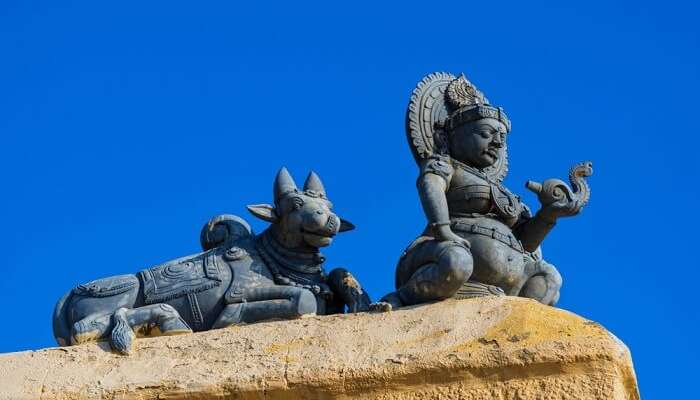 Suggested Read: Two Women Covered 3,825 Kms From Kanyakumari To Leh On Bike & Set A World Record In Just 5 Days!
Also known as the Devi Kanyakumari temple, this is one of the most sacred temples in the country and the reason why the city gets this name. Being amongst the 108 shaktipeeths in India, it holds great religious significance and dates back to 3000 years. The impressive architecture and the magnificent idol of the Goddess Kanya kumari with the diamond nose pin are the most remarkable features of this historic shrine. Located near the shore just a kilometre away from the railway station and bus stop, it can be easily reached by road.
Opening Hours: 4:30Am to 12:30PM; 4PM to 8PM on all days
Entry fee: The entry is free however INR20/INR50 entry ticket can be bought for fast darshan
4. Gandhi Mandapam: Remembering the father of the Nation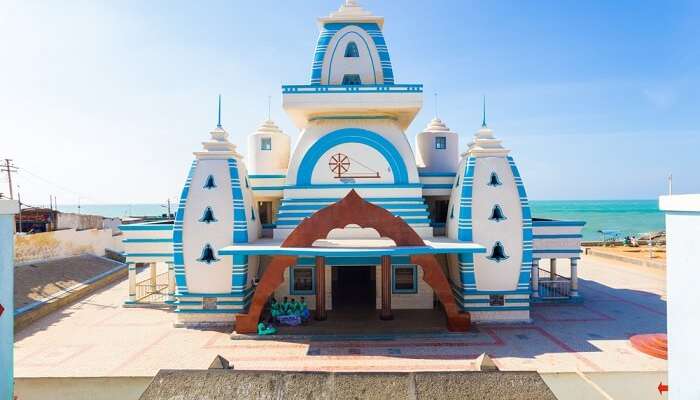 This memorial is dedicated to Mahatma Gandhi whose sacred ashes were kept here before being immersed in the sea water. Built in modern architectural style, the Mandapam borrows elements from Orissa style of architecture. A unique feature of the memorial is it has been built in such a way that on every 2nd October the sun's rays fall on the exact spot where the great man's ashes were placed. Such a unique and wonderful tribute to the father of the nation must definitely be in your list of places to visit in Kanyakumari.
Opening hours: 7AM to 7PM on all days
Entry fee: No entry fee, however a token amount of Re 1 is collected for keeping the shoes outside.
5. Kanyakumari Beach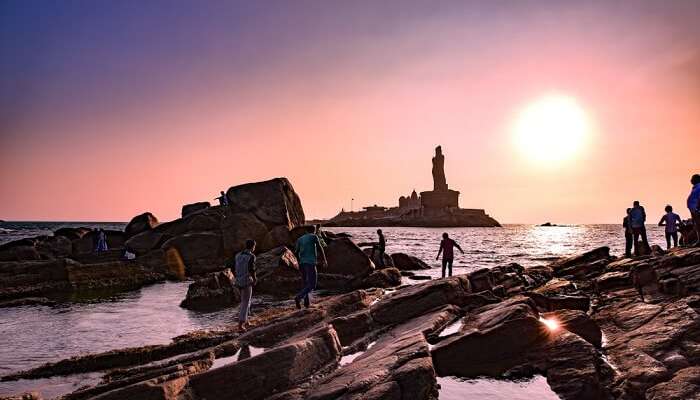 Suggested Read: 20 Romantic Honeymoon Places In South India For 2018 That Cast Utter Magic
Located at the confluence of the Indian Ocean, Bay of Bengal and Arabian Sea this picturesque beach features amongst the popular places to visit in Kanyakumari. The differently coloured sand, stunning sunrise and sunset views at this beach, the lighthouse and Vivekananda memorial in the backdrop make for some superb picture perfect moments. Being a rocky beach it is unsuitable for swimming, however you can splash in the waves for some fun family time. The beach is perfect for soaking in the beautiful views around.
Opening hours: 9AM to 6PM on all days
6. Thanumalayan Temple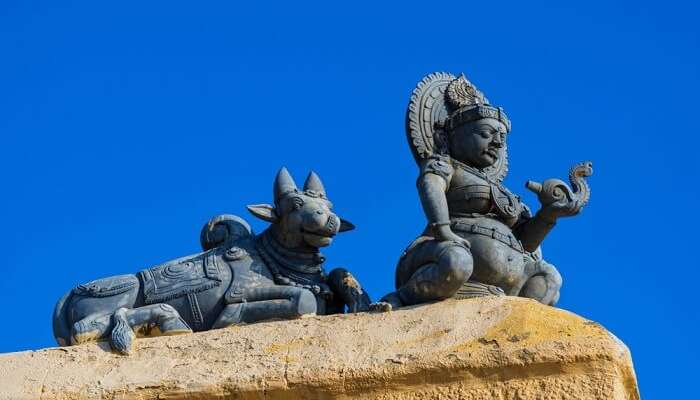 This unique temple is the only temple in the world where the holy trinity of Brahma, Vishnu and Shiva are enshrined at the same place as a single deity (called Sthanumalayan). It also houses a towering 22 feet hanuman statue that is one of the highest in the country. This ancient temple is one of the finest examples of south Indian architecture with beautiful gopurams, exquisite carvings, musical pillars and a powerful spiritual aura. The 18-feet high musical pillars carved out of a single granite stone are a major attraction. There is a strict dress code for men and women and one needs to be wary of the so called guides and pandas who are on the lookout to extract money from tourists.
Opening hours: 4:30Am to 11:30AM; 5PM to 8:30PM on all days
Entry fee: No entry fee.
7. Padmanabhapuram Palace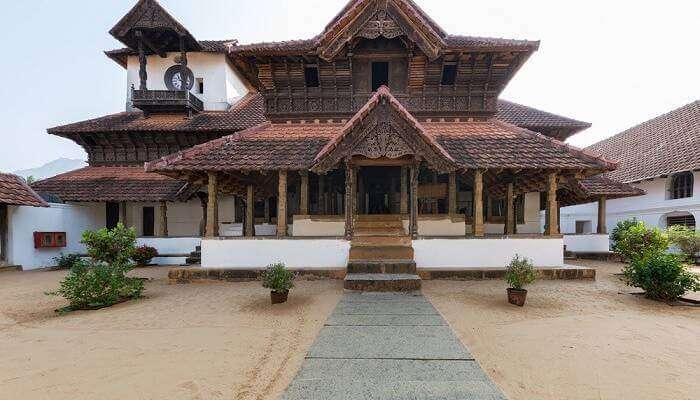 Suggested Read: 20 Places In India You Can Cover On A Shoe String Budget
This alluring 16th century teakwood palace is amongst the top kanyakumari sightseeing places and the finest example of Taccusastra (the ancient science of carpentry). A living proof of the architectural brilliance and rich heritage of the erstwhile kingdom of Travancore, the magnificent interiors of this palace will take your breath away. Right from the entrance where an intricately carved jackfruit tree stands witness to its unparalleled beauty, to the stunning interiors adorned with elaborately carved columns, chairs with Chinese carvings and Belgian mirrors, the palace leaves a lasting impression.
Opening hours: 9AM to 1PM; 2PM to 4:30PM. Closed on Mondays.
Entry fee: INR 25/adult; additional fee for still and video cameras
8. Our Lady of Ransom Church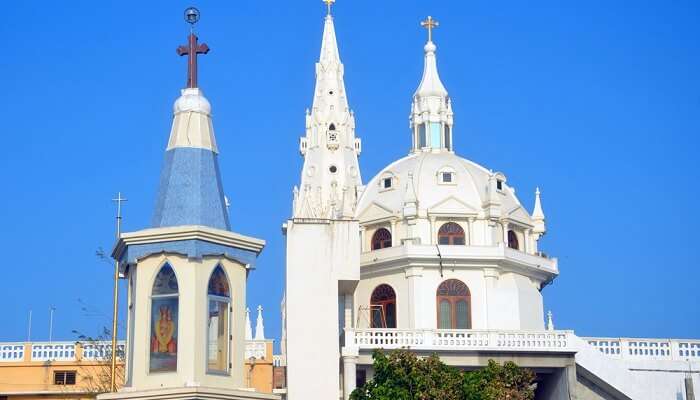 A stunning white gothic style structure contrasted against the clear blues skies is a sight to behold. This peaceful church must be on your list of places to visit in Kanyakumari in one day. Located at a walking distance from the beach, the beauty of this magnificent structure is heightened at night time, with the church lights turned on.
Opening hours: NA
9. Vattakottai Fort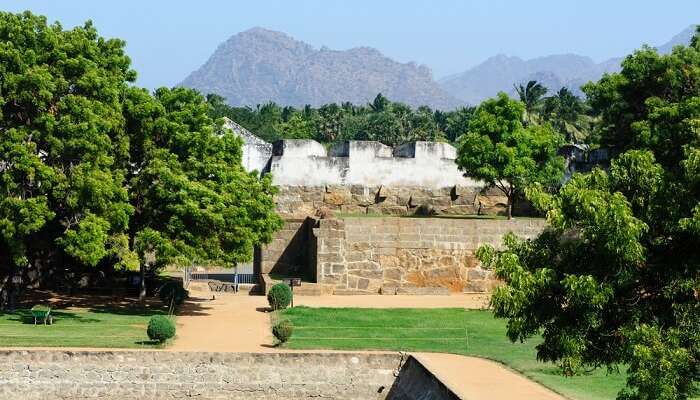 Suggested Read: 15 Mesmerizing Hill Stations in South India That Have Their Own Charm
A 40-minute drive out of Kanyakumari, this old fort is located in a very scenic spot. The small fort can be covered by foot in half an hour, but the high-point is watching the surreal views from the fort ramparts – the soothing waters of the Bay of Bengal and the marvelous view of the windmill farm at a distance. Built out of stone and granite, the fort has great historical value as being part of the major defenses of the Travancore kingdom. The serene beach, wonderful breeze and peaceful environment make it the perfect place to spend a relaxed day.
Opening hours: 8AM to 5PM, on all days.
Entry fee: Free entry
10. Mathur Aqueduct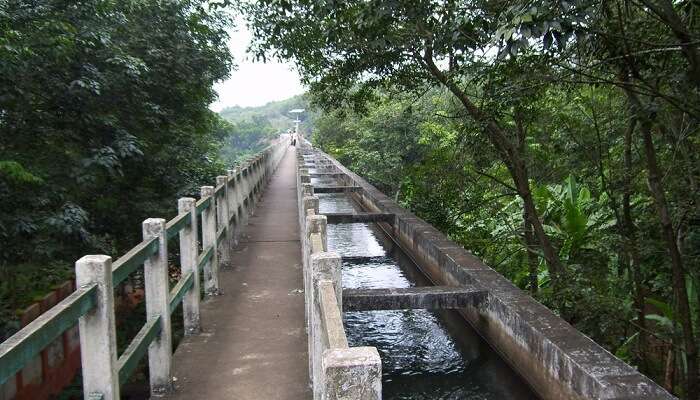 This engineering marvel is located around 60kms away from Kanyakumari city. The 100-feet high aqueduct surrounded by lush greenery is one of the most awe-inspiring places in Kanyakumari. Built across the Pahrali River as a drought relief measure, it carries water from one hill to another. You can feel the adrenaline rush while walking atop this narrow aqueduct; special care must be taken with children as it is a narrow bridge. Do not miss out on the trying succulent pineapples in this area.
Opening hours: 7AM to 7PM on all days
Entry fee: INR 2/adult; additional fee for still and video cameras.
The charming city of Kanyakumari beckons with these and many more attractions to allure the traveler in you. Let TravelTriangle plan your stay and itinerary so that you can make the most of your visit to this stunning destination. Simply choose a Kanyakumari tour package, and enjoy a personalized trip.
Frequently Asked Questions About Places In Kanyakumari
Q. What is special in Kanyakumari?
A. Kanyakumari lies on the southernmost tip of the country in Tamil nadu. So, it is undeniably famous for spectacular sunsets and sunrises. Kanyakumari is also a city of pilgrims. So, you will find a number of revered temples in the city that are visited by tourists in large numbers every day. There are so many tourist places in Kanyakumari to visit.
Q. How can I explore Kanyakumari in one day?
A. If all you have is one day in Kanyakumari, here is how you should begin your day to have the best time.
Watch the sunrise.
– Visit Devi Temple or Suchindram Temple.
– Take a trip to Vivekanand memorial and Thiruvalluvar Statue.
– Explore the historic alleys and rooms of Padmanabhapuram Palace.
– End the day with a beautiful sunset.
Q. Which temple is famous in Kanyakumari?
A. Kanyakumari Temple is the most famous and revered temple in the city. The temple is built by the seashore and was built centuries ago. People have been worshipping inside the temple since ages. It is said that the nose ring of Goddess Kanyakumari can be seen sparkling even from the far away in sea waters also.
Q. What can I buy in Kanyakumari?
A. There are a lot of things that you can buy in Kanyakumari as souvenirs like palm leaf drawings, beautiful artefacts made from seashells, silk sarees, handicrafts.
Q. What is the best time to visit Kanyakumari?
A. October to February is considered to be the best time to visit Kanyakumari. The weather around this time is calm and pleasant. It is not as hot as you would expect in Tamil Nadu in the summer season.
Q. Which is the most popular temple in Kanyakumari?
A. Kanyakumari, the peaceful temple town of India is home to numerous interesting and astounding temples. The most popular temples in Kanyakumari are the following:
1. Kanyakumari Temple
2. Vivekanand Rock Memorial
3. Thanumalayan Temple
4. Kumari Amman Temple
5. Devi Kumari Temple
6. Nagaraj Temple
Q. From where can I buy saree in Kanyakumari?
A. Sarees are one of the best items to buy in Kanyakumari and if you are looking for the best place for shopping in Kanyakumari then the following are the best options:
1. Sri Sakthi Handloom Sarees
2. Saree Centre
3. The Oskaa Silks
4. Co-optex Kanyakumari
5. Bombay Saree Centre
6. Femina
7. Subh Laxmi Silks
8. Bombay Dyeing
Q. Where can I eat in Kanyakumari?
A. To grab the best food in Kanyakumari, you can visit the following places:
1. The Ocean Heritage Restaurant
2. The Curry
3. Hotel Saravana
4. Taj Hotel
5. Sea View Restaurant
6. Hotel Sangam
7. Hotel Sivamurugan Kanyakumari
Q. Which is the oldest temple in Kanyakumari?
A. Bhagavathy Amman Temple, popularly known as Devi Kanya Kumari is the oldest temple in Kanyakumari and is believed to date back to the prehistoric period of Kumari Kandam.
Comments
comments