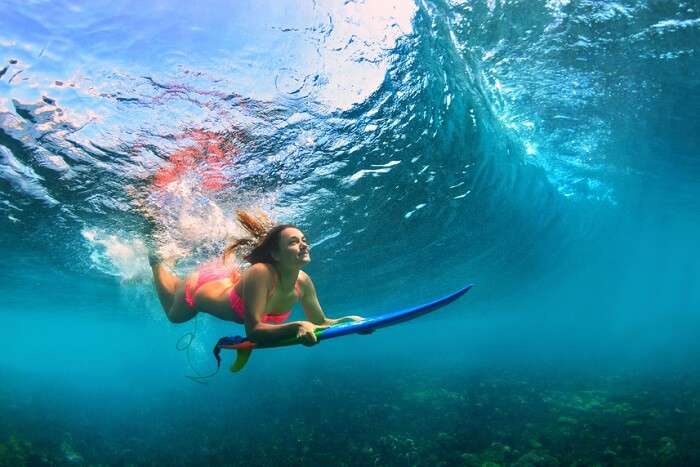 Mapping the north-eastern region of Australia with a warm tropical climate is the state of Queensland. With ample sunshine hours and the Great Barrier Reef housing, not just Australia's, but some of the world's most endangered species, Queensland in July is packed with tourists – both local and domestic all year round. A dive into the clear blue waters of Queensland's coast leaves you breathless – literally and figuratively. However, with enough oxygen supply, the experience of watching the underwater life beats any 3D movie. If you like to stay on the surface and photography is your thing, take out your camera and get photo-bombed by koalas and kangaroos. Whatever might be your guilty pleasure, Queensland has it covered!
Queensland In July Weather

Winter begins to set in in Queensland around May when the sun shines warmer, the humidity gets lower and the wind feels colder. With the average temperature of about 21 degrees (Celsius), Queensland in July is for those craving a refreshing dip in the ocean with a little tan to flaunt. With the migration of humpback whales northwards in search of warm waters and warmer companions, visiting Queensland is an apt thing to do. So if you are confused when to travel, Queensland in July sounds like the perfect plan to make!
10 Things To Do In Queensland In July
Here's how you can make your vacation in Queensland in July 2022 unbeatably fun and happening. Scroll down to see all that you can do there during summertime.
Great Barrier Reef : Gauge The Depths
Movie World : Live The Reel Life
Lone Pine Koala Sanctuary : Cuddle Cute Koalas!
Hervey Bay : 'Whale' Your Time Away!
Undara Volcanic Park : Uncover The Undara Experience
Tangalooma Wreck : Discover Its Secrets
Big Pineapple : Pin It Down!
Sea World : 'Sea The World' With A Twist!
Laura Dance Festival : Join The Fun!
Lady Elliot Island : Look For Manta Rays
1. Great Barrier Reef : Gauge The Depths

Image Source
If you have seen sea turtles, starfishes, dolphins and sharks only through the glass windows of an aquarium, the Great Barrier Reef shatters those glasses. As the largest coral reef system of the world, this 2,300 reef structure is recognized by UNESCO as a World Heritage Site and even sighted from space. With an independent ecosystem comprising of exotic and endangered marine life, the Great Barrier Reef is a scuba paradise much like an underwater 3D experience. Traditionally used as a fishing ground, the coral reef also offers the thrill of scuba-diving, coral sea kayaking and bungy jumping.
Location: Off the east coast of the Queensland mainland
Must Read: Summer In Queensland: See What Makes It The Best Season To Visit
2. Movie World : Live The Reel Life

Image Source
What if you had to choose between Bugs Bunny and Batman or Sylvester and Superman or Lego and Justice League? While the kid in you demands a theme park, the nerd needs an adrenaline rush. Well, at Movie World you can have the best of both! With a Green Lantern Roller Coaster and Street Parade with your favorite childhood characters, Movie World is the perfect theme park for anyone who watched a lot of telly as a kid and everyone who loves comics.
Location: Pacific Motorway, Oxenford, Gold Coast, Queensland
Timings: 10 AM - 5 PM (Monday to Sunday)
3. Lone Pine Koala Sanctuary : Cuddle Cute Koalas!

Image Source
The Lone Pine Koala Sanctuary is the world's oldest and largest koala sanctuary. For those seeking a peek into the Australian wildlife, the sanctuary is the quintessential place to be. From kangaroos to cockatoos, this sanctuary has it all nestled under the bright blue shiny sky. Screeching Rainbow lorikeets are often seen hovering close to the Lone Pine Koala Sanctuary in search of specially prepared nectar meals. For thrill seekers visiting Queensland in July, the kangaroo reserve opens its doors to those who want to pet or feed the kangaroos. You can also have a selfie with a Koala for your Instagram stories at a nominal fee. If you are lucky, you might even spot a platypus whizzing around a puddle.
Location: 708 Jesmond Road, Fig Tree Pocket, Queensland
Timings: 9 AM - 5 PM (Monday to Sunday)
Suggested Read: Queensland In June: A Pocket Guide For Planning A Perfect Vacation
4. Hervey Bay : 'Whale' Your Time Away!

Image Source
With golden sandy beaches, warm blue waters and temperate sea breeze, Hervey Bay is the pit stop for migrating humpback whales. Hop onto a vessel with a viewing deck for an uncanny experience of witnessing dolphins and whales whistling and play-fighting. You can stick around the bay fishing and grilling some exotic seafood or laze around in the shallow waters until you hear some growling from your tummy. For the thrill chasers, experience gravity with a dive from 14,000 ft above ground level and a bird-eye view of Fraser Coast with various skydiving options.
Location: Hervey Bay
5. Undara Volcanic Park : Uncover The Undara Experience

Image Source
Travel back into the time of volcanic eruptions with molten lava running out of every crevice and crack. Undara is the house of these lava tube systems unlike anywhere else on Earth. Led by a bunch of Savannah Guides, be ready to stumble over rocks, learn about the geological and historical features and sip some wine as the sun goes down and the kangaroos, cockatoos and lorikeets make their way back home. Spend the night in North Queensland camping in July to spot night owls and micro-bats hunt their midnight munchies. This is no doubt the best way to uncover the Undara experience.
Location: Undara Volcanic Park, Savannah Way, Queensland
Suggested Read: 10 Top Queensland National Parks For A Thrilling Holiday Experience
6. Tangalooma Wreck : Discover Its Secrets

Image Source
While history seems to identify only Titanic, Tangalooma has witnessed 15 vessels wreck since 1963 to the 1980s. While most of the architecture is lost, the rustic look and feel of these vessels draw many history junkies to this island resort to relieve a time in history, snorkel the light blue waters of the shy, isolated ruins or just scoot around underwater in a sea scooter racing marine wildlife. If you are the adventurous one, the current is usually not strong and a dive into the wild open sea would be worthwhile.
Location: Moreton Island, 15-20 minute walk up the beach from Tangalooma Island Resort
7. Big Pineapple : Pin It Down!

Image Source
If you are a big fan of pineapple, this is the place for you! As the most popular tourism and food icon in Queensland's Sunshine Coast, the Big Pineapple is a unique structural attraction making its way into Instagram stories. Under its crown cover is the Wildlife HQ, a zoo featuring Queensland's single Sun Bear Maly. With a laidback rainforest setting and your favorite animals bouncing around, the Big Pineapple is perfect for a weekend picnic with the family in Australia. For the adrenaline rush, high ropes and zip line courses are being in introduced within the premise.
Location: 76 Nambour Connection Rd, Woombye, Queensland
Timings: 9 AM - 4 PM (Monday to Sunday)
Suggested Read: 13 Queensland Waterfalls That Look Like They Came Straight Out Of A Disney Film
8. Sea World : 'Sea The World' With A Twist!

Image Source
At Sea World, you can join Spongebob and Patrick on their adventures underwater or watch trained seals flap around balancing a rubber ball, if you are lucky you might even steal a kiss from the furry sloppers. If you thought jellyfishes were cool, wait until you watch them glow in the dark. We all know how cool that is!
Queensland in July weather is yet another excuse to get away from the city life and closer to nature. As an island of mariners, both human and otherwise, Queensland's SeaWorld is for those who want the underwater experience without getting their hands wet.
Location: Seaworld Drive, Main Beach, Gold Coast, Queensland
Timings: 10 AM - 5 PM (Monday to Sunday)
9. Laura Dance Festival : Join The Fun!

Image Source
They say music has no language and dance is emotion in motion. While we might not know the origin of these words of wisdom, we can't help but second them. And the Laura Dance Festival in Queensland in July testifies how our culture evolved from miserable, food hunting apes to marvelous sapiens. With 20 different communities from across the Cape gathering together to celebrate music and dance in its most authentic form, join the locals and dance the night away like no one's watching.
Location: Lot 1, Peninsula Development Road, Laura, Queensland
Suggested Read: Queensland Travel Guide That Will Ensure A Hassle-Free Vacation In Australia
10. Lady Elliot Island : Look For Manta Rays

Image Source
Located within the highly protected 'Green Zone' at the southern tip of the Great Barrier Reef is the Lady Elliot Island called the home of Manta Rays. With glass bottom boats with the ocean lit by the moonlight, this island wakes up the hushed marine life with glow-in-the-dark jellyfishes guiding the way. If you are a morning person, you can race the green turtle hatchlings to the water or dive and discover where the Manta Ray like to destress after a long day of swaying around the reef.
Location: Southern tip of the Great Barrier Reef
Further Read: 10 Magnificent Islands Near Queensland For Surreal Views And Watersports
So, dab some sunscreen, grab your beach towel and get a little beachy because the weather in Queensland in July calls for all of it. Get in touch with the experts at TravelTriangle for an awesome-sauce holiday in Australia and get going on your wonderful beach vacation with friends and family. Hurry! The Down Under is waiting!
Frequently Asked Questions About Queensland In July
What are the types of seasons in Queensland?
Unlike most of the cities across the world, Queensland experiences only hot & humid and cool temperatures year round. There is no such weather as chilly cold and that's why it is an ideal location for a beach vacation.
How hot does Queensland get in summer?
There's not much variation in the temperatures during summer as compared to the winter months, which is why it might not feel too hot in Queensland. The temperature stays around 29°C on an average.
What is the best month to visit Gold Coast?
Fortunately, every month is the best to visit Gold Coast. It all depends on what you are seeking. If you're looking for a peaceful experience, then March to May is an ideal time to go. If you want to experience a proper beach holiday, plan your visit between December to February.
Is it cold in July in Australia?
Unlike other countries, Australia experiences a very pleasant winter season. The temperature rarely drops into minus numbers and usually stay between 18 to 24°C.
---