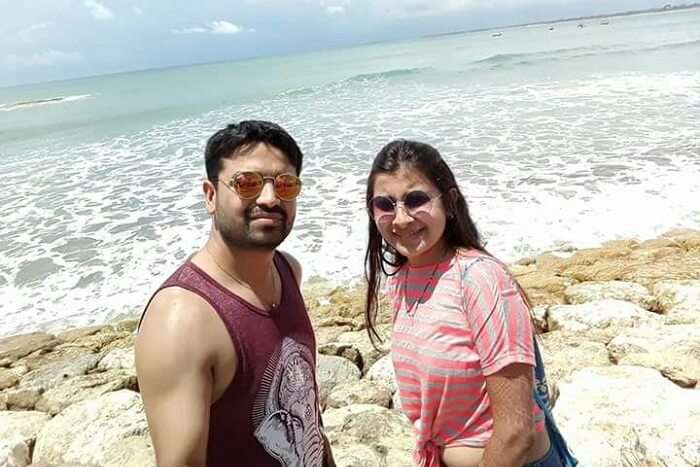 Charmed by the enchanting environs of honeymooners' paradise, Rahul Marwaha booked a Bali honeymoon package from TravelTriangle. It included accommodation, local tours and private transfers – all at a cost of INR 1,18,000 only. Having embarked on a romantic journey for a lifetime with his wife, here's what he has to share.
Honeymoon Experiences in Bali in 6 days
Day 1: Arrival At The Incredible Bali
Day 2: Tour de Cruise: A Day Full Of Romance
Day 3: Ubud: The Green City Of Bali
Day 4: A Day With Dolphins & Full Of Water Activities
Day 5: Our Leisure Day
Day 6: Bidding Adieu to Bali
I had already decided on the honeymoon destination and I was sure that a trip to Bali would be a great surprise for my wife. After searching for packages online, I opted for a a 6 days & 5 nights honeymoon package from TravelTriangle. 
Many vendors got in touch with me and I chose 'Shoes on Loose' agency who offered the best quotes as per our budget. I was a little doubtful in the beginning with online bookings but from the representative at TravelTriangle to the travel agent, driver and officials at the resort everyone was very supportive during the entire trip. They suggested us with all fun things for couples in Bali.
Their willingness to provide assistance anytime really helped me surprise my wife with an exotic experience and memorable honeymoon!
Day 1: Arrival At The Incredible Bali!

We boarded the 12 am flight from Mumbai and reached Bali by 12 noon. Our driver received us at the airport and took us to the Rama Beach Resort. We were greeted with a warm welcome and later we relaxed for some time in our lavish rooms. My wife was really excited as she soaked in the perfect surprise.
In the evening we spent our time exploring the property. The Balinese architecture and the peaceful environment was perfect to relax and recover from all the tiredness. Mesmerized by the charm of Bali, we went easy on our first day and chilled out for the rest of the evening.
Head To Bali In August For A Fun-Filled, Festive, And A Leisurely Vacation!
Day 2: Tour de Cruise: A Day Full Of Romance!
Next day was booked for the cruise in the evening so we had all the entire day to ourselves. One of the most sought after romantic things for couples in Bali is the cruise. After enjoying a delicious buffet breakfast, we went for a casual sightseeing by the beach that was at a walking distance from the hotel.
We walked along the white sandy beach and explored the nearby markets and souvenir shops. Later in the evening, it was time for our sunset dinner on the cruise. The driver transferred us to the harbor and we were set on our way to enjoy a romantic evening on the Bali Hai cruise.

On reaching we were welcomed with the floral garlands called Lei after which the evening was full of music, dance and fun. We've never experienced a sunset so gorgeous before like we did on the cruise. Later we treated ourselves to an international buffet dinner and cruised along the Benoa Harbor.
The live music and the cabaret dance performance set everyone in a perfect party mood. It was a colorful evening which we thoroughly enjoyed and overnight we were transferred to the hotel in Kuta!
Day 3: Ubud: The Green City Of Bali!

We finished our breakfast and headed straight for the city tour of Ubud. The mixed culture of both lush green landscapes of coffee plantations and then the hustle and bustle of the shopping streets was very interesting. Next up was the famous local house where we got to experience the making of traditional sarees of Bali.
                           10 Reasons Why Bali Will Ruin Indians For Life

After spending some time over there, we indulged ourselves in a bit of shopping spree. Our visit to the Monkey Forest did surprise us to the core. The monkeys surprised us to the core with their friendly nature and we enjoyed feeding them bananas. We also visited the Tanah Lot Temple which was magnificent and the sunset views were way too incredible as the temple is located on a rocky beach. We reached back to the hotel after a happening day and retired to bed early.
Day 4: A Day With Dolphins & Full Of Water Activities!

We left hotel early in the morning all excited and geared up for the Dolphin show. We boarded the traditional boat and headed towards the Louvina beach which is a special location to spot the dolphins. It was an awe-inspiring view to treat our eyes with. Since the dolphin show got over before half day, we dedicated the rest of the day and evening to indulge in watersports.
We headed to the Benoa beach which is the pitstop for all the water junkies. First up was underwater Sea-walking. Since my wife panicked a bit, I had to experience it alone and I was thrilled to the core. My wife was thrilled after parasailing.
We both also took the Banana boat ride together. It was too much fun to ride a boat that is actually inflated in the shape of a banana. We couldn't have had a better time in Bali without these water activities and it was just so much fun!
Day 5: When We Dedicated All The Time To Leisure!

Our fifth day was dedicated to leisure and most importantly, shopping. Since my wife had the full day to herself, there was no stopping to her shopping. It turned out to be the best stress-buster as we continued to shop for ourselves, our friends and family.
       Bali Shopping Guide: Your On-Hand Adviser To Best Shopping Experience In Bali

Bali offered a wide range of clothing and jewelry. As the evening got close, we instantly got reminiscing about the past incredible five days that made our honeymoon so incredible. We ended our evening with a romantic dinner and called it a night!
Day 6: Bidding Adieu to Bali!

We're just so happy and totally satisfied that we chose Bali as our honeymoon destination. We enjoyed our final breakfast at the hotel. Our driver transferred us to the airport and soon we set on journey back to India. The experience was just inexplicable and we would love to come back to Bali.
High Points
It was an unforgettable experience on the dinner cruise. The dance performers entertained us so much and my wife was overwhelmed when the officials on the cruise framed our photograph and gifted it to her while we were still there. It was her wow moment!
Low Points
Our stay at Ubud was not quite comfortable. The region was pretty isolated and it was too dark to even take a walk outside.
           Dreaming Of A Balinese Holiday? Here Is All You Should Know To Make A Perfect Plan [Infographic]
Bali Travel Tips
Bali as a destination is incredible and everyone must visit Bali once in their lifetime.
We missed to visit the Hard Rock Cafe in Bali which is not to be missed by anyone else!